Shares of Zynerba Pharmaceuticals (ZYNE) have risen by 50% in just one month since I suggested that readers follow insider buying back into the stock.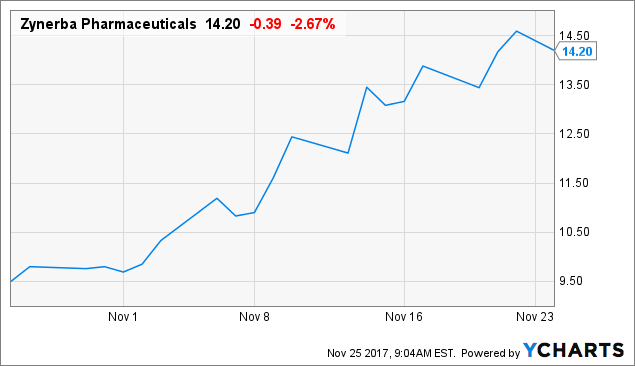 ZYNE data by YCharts
Keys to the bullish thesis included the following:
I stated that the knee pain OA STOP study (n=320) was not as much of a bust as originally thought, as the composite responder analysis for 250 mg daily ZYN002 4.2% CBD gel achieved statistical significance and according to a post-hoc analysis patients on ZYN002 achieved meaningful reductions from baseline in average worst knee pain scores at week 5 versus placebo. As osteoarthritis affects over 30 million Americans and ZYN002 potentially offers a unique, non-opioid treatment with a better side effect profile (as compared to NSAIDs), if the drug candidate makes it across the finish line of approval it could see significant uptake. Results in Fragile-X Syndrome were much more positive (all the usual caveats due to the open-label nature of the trial). The primary endpoint was successfully met with high statistical significance, a 46% improvement in the total ADAMS score after twelve weeks from baseline. Clinically meaningful improvements were also observed in all measures of the ABC-FXS and I noted that there are over 70,000 patients in the United States with the condition. The stock was a great example of what I call a 篓revaluation play篓, a stock without material near term catalysts that traders might stay away from but is still appealing as Wall Street takes notice of insider buying and advancement of the pipeline. I reminded readers that the road is often long and difficult for small clinical-stage biotech companies, with several setbacks bound to occur while striving to bring a treatment to market successfully. If there are initial signs of efficacy in a company's lead drug candidate and it is addressing a condition with high unmet need or significantly differentiated from the competition, often it pays to pay close attention and take advantage of entry points Mr. Market gives you.
For the third quarter the company reported cash and equivalents of $66.3 million, down from $70.2 million in the prior quarter. Research and development expenses came in at $5.8 million, while net loss totaled $8.3 million. Utilizing their ATM (at-the-market offering) the company sold $3.2 million worth of shares at an average price of $10.74 per share between the dates of September 28th and October 26th (not included in the figures above). Management has stated that the current cash position should allow operations to continue into 2019.
As for the lead value driver ZYN002 in Fragile X syndrome, management has guided for the pivotal study to be initiated in the first half of next year. I remind readers that 13 of 18 patients have been enrolled into the 52 week open label extension trial and updates on their status in 2018 could also be a material catalyst.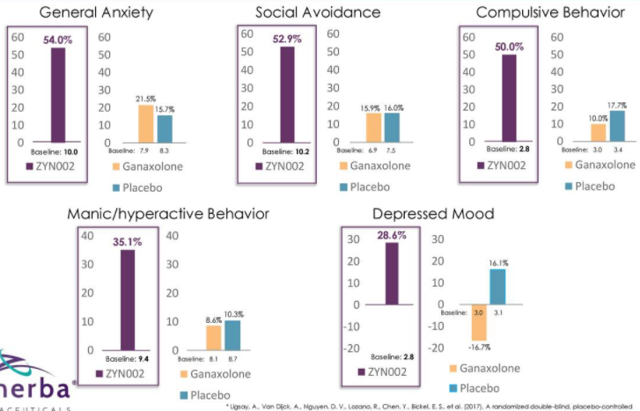 Figure 2: ADAMS subscales percent improvement at week 12 versus third party data (source: Stifel presentation)
Next up is ZYN002 in osteoarthritis, for which the company will meet with the FDA in the first quarter of 2018 for a discussion regarding prior data and the design of a pivotal phase 2/3 program, which could be initiated next year.
The big news came for the failed phase 2 STAR 1 study of ZYN002 in adult epilepsy patients (n=188) with focal seizures. Keep in mind this was the indication for which I originally introduced the stock to readers in mid-2016, when I suggested a revaluation was in order considering the gap in valuation as compared to GW Pharmaceuticals (GWPH). We held the stock through phase 1 data and played the runup into readouts in 2017, from the $7 level to above the $20 mark.
While it is true that ZYN002 failed to demonstrate a statistically significant reduction of focal seizures compared to placebo, updated data shows signs of promise and explanations of why this unexpected outcome occurred. 76% of placebo patients showed no improvement or worsening of focal seizures (as would be expected), but 24% of patients on placebo achieved >50% reductions. As in all trials, ZYN002 was well tolerated with a solid safety profile.
In the open-label extension portion the story is a completely different one. 89 of 100 patients reached six months of drug exposure, for which clinically meaningful reductions in seizures (>50%) have been observed. Management expects to share with investors the way forward for this program in the first quarter of 2018 and we should get continued updates. With modifications to study design positive results going forward could be more likely. A late-breaking poster will be presented in the beginning of December at the 2017 Annual Meeting of the American Epilepsy Society (AES).
As for ZYN001, a transdermal delivery patch of prodrug tetrahydrocannabinol, a phase 1 first-in-human randomized, double-blind, placebo-controlled study is assessing the drug candidate (in several different formulations and wear times ranging from 24 hours to 7 days) in up to 48 healthy volunteers. Later on two formulations will be chosen for further valuation in several applications for 14 days in up to 32 healthy subjects, with results expected in the first half of next year and a phase 2 program to follow afterward. Indications that could be targeted after include fibromyalgia (6 million patients in the United States) and peripheral neuropathic pain (15 million patients in the United States).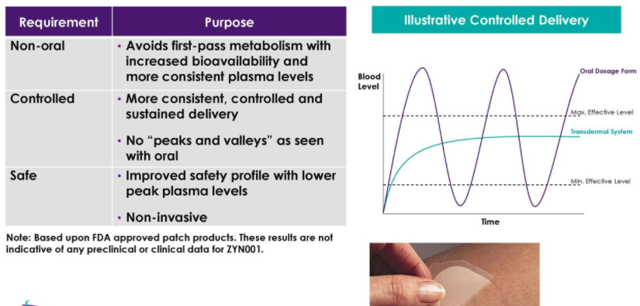 Figure 3: Potential benefits of patch technology (source: Stifel presentation)
While the epilepsy program is still a big question mark, I contrast the stock's market capitalization with companies having successful late stage programs to show that even a fraction of that success could result in a significant valuation bump. Additionally, the broader target market (focal seizures) is much larger than what is being pursued by either of the two larger firms. Other upside drivers such as their Fragile X and osteoarthritis programs plus the very large opportunities that could be targeted by ZYN001 should be carefully considered as well.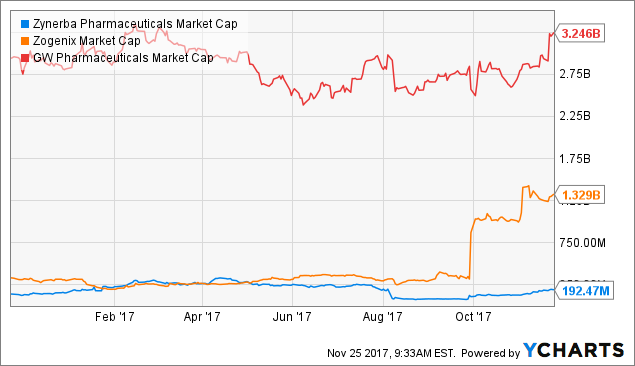 ZYNE Market Cap data by YCharts
Zynerba Pharmaceuticals is a Buy
Readers who have done their due diligence and are interested in the story should purchase a pilot position in the near term. After an initial pilot position is taken, I would wait for a secondary offering and dips to add to one's stake. While pivotal data won't be coming in the medium term, I believe the 50% gain we've seen so far is just the beginning of a longer term uptrend.
I will be adding this one to the ROTY Contenders List to keep a closer eye on it.
One key risk here is dilution in the near term- I expect as an alternative to the ATM management will opt for a plain vanilla secondary offering. At this point I wouldn't fault them for selling 2 to 4 million shares in order to extend the operational runway- if they go for significantly more than that it could potentially be a red flag. Delays in designing and initiating pivotal studies would likely add to downside pressure. A potential lack of near term catalysts could leave share price languishing for the present. The company has limited cash resources, so management will need to be a wise steward and avoid overextension into indications that might not pan out or find how to best juggle several pivotal programs simultaneously. Disappointing results for ongoing and planned studies is also a concern.
Author's note: My goal is to bring to readers' attention undervalued stocks with catalysts that could propel shares higher, as well as provide a fresh perspective on stocks you may already be aware of. I also touch on planning trades and risk management, as those are two areas I feel are often neglected. If you found value in the above article, consider clicking the orange "Follow" button and getting email alerts to receive my latest content. My sincere appreciation for readers who add value and join the discussion in the comments section, as well as those who share my work with others who could benefit from it.
Disclaimer: Commentary presented is not individualized investment advice. Opinions offered here are not personalized recommendations. Readers are expected to do their own due diligence or consult an investment professional if needed prior to making trades. Strategies discussed should not be mistaken for recommendations, and past performance may not be indicative of future results. Although I do my best to present factual research, I do not in any way guarantee the accuracy of the information I post. Investing in common stock can result in partial or total loss of capital. In other words, readers are expected to (and encouraged) form their own trading plan, do their own research and take responsibility for their own actions. If they are not able or willing to do so, better to buy index funds or find a thoroughly vetted fee-only financial advisor to handle your account. I am in a collaborative relationship with The Biotech Forum/Bret Jensen.
Disclosure: I/we have no positions in any stocks mentioned, and no plans to initiate any positions within the next 72 hours.
I wrote this article myself, and it expresses my own opinions. I am not receiving compensation for it (other than from Seeking Alpha). I have no business relationship with any company whose stock is mentioned in this article.
About this article:ExpandAuthor payment: $35 + $0.01/page view. Authors of PRO articles receive a minimum guaranteed payment of $150-500.Tagged: Investing Ideas, Long Ideas, Healthcare, BiotechnologyWant to share your opinion on this article? Add a comment.Disagree with this article? Submit your own.To report a factual error in this article, click here