Editor's note: Seeking Alpha is proud to welcome Pooja Sharma as a new contributor. It's easy to become a Seeking Alpha contributor and earn money for your best investment ideas. Active contributors also get free access to the SA PRO archive. Click here to find out more 禄
XPO Logistics (NYSEMKT:XPO) was one of the top picks/analysts' favorite in 2017. It increased 111% during the year and generated 15%-20% returns for me at three different entry and exit points during the year. As I look at it again in this year, XPO is already 18% up in YTD 2018.
Is there any more profit potential left at the recent stock price of $108?
There's a lot happening in the e-commerce space. Since 2011, when Bradley Jacobs assumed the roles of CEO and Chairman, XPO has done everything perfectly from acquiring the right companies, expanding geographically, and investing in cutting-edge technologies. The bulk of the reward XPO deserved from investors came in 2017 in the form of share price appreciation.
According to XPO's latest investor presentation (Q1 2018), e-commerce market is worth US$13B. With the company's just 7% market share, there is a huge untapped demand. XPO is disrupting the way the heavy goods delivery ecosystem operates by investing in technology that is a long-term growth catalyst for an investor. Bradley Jacobs knows which companies to acquire and how to integrate them with the existing business.
Based on these factors, I believe the shares will provide a 20%-22% increase in the next 12-18 months. I'll discuss my investment thesis in more detail now.
Humming along to the tune of a growing ~US$13B e-commerce market
As mentioned in the Q1 2018 investor relations report, XPO logistics contributed 7.0% heavy goods home delivery (greater than 150 pounds) out of total 185.7M deliveries in the U.S. in 2017. XPO is leading the U.S. heavy good delivery space, with 61 last mile hubs that are expected to increase to 85 hubs before the end of 2018 that will help them service 95.0% of the U.S. population. The company has introduced a whole new technology dynamics to the transportation and logistics industry (discussed in more detail in the latter part of the report), and especially for last mile delivery XPO has robust customer interaction system in place. XPO has partnered with both Amazon (NASDAQ:AMZN) and Google (NASDAQ:GOOG) (NASDAQ:GOOGL) to enable the customers to track their deliveries on the voice-controlled assistants in addition to the web-based tracking tools.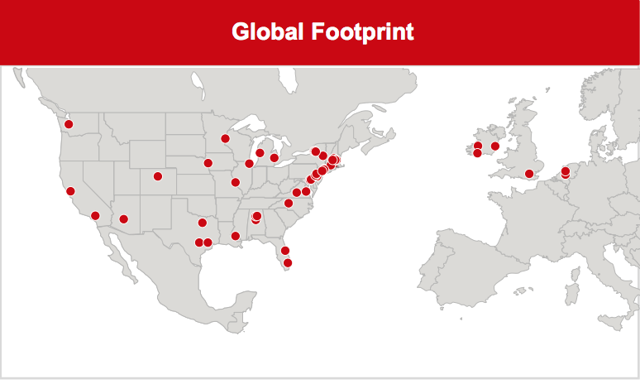 Source: XPO Logistics Q1 2018 Investor Presentation
Furniture is currently the fastest growing e-commerce sub-segment in the U.S., creating fierce competition between Amazon, Wayfair, Crate and Barrel, and other big-box retailers. UPS is considering a partnership with Werner to take advantage of this trend. We do not consider this to be a threat for XPO due to its existing scale and a long-term contract with the key players.
As per the latest Amazon-Sears deal, Sears (NASDAQ:SHLD) will sell its Kenmore appliances range on Amazon's website. This is a clear-cut advantage for XPO that specializes in delivering washing machines, dryers, refrigerators, etc.
Disrupting traditional supply chain industry via technology
XPO Logistics invests US$450B/year on technology to automate and optimize their supply chain process as well as improve transparency for end-customers. Recent introductions include XPO Direct, XPO Connect, the WMx warehouse management platform, Drive XPO, a new API for LTL customers, and the C3-XPO external security robot. CEO and Chairman Brad Jacobs recently during the Q1 2018 analyst call, called technology as their secret sauce without which they would not have been able to digest all the acquisitions. Technology expense is hitting the bottom line but we expect it to create a long-term competitive moat for the company and stronger organic returns for the long-term investor.
When a good jockey knows how to get good horses
CEO and Chairman Bradley Jacob has been the key to XPO's success. He is responsible for 12 accretive acquisitions since 2012 and their seamless integration with the parent company. During the same Q1 2018 analyst call, Brad announced two mid-size acquisitions or one big probable acquisition by the end of 2018. Management expects these acquisitions to be highly accretive that would positively impact FCF and EBITDA. The company has a dry powder of US$8B that will be used to fund the M&A activity or to repay the debt if there are no acquisitions. We believe either events will prove to be a catalyst for the share prices.
Financial outlook
Here are my revenue, EBITDA and FCF estimates: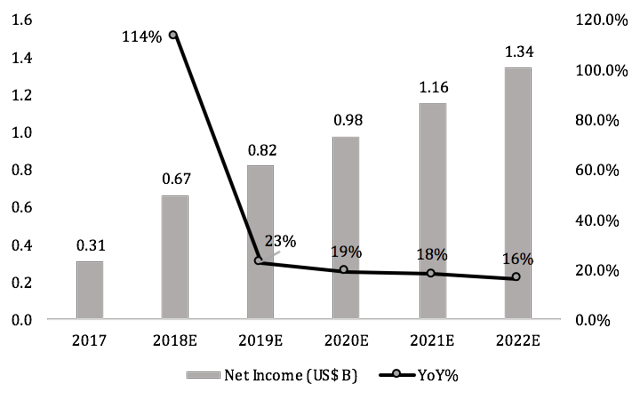 Source: XPO 2017 10-K and analyst estimates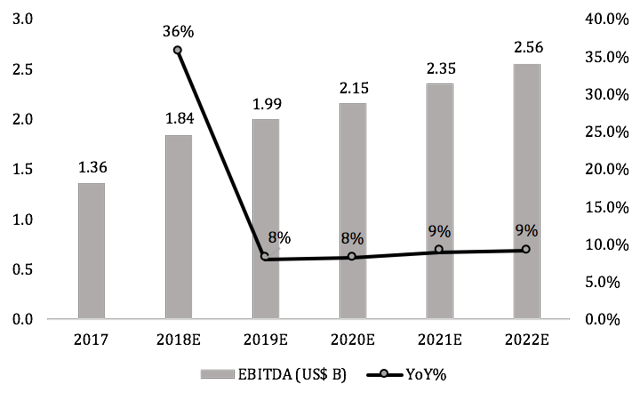 Source: XPO 2017 10-K and analyst estimates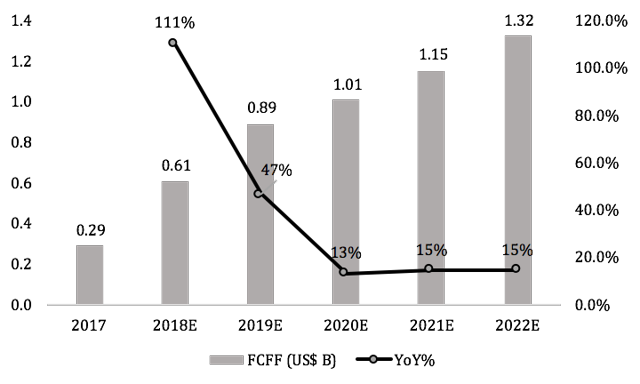 Source: XPO 2017 10-K and analyst estimates
Expect deacceleration in revenue growth in the coming three to four years, but will still remain higher than the rate at which 3PL industry is expected to grow. Considering the current market scenario, we expect XPO to maintain its leadership position (top-line growth) and consolidate global operations to optimize the cost structure (improved margins). According to Hexa Research, the 3PL industry is expected to grow at 5% CAGR from 2016-24. Key drivers are continued growth in consumer spending, industrial production, and trade that will drive freight volumes. Valuation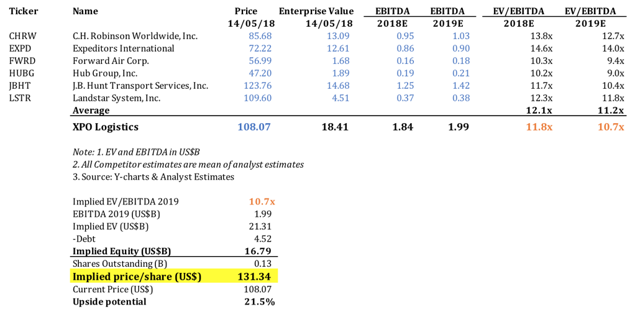 Source: YCharts and analyst estimates
Our price target of US$131/share is based on the EV/EBITDA assumption of 10.7x in 2019, lower than 11.2x 2019 competitor's average. Lower EV/EBITDA for XPO is due to high debt levels. Applying a multiple of 10.7x times to our 2019 EBITDA estimate of $1.99B indicates ~20-22% upside over the next 12-18 months. So, we offer a buy recommendation at the current level.
Risks to the price target Uberization of trucking by technology giants, especially AMZN, can severely impact XPO's business by eliminating shippers and directly connecting truckers on the app. However, AMZN's overnight success is unlikely. Ninety-three of XPO's top 100 customers use two or more services, which means they are well penetrated into the XPO network and ecosystem. If there are any deals like WERN-UPS that introduce a service that XPO cannot beat. If there are any changes in regulations in the countries of operation, that can negatively impact margins. Takeaway
XPO Logistics is guided by the thoughtful vision of its CEO and Chairman Bradley Jacobs. Twelve successful acquisitions cannot be due to sheer luck. I have a firm belief in the company's future prospects. Based on the factors discussed in the article, the intrinsic value of the company is US$131.3 (up by 21.5% from US$108). It would be interesting to see the technological changes transforming third-party logistics as well as transportation industry as a whole. As I watch XPO Logistics and the 3PL industry closely, there should be a lot more to come from me, so stay tuned!
Disclosure: I/we have no positions in any stocks mentioned, but may initiate a long position in XPO over the next 72 hours.
I wrote this article myself, and it expresses my own opinions. I am not receiving compensation for it (other than from Seeking Alpha). I have no business relationship with any company whose stock is mentioned in this article.