Warren Buffett's investing philosophy dictates he should avoid buying Uber stock, as he only invests in what he knows.
Buffett has stuck with companies in tried-and-true industries, like insurance, transportation, and building materials, often avoiding the flashy tech startups of Silicon Valley.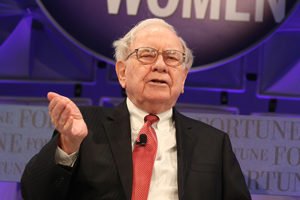 moneymorning.com/wp-content/blogs.dir/1/files/2018/05/buffett-75×50.jpg 75w" sizes="(max-width: 300px) 100vw, 300px" title="Uber stock" />
But Buffett shocked the investing world when tried to invest $3 billion in the ride-hailing app at the start of 2018, according to Bloomberg.
And if you look deeper into Buffett's investing history, the move makes perfect sense.
Retail investors, on the other hand, aren't going to get that opportunity ahead of the upcoming 2019 Uber IPO. We'll show you exactly why in a second.
But that doesn't mean you can't leverage insider access to make your own fortune too…
How Warren Buffett Gets In Early – and How You Can, Too
Buffett is considered one of the greatest investors of all times, and he has $83.7 billion in his bank account to prove it.
But what separates him from the average investor is that he structures deals so that he is almost guaranteed to win.
And he can do that because of his billions of dollars and trusted reputation.
For example, Buffett invested $5 billion in Goldman Sachs Group Inc. (NYSE: GS) in 2008 during the financial crisis.
Goldman received much-needed capital, and Buffett's credibility helped it retain investor support.
In exchange, Buffett received $5 billion worth of "preferred" shares. These are considered safer than "common" shares because if Goldman went bankrupt, preferred shareholders are paid before common shareholders from the liquidation of a company.
Goldman also agreed to pay a 10% dividend on Buffett's preferred shares.
The Oracle of Omaha also got the option to buy 43.5 million additional shares of GS stock at $115 per share before Oct. 1, 2013.
The average retail investor could never make a deal like this.
When all was said and done, Buffett made roughly $3.1 billion in cash and stock from his original $5 billion investment, according to Quartz.
FCC Approval Could Send This Tiny Stock Soaring: A stunning breakthrough is set to spark the most impactful tech revolution you'll ever witness in your lifetime. Go here to see how you could claim a spot on the ground floor…
That's a 62% return in five years, which was double the 30.91% return of the Dow Jones Industrial Average during that same time.
With Uber, Buffett was trying to structure a similar deal, but the two sides couldn't reach an agreement on the terms and size of the deal, according to Bloomberg.
Buffett was trying to leverage his way into a sweetheart deal ahead of the IPO, where he could have made billions.
But retail investors won't be able to create favorable terms for a deal ahead of the Uber IPO, and the public offering won't make them rich.
Fortunately, you don't have to be Buffett to make a potentially massive windfall on the next tech disruptor…
Just like Uber, new technologies and companies are disrupting the status quo – and potentially making a fortune doing it.
And you don't need to be a billionaire investor to get access to these investments, either. You just need to know where to look.
That's where Money Morning Defense and Tech Specialist Michael Robinson comes in. Michael is a 30-year veteran of Silicon Valley, where he's done everything from covering new tech breakthroughs to sitting on the board of venture capital firms.
He uses his insider access to help you find the next big innovation that will change the game… like the one he's just uncovered.
You see, a stunning breakthrough is set to spark the most impactful tech revolution you'll ever witness in your lifetime…
Critical – This Changes Everything
Join the conversation. Click here to jump to comments…