Pepsi (PEP) came onto my radar as it is at or near its 52-week low. I have a theory that many stocks were re-priced our re-valued during the market correction in the winter of 2018. When I saw PEP at these levels I was thinking that this was a broken stock at a good price.
As we can see below, the stock has fallen from ~$120/share in let's say February to $98 in late May. The PE ratio as compressed as well. These are significant moves and the simply explanation of re-valuing companies with tighter multiples may not tell the whole story.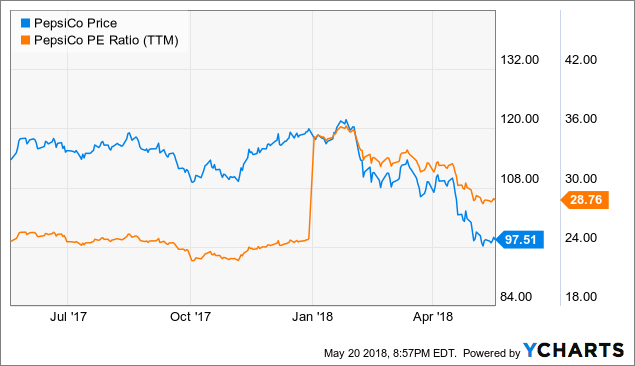 PEP data by YCharts
SA contributor No Guilt presented a thesis why PEP is a good investment at these levels. A key comment is that the valuation is 'OK'. From my research, the valuation has compressed due to the market re-pricing aided by the increase in debt to finance shareholder friendly maneuvers (dividends, share repurchases), margin variability and lack of performance in sugary drinks.
Margin Variability
Outside of Frito Lay North America "FLNA" operating margins have been variable within the operating segments. Packed in those numbers are currency fluctuation, restructuring charges and other miscellaneous expenses that have been headwinds. I have to acknowledge that both operating income and margin have improved year over year. The stellar segment has been FLNA in which has steadily grown revenue with margin expansion. The other heavy weight, North America Beverages "NAB", has not been consistent.

Per the 2017 Consumer Analyst Group Conference of New York "CAGNY", Vivek Sankaran, President & COO of Frito-Lay North America explained that FLNA can sustain 3% revenue growth.
So we've averaged about 3% over the last 3 years, and that 3%, we think, is very sustainable. There is an inherent growth in the marketplace for the population, and that population supports snacks. So there's a fundamental volume growth in the business. With strong innovation, I think innovation is essential. With strong innovation and smart price — package mixes, you get an additional pricing on top of that, which is what that 3% is. And so we continue to see that. And as long as we can keep this category vibrant with the innovation and marketing that you see, we feel comfortable with that growth trajectory.
The company has done a lot to innovate in products by promoting new flavors of their flag ship salty snacks to appeal to the ever changing preferences of their target consumers.
Mr. Sankaran continued to elaborate on the sustainability of margin expansion for FLNA.
…there are 2 things we are maniacally focused on, right, which I think are enduring. One is you always want to focus on finding a way to get better price per pound. And that comes based on innovation, excitement with the category. In our category, you're also finding people going for smaller bag sizes. And so the mix helps on that front, too. So better price per pound. The other thing we maniacally focus on is cost per pound, right? And every year, if you look out 5 years ago, you go, Boy, there's going to be a limit to that. But every so many years, technologies come around.
There is an increase in demand that appears sustainable, improvement in technology and understanding consumer preferences should lead to steady margin expansion in the near term. Management presented the four levers for revenue growth and expansion for FLNA, which ties all the commentary together nicely in chart.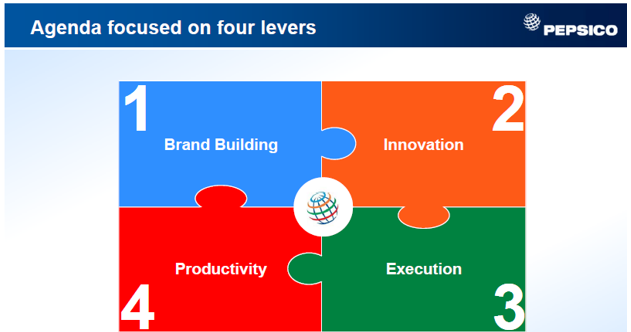 This is further highlighted in the 2017 CAGNY presentation deck.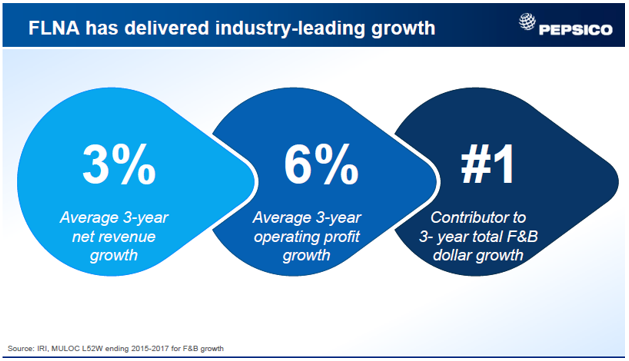 What is going on with NAB and how will that be turned around?
One of the main issues is the shift in the consumer preferences for drinks. As we are well aware that sugary drinks have become less popular and overtly taxed more in some instances. To mitigate this, PEP has focused on promoting Mountain Dew, Naked juice and teas to appeal to Millennials. This is not and has not been a quick turnaround. PEP has taken some heat in NAB and they believe the ship is beginning to turn.
Al Carey, CEO of North America, explains at the 2017 CAGNY how the NAB ship is beginning to turnaround and is poised to improve.
Ellie, in the share, I think it's, right now we're about even to slightly up, but just remember three or four years ago, we weren't gaining — we were losing share, we were losing sales and the profit performance, it wasn't where we wanted it to. So we finally got this into balance. I think the long-term bet is if we keep investing in tea, coffee, sport drinks, water and some of these faster moving products over a long period of time, we will gain share.
As we saw in the business segment chart near the beginning of the article, NAB performance has been a mixed bag. Once the high-growth brands become a larger share of revenue, that is when NAB should see improved revenues.
Throughout the research, Analysts and investors have made it clear that NAB is not performing up to standards and lessons should be learned from FLNA. There was even discussion among analysts about splitting FLNA from PEP to create value and to free FLNA from NAB. I do not think this will happen in the near-term. The products are complimentary and are too intertwined for a break up and right now, management is focusing on strengthening NAB.
FLNA just keeps chugging along and expanding margin. The rest of the segments are just inconsistent, some of which is short-term in nature. Overall, operating income and operating margins have improved due to innovation in food products and technology enhancements. Each segment carries noise, but the NAB needs to turn around to improve valuation.
Increase in Debt Load
The following are capital allocation priorities outlined in the 4Q15 Earnings Transcript:
Capital allocation priorities:
Invest in the business; Pay dividends to our shareholders; Strengthen their market positions and create value through responsible tuck-in acquisitions, generally less than $500 million a year in total; and Fourth capital allocation priority is to return residual cash to their shareholders through share repurchases, and they plan to do so within the confines of maintaining a capital structure that provides them ready access to the debt capital markets at attractive rates.
There are good things mentioned above to improve the business, and I will touch on some of them. What I want to focus on here is that the debt load will increase and it has.

The table below outlines total share repurchases and dividends per annum. In total PEP has returned $31Bn to shareholders since 2014.

I cannot fault PEP for issuing debt to return capital to shareholders. As I will discuss later, PEP has a robust ROIC capital and the cost of debt is quite low as demonstrated below. The debt management is well done. The interest rates are low and the debt is staggered with no significant maturities.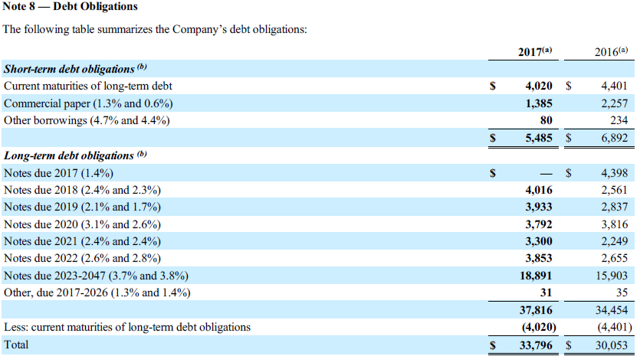 PEP generates strong FCF, but has been a mixed bag whether it can cover dividends and share repurchases.

Even with the rise in debt, the credit metrics are still favorable. Leverage (debt/unadjusted EBITDA) has remained fairly constant at a moderate level. Interest coverage remains strong.

The increase in debt is noted and free cash flow is not sufficient to cover the combination of dividends and share repurchases. On the bright side the debt has been structured in a way that it should roll over cleanly and has low to moderate interest rates. Debt financing is inexpensive and is not detrimental to the credit worthiness and ROIC as we will explore below.
How is ROIC impacted by the increase in debt and operating income?
Earlier in the article, I explained that both operating income and margins have improved over the last three years, which was largely driven by FLNA, and debt has increased over the same period to return capital to shareholders in the form of dividends and share buybacks.
The ROIC performance has declined over the last three years. It is important to note that the 2017 ROIC was negatively impacted by the Tax Cuts and Jobs Act "TCJA". If a 22% tax rate was used, 2017 ROIC would have been 17%. The cost of capital in 2017 was ~6%. Management has to be applauded for generated excess return on capital. Note the table below is unadjusted.

The decomposition of ROIC shows where the excess return is coming from. NOPAT/Sales is the profit per unit and SALES/Invest Capital is the invested capital turnover/efficiency. Even with the increase in debt, revenue growth mitigates the negative impact on the increase in debt as evidenced by the stable capital efficiency year over year.
The drag on ROIC is NOPAT/Sales. If taxes were adjusted for the TCJA impact by reducing tax rate to 22%, the NOPAT/SALES ratio would be ~13% and ROIC would improve to ~17%. The crux of this exercise is that improvement in efficiencies, cost reductions and understanding the preferences of customers have improved operating margins leading to improved excess return.

Valuation
Below is the valuation of Coca-Cola (KO), Mondelez (MDLZ) and Dr. Pepper Snapple (DPS). The group overall is nothing stellar in terms of revenue growth. PEP falls somewhere in the middle in most categories. It is difficult to ascertain how PEP should be value relative to its peers.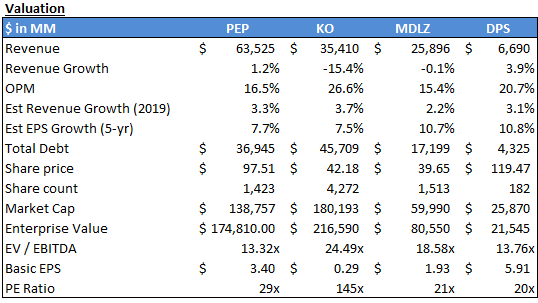 It might be a better idea to look at a Trailing PE graph to show the re-valuation of companies, which occurred in 1Q18. Overall, I think investors are not willing to pay more for moderate revenue growth thus the compression in earnings multiples. Note that KO is not included as its PE would highly skew the graph.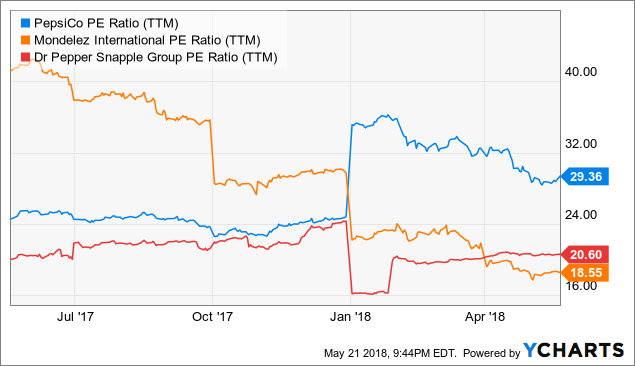 PEP PE Ratio (NYSE:TTM) data by YCharts
Conclusion
The stock is currently at or near its 52-week lows, which piqued my interest. Many stocks have relatively underperformed since the beginning of the year due to a market-repricing, as investors are not willing to pay as high multiples as earlier in the year. I thought PEP could be a broken stock and not a broken company and hence the research.
Along with the market repricing, the decline in PEP was aided by an increase in debt and lack of growth in NAB, the large and iconic business segment. As the article points out is that FLNA has really driven growth and margin expansion for the company, along with other corporate-wide initiatives to lower expenses. Management has pulled all the right levers for FLNA and continues to focus on improving NAB. This has been a multi-year transition and is still a work in progress.
PEP has accumulated relatively cheap debt to finance shareholder friendly practices (dividends and share repurchases). ROIC remained steady largely due to good debt management and improvement in operating margins.
Overall, I think analysts and investors had enough of the underwhelming performance of NAB and the stock took a hit. I do believe this is temporary in nature as the market has a short-term memory. If PEP can deliver a quarter or two of improvement in NAB, I think the stock can reach its recent highs.
Disclosure: I/we have no positions in any stocks mentioned, and no plans to initiate any positions within the next 72 hours.
I wrote this article myself, and it expresses my own opinions. I am not receiving compensation for it (other than from Seeking Alpha). I have no business relationship with any company whose stock is mentioned in this article.