After OPEC had decided that it will be slashing its output next year, oil prices have rallied remarkably of late. Brent crude is already trading at $55 per barrel, and it is likely that the price will exceed $60 per barrel next year on the back of the production cuts. This is great news for BP (NYSE:BP) investors as the company has reduced its costs in the upstream segment impressively over the past few quarters by shifting production to more efficient assets.
As a result, I expect that BP will take advantage of a $60 oil price environment due to its cost cuts and deliver robust earnings growth next year, which will eventually lead to a strong growth in the stock price. So, in this article, we will take a look at the factors that will help BP deliver strong earnings growth in 2017, and the resulting impact on the stock price.
How BP has improved its upstream efficiency
BP has been focused on adding more profitable production from assets where costs are low. More specifically, it will be adding 800,000 barrels of oil equivalent per day of new production in the next four years. Of this new production, 500,000 barrels of oil equivalent per day will be operational next year itself.
Now, the important part about this new production that BP is going to bring online is that it is geared to deliver robust returns at a $50 per barrel oil price level. This is because of the lower cost profile of the new assets as they are anticipated to deliver 35% higher operating cash margin than the existing production of the company.
The improvement in the operating cash margin from the new assets will be driven by a decrease in the development costs, which are 20% lower as compared to the company's 2015 asset portfolio. This is shown below: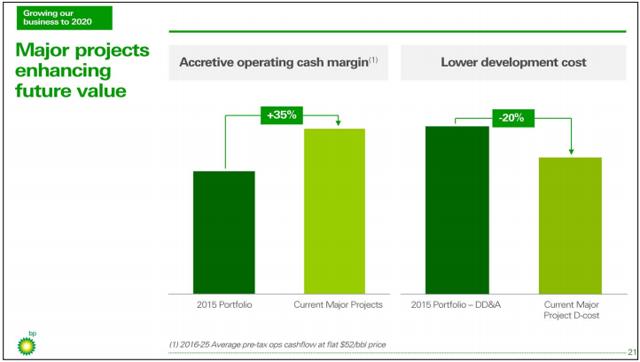 Click to enlarge
Source: BP
In fact, as a result of the low cost base of the new assets, BP believes that it will be able to generate additional cash flow of $7-$8 billion even if oil prices remain at $50 per barrel by the end of the decade. One of the key factors why BP will be able to generate stronger cash flow from its new assets is because of the company's focus on increasing production from assets that have a lower cost base.
In fact, from 2014-2017, BP anticipates that it will reduce its cash costs by $7 billion as it has increased its production from low-cost regions such as the Lower 48. More specifically, BP's cost of production from assets in the Lower 48 areas has dropped by 28% in 2016, leading to improved capital efficiency. The good part is that as a result of its lower costs, BP has been able to improve its earnings performance of late.
In fact, over the past four quarters, BP's bottom line has been growing at an impressive pace. This is evident from the chart given below: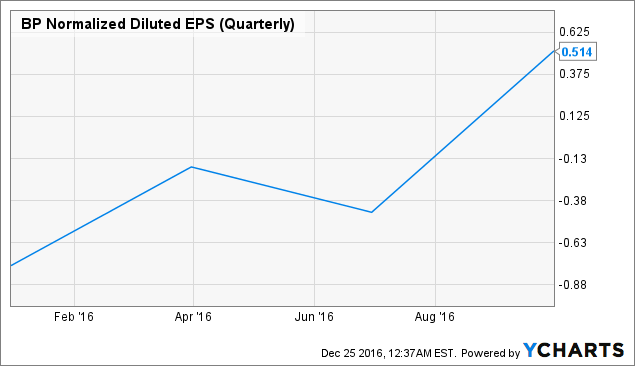 More importantly, it is likely that BP will continue to report a strong improvement in its bottom line next year as it brings the majority of its low-cost production online. Eventually, this will lead to an improved bottom line performance. Let's see why.
BP is set for 35% upside
Next year, BP is expected to deliver earnings of $2.63 per share as compared to the earnings forecast of $1.10 per share for the current year. Thus, in 2017, BP's bottom line is expected to grow 140%, which is quite impressive. As a result of this earnings growth, BP's forward P/E is expected to come in at 14 as compared to a negative trailing P/E of 31.
Now, the growth in BP's earnings will be a result of strong revenue growth due to the improvement in oil pricing and the company's addition of new assets. As a result, its revenue is expected to go up to $243 billion next year as against the projection of $203 billion for the current year. Since BP has a trailing-twelve-month price to sales ratio of 0.66, this means that its market capitalization next year will grow to $160 billion as compared to $119 billion currently if the revenue increases to $243 billion, indicating 35% upside.
Conclusion
So, BP is expected to deliver upside of close to 35% next year as its revenue improves on the back of higher oil pricing, which will eventually lead to robust earnings growth. Thus, as a result of lower costs and higher oil pricing, BP investors can expect strong gains next year. So, it will be a good idea to hold the stock going into 2017.
Disclosure: I/we have no positions in any stocks mentioned, and no plans to initiate any positions within the next 72 hours.
I wrote this article myself, and it expresses my own opinions. I am not receiving compensation for it (other than from Seeking Alpha). I have no business relationship with any company whose stock is mentioned in this article.