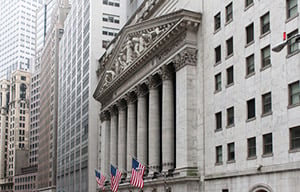 If you're invested in an exchange-traded fund (ETF), you're probably wondering what happened to the NYSE Arca exchange yesterday (Monday, March 20) – and how your money was affected.
Near the 4 p.m. closing bell yesterday, a glitch prevented more than 1,000 funds listed on the NYSE Arca from closing by traditional auction. In other words, the NYSE Arca had a system error during the critical final minutes of trading when the exchange determines each fund's closing price.
This error affected millions of ETF traders and investors. After all, market participants use closing prices as a key influence in their buying and selling behavior the following session. If they don't know the settlement price of an ETF, their ability to hedge could be negatively affected.
Here's what happened to the NYSE Arca during the last minutes of trading yesterday…
A Timeline of the NYSE Arca Glitch
According to The Wall Street Journal, NYSE Arca first notified investors at 4:07 p.m. – seven minutes after market close. The exchange gave an alert saying "all live orders will be canceled." Then, at 4:13 p.m., post-market trading on all NYSE Arca-listed funds was suspended.
An $80 Billion Cover-Up?
Under the watchful eye of Congress, the government will soon be implementing a controversial plan that threatens the retirement of millions of Americans. And theyre using an obscure loophole buried in Title 29 of the U.S. Labor Code to do it. If you have a 401(k), IRA, or any type of retirement account, this could cause you to miss out on $68,870 or more. Learn more
At 4:37 p.m., the exchange said each affected ETF's closing price would be determined by taking its volume-weighted average price during the session's last five minutes. If no trades happened in that five-minute window, the closing price would be based on the fund's consolidated last sale. If that number wasn't available, it would simply revert to the closing price from the Friday, March 17 session.
Because the volume-weighted average price wasn't the actual closing price, there's no way to know for sure if it was a better or worse price for each ETF. Investors may have earned a bigger or smaller return without ever knowing for sure.
As the world's largest exchange for ETFs, the NYSE Arca glitch is being considered the biggest trading error of 2017. ETFs are among the most popular investment classes, and roughly 92% of all exchange-traded products listed in the United States trade on the NYSE Arca.
Here are some of the most popular funds that were affected by the NYSE Arca system error…
What Happened to the NYSE Arca-Listed ETFs? Here Are 5 of the Largest
Join the conversation. Click here to jump to comments…