Introduction
After my very first article about Euronav (EURN) here on Seeking Alpha, the companys share price doubled before falling back to the original share price on the back of a very weak oil tanker market. The company has now released its full-year financials and it looks like the negative trend on the tanker market will persist for the next little while.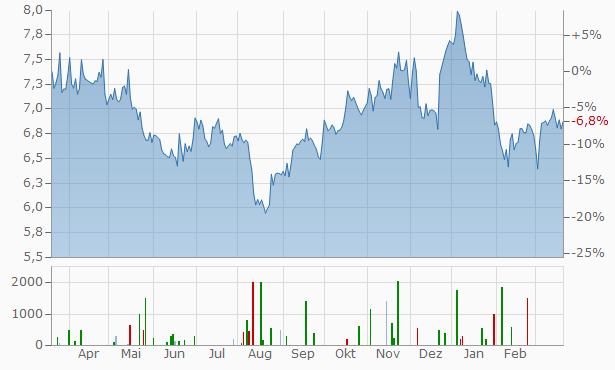 Source: finanzen.net
Although Euronav is a Belgian company, its NYSE listing is very liquid, so it doesnt matter on which exchange you trade in Euronavs shares.
The fourth quarter was a bit better than I expected
We already knew for a while 2018 would be a tough year for Euronav as the charter rates for VLCC and Suezmax oil tankers remained very low. This also seems to have an impact on the companys level of transparency. Whereas Euronav always published the spot and charter rates for the vessels on a quarterly basis, the press release announcing the full-year results does not contain an update on the charter rates. Perhaps this will be included in the full annual report, but I would be disappointed should Euronav walk back on its transparency.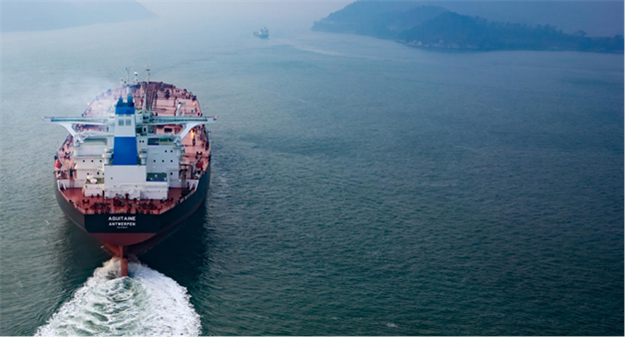 Source: company presentation
Lets first have a look at the full-year income and cash flow results before distilling the Q4 results by comparing the FY results with the results of the first nine months of the year (as Euronav didnt provide statements for the fourth quarter).
The full year revenue fell by approximately 25% to $555M, resulting in a stunning 95% decrease in the operating income, which fell from $208M to $13.4M. Its tough to be happy with this result, especially considering the operating income actually includes a $36.5M gain on the disposal of older vessels. So if those sales wouldnt have occurred, Euronav would have had to report a negative operating income and net income (which now was a symbolic one cent per share).
But of course, the $230M in depreciation charges has a huge impact on the income statement, and although Euronav is operating a capital intensive business, its only really capital intensive when you buy new vessels. The sustaining capex (paint, drydocking, basic maintenance) is obviously just a fraction of the depreciation rate and thats why you should always read the income statement together with the cash flow statement.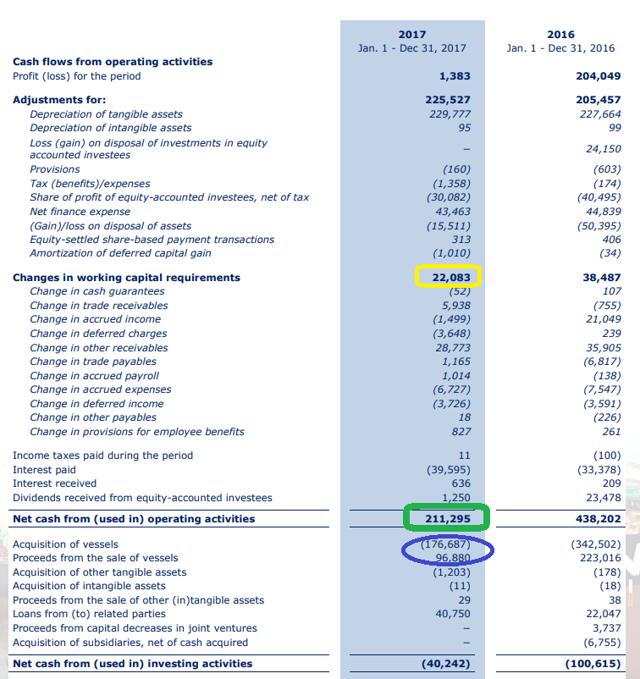 Source: financial statements
According to the cash flow statement, Euronav generated $211M in operating cash flow, of which $22M was contributed by positive changes in its working capital position (fueled by debtors paying their open invoices). Adjusting the operating cash flow for the changes in Euronavs working capital, the adjusted operating cash flow is approximately $189M, of which $177M was spent on new vessels. A part of the acquisition cost of the new vessels was funded by the sale of some older vessels which allowed Euronav to raise $97M.
Just to get a better overview of how Euronavs cash flows are trending, the next table shows an overview of the Q4 cash flows. As you can see, the operating cash flow was actually pretty strong (not entirely unexpected as Q4 and Q1 usually are the best quarters for Euronav due to the winter period in the northern hemisphere).

So although the performance still isnt great, Euronav doesnt appear to be facing huge financial risks. Breaking even whilst investing in new vessels during bad years isnt a bad situation to be in.
The merger with Gener8 Maritime will close in the second quarter of this year
Im still really looking forward to the completion of the merger with Gener8 Maritime (GNRT). I have reviewed and discussed this deal before, and Euronav has now confirmed it remains on track to close the deal in the second quarter of this year. Just as a brief recap: this deal will make Euronav the largest independent (large) crude tanker operator with 28 Suezmax and 44 VLCC vessels (all of them relatively new).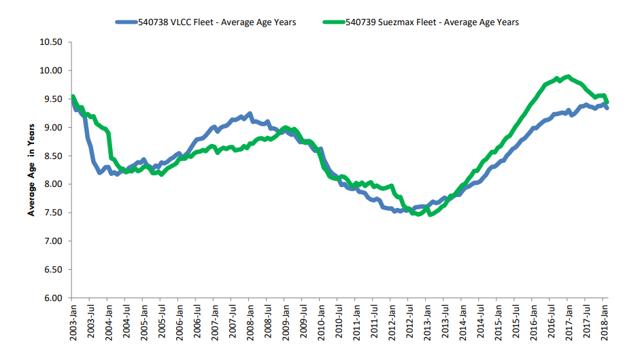 Source: company presentation
Size matters when youre trying to unlock economies of scale (for instance, lower fuel expenses, lower G&A expenses per vessel or ton/mile, a more efficient use of the combined fleet to optimize the fleet management), and just like in the previous downturn, Euronav could be paving the way to emerge as a much stronger entity in the next up-cycle. Actually, my very first article about Euronav here on Seeking Alpha was about its deal to secure 9 VLCCs from Maersk, now more than 4 years ago. That acquisition resulted in superior cash flows when the oil tanker market gained traction again, and the current acquisition of Gener8 is very likely based on similar motives.
Investment thesis
Shareholders of Euronav should be patient as the shipping sector is and has always been a cyclical sector. They were rewarded with fat dividend cheques (those cheques were a bit too fat; I have always been in favor of spending the cash on reducing the debt rather than paying big dividends which had to be slashed anyway) during the upcycle, and now have to sit tight during the current downturn.
I am leaving my position in Euronav unchanged.
Consider joining European Small-Cap Ideas to gain exclusive access to actionable research on appealing Europe-focused investment opportunities, and to the real-time chat function to discuss ideas with similar-minded investors!

Most of the companies discussed there dont have US ticker symbols, so the service will only be useful if your broker grants you access to European markets (Interactive Brokers, Fidelity, or pretty much any Europe-based broker).
Disclosure: I am/we are long EURN.
I wrote this article myself, and it expresses my own opinions. I am not receiving compensation for it (other than from Seeking Alpha). I have no business relationship with any company whose stock is mentioned in this article.