As I referenced in an article yesterday, over the next few weeks I intend to focus on researching REITs that are projected to deliver the most robust FFO, dividend and NAV growth.
The reason for this tactical research is that I believe that REITs with the best FFO growth can potentially offset any diminution in net asset values, which would be pressured by rising interest rates and capitalization rates.
On Friday I will be interviewed on Wall Street Week (on Fox Business) where I will discuss my favorite REIT sectors and sub-sectors. One of these sectors that I am particularly bullish is healthcare. As you can see below, we have around 30% of our Durable Income Portfolio dedicated to healthcare REITs.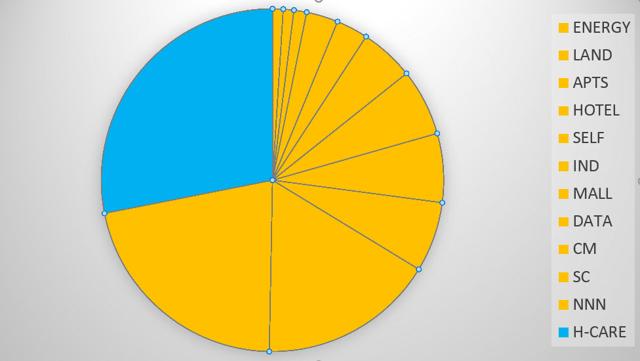 Click to enlarge
Within our healthcare REIT portfolio, Ventas Inc. (NYSE:VTR) is one of our largest positions, representing around 6.5% of our Durable Income portfolio. Our largest position in the healthcare sector is Omega Healthcare Investors (NYSE:OHI), representing over 7.1% of our Durable Income Portfolio.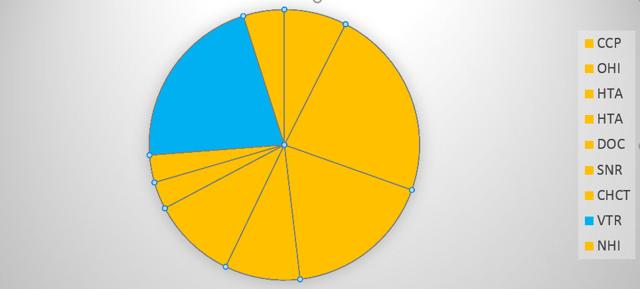 Click to enlarge
Today we are going to take a closer look at Ventas to determine whether or not we should maintain our status quo or trim shares. Thus far we have been pleased with our selection (of VTR) and especially the YTD performance within our Durable Income Portfolio.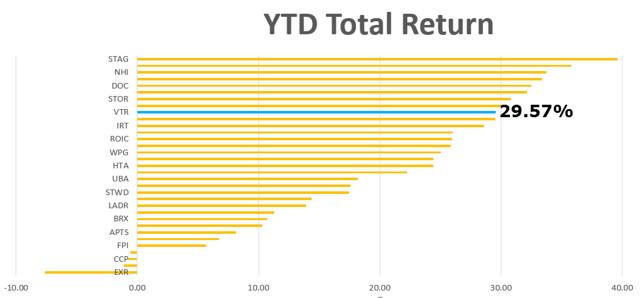 Click to enlarge
Ventas Inc. – Separating the Wheat from the Chaff
Last year Ventas underwent changes by shedding a large number of skilled nursing properties by way of a spin-off into a new REIT called Care Capital Properties (NYSE: CCP). See my Forbes article here.
Although VTR's closest competitors, HCP, Inc. (NYSE: HCP) and Welltower(NYSE: HCN) have exposure in skilled nursing, VTR was able to successfully bifurcate the risk within the more volatile government pay sector.
See my article on HCP here.
VTR previously had around 75% private pay exposure and post-spin (to CCP) VTR now has around 83% private pay (based on NOI).
Concerns over structural headwinds in skilled nursing have continued to plague the operators' rent coverage and lead to lower valuations. HCP has the most substantial exposure to governmental paying tenants like HCR ManorCare and Brookdale – representing around 46% combined rental income.
VTR still has around 4% exposure in skilled nursing, but the majority of the tenant exposure is with Kindred and other public operators.
By selectively splitting the public operators and the smaller regional operators, VTR has orchestrated a tactful model in which the superior assets stayed at VTR and the "riskier" government-pay assets moved over to CCP's balance sheet.
See my recent article on Omega Healthcare here and Care Capital Properties (NYSE:CCP) here.
Collectively, VTR's government pay risk is now 17% and that's broken out as follows: 4% skilled nursing (again, public operators like Kindred), 6% long-term acute care (i.e. 30-day rehab facilities) and 7% acute hospitals. VTR also generates around 31% from its SHOP (senior housing operating), 24% from its senior housing net lease, 19% from medical office buildings and 5% from life science.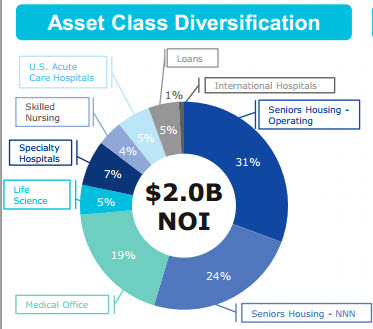 VTR has essentially removed its riskiest holdings from the balance sheet and replaced them with lower-risk hospitals and life science properties. Arguably, hospitals are exposed to government pay risk, but what's the last time you saw a dark hospital (more on the below).
VTR has enhanced its portfolio, separating the wheat from the chaff, and as you can see, the portfolio generates over $2.1 billion of NOI from leading healthcare operators.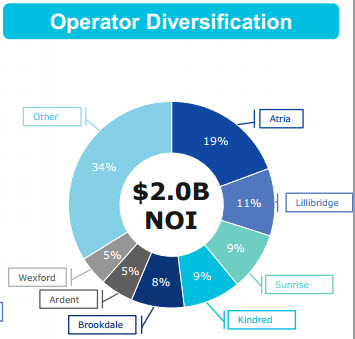 Highly Fragmented Sector
VTR is one of three larger diversified healthcare REITs, here's a snapshot of the peer group:


Click to enlarge
Source: S&P Global Market Intelligence
VTR, HCP and HCN are all included in the S&P 500 and because of the new REIT GICS sector (as of September 1st) the largest REITs (including VTR) are expected to benefit as more capital flows into the REIT sector. Experts expect over $100 billion in new capital will find its way to REIT-dom.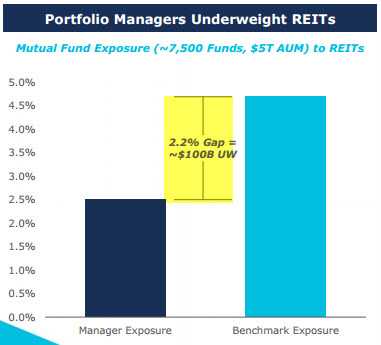 The healthcare sector is especially attractive as spending is expected to grow by 5.8% annually (2014-2024). The demand drivers – large and growing aging population – will provide enhanced spending power as evidenced below: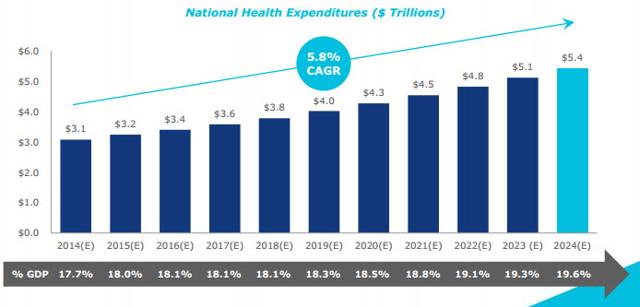 Click to enlarge
The healthcare sector is huge and because of the fragmented ownership base, the industry is ripe for consolidation. Healthcare real estate underowned by REITs is less than 15% (well below other REIT sectors).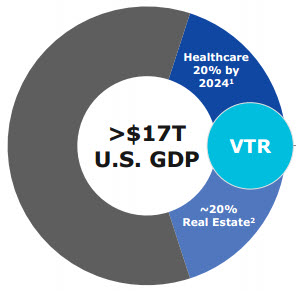 The $1 trillion domestic healthcare real estate market offers an attractive playing field for the public REITs to continue to consolidate within the various sub-sectors.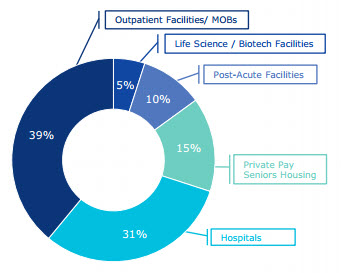 As you can see below, the percentage of healthcare real estate owned by REITs is substantially lower than the other primary asset classes: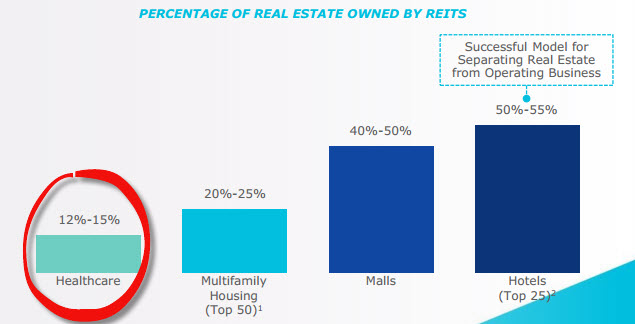 Breaking Down the Ventas Pieces
Ventas has evolved into a king consolidator – here is how the company has evolved over the years: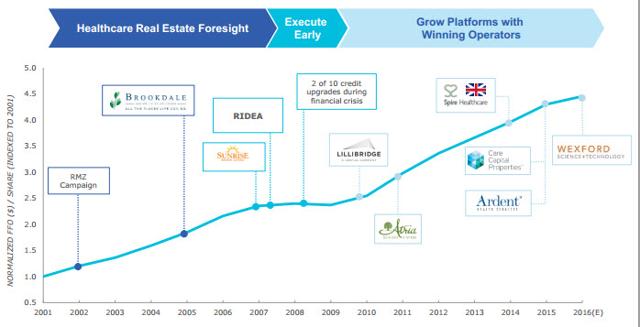 Click to enlarge
Healthcare delivery is converging requiring solutions across sites of care and geographies: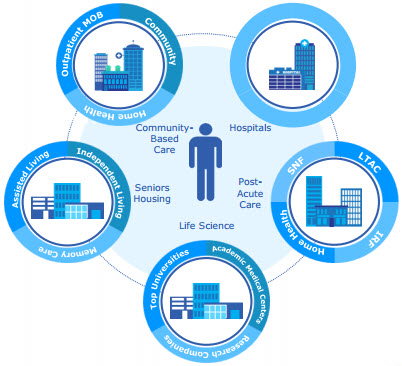 VTS has partnered with key leaders within their respective sub-sectors: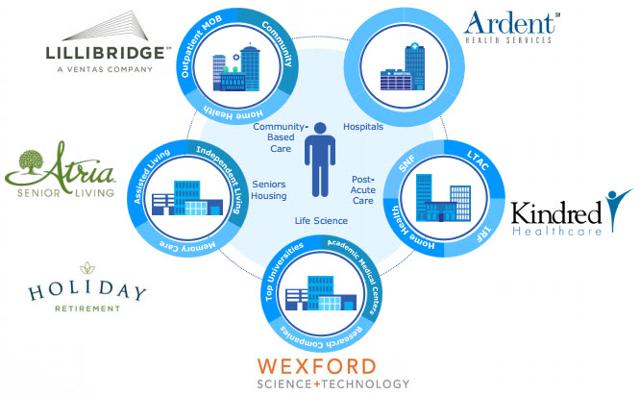 Click to enlarge
As you can see below, VTR generates a majority revenue from senior housing (55%), followed by medical office (19%), post-acute care (11%), hospitals (6%) and life science (5%).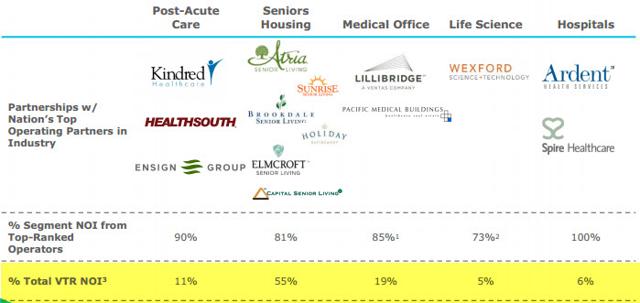 Click to enlarge
Within VTR's Senior Housing Portfolio, the company generates around 31% from SHOP and 24% from Net Lease. The senior housing sector has tremendous industry tailwinds due to aging population trends.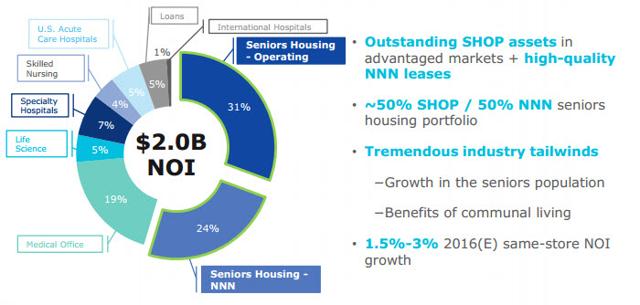 Click to enlarge
Over 60% of the SHOP NOI is generated in high-barrier-to-entry coastal markets where media home values are 2.1x the national average. In Q2-16, VTR's SHOP occupancy was 50 bps higher than the NIC industry average.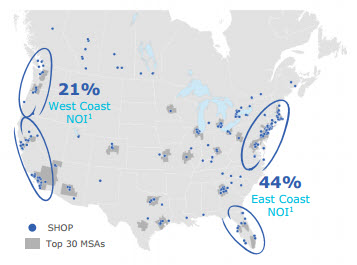 Over 90% of VTR's SHOP revenue is generated from Atria (63%) and Sunrise (30%). Atria's 5-year NOI CAGR is nearly 400 bps better than the industry average.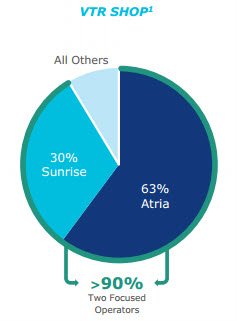 Within VTR's acute care hospital portfolio the company generates over $100 million of annualized rent or around 5% of NOI. VTR is only investing in the highest quality hospitals. The recent deal with Ardent Care Hospital was, in my opinion, a transformational transaction.
Debra Cafaro, VTR's CEO, had previously worked with billionaire investor Sam Zell and last year the two deal-makers structured a $1.75 billion deal that provides broad reaching synergies (Zell's EGI purchased the majority of Ardent's operating company valued at $475 million).
VTR forked out $1.4 billion to acquire 10 hospitals leased back to Ardent (2.5% annual rent bumps) at an unlevered cap rate of 7.5%. In addition, VTR funded ($26 million) to own a 9.9% stake in Zell's operating entity (referenced above).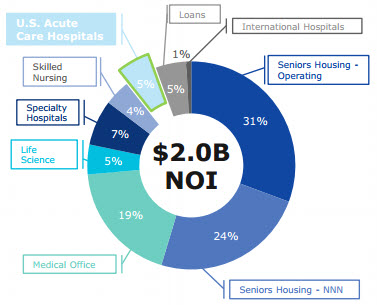 A few days ago, VTR-backed hospital operator Ardent Health Services agreed to acquire LHP Hospital Group Inc. for undisclosed terms. The deal calls for Ardent to assume LHP's management and operational obligations within five acute care hospitals in Florida, Idaho, New Jersey and Texas that the latter operates with joint venture partners. The hospitals would add to Ardent's current portfolio of 14 hospitals across three health systems.
The merger deal is expected to expand Ardent's operations by 50% and create the second-largest U.S. private, for-profit hospital operator, with 19 hospitals spanning six states and $3 billion in revenues.
To complete the acquisition, VTR committed to provide $700 million in secured debt financing to an Ardent subsidiary. Ardent's majority owner, an Equity Group Investments affiliate, is also injecting a "significant equity contribution" into the hospital operator.
The VTR financing comes in the form of a LIBOR-based loan with a five-year term and a roughly 8% initial interest rate. The loan is expected to be accretive to VTRs' normalized funds from operations for 2017 on a leverage-neutral basis. VTR will use proceeds from asset sales and loan repayments, cash on hand and other capital sources to fund the transaction.
One-third of healthcare spending comes from hospitals:

VTR should continue to expand its footprint in the hospital sector and become a primary provider of capital to assist providers with growth and consolidation.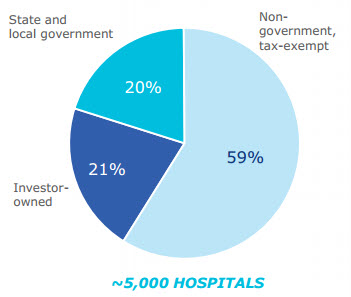 VTR generates around 19% of NOI from its medical office building portfolio. The company has over 400 hospital relationships and VTR is the #1 largest owner of MOBs in the U.S. Over 96% of the MOBs are located on affiliated or on-campus settings.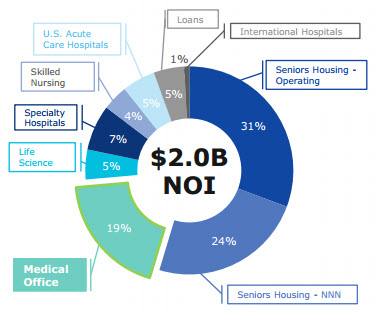 Secular trends make MOB an attractive asset sector due to increased insured population, increasing visits to the doctor offices and increased spending.

VTR recently entered the Life Science sector where the company generates around $95 million in rent (5% of NOI) from high-quality tenants.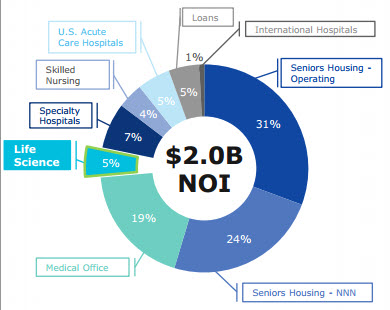 VTR's life science portfolio consists of over 4.1 million square feet of purpose-built real estate with an average age of 6 years. All of the buildings are located on or contiguous to major campuses. Here is a snapshot of several new VTR relationships: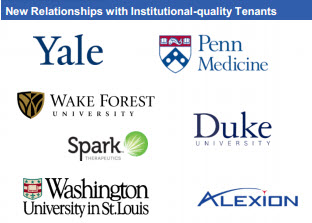 VTR has several new life science buildings underway in the Research Triangle: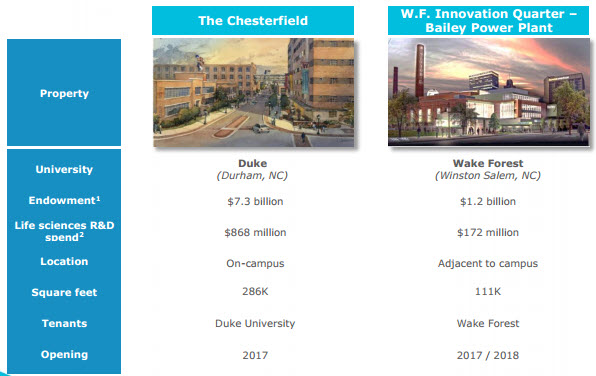 Here is a snapshot of VTR's relationships within these targeted markets: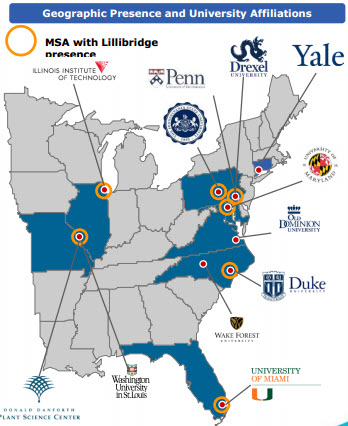 The life science sector is complimentary to VTR's hospital business in that both sub-sectors represent highly fragmented categories. Life science represents around $38 billion of total university R&D spend across 100+ universities. VTR is well-positioned to benefit from consolidation.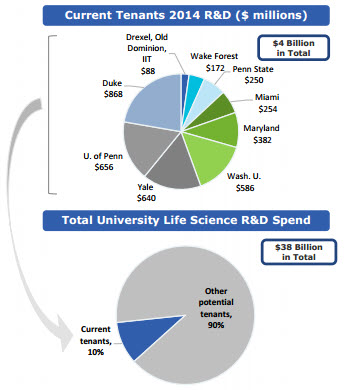 VTR generates around 7% of NOI from its post-acute properties. 68 of 92 post-acute assets are leased to Kindred.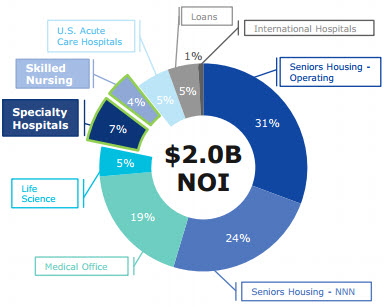 Kindred is a best in class operator that is expected to generate over $55 million of EBITDARM from LTAC criteria in 2017.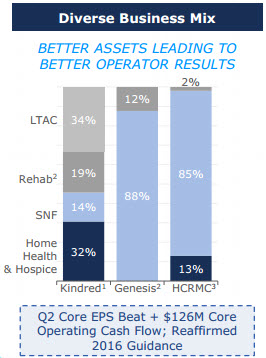 The Balance Sheet
VTR made $65 million in new investments in the second quarter including $30 million of acquisitions, and $35 million of development and redevelopment spending during the quarter. The company strengthened its balance sheet in Q2 through the issuance of a total of 3.5 million shares of common stock under the ATM for gross proceeds of approximately $232 million.
In June VTR tendered and ultimately retired in full the $550 million 1.55% senior notes maturing in September 2016. The September note was retired principally through the issuance of a $400 million, 3/8 seven-year unsecured note. Demand for Ventas's debt offering was very high with the order book 7.5x oversubscribed.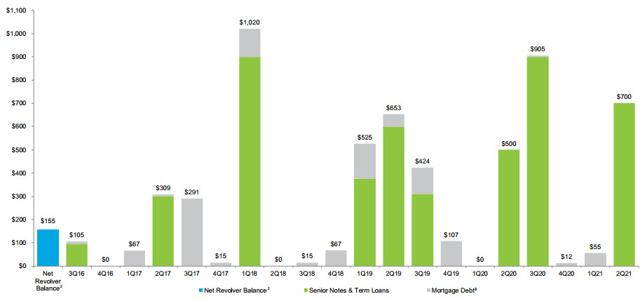 Click to enlarge
As a result of this cumulative capital activity during the quarter, VTR has a healthier balance sheet and excellent liquidity. The net debt to EBITDA ratio improved from 6.1x at year-end 2015 to 5.8x at the end of the second quarter. VTR lowered gross debt by nearly $300 million since the beginning of the year.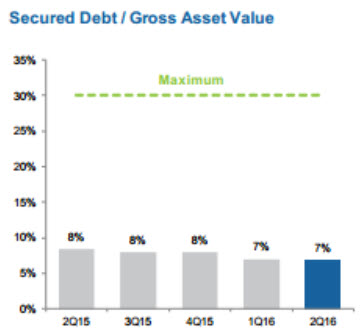 VTR's fixed charge coverage is exceptionally strong at 4.6x and debt to total capitalization is 30%.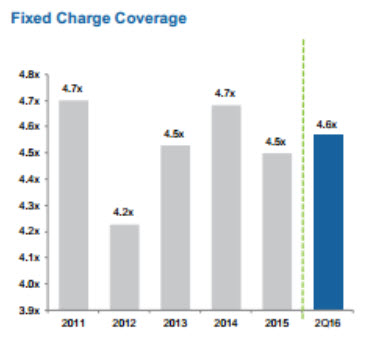 VTR has an investment grade rated balance sheet and just a few days ago Fitch affirmed the company's issuer default rating at BBB+. Fitch said VTRs' diverse healthcare property portfolio, access to multiple capital sources, sufficient liquidity and deep management team supported the BBB+ rating and outlook, noting, however, that these strengths are balanced by the company's leverage that remains closer to 6x than 5x, but has risen to the high end of the range appropriate for the rating.
The rating agency also attributes the affirmation and stable outlook to its assumption that VTR, should it choose to, can maintain leverage below the 6x level.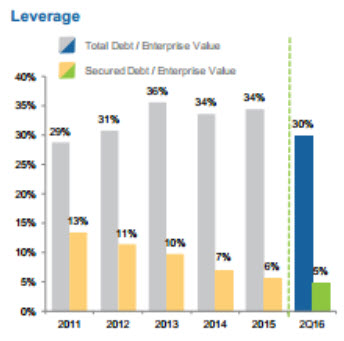 The Latest Earnings
In Q2-16 VTR delivered $1.04 in normalized FFO per share, representing 7% year-over-year comparable growth, and on track for 3% to 5% normalized FFO growth in 2016. This strong year-over-year growth was driven by the carryover impact of 2015 investments, including Ardent, together with new year-to-date investments in 2016 and second-quarter same-store NOI growth.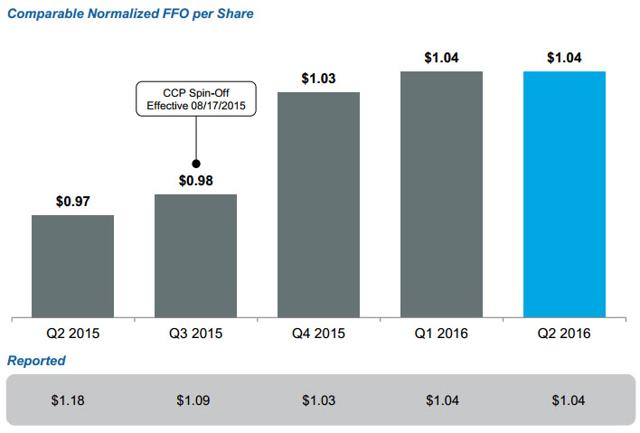 Click to enlarge
In Q2-16 VTR updated normalized FFO per share guidance for 2016 to a range of $4.05 to $4.13, representing 3% to 5% growth over 2015 on a comparable basis. 2016 same-store NOI is now estimated to grow in the range of 2% to 3%, up from the VTR's previous range of 1.5% to 3%. This guidance assumes 2016 asset dispositions of approximately $500 million, inclusive of $75 million in dispositions closed year-to-date. Now let's take a look at VTR's historical earnings performance (via FAST Graph):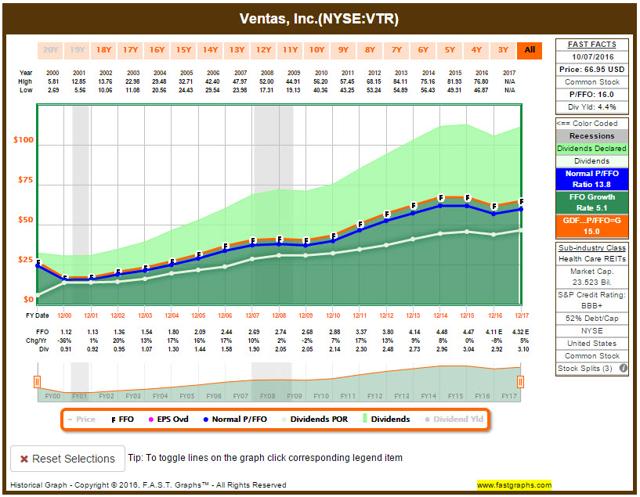 Click to enlarge
Show Me The Money
VTR is a leading provider of capital to high-quality senior living and healthcare operators. The company is well-positioned at the intersection of two large ad dynamic markets: healthcare and real estate (each represents 20% of US GDP).
VTR has demonstrated a successful track record of managing risk as evidenced by the snapshot below: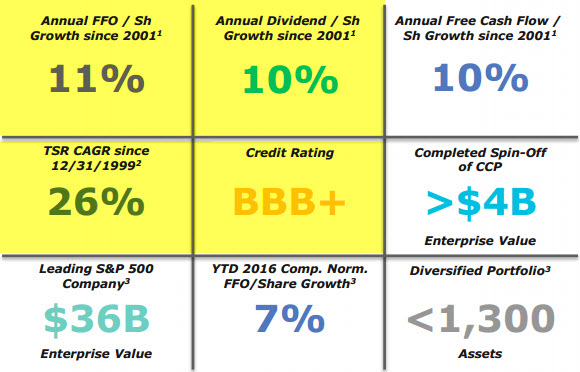 It's hard to argue with the fact that VTR has generated the most stable and predictable earnings and dividends of most all REIT peers. One of the keys to VTR's success has been its highly disciplined management team, led by Debra Cafaro.
Let's take a closer look at valuation metrics, starting with dividend yield:


Click to enlarge
Source: S&P Global Market Intelligence
As you can see VTR's dividend yield is 4.4%, however, it is well-covered: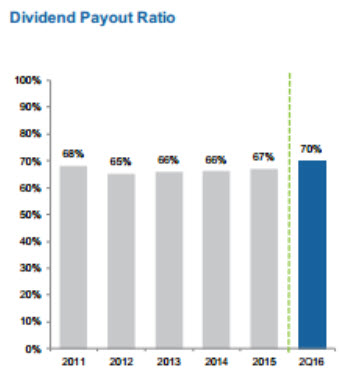 Now let's examine VTR's P/FFO multiple compared with the peers:


Click to enlarge
Source: S&P Global Market Intelligence
As noted above, we have been pleased with the performance of VTR YTD:


Click to enlarge
Source: S&P Global Market Intelligence
However, VTR has underperformed over the last 90 days:


Click to enlarge
Source: S&P Global Market Intelligence
Looking back, here's when we did not buy shares in VTR: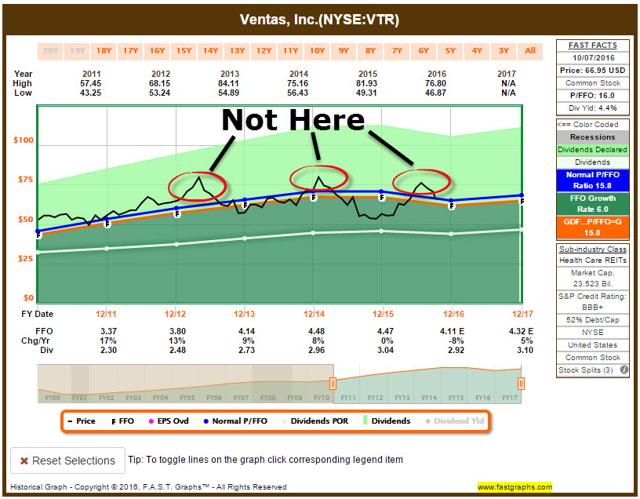 Click to enlarge
Here's where we purchased shares: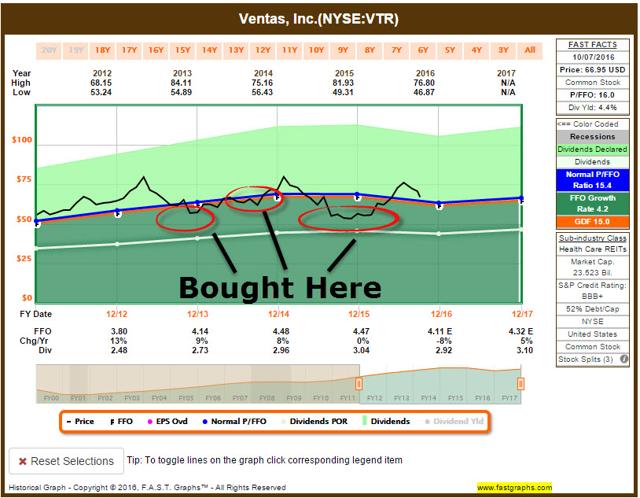 Click to enlarge
Firing On All Cylinders
We will definitely maintain our VTR weighting within the Durable Income Portfolio. Based on our research, we believe that the company is well-positioned to become the Queen Consolidator in the Healthcare REIT sector. The company's cost of capital remains very competitive for new acquisitions and we consider VTR to be one of the most defensive REITs in our research lab. We believe that accretive acquisitions will continue to dominate the growth story for VTR.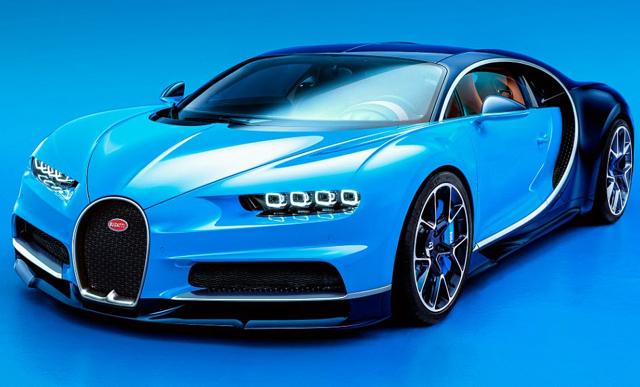 Click to enlarge
Yesterday I wrote a detailed article on New Senior (NYSE:SNR) and we consider this REIT to be a prime acquisition target for VTR. In terms of valuation, we are recommending a BUY price for VTR of $67.00 – that translates into a 12% forecasted annualized ROR (our prediction/estimate).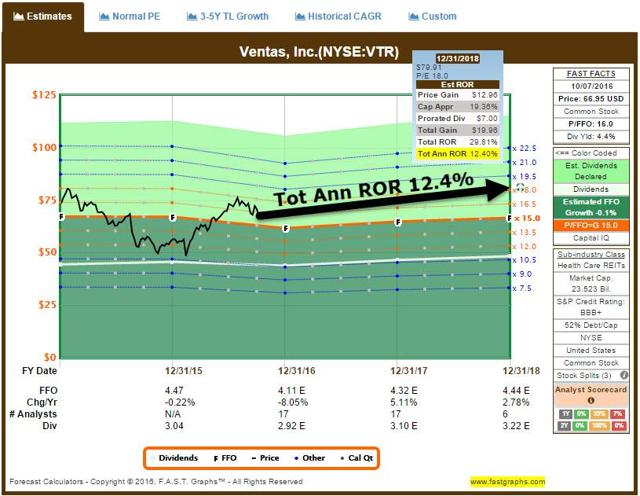 Click to enlarge
Author's Note: Brad Thomas is a Wall Street writer and that means that he is not always right with his predictions or recommendations. That also applies to his grammar. Please excuse any typos and I assure you that he will do his best to correct any errors if they are overlooked.
Finally, this article is free, and the sole purpose for writing it is to assist with research (Thomas is the editor of a newsletter, Forbes Real Estate Investor) while also providing a forum for second-level thinking. If you have not followed him, please take five seconds and click his name above (top of the page).
Sources: S&P Global Market Intelligence, F.A.S.T. Graphs and VTR Filings.
REITs mentioned: LTC, HTA, HCN, CTRE, HR, NHI, UHT, SBRA, DOC, HCP, MPW, SNH and CHCT.
Disclaimer: This article is intended to provide information to interested parties. As I have no knowledge of individual investor circumstances, goals, and/or portfolio concentration or diversification, readers are expected to complete their own due diligence before purchasing any stocks mentioned or recommended.