Company Overview
V.F. Corporation (NYSE: VFC) owns a variety of popular, iconic brands and has a presence in the lifestyle apparel, footwear, and backpack industries. Its portfolio of brands includes The North Face, Vans, Timberlands, and others.
The company has done a great job of growing revenues and maintaining profitability over the past several years, and its diverse collection of brands makes it a relatively safe bet compared to other companies in the apparel and footwear space, which can be quite volatile in response to changes in consumer preferences and fashion trends.
Fundamental valuation metrics indicate that the company may be slightly expensive given slowing growth trends; however, I do think that the company represents a lower-risk, solid hold that merits inclusion in a portfolio with a long-term growth and dividend focus.
The company's stock currently has a dividend yield of 2.9% and its dividend payout has increased steadily for a number of years. I'll provide an overview of the company and my opinion on its stock below.
Breakdown of Company Segments
The company has five operating divisions: Outdoor & Action Sports (Vans, Timberland, The North Face, JanSport, and others); Jeanswear (Lee and Wrangler); Imagewear (occupational apparel and uniforms); Sportswear (Nautica and Kipling); and Others (non-VFC products sold at retail outlets).
| | | | | |
| --- | --- | --- | --- | --- |
| Division ($ in millions) | 2016 Sales | 2015 Sales | 2014 Sales | 2016 Margins |
| Outdoor & Action Sports | 7,533 | 7,400 | 7,199 | 16.3% |
| Jeanswear | 2,737 | 2,792 | 2,801 | 18% |
| Imagewear | 1,103 | 1,082 | 1,104 | 16.3% |
| Sportswear | 536 | 635 | 650 | 6.8% |
| Others | 108 | 122 | 126 | (4.1%) |
(Source: Data taken from VFC's 2016 10K report)
Sales growth in its Outdoor & Action Sports Unit has been solid over the past couple of years, an encouraging sign as it is VFC's largest operating unit and contains the company's most popular brands. This unit's revenues were up 5% for the first nine months of 2017, whereas overall sales for the same time period were up 2%.
Profitability across the board is also quite solid: operating margins in the company's three largest segments are above 16%. One advantage of VFC's diverse portfolio of brands is that it gives the company some room to maneuver to maximize its bottom-line. I would argue that this provides a partial explanation for the larger size and faster growth of its more profitable divisions.
Vans: Impressive Global Performance
Vans, the company's most popular brand, continues to drive VFC's top-line performance: sales of its popular skateboarding and lifestyle shoes were up 14% globally for the first nine months of 2017.
I've written plenty of articles on other footwear companies and my observations of Vans is that these shoes are a staple of most teenagers' closets, shoes that many kids purchase as a basic wardrobe necessity.
While I've seen Nike (NYSE: NKE) and Adidas (OTCQX: ADDYY) sneakers go in and out of favor, Vans has done an excellent job of producing inexpensive, fashionable shoes that resonate with teenagers and younger consumers. They've also begun to introduce specialty shoes like velvet sneakers in order to broaden their offerings away from the iconic classic model.
The company has also made a wise decision by partnering with streetwear brands such as Supreme to elevate its brand image and increase its popularity with teens, its largest consumer demographic. The steady popularity of Vans explains why VFC has managed to perform decently despite flat to slightly down sales of its four other most popular brands: Timberland, Wrangler, Lee, and The North Face.
I also believe Vans has an inherent competitive advantage in that its shoes are lifestyle-only (as opposed to Nike and Adidas, which produce shoes that are somewhere in the middle of the lifestyle-performance spectrum).
Google Trends data also show positive trends in search interest for Vans, which provides an explanation for Vans' solid performance as of late. Search interest for its shoes has increased steadily over the past couple of years (although the recent spike is likely due to the holiday season):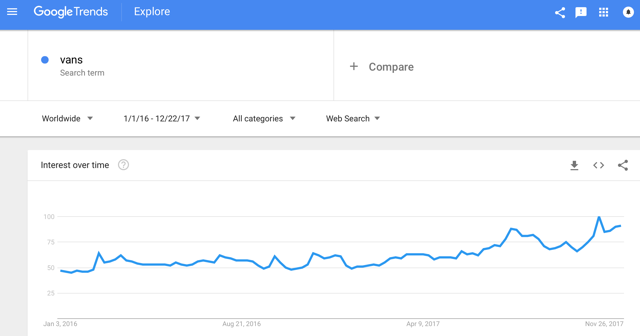 Valuation
The below industry comparison chart provides several valuation metrics for VF Corporation and its primary competitors. As the company operates in several different sectors of the apparel and footwear industry (sportswear, lifestyle, etc.), the listed companies are not necessarily direct competitors but provide a measuring stick to gauge VFC's fundamentals.

(Source: Data taken from companies' respective SEC filings)
VFC currently trades at 31x earnings and 2.5x sales, which I think is reasonable given the company's solid profitability and relative stability stemming from its diverse portfolio of brands. However, I do believe its valuation is currently a bit on the high side and I don't believe there is too much room for significant appreciation in the short-term.
However, the company does look like an attractive hold for an investor with a long-term focus. VFC is less susceptible to the wild price swings that other companies in the space sometimes experience (look at Under Armour's (NYSE: UAA) price chart as an example).
International Sales and Search Trends
The bulk of VFC's growth is coming from international sales, as per the below chart (data is for Q3 2017):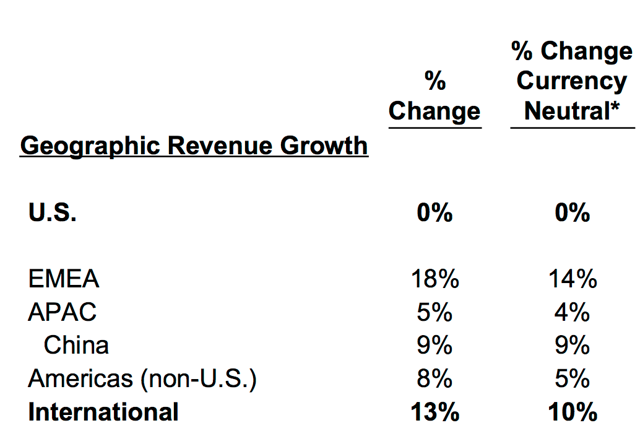 Flat growth in the United States is undesirable but rather unsurprising given the maturity and fierce competition in our footwear and apparel industries. VFC must continue driving international sales growth, which will likely be the largest driver of growth for the company in coming years.
International sales comprised just 38% of total revenues as per the company's 2016 annual report, which indicates a meaningful opportunity to increase the company's footprint overseas.
Conclusion
V.F. Corporation remains a solid bet in the footwear and apparel sector, driven by strong performance of its iconic Vans shoes. While current valuation appears slightly on the expensive side, I do believe that the company is a long-term buy given its diverse assortment of popular brands and room for international sales growth.
I will monitor the company's progress and keep readers updated via articles on this site. Please feel free to reach out with any questions or disagreements either via the comments section or through email (email address is located in my Seeking Alpha bio). Thank you for reading and happy holidays!
Disclosure: I/we have no positions in any stocks mentioned, and no plans to initiate any positions within the next 72 hours.
I wrote this article myself, and it expresses my own opinions. I am not receiving compensation for it (other than from Seeking Alpha). I have no business relationship with any company whose stock is mentioned in this article.
About this article:ExpandAuthor payment: $35 + $0.01/page view. Authors of PRO articles receive a minimum guaranteed payment of $150-500.Tagged: Investing Ideas, Long Ideas, Consumer Goods, Textile – Apparel ClothingWant to share your opinion on this article? Add a comment.Disagree with this article? Submit your own.To report a factual error in this article, click here