Industrial conglomerate General Electric Company (NYSE: GE) is scheduled to report earnings before market open on Friday, Apr. 20.
CEO John Flannery has faced plenty of challenges since he took over in August 2017, working to streamline the massive company and improve transparency. In recent quarters, GE's issues have been numerous and well publicized.
In the time that Flannery has been at the helm, GE has halved its dividend; it took a surprise $6.2 billion after-tax charge in Q4 2017 related to GE Capital's insurance portfolio, while adding $15 billion to its reserves for future payouts over the next seven years; and recently restated 2016 and 2017 financials, reducing earnings by $0.30 per share. The restated financials also included adjustments related to pensions, cash flows and income taxes.
Clearly, the company's turnaround efforts, which include a multi-year plan to improve GE Power as well as exiting more than $20 billion worth of business over the next several years, are going to take time.
There have been some signs of progress from Flannery's plan so far. When GE reported Q4 2017 results, it generated $9.7 billion in adjusted cash flow from operating activities for fiscal 2017, compared to guidance of $7 billion.
Since announcing plans to exit $20 billion in business, it has sold its industrial solution business in a $2.6 billion deal to ABB (ABB) and recently announced a $1.05 billion deal to sell healthcare IT businesses to private equity firm Veritas. And Bloomberg reported that several companies are considering a bid for GE's Jenbacher unit for more than $3 billion.
On tomorrow's calls, analysts are likely to be digging in to get a better idea of restructuring progress.
GE Earnings
For Q1 2018, GE is expected to report adjusted EPS of $0.11 on revenue of $27.88 billion, according to third-party consensus estimates. In Q4 2017, revenue missed estimates, coming in at $31.4 billion versus expectations for $32.7 billion, and earnings also came up short by a penny at $0.27 per share after removing charges and one-time items.
GE previously lowered its earnings guidance for all of fiscal 2018 to a range of $1.00 to $1.07, but analysts seem to think that's a little optimistic given they have an average estimate of $0.95. Out of 17 analyst ratings, earnings estimates range from $0.87 to $1.04 per share.
GE Options Trading Activity
Around GE's upcoming report, options traders have priced in a 4.8% share price move in either direction, according to the Market Maker Move indicator on the thinkorswim® platform. Implied volatility was at the 76th percentile as of this morning.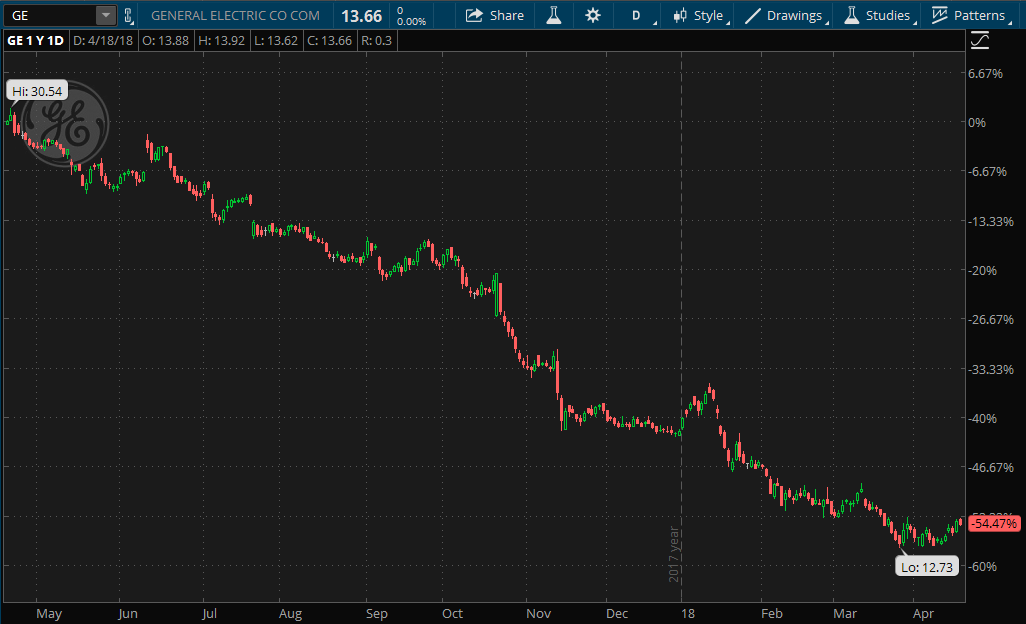 GE 1-YEAR CHART. GE shares have dropped from a 52-week high of $30.54 all the way to a new 52-week low of $12.73 on March 26. The stock has bounced a little bit off that level and has been trading around the mid-$13 range for the past few sessions. Chart source: thinkorswim® by TD Ameritrade. Not a recommendation. For illustrative purposes only. Past performance does not guarantee future results.
In short-term trading at the Apr. 20 monthly expiration and the next several weekly expirations, a lot of the activity has been concentrated at the 14 strike for both puts and calls, just out of the money. At the May 20 expiration, trading has also been heavier at the 14-strike call, while activity on the put side has been mostly at the 13 and 14 strikes.
Overall during yesterday's session, trading was heavier on the call side, with a put/call ratio of 0.476.
Note: Call options represent the right, but not the obligation, to buy the underlying security at a predetermined price over a set period of time. Put options represent the right, but not the obligation to sell the underlying security at a predetermined price over a set period of time.
What's Coming Up
Next week brings results from many of the largest companies in the tech sector:
Google-parent Alphabet Inc (NASDAQ: GOOGL) (NASDAQ: GOOG) reports after the close Monday, Apr. 23
Twitter (NYSE: TWTR) reports before market open Wednesday, Apr. 25 and Facebook, Inc. (NASDAQ: FB) reports after the close the same day
Microsoft Corporation (NASDAQ: MSFT), Intel Corporation (NASDAQ: INTC) and Amazon.com, Inc. (NASDAQ: AMZN) report after the close Thursday, Apr. 26
In addition to the tech-heavy week, some of the other companies on the docket are Verizon Communications Inc. (NYSE: VZ), AT&T Inc. (NYSE: T), Ford Motor Company (NYSE: F), General Motors Company (NYSE: GM), Caterpillar Inc (NYSE: CAT), Boeing Co (NYSE: BA), Chevron Corporation (NYSE: CVX) and Exxon Mobil Corporation (NYSE: XOM). If you have time, make sure to check out today's market update for a look at what else is going on.
Information from TDA is not intended to be investment advice or construed as a recommendation or endorsement of any particular investment or investment strategy, and is for illustrative purposes only. Be sure to understand all risks involved with each strategy, including commission costs, before attempting to place any trade.