Shares of uniQure (QURE) have risen by over 150% since my July article in which I noted that even at six-month highs the stock was still significantly undervalued.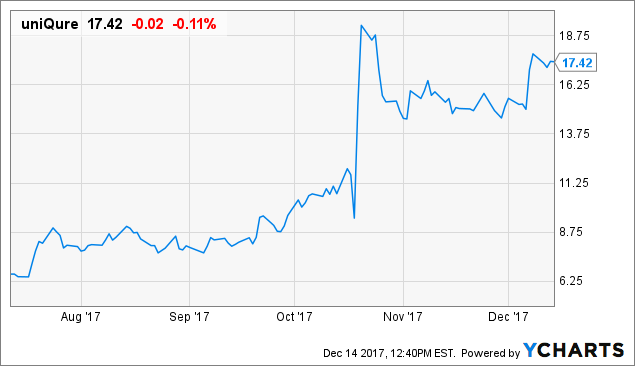 QURE data by YCharts
I started by giving the back story on how the stock lost three quarters of its value as the gene therapy bubble temporarily deflated, management decided not to renew European marketing authorization for Glybera due to lack of demand and they were forced to size down their workforce as they refocused their clinical efforts.
I then shifted the spotlight to their hemophilia B program AMT-060, which is a gene therapy candidate consisting of a codon-optimized wild type FIX gene cassette, the LP1 liver promoter and an AAV5 viral vector which utilizes the firm's own proprietary technology platform.
The drug candidate had received PRIME status from the European Medicines Agency and long-term follow up data from an early stage trial was quite promising. Delving deeper, it was interesting that of 10 patients enrolled nine had severe hemophilia (FIX activity of less than 1%) while one had moderate disease (FIX activity of 1.5%). Nine of the 10 patients needed chronic infusions of prophylactic FIX therapy when they were enrolled, while one used FIX therapy on demand.
Early data was promising, with all patients showing improvements as seen in reduced FIX replacement therapy and bleeding frequency, while no spontaneous bleeds were reported in the last six months of follow-up in the high dose cohort (total bleeds reduced by 64%). Eight of nine patients who previously required chronic FIX infusions discontinued prophylaxis after treatment and remained prophylaxis-free at the last follow up. The drug had a benign safety profile with no severe adverse events reported.
Lastly, I was encouraged by the appointment of Steven Zelenkofske as Chief Medical Officer (former VP Head of Cardiovascular/Metabolism at AstraZeneca) and strengthening of the executive bench. While not a near-term catalyst, I reminded readers they had other promising assets even if only in the preclinical stage (AMT-130 for Huntington's Disease and their gene therapy collaboration with Bristol-Myers Squibb (BMY) for chronic heart failure and received $140 million to date from collaboration and stood to receive up to $2.3 billion in milestone payments).
On December 11th in an oral presentation at ASH the company announced updated results from the dose-ranging phase 1/2 study of AMT-060 in severe hemophilia B (two years of follow-up in the low-dose cohort and up to 18 months in the higher-dose cohort). Of significant importance, the safety profile remained relatively unchanged with no new serious adverse events.
For the high dose cohort, all five patients continued to demonstrate stable FIX activity with significant improvement in disease as seen through all patients discontinuing routine prophylactic FIX infusions. The annualized spontaneous bleeding rate fell 89% to a mean of 0.3 bleeds (in last year of follow-up there were no spontaneous bleeds reported).
CEO Matthew Kapusta had the following to add:
These data give us continued confidence that our AAV5-based gene therapies offer multi-year durability, superior safety and broad applicability as a result of a favorable immunogenicity profile compared to other AAV vectors. We believe AMT-061 has the potential to provide curative benefits to nearly all hemophilia B patients, without the complications associated with capsid-related immune responses.
For the third quarter the company reported cash and equivalents of $88.9 million, a figure which does not include the more than $90 million received from their October secondary offering. Net loss for the period was $10.2 million while research and development expenses totaled $20.1 million.
A significant win for the company was the acquisition of the patent family which covers the use of Padua from Professor Paolo Simioni in gene therapy for hemophilia B in the US with pending patent applications in Europe. Surprisingly, regulatory agencies ruled that for their AAV5-Padua FIX gene therapy AMT-061 existing PRIME and Breakthrough designations (originally granted to AMT-060) would still apply. This ruling could be setting a new precedent for improved versions of existing drugs that could have far-reaching consequences for other fields of medicine as well.
A presentation of data in non-human primates for AMT-061 at ASH revealed that animals receiving the same dose of AMT-060 and AMT-061 demonstrated comparable levels of hFIX protein. However, animals given AMT-061 had 6.5 times higher FIX activity, which would imply that the newer drug candidate could "achieve mean FIX activity in humans of approximately 30 to 50 percent of normal," according to Chief Scientific Officer Sander van Deventer, M.D.,Ph.D.
As for catalysts, a pivotal study involving AMT-061 should get underway next year. An IND will be submitted for AMT-130 in Huntington's disease and preclinical heart study initiated for S100A1 gene therapy candidate AMT-126 targeting congestive heart failure.
uniQure is a Buy.
For readers who have done their due diligence and are interested in the stock I suggest initiating a pilot position in the near term. This appears to be an appropriate candidate to employ a "buy the dip" strategy. Considering that the hemophilia B market presents a blockbuster opportunity to be exploited and AMT-060 appears to be quite competitive to other clinical candidates being developed by competitors, this revaluation idea will likely move higher next year.
I will be adding the stock to the ROTY Contenders List to keep a closer eye on this revaluation story in 2018.
Dilution does not appear to be a risk in the near term due to their October offering. With an absence of near-term material catalysts, it is possible that the stock price stagnates or pulls back a bit. Setbacks in the initiation of a pivotal study for AMT-061 (and enrollment of patients), not to mention advancement of the early stage pipeline, would also weigh on the stock. Readers should keep a close eye on competition in the hemophilia B space as well (Spark Therapeutics, Sangamo, etc).
Author's note: My goal is to bring to readers' attention undervalued stocks with catalysts that could propel shares higher, as well as provide a fresh perspective on stocks you may already be aware of. I also touch on planning trades and risk management, as those are two areas I feel are often neglected. If you found value in the above article, consider clicking the orange "Follow" button and getting email alerts to receive my latest content. My sincere appreciation for readers who add value and join the discussion in the comments section, as well as those who share my work with others who could benefit from it.
Disclaimer: Commentary presented is not individualized investment advice. Opinions offered here are not personalized recommendations. Readers are expected to do their own due diligence or consult an investment professional if needed prior to making trades. Strategies discussed should not be mistaken for recommendations, and past performance may not be indicative of future results. Although I do my best to present factual research, I do not in any way guarantee the accuracy of the information I post. Investing in common stock can result in partial or total loss of capital. In other words, readers are expected to (and encouraged) form their own trading plan, do their own research and take responsibility for their own actions. If they are not able or willing to do so, better to buy index funds or find a thoroughly vetted fee-only financial advisor to handle your account. I am in a collaborative relationship with The Biotech Forum/Bret Jensen.
Disclosure: I/we have no positions in any stocks mentioned, and no plans to initiate any positions within the next 72 hours.
I wrote this article myself, and it expresses my own opinions. I am not receiving compensation for it (other than from Seeking Alpha). I have no business relationship with any company whose stock is mentioned in this article.
About this article:ExpandAuthor payment: $35 + $0.01/page view. Authors of PRO articles receive a minimum guaranteed payment of $150-500.Tagged: Investing Ideas, Long Ideas, Healthcare, Drug Related Products, NetherlandsWant to share your opinion on this article? Add a comment.Disagree with this article? Submit your own.To report a factual error in this article, click here