Unilever (NYSE:UN and UL) was formed in 1929 through the merger of Margarine Unie and Lever Brothers. Products based on edible oils have been at its core ever since, and will remain so despite the sale of its spreads activities to KKR (NYSE:KKR) for 6.8 billion on a cash-free, debt-free basis. This is a little higher price than the deal talk had suggested. Unilever has long since disposed of its oil palm plantations and much of its oil crushing and trading activities, and it is separately seeking a buyer for its olive oil business in Greece.
What KKR will do with a margarine business is unclear: Unilever has sold it because, after strenuous efforts over many years, it simply has not been able to generate acceptable growth from it. The head of the spreads business, who will be moving with it to KKR, is making noise to the effect that it can (for instance, in a quotation included in the link above), but this seems unlikely. Otherwise, the sale and transfer of current management is inexplicable. Rigorous cost-cutting and being milked for cash seem like the businesss most probable future.
Unilevers soap and shampoo businesses will remain important consumers of edible oils on a world scale, but clearly with considerably less purchasing power than hitherto. The company has made much of its efforts to encourage sustainable practices and the reduction of child labor in oil palm agriculture policies that KKR says it will retain. But since the successors will have less market muscle than the combined purchasing activities of Unilever before this sale, it is not certain that they can be as effective in fostering better practice.
Unilever is being somewhat coy about what it will do with the proceeds. It has said it will return them to shareholders unless a compelling transaction comes along. Unilever has been very actively acquisitive in recent years, but with deals priced much less than the $8 billion it will receive for spreads, which it can fund from cash flow. These have concentrated on fast-growing niche products, and assuming that such purchases continue to characterize its acquisition strategy, then it is unlikely that a deal that size will come along. Shareholders can probably expect to recover most of the proceeds of the sale of spreads. A special dividend is most likely, given the complexity of share repurchases under Unilevers dual share structure.
Sale of the spreads business will mean that its revenue and income are more responsive to these deals and to its internal efforts to accelerate growth. It is, however, no panacea: growth remains elusive for all large consumer products companies. Reduction of inertia will not alone foster the growth for which Unilever is striving, and as I discussed recently, its operating environment is not becoming any easier. Given its performance year-to-date, and its fairly lofty valuation, investors muted reaction to the announcement that the long-anticipated sale has at last closed seems about appropriate. Unilever plcs ADR is up 0.76% as I write, slightly less than the Standard & Poors 500 Index.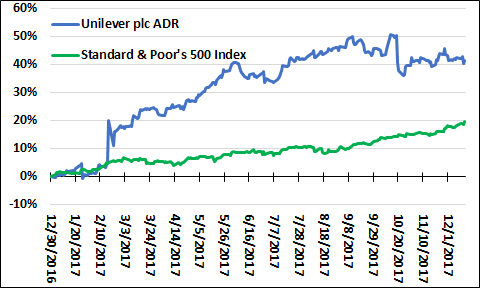 Disclosure: I/we have no positions in any stocks mentioned, and no plans to initiate any positions within the next 72 hours.
I wrote this article myself, and it expresses my own opinions. I am not receiving compensation for it (other than from Seeking Alpha). I have no business relationship with any company whose stock is mentioned in this article.
About this article:ExpandAuthor payment: $35 + $0.01/page view. Authors of PRO articles receive a minimum guaranteed payment of $150-500.Tagged: Investing Ideas, Quick Picks & Lists, Consumer GoodsWant to share your opinion on this article? Add a comment.Disagree with this article? Submit your own.To report a factual error in this article, click here