Tyson Foods (TSN) has seen its shares slide in the past few months, down roughly 17% since their high in December of 2017. As share price pulls back, we believe it may be time to begin loading up the truck on some Tyson shares.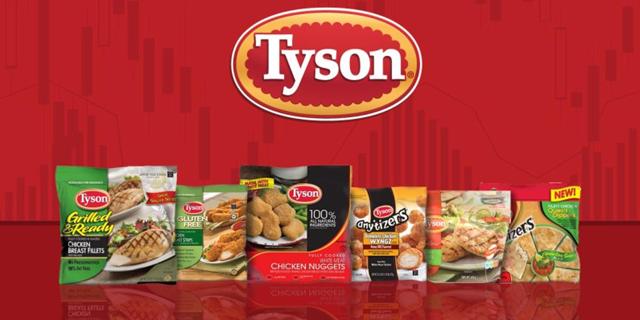 Source: TheEnterpriseDaily
We're optimistic on results to be generated by the recent AmPro acquisition, which stands to reduce waste dramatically, and contribute to revenue. Additionally, efforts by Tyson in the frozen foods space shows considerable upside given TAM of frozen ready meals. Margin fears are overstated, being offset by strong pricing. When coupled with a valuation of only 10x forward earnings, we believe that investors should dip their toes into Tyson stock.
Financial Overview
Tyson saw revenue growth of 3.7% y/y in FY17. Q2 FY18 revenue grew at a healthy +7.6% y/y, yet missed analyst expectations by approximately $103 million.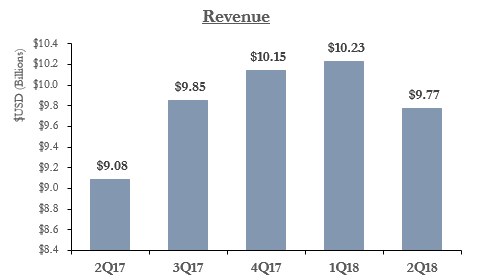 Source: Morningstar
We believe that the quarterly numbers are being scrutinized too much at the moment, with the big picture being overlooked by many analysts. In our opinion, revenue outlook is bright, driven by Tyson's strong beef segment – with global beef demand remaining sturdy.
Management highlighted beef's strong performance in Q2, noting that:
Our Beef exports were up 22% versus the same quarter last year and despite all the conversation about trade and tariffs, we haven't seen a significant impact on our Beef business.
Source: Q2 Earnings Call
Management also underlined their efforts in the political arena, in an effort to maintain "certainty" in select markets – something which shareholders should be content with. As the demand for international beef holds steady, management is expanding their frozen foods line of products. Last month, Tyson rolled out two new products which could certainly gain some traction:
In April, we launched Tyson Dinner Kit that consists of frozen raw Chicken, pre-cut vegetables, a starch and a sauce and they are found in the case for raw frozen Chicken is sold. We have also launched fully cooked dinner kits positioned in the freezer case alongside of fully cut Tyson Chicken products and snacks. These products are on trend and because they are frozen the shelf life is extended substantially for both the retailer and the consumer.
Source: Q2 Earnings Call
A report issued by Future Market Insights showed that frozen ready meals ("FRM") sales are expected to grow at a steady pace of ~4.3%/year into 2026, reaching total revenues of ~$47 billion. The top-selling products are chicken meals, with roughly one third of total FRM revenue comprised of chicken meals. This presents considerable upside given Tyson's emphasis on chicken dinners, products, and snacks.
Other opportunities lie in Tyson's recently announced deal between American Protein/AmPro. The deal revolves around blender facilities, which would allow for excess food to be turned into marketable product in select categories such as animal feed, pet food, and aquaculture. The deal is valued at $850 million, and provides Tyson with industrial assets as well as around 700 employees:
The acquisition includes 4 rendering plants in Georgia and Alabama and 13 blending facilities located throughout Southeastern and Midwestern states. The facilities would add capacity to Tyson Foods' current animal byproducts business, and approximately 700 employees of American Proteins would join the team at Tyson Foods.
Source: Food Business News
As far as margins are concerned, Tyson's operating margin in 2Q18 came in quite low at ~5.1%, down 119 bps y/y. However, in the LTM, EBIT margins are at just over 7%.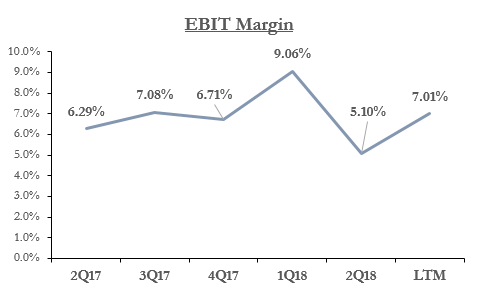 Source: Morningstar
One key concern among analysts included higher freight costs, which tightened margins some in Q2; additionally, Tyson has planned to increase truck driver pay by ~15% due to a shortage of truckers which would increase labor costs and opex as a result. Temporary tailwinds include a dramatic fall in cattle prices, which are pushing margins through the roof; we don't expect these levels to last indefinitely into the future, but mention it nonetheless given the short-term impacts it may have.
For the most part however, we remain confident that margins will continue to fall in-line with recent levels – or perhaps even expand some. Management expects the AmPro/American Protein deal to boost manufacturing efficiency which could certainly be helpful to margins, along with improvements along the supply chain. Along with this, much of the rising costs are being offset by price increases supported by Tyson's strong pricing power in the industry.
Tyson's cash position is not a concern in our eyes, given the company's relatively low leverage and strong free cash flow ("FCF"). Cash decreased nearly $100 million q/q, and about $45 million y/y.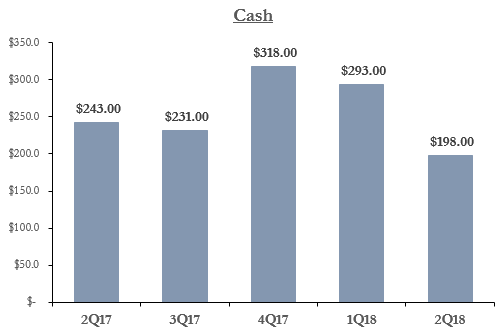 Source: Morningstar
In the past twelve months, Tyson generated ~$2.8 billion in cash flow from operations, with ~$1.2 billion in CapEx leaving an LTM FCF of ~$1.6 billion. This allows Tyson to pull the trigger on opportunities such as the AmPro/American Protein deal which ultimately translates into earnings growth.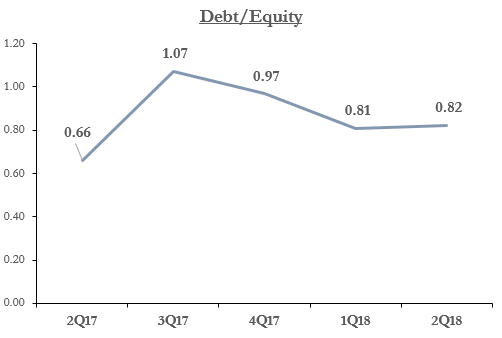 Source: Morningstar
Leverage-wise, the company remains in a healthy position with a comfortable debt/equity ratio at ~0.8 in Q2, primarily flat q/q. Terms of the AmPro/American Protein deal have not been completely disclosed, and given the shortfall of cash on hand, Tyson most likely acquired capital some other way (e.g. debt) to finance the purchase of assets.
The immediate rise in debt may affect Tyson's debt/equity ratio in the short-term, although as we've mentioned before, we're comfortable that the strong income being generated by Tyson is more than sufficient to cover any interest payments.
Relative Valuation
When pairing Tyson against its peers, we see a valuation which is quite attractive. Combining this with a strong international beef demand, and improving manufacturing efficiencies, the bull case for Tyson only strengthens.

Source: YahooFinance!, S&P Capital IQ
Tyson currently trades at ~14x LTM earnings, which is well below the industry average of 19x. On a forward-looking basis, the earnings multiple is ~10x; the industry average/median is ~16x.
Factoring out capital structure, the company is valued at ~8.6x EBITDA which is a discount to the peer group's average of 12x EBITDA. Tyson's current valuation is enticing, and when mixing in the future prospects of the company, we believe the stock is buy.
When applying the peer average multiple of 16x forward earnings to Bloomberg's current year EPS estimate for Tyson, a share price of over $100 is derived.
Conclusion
Although Tyson is no sleek tech company poised for double-digit growth, the mundane aspect is what keeps it under the radar and provides opportunity for long-term investors.
The company has delivered healthy results, which we believe will continue in the grand scheme of things. Tyson's movement in the frozen dinner space also provides the company with considerable upside, given a growing frozen meal market expected to reach ~$47B in sales by 2026 (4.3% CAGR). Additionally, the recent AmPro/American Protein deal allows previously wasted food to get recycled for sale in select categories, which stands to contribute to Tyson's top line.
Fears revolving around rising operating expenses are valid – yet improvements along the supply chain, manufacturing efficiencies stemming from the AmPro/American Protein deal, and price increases offset much – if not more than – the rise in opex, leaving us confident on margin outlook.
Comparing Tyson to peers shows a significantly discounted valuation, allowing long-term investors to enter a position at a relatively low point. We remain bullish on Tyson, and although our estimates are in-line with Bloomberg's CY EPS forecast, we'll apply the lower-end of the analyst consensus to be conservative. Applying a below-industry median forward multiple of 15x to the low-end EPS estimate of $6.10, we derive a price target of $91.
We initiate a buy rating, and a PT of $91, reflecting upside of over 30% from Thursday's close ($69.38).
Disclosure: I/we have no positions in any stocks mentioned, but may initiate a long position in TSN over the next 72 hours.
I wrote this article myself, and it expresses my own opinions. I am not receiving compensation for it (other than from Seeking Alpha). I have no business relationship with any company whose stock is mentioned in this article.