By Parke Shall with Scott Tzu
Its odd to us that Twitter (TWTR) is trading which such strength, especially given that one of its key supporters and main shareholders was reported to have been arrested in early November.
Price Alwaleed Bin Talal was arrested in early November on corruption charges,
Prince Alwaleed Bin Talal, one of the world's richest men and a well-known investor who just appeared on CNBC last month, was one of the 11 princes detained in a supposed anti-corruption sweep over the weekend in Saudi Arabia. Alwaleed has not yet been charged, but is suspected of money laundering, according to the Wall Street Journal. His arrest may be less about corruption and more about Crown Prince Mohammad Bin Salman the 32-year-old heir apparent to the throne consolidating power.
He is also, as of November 24, reportedly being "tortured by American mercenaries,"
Saudi princes and billionaire businessmen arrested in a power grab earlier this month are being strung up by their feet and beaten by American private security contractors, a source in the country tells DailyMail.com.
The group of the country's most powerful figures were arrested in a crackdown ordered by Crown Prince Mohammed Bin Salman three weeks ago as he ordered the detention of at least 11 fellow princes and hundreds of businessmen and government officials over claims of corruption.
Just last month, the Crown Prince vowed to restore 'moderate, open Islam' in the kingdom and relaxed a number of its ultra-conservative rules, including lifting a ban on women driving.
DailyMail.com can disclose that the arrests have been followed by 'interrogations' which a source said were being carried out by 'American mercenaries' brought in to work for the 32-year-old crown prince, who is now the kingdom's most powerful figure.
It is estimated that the Prince could be Twitter's fifth largest shareholder,
Alwaleed may be the fifth-largest holder in Twitter, according to estimates from InsiderScore.com.
Normally, in a situation where a major shareholder of the company faces circumstances like an arrest or indictment, the stock can sometimes trade under pressure due to the possibility of forced selling or margin calls. In this case, Twitter stock doesnt even seem to notice that one of its shareholders could potentially be in jeopardy, but for a slight <1% sell off at the beginning of the month when the news broke.
We think that is a positive for overall market sentiment behind the social media company.
Twitter has had a fantastic rally over the last three months, as you can see in the chart below. It seems like each trading session the stock is looking stronger and there has been accompanying call buying that has continued to keep sentiment bullish for the embattled social media company. The stock is up about 32% in the last three months and it has risen every day over the last 5 days (prior to this article, written on 11/24/17).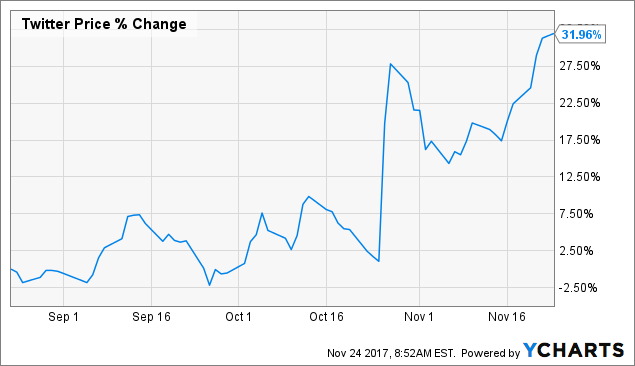 TWTR data by YCharts
For the first time since Twitter's less than spectacular IPO crash, which you can see in the chart below, it feels is the sentiment might be getting a little bit better.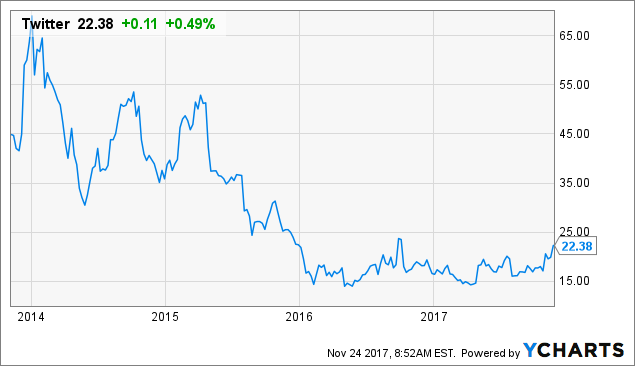 TWTR data by YCharts
It isnt like the market hasnt had time to digest the news about Price Alwaleed, or the potential negative impact of it. The first reports about the Prince's detention started weeks ago. Since then, the stock has done nothing but rally. On top of rallying, call buying has been aggressive in the name leading right up to the end of this week.
We actually think that the rally has little to do with ignoring the Alwaleed news and represents a larger sentiment shift for the social media company.
Though news of the Prince's detention has likely not been ignored by the market, we think it comes a time where Twitter is starting to show some real progress for the first time in a long time. Not only has it been the tool of choice for the President of the United States of America to make his thoughts known, but it continues to play a role in both media and the sports industry.
Twitter is still just as commonly cited on the news as it has been in the past for celebrities and others to put out statements and thoughts. The brevity with which users must express their thoughts, even now with 280 characters, continues to make a great social platform for delivering concise and informative messages. We dont think that the social media app will lose its function in this regard.
The company is also leveraging what it is truly great for by recently launching a new partnership with Bloomberg. Axios reported,
Bloomberg's new Twitter network will launch on Dec. 18 with six founding partners: Goldman Sachs, Infiniti, TD Ameritrade, CA Technologies, AT&T and CME Group and more are in the works. The average price point of the partnerships is $1.5 to 3 million, leading to Bloomberg securing eight figures in revenue in its first year.
Why it matters: The investment is a part of a major digital push by the company to stay competitive in an era where Google and Facebook have tightened their grip on the digital advertising market.
The details: Bloomberg is hiring around 50 people to staff the new project, which will exist as the first 24-hour social news network on Twitter.
As many in the financial industry know, Twitter often moves markets and is many times they first source for breaking news, sometimes even before major newswires can pick it up. The natural synergies with Bloomberg are obvious. This is a good example of the company playing to its strengths.
With Twitter now at 52 week highs and the wind seemingly at its back again, we dont think it is impossible for the stock to move back between $25 and $30 per share heading into late 2017/early 2018. When considering the stock price, we always look at what the company's enterprise value would be.
Today, priced at $22.35, its current enterprise value is $12.36B. Simply given the exposure that the company gets from celebrities, athletes, and the president, we think this asking price for the company is far too low. We actually still believe that a case for buying the company out is still on the table. There are many companies that are worth nearly half a trillion dollars, like Google (GOOG) (NASDAQ:GOOGL) and Amazon (AMZN), that would benefit immensely from owning Twitter. To be honest, we are surprised that the platform has not caught a takeover bid yet at this point, but the wind at its back in terms of sentiment may help entice new potential suitors.
This sentiment shift coming at a time where one of the company's larger shareholders may face a threat of liquidating his shares tells us that there is a very real tailwind that has caught Twitter. Ignited by its last quarter's results which surprised the street, we think Twitter may finally be ready to break out of its post-IPO slump for the first time ever and head back towards levels around $30 within the first few months of the coming new year. The market is unconcerned about Alwaleed's stake potentially being liquidated, and we are too. We are long.
Disclosure: I am/we are long TWTR.
I wrote this article myself, and it expresses my own opinions. I am not receiving compensation for it (other than from Seeking Alpha). I have no business relationship with any company whose stock is mentioned in this article.
About this article:ExpandAuthor payment: $35 + $0.01/page view. Authors of PRO articles receive a minimum guaranteed payment of $150-500.Tagged: Investing Ideas, Long Ideas, Technology, Internet Information ProvidersWant to share your opinion on this article? Add a comment.Disagree with this article? Submit your own.To report a factual error in this article, click here