Around four years ago, I heard about Ting through an ad on YouTube. I was curious and fascinated, but I did not take time to do a proper research about it. However, around two years ago, when I started investing, I began to constantly hear about Ting through several ads on YouTube and on podcasts. Therefore, today, since I am building my investment portfolio, I am very interested in Tucows Inc. (NYSEMKT:TCX), the owner of Ting.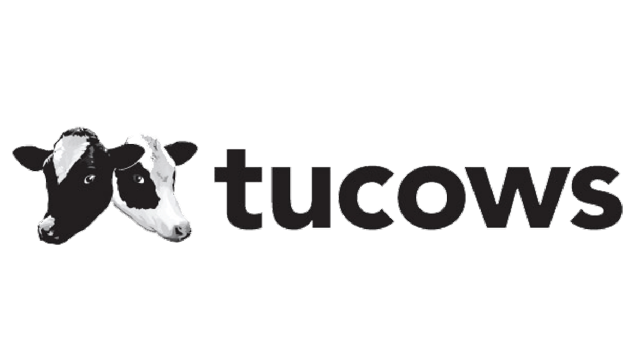 Tucows (TSE:TC, NASDAQ:TCX) is an Internet services and telecommunications company, headquartered in Toronto, Ontario, Canada.
Tucows is organized and managed into two segments: Domain Services and Network Access Services.
Domain Services
The domain services are Tucows' mature, legacy business that generates a recurring cash flow. Tucows is the second-largest domain registrar in the world, behind GoDaddy (NYSE:GDDY).
It is important to note that Tucows is a registrar, not a registry. A registrar earns revenues via registration fees. It charges resellers connecting with new, renewed, and transferred domain registration. It pays out a portion of the price it receives to the registry, Verisign (NASDAQ:VRSN) and ICANN, for each registered domain. Plus, with every renewal domain, it creates recurring revenue for all the parties involved.
Elliot Noss, the CEO of Tucows, explains the revenue model for the domain services in this YouTube video. Tucows has numerous excellent videos that explain different aspects of the company to current investors and potential investors. I strongly recommend to watch them.
Network Access Services
The network access services are Tucows' growing business. The network access services are composed of two departments: Ting Mobile and Ting Internet.
Ting Mobile
Ting Mobile is a mobile virtual network operator (MVNO). It does not own the wireless infrastructure over which it provides services to customers. In fact, it leases the infrastructure from Sprint (NYSE:S) and T-Mobile (NASDAQ:TMUS).
Ting's business model is different from other mobile network operators' business model. It is a pay-as-you-go plan with no fixed contract. During recent years, Ting's number of customers grew considerably due to three main reasons:
Ting's customers have the best customer service; Ting's customers save, on average, $23 per device monthly; Ting's customers have a bill of $37 monthly, which is significantly lower than the usual bill.
It is important to know that around 11% of new customers are referred by current customers of Ting services.
Ting Internet
Ting Internet is different from Ting Mobile. Instead of leasing an infrastructure and providing services, Ting Internet builds an infrastructure to give fiber Internet to customers. Hence, it cannot provide fiber Internet across the United States. It can only give access to gigabit fiber Internet in Ting Towns, which are presently these three municipalities:
Holly Springs, North Carolina; Westminster, Maryland; Charlottesville; Virginia.
Ting is taking pre-orders to bring gigabit fiber Internet to Sandpoint, Idaho, and to Centennial, Colorado.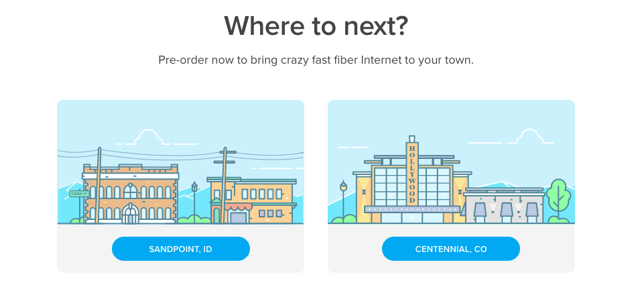 Source: Ting Internet
Ting Internet's focus is to provide gigabit Internet to individuals and business customers. Just like Ting Mobile, its revenue is generated in the United States and provided on a monthly basis with no fixed contract term.
Opportunities
According to me, the most prominent opportunity for Tucows is Ting. As of September 2017, Ting has approximately 171,000 subscribers and 281,000 devices under management. Compared to the previous year, the number of subscribers has increased by 16.33%, and the number of devices has increased by 19.57%.
Number of subscribers and devices under management end of September 30
| | | |
| --- | --- | --- |
| | 2017 | 2016 |
| Ting mobile subscriber under management | 171,000 | 147,000 |
| Ting mobile devices under management | 281,000 | 235,000 |
Source: Company 10-Q
Ting's gross margin has also been increasing significantly. It is currently standing at approximately 50%.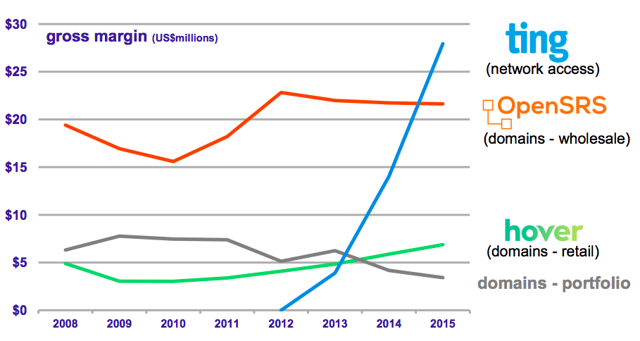 Source: Company Presentation February 2017
Ting has received the highest overall rating in the history of the Consumer Report survey because it provides excellent services at low prices to their customers. Thus, I do not see any reason why Ting Mobile will not be able to attract more customers in the future. By continuing to deliver the same improved services, it will have a great recurring avenue. Moreover, Ting Mobile is one of the few MVNO that can provide iPhone an AppleCare. This is important for customers because it allows them to have everything in one place and it allows to have a better integration with the services, such as Visual Voicemail and WiFi calling.
As for Ting Internet, I believe it will most likely become the Internet leader in the Ting Towns where the population is relatively low. Hence, the big players will not be willing to build new infrastructures to provide Internet to the residents of these towns. The most important competitors of Ting Internet are the cable companies and the phone companies, but they are not able to give a speed similar to gigabyte Internet. Recently, Tucows has bid to buy Burlington Telecom, a publicly owned fiber network in Burlington, Vermont, for a price of $32 million. If the offer passes, Burlington will be the fourth Ting Town.
Management
Tucows CEO Elliot Noss has been running the business for more than 20 years. Even though he is not the founder, he is the biggest single shareholder. For the retail shareholder, this is a high vote of confidence that the CEO has significant stakes of his net worth in Tucows. Not only the CEO but also other leadership members have stakes in the company. In fact, according to Seeking Alpha, the inside ownership holds 24.27% of outstanding shares.
Risk
According to me, the most prominent risk for Tucows is the reliance on Sprint and T-Mobile for network access. In the future, both of the companies can decide no longer to allow Ting to use their infrastructure. This is unlikely to happen, but is still possible.
The legacy business, domain registration space, is mature and is becoming more competitive. Thus, I believe that it will be more challenging to grow the segment in the future.
Another risk for Tucows is the currency. The majority of Tucows' revenue comes from the United States, but the operating cost is mostly in Canadian dollars.
My two cents
I believe Tucows is an excellent company with great potential for the future. I do not personally own Tucows in my portfolio. I think I will wait for a pullback to add a position in Tucows. If there is a decline in the market or a crisis, I will be able to become an owner for a lower price.
If you disagree with my thesis, please let me know in the comments. I believe it is the best way to understand a company and to learn new things.
If you liked this article and are interested to read my previous articles or my new article, a follow will be appreciated.
Disclosure: I/we have no positions in any stocks mentioned, and no plans to initiate any positions within the next 72 hours.
I wrote this article myself, and it expresses my own opinions. I am not receiving compensation for it (other than from Seeking Alpha). I have no business relationship with any company whose stock is mentioned in this article.
Additional disclosure: Before investing in any companies, please do your own research.
About this article:ExpandAuthor payment: $35 + $0.01/page view. Authors of PRO articles receive a minimum guaranteed payment of $150-500.Tagged: Investing Ideas, Long Ideas, Technology, Internet Information Providers, CanadaWant to share your opinion on this article? Add a comment.Disagree with this article? Submit your own.To report a factual error in this article, click here