TRON prices fell 2.8% on the day, despite news that CEO Justin Sun plans to use office space in San Francisco.
Because of the close proximity to the U.S. offices of Alibaba Group Holding Ltd. (NYSE: BABA), which appear to less than a five-minute walk, investors are speculating the duo will form a partnership.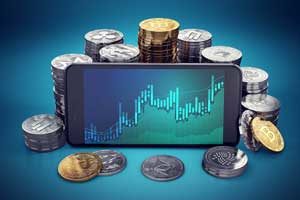 moneymorning.com/wp-content/blogs.dir/1/files/2018/01/smartphone-cryptocurrency-chart-75×50.jpg 75w" sizes="(max-width: 300px) 100vw, 300px" title="TRON prices" />
Sun is also a prot茅g茅 of Alibaba founder Jack Ma.
In Bitcoin news, prices dropped nearly 7% over the last 24 hours as part of a broader sell-off in the global cryptocurrency space. The world's largest cryptocurrency has faced new regulatory pressures in recent days.
Traders are analyzing the plans of Chinese regulators to reduce electricity access to some Bitcoin miners.
Meanwhile, Ethereum trading experienced a significant bout of volatility before leveling off this afternoon. The world's second-largest cryptocurrency by market cap hit an all-time record last night after topping $1,200.
Below is a recap of the top cryptocurrency prices at 2:00 p.m. EST.
Bitcoin: $15,135.40, -6.98% Ethereum: $1,132.22, +0.45% Ripple: $2.51, -25.42% Bitcoin Cash: $2,394.73, -15.89% Cardano: $0.9112, -11.36% Litecoin: $255.97, -10.28%
Now that we know all of today's price movements, here's what has been moving these cryptocurrencies…
Cryptocurrency Markets Today
On Monday, the market capitalization of the global cryptocurrency sector hit $741.14 billion. Bitcoin comprised just 34.3% of the total crypto market as traders pour more capital into alternative coins and speculate on ICOs heading into the New Year.
The so-called "dominance" of Bitcoin is sitting near its lowest level ever. At the beginning of 2017, Bitcoin represented more than 80% of the crypto market.
Top performers from the largest 50 cryptocurrencies by market capitalization included Stratis (up 25.43%), SALT (up 18.31%), Augur (up 12.69%), RaiBlocks (up 10.48%), Verge (up 10.13%), OmiseGo (up 9.70%), Veritasseum (up 7.45%), and ICON (up 5.14%).
The worst performers from the top 50 largest cryptocurrencies by market capitalization included Qtum (down -33.39%), Ripple (down -25.26%), EOS (down -2.289%), Bitcoin Gold (down -19.17%), KuCoin Shares (down -17.85%), Ethereum Classic (down -16.44%), and Dash (down -15.36%).
Ripple in a Free Fall
The price of Ripple plunged more than 25% over the last 24 hours.
The currency had shot from $0.20 to more than $3.50 in just a few months, as traders went crazy over speculation surrounding the coin potentially being added to Coinbase in 2018.
Must Read: Why Did Charlie Lee Sell All His Litecoins?
Recent developments have also seen Japanese and South Korean banks testing the company's underlying technology.
Ripple also received a boost recently after a money manager announced plans to launch a $100 million hedge fund denominated entirely in Ripple.
Still, it appears that the recent run-up overheated XRP.
Telegram Pre-ICO Set for $500 Million?
The private-messaging firm Telegram is exploring the largest pre-initial coin offering in history to fund a new cryptocurrency and blockchain platform.
According to TechCrunch, the deal could raise a whopping $500 million.
The report indicates that the company's Telegram Open Network (TON) would use the new cryptocurrency for user payment processing.
The public distribution phase of the project would likely bring the value of TON to at least $3 billion.
Up Next: Never Miss a Cryptocurrency Opportunity Again
Did you know we have a free research service that finds the most profitable opportunities in cryptocurrencies today?
It gives you real-time recommendations and price updates on only the best ways to make money now.
Here's everything you need to know.
FollowMoney MorningonFacebook,Twitter, andLinkedIn.
Join the conversation. Click here to jump to comments…