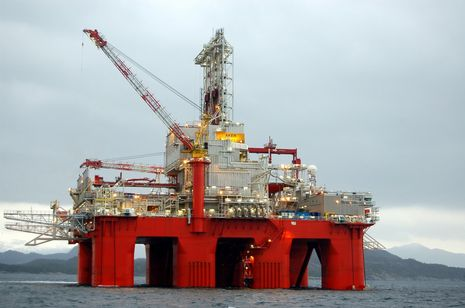 Image:The semi-submersible Spitsbergen from Transocean
Investment Thesis
Transocean (RIG) is definitely one of the best offshore drillers with a record backlog of over $14 billion – as of 2/21/17 not including options that could add over $8 billion – after the acquisition of Songa Offshore will be completed. Read my article here.
RIG is my main long-term investment in the offshore drilling sector, and I recommend to accumulate the stock for the long term.
It is not a secret the offshore drilling industry is not doing well and drillers are struggling to survive while waiting for an elusive recovery that appears to slip further away due to a stubborn low oil price environment, even if oil is starting to get some positive momentum lately.
However, the market is far from being dead and we see signs of a rig market recovery slowly appearing this year. Rig contracting activity and utilization are on the rise, asset values are increasing, crude oil benchmark prices held relatively stable and have risen lately to new multi-year highs, albeit not sufficient enough to trigger new strong offshore activity on their own.
The conclusion is that offshore drillers could be at the bottom, and it is time to invest in this sector again for the long-term.
The caveat lector is that this U recovery comes at a cost and it is called sinking day rates to entice offshore drilling that otherwise would not have happened.
A quick look at the company High-Specification Semi-Submersibles: Harsh Environment.
1 – Transocean before Songa acquisition. (HS Semi-sub only).
Note: To have a complete view of Transocean fleet status, please read my preceding article about the October fleet status. (official FSR).
High-specification floaters: Harsh environment (7)

1,500′-10,000'/25,000′-30,000′

Contract

End

Current

Day Rate

K $

Location
1

Transocean Leader

Location: North Sea

1997 – SemiSub

4 G

5/18

5/18-5/19

335

305

[Enquest] UKNS

2

Paul B. Loyd, JR

Location: North Sea1990 – SemiSub

4 G

3/18-5/18

5/18-10/18

N/D

N/D

[Hurricane]

[Zennor]

UKNS

5x1m opt.

3

Transocean Arctic

Location: North Sea

1986 – SemiSub

2/18

N/D

[Aker BP]

Norway

3m opt.

4

Henry Goodrich

1985-2007/SemiSub

5/18

275 (~+50K for mobilization)

[Husky Oil]

Canada

5

Transocean Spitsbergen

2010 – SemiSub

10/18

3Q'19 – 2Q'22

N/D

289

[Statoil]

NNS

2 wells opt.

6

Transocean Barents

2009 – SemiSub

10/18

260

[Suncor Energy]

Canada
2 – Songa Offshore.
Songa Offshore Backlog will add an extra $4.6 Billion of firm contract exclusively from Statoil (STO).
The future acquisition will increase RIG backlog significantly to $14 billion, not including options (an extra of $8 billion if exercised).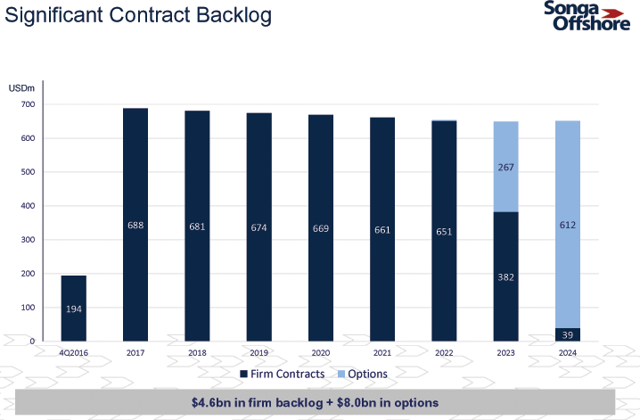 Courtesy: Songa Offshore 3Q Presentation
Songa has four harsh-environment midwater Cat D rigs delivered in 2015 and 2016 – all on long-term contracts with Statoil.
Transocean fleet is now down to ~48 rigs with 19 rigs classified as "cold stacked", including 11 rigs "cold stacked" since 2015 that can be considered as "practically-waiting-to-be-scrapped", and 4 rigs idle.
With Songa Offshore, Transocean will add 4 rigs and 22 rigs (Songa Delta contracted to 14 November 2016 – currently being stacked, Songa Dee and Songa Trym are stacked and marketed).
3 – Transocean backlog details excluding Songa Offshore: Charts.



Transocean – A Strong Message Attached To The Spitsbergen 22-Well Contract
We learned yesterday that Transocean bagged a 22-well contract (2-well option) with Statoil, representing a backlog of $286 million or a day rate of $289K/d with a duration of 33 months starting 3Q'19.
With this new contract in the Norwegian offshore North Sea and the future acquisition of Songa Offshore, Transocean has $4.9 billion in firm contract with over $8 billion in option with Statoil and is becoming the strongest offshore driller in the North Sea.
Transocean is the leader in the offshore drilling industry, a quick look at the fleet status, detailed above, is very revealing.
The backlog is a strong positive for the company and its shareholders because it is guaranteed cash flow for many years to come. It is also secured with two dominant oil majors as main customers: Royal Dutch Shell (RDS.A) (RDS.B) in the Ultra-deepwater segment and Statoil in the North Sea Harsh-environment segment.
For instance, Ensco (ESV), Diamond Offshore (DO), Rowan (RDC) and Noble (NE) combined backlog representing $10.1 billion right now, is much lower than the $14 billion that Transocean is indicating now.

We realize immediately that Transocean is the uncontested leader of this group and by far.
My Last word about RIG technical analysis.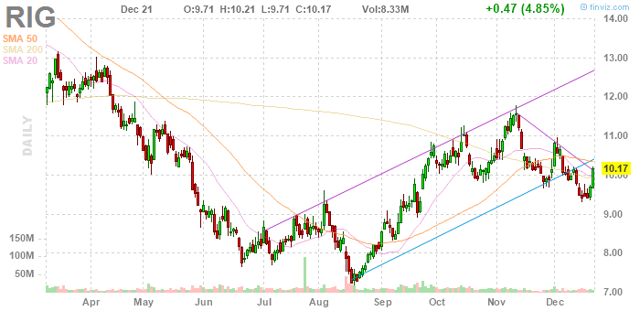 RIG is an interesting case indeed. First, the rising channel pattern (Bearish) ended by a negative-limited breakout recently, and consequently, RIG has now developed a new pattern called descending wedge pattern, which is bullish.
I believe the stock should re-test $11.75-12 as a first resistance (double top) at which point momentum could push the stock to over $13. RSI is now around 53 and confirms the double top potential. I have added RIG personally below $10.
Important note: Do not forget to follow me on RIG and other offshore drillers. Thank you for your support, it is appreciated.
Disclosure: I am/we are long RIG.
I wrote this article myself, and it expresses my own opinions. I am not receiving compensation for it (other than from Seeking Alpha). I have no business relationship with any company whose stock is mentioned in this article.
Additional disclosure: I trade also RIG on a regular basis.
About this article:ExpandAuthor payment: $35 + $0.01/page view. Authors of PRO articles receive a minimum guaranteed payment of $150-500.Tagged: Investing Ideas, Long Ideas, Basic Materials, Oil & Gas Drilling & ExplorationWant to share your opinion on this article? Add a comment.Disagree with this article? Submit your own.To report a factual error in this article, click here