Company Description
Listed on the Jakarta Stock Exchange and also traded over the US OTC markets under the ticker OTC:PTTGF, PT. Tiga Pilar Sejahtera Food (TPSF) is a leading Indonesian consumer foods company.
Post divestment of its agribusiness (palm oil) in 2Q16, TPSF currently has two divisions: Food Manufacturing and Rice Milling.
Food Manufacturing:
Produces and sells basic foods (comprising dry noodles and vermicelli) and consumer foods (comprising salted snacks, instant noodles, chocolate biscuits, candies and other snack Owns leading brands in the Indonesian consumer foods markets
Taro: #1 extruded snack brand in Indonesia
Mie Kremezz: #1 instant snack noodle brand in Indonesia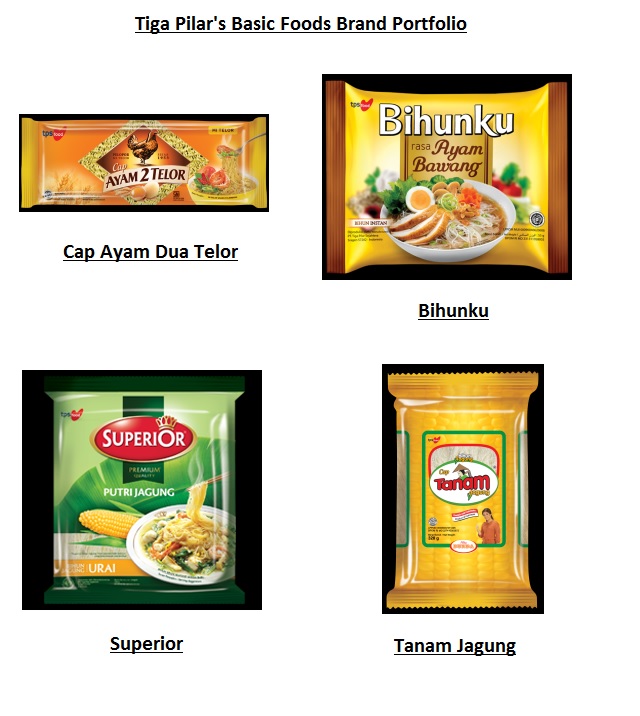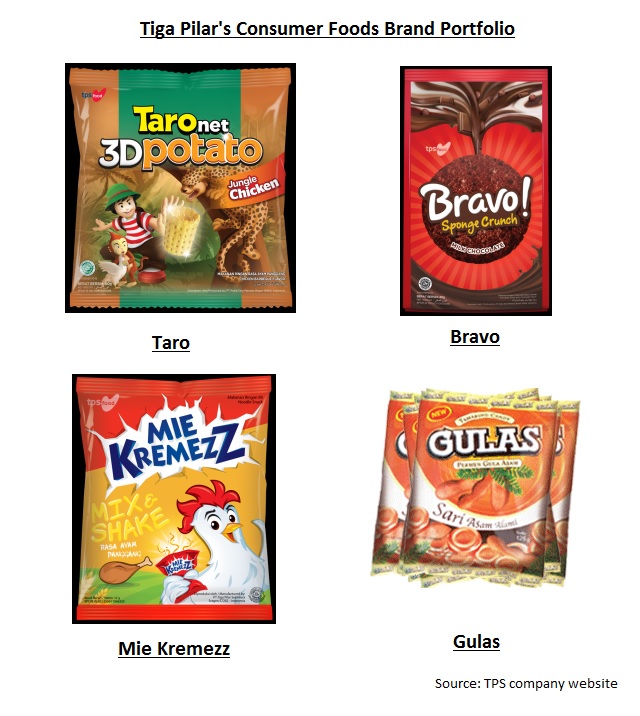 Products are distributed via approximately 194,000 outlets in Indonesia Despite accounting for 36% of 9M16 revenues, the food manufacturing division accounts for 51% of 9M16 gross profits
Rice Milling:
Commenced in 2010 via the acquisition of PT. Dunia Panga Engaged in the milling and sales of packaged rice (branded and unbranded) Rice are sold under various brands such as Cap Ayam Jago, Maknyuss and Rojolele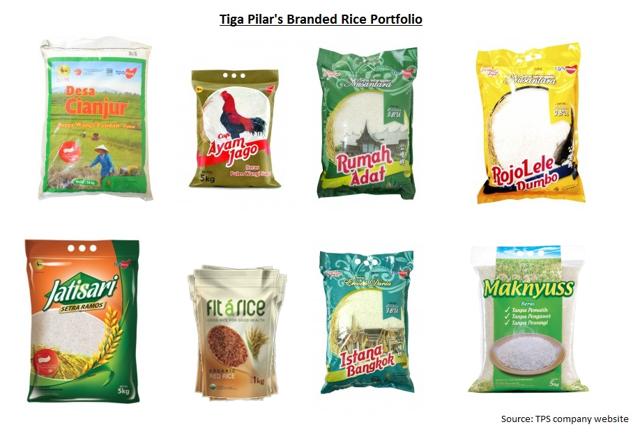 Also produces rice for private labels for prominent supermarkets, such as Indomaret, Lion Superindo and Lotte In addition, TPSF supplies rice products for the food service industry, including hotels, restaurants and food caterers
Investment Highlights
Leading player in niche consumer foods industries in Indonesia
TPSF occupies top 3 positions in its key markets in Indonesia
-> #2 dry noodles/vermicelli player with 16% mkt share in 2015
-> #1 extruded snack brand (_TARO_) with 28% mkt share in 2015
-> #1 snack noodle (Mie Kremezz) with 34% mkt share in 2015
with extensive distribution networks across the country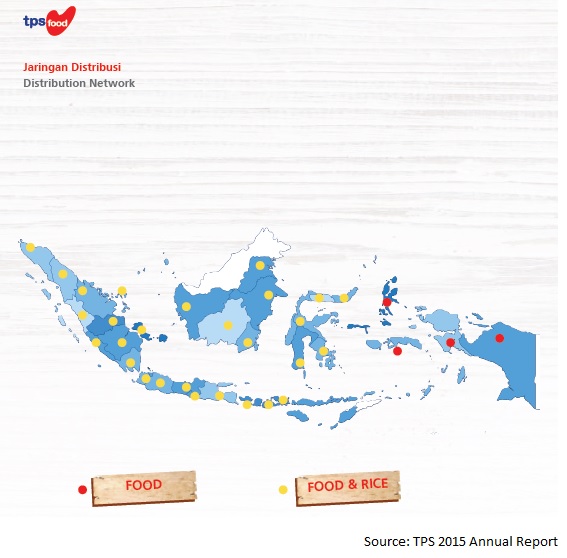 Due to Indonesia's fragmented retail landscape, relatively poor infrastructure and its dispersed geography, strong distribution capabilities are essential for the growth of Indonesian consumer foods companies Over the past few years, TPSF has achieved visible progress in improving both the quality (which we measure by outlets per distributor) and spread of its distribution network, allowing the firm to distribute its end products to end consumers more efficiently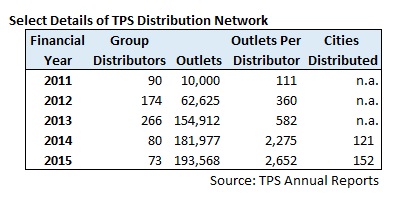 As per TPSF 2015 Annual Report, the firm distributes its products in 152 cities across Indonesia, covering approximately 194,000 outlets Recognizing that an extensive distribution network is essential to continued growth, TPSF plans to continue expanding the distributorship into secondary cities to get deeper and more thorough penetration Despite the dominance of traditional distribution channels in Indonesia, modern distribution channels (hypermarkets, supermarkets, convenience stores) have grown rapidly in the past few years and are expected to continue their strong growth trajectory The rapid growth of modern retail channels allows for products to reach end consumers faster from manufacturers
allows TPSF to be a leading beneficiary of the large and structurally growing Indonesian snack market
Indonesia has a population of approximately 258 million, the fourth largest globally Relatively youthful population, with a median age of only approximately 30 years old, versus developed Asian countries such as Japan (46.9), South Korea (41.2), Thailand (37.2) and China (37.1) Indonesia snack per capita consumption is only 1kg per capita Indonesia's snack market was valued at US$1.2bn in 2015 and is expected to grow at a CAGR of 8.3% in the period 2015-2019F, as per Euromonitor Visible increase in snacking habits in Indonesia as a result of rising urbanization, increasing per capita income and changing food culture. A study by YouGov in 2016 suggested that snacking had become more frequent versus their study in 2015 although Indonesians are willing to consider healthy snacks for consumption, healthy food options are not yet integrated into their habits. Chips, Biscuits/Cookies and Cakes/Breads remain the top 3 snacks for Indonesians. This suggests that competition from health snacks players likely to remain benign in the near term With consistent minimum wages increases in Indonesia, consumption of snacks is likely to increase further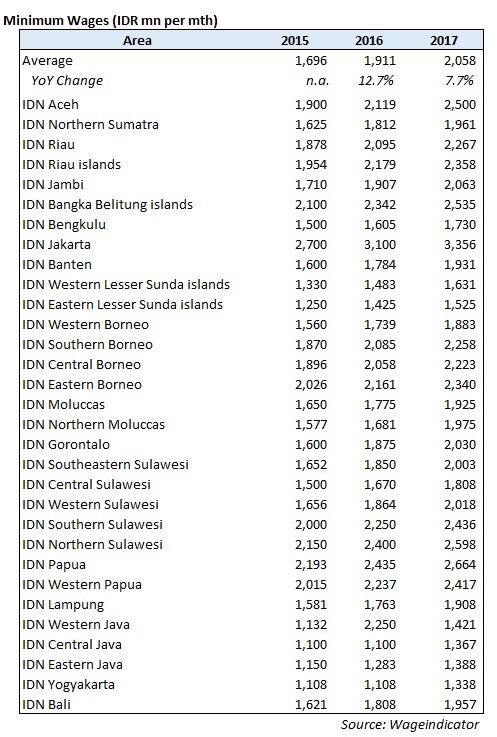 Plans to triple rice milling capacity by 2020 to increase market share by 5x in the highly fragmented Indonesian rice industry to sustain strong growth outlook
Indonesia's rice market remains fragmented Only 5% of rice mills belongs to large-scale players such as Tiga Pilar while approximately 95% are small/medium player Inefficient rice production processes coupled with relatively poor infrastructure has resulted in domestic rice supply being unable to keep up with demand. This is unlikely to change in the next few years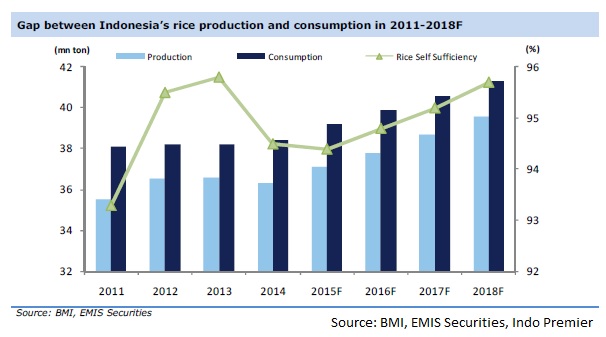 Despite only entering the rice milling business in the last few years, TPSF's growth has been rapid. Revenues grew at 53% CAGR from FY11-15 while gross profits grew at 54% CAGR during the same period TPSF has established four rice milling plants (capacity of 480k MT per yr) and is the largest private rice miller in Indonesia Plans are in place to add two more factories with total annual capacity of 240k MT per year By 2020, TPSF plans to triple its capacity, as part of its strategic plan to capture a 5% market share in the fragmented rice industry (from 1% currently) In addition, we opine that there is opportunity for TPSF to leverage on the extensive distribution network of its food manufacturing division to distribute its branded rice products
Margins expansion envisaged as company delivers on its strategy to increase proportion of sales of branded packaged rice
Branded pack rice typically enjoys gross margins of 17-23%, comparatively higher than the 13-4% on branded bulk rice TPSF plans to grow the proportion of sales of from branded pack rice products, from 17% in 2015 to 40% in 2016 We believe that the company has achieved significant progress in this aspect, as gross margins of its rice milling has improved from 13% in 9M15 to 20% in 9M16 Going forward, as TPSF further improves the sales mix of its rice milling division, we expect gross margins to increase further
Divestment of loss-making palm oil business removes a key share price overhang
TPSF's agribusiness (oil palm) is a commoditized business and profitability is largely dictated by commodity prices The segment has largely been viewed as dragging overall profitability down Moreover, it has negative operating cash flows and also has significant CAPEX requirements (for oil palm planting) Post divestment, TPSF would be able to focus on its consumer products business, which we deem to be more attractive
Attractive consumer foods player at comparatively undemanding valuations
Despite its attractive growth profile and brand leaderships at niche consumer food sectors, TPSF trades at a LTM PE of 15.4 This compares favorably to Indofood CBP LTM PE of 29.3x We do agree that the relatively commoditized nature of rice milling (which comprises 63% of TPSF's 9M16 sales) dictates that TPSF should trade at a discount to branded consumer food players such as Indofood CBP However, we argue that the discount should not be as large as 50% as TPSF is growing the share of branded packed rice We believe that the stock could re-rate should TPSF deliver on its strategy of increasing sales from branded pack rice, which fetches higher margins
Variant View
Adverse macroeconomic conditions in Indonesia
An economic slowdown and/or higher inflation could translate to lower snack purchases from consumers, affecting TPSF's food manufacturing division adversely Furthermore, consumers could look to switch from branded rice packs to unbranded bulk rice purchases. This would affect margins of TPSF's rice milling division
Increasing competition in Indonesia's rice milling industry
We opine that part of TPSF's attraction as an investment is its leading position in a fragmented industry with favorable demand supply dynamics, which has translated to attractive margins for its rice milling division Should industry competition stiffen significantly, margins would likely suffer Considering TPSF's significant investment in the space, we would look to reevaluate the company should such a scenario occur
Disclosure: I/we have no positions in any stocks mentioned, and no plans to initiate any positions within the next 72 hours.
I wrote this article myself, and it expresses my own opinions. I am not receiving compensation for it (other than from Seeking Alpha). I have no business relationship with any company whose stock is mentioned in this article.
Additional disclosure: Thank you for your time in reading the above article. I write on a wide range of companies on a regular basis. If you are interested in obtaining the latest updates, you could do so by following me on a real-time basis by clicking "Follow" button near the title. This article is intended to provide information to interested parties. As I have no knowledge of individual investor circumstances, goals, and/or portfolio concentration or diversification, readers are expected to complete their own due diligence before purchasing any stocks or other securities mentioned or recommended. This post is illustrative and educational and is not a specific recommendation or an offer of investment product or services. Past performance is not an indicator of future performance.
About this article:ExpandAuthor payment: $35 + $0.01/page view. Authors of PRO articles receive a minimum guaranteed payment of $150-500. Become a contributor »Tagged: Investing Ideas, Long Ideas, Editors' Picks, Foreign Stock, Growth, Industry Leader, Margin Expansion, Market Share Growth, Secular Growth, PRO, Steady Revenue GrowthProblem with this article? Please tell us. Disagree with this article? Submit your own.