Internet behemoth Facebook, Inc. (NASDAQ:FB), a company which has come under intense scrutiny recently due to a data leak scandal with political analytics firm Cambridge Analytica, silenced all of its doubters on Wednesday afternoon with one of its best quarterly earnings reports yet.
Not only did the company top Street estimates, but it did so in a way that left the bears with very little ammunition. Revenue growth was absurd. User growth remained strong. Margins exploded higher despite increased spending.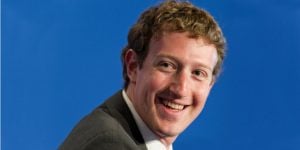 Source: Shutterstock
Should you buy FB stock? Barring regulators bringing down massive restrictions on FB, there isn't much not to like about FB stock here and now. Regulatory and operational concerns pushed the valuation on the stock down to deep value territory. Strong first-quarter numbers wiped away those operational concerns, while the regulatory concerns seem to be largely in the rear-view mirror.
As such, investors are left with a FB stock that is deeply undervalued and has a strengthening underlying growth narrative.
That creates a compelling buying opportunity for long-term investors.
Here's a deeper look:
FB Earnings Have That 'Wow' Factor
There is only one way to describe the results Facebook reported: Wow.
Revenues and earnings breezed past expectations, despite the data leak scandal and a #deleteFacebook movement. Wow.
Ad revenue growth was a whopping 50%, better than last quarter and last year, despite a much larger base and some advertisers pausing spend. Wow.
Daily and monthly active user growth was 13%, hardly a slowdown from last quarter's 14% growth rate, and that sustained growth comes despite people supposedly boycotting Facebook. Wow.
Worldwide average revenue per user growth was above 30%, versus below 30% last quarter. This same acceleration happened in the domestic market where Facebook is making nearly $100 per user per year. Wow.
Operating margins rose 500 basis points to 46%, despite the company spending a ton more to create new products and implement new safety and monitoring controls. Wow.
Earnings per share rose 63%. They rose only 54% last year, so the company's growth trajectory is actually still inflecting upward. Wow.
All together, Facebook truly delivered a "wow" quarter, illustrating an accelerating revenue growth trajectory, a sustained user growth trajectory, and robust margin expansion even in the face of the company's worst public relations incident to date.
FB Stock Has Moved on From Overarching Risks
It's safe to say that Facebook's biggest risks — the ones that dragged Facebook stock from $185 to $150 in a few weeks — are now in the rear-view mirror.
User churn? Clearly not happening. Management had already hinted that FB usage had not declined in the wake of the Cambridge Analytica scandal. Q1 numbers further support the notion that user growth trends remain strong.
Advertiser churn? Also not happening. Management had said before that some advertisers had stopped spending. Despite that pause from some advertisers, Facebook still recorded 50% revenue growth in the quarter, one of its best marks in recent memory. Clearly, advertisers continue to pour money into Facebook.
Margin compression? Not happening. The company is spending a bunch more to both create new products and fix the current product with enhanced safety, vetting and monitoring controls. But regardless of how much more you spend, operating expense rates tend to fall when revenue growth is 50%. Thus, strong revenue growth is more than offsetting rising expenses and margins continue to soar higher.
Without user churn, advertiser churn, or margin compression, the only risk that could derail FB stock is regulatory related. But if anything was clear from CEO Mark Zuckerberg's time in front of Congress, it is that Washington has no idea how to regulate Facebook. Therefore, it won't. There will be some fines, and then the world will move on.
FB Stock Is Way Undervalued
The Q1 report affirms that Facebook stock is way undervalued at current levels.
Revenue growth was 50% last quarter and nearly 50% last year. In other words, growth isn't slowing. With Instagram's ad business still ramping, Messenger/WhatsApp yet to be monetized, and Facebook Watch still in its early phases, there are several growth drivers left in the pipeline which should be able to keep revenue growth big over the next several years.
Conservatively, we think FB can grow revenues around 20% per year over the next five years, putting revenues at $101 billion in five years. Operating margins, which currently are at 46% and growing, should easily get to 50% in five years if revenue growth remains big. That would imply operating profits of $50.5 billion in five years. Taking out 15% for taxes and dividing by 2.9 billion shares out, that equates to roughly $14.85 in Facebook earnings per share in five years.
A market-average growth multiple of 19 on those $14.85 earnings implies a four-year forward price target of $280. Discounted back by 10% per year, that equates to a present value of over $190.
Bottom Line on FB Stock
Conservative modeling yields a fair value on FB stock of $190. More aggressive modeling yields a fair value well north of $200.
FB currently trades at $170. Thus, no matter which way you look at it, there is still a lot of upside left in this name. Strong Q1 numbers are the exact catalyst FB stock needs to start making progress on realizing that upside.
As of this writing, Luke Lango was long FB.
Compare Brokers