I have been catching up on market news after a nice long vacation down under and came across Pacific Crest's cloud picks for 2017. SA News headline here. This included several well known names like Microsoft (NASDAQ: MSFT), Adobe (NASDAQ: ADBE), etc., and a few others not many may know about. What I find crazy about this and several other such sector plays is how people decide to group companies. Sure, there are several attractive names if you are bullish on the growth of cloud based platforms, but it doesn't mean you can put all of them into the same bucket. I will use the example of HubSpot (NYSE: HUBS) included in their picks to illustrate this.
The XaaS Bubble
For a few years now, it has been fashionable to say your company is providing "X as a Service". Just as a startup says they are like "Uber for X" to attract venture capital, public companies want to highlight that they have a subscription based model to try to get themselves into their target "comparables" group. Admittedly, there are some advantages to using a subscription model.
1) You can claim a lower cost of entry, scalability, lower maintenance, etc., all of which are positive for your customers.
2) You can potentially create an income stream which can be very profitable the longer you are able to retain your customers.
3) Providing customer support is also arguably easier since you have more control over your customer experience.
However, this does not mean all cloud platform companies are the same. The most important factor is the actual service the company is providing. I believe we are currently in a bubble where anything said to be provided as a subscription service is clubbed into the same group and gets an astronomical valuation.
HubSpot: Operating Expenses
I believe one of the best ways to identify the core competency of a company is to see where it is investing its resources. Below is a chart of HubSpot's Operating Expenses over the past few quarters. Values are in thousands.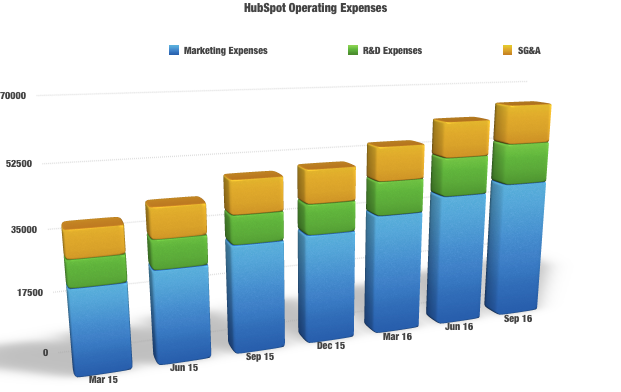 Now, you might be wondering how it is that HubSpot has managed to spend so little on R&D as a tech company while supposedly being a leading cloud solution provider. Indeed, over this period, well over 60% of its operating expense went towards sales and marketing! The answer lies in one of the risks noted in its 10-K.
"Our use of "open source" software could negatively affect our ability to offer our platform and subject us to possible litigation.
A substantial portion of our cloud-based platform incorporates so-called "open source" software, and we may incorporate additional open source software in the future. Open source software is generally freely accessible, usable and modifiable. Certain open source licenses may, in certain circumstances, require us to offer the components of our platform that incorporate the open source software for no cost, that we make available source code for modifications or derivative works we create based upon, incorporating or using the open source software and that we license such modifications or derivative works under the terms of the particular open source license. If an author or other third party that distributes open source software we use were to allege that we had not complied with the conditions of one or more of these licenses, we could be required to incur significant legal expenses defending against such allegations and could be subject to significant damages, including being enjoined from the offering of the components of our platform that contained the open source software and being required to comply with the foregoing conditions, which could disrupt our ability to offer the affected software. We could also be subject to suits by parties claiming ownership of what we believe to be open source software. Litigation could be costly for us to defend, have a negative effect on our operating results and financial condition and require us to devote additional research and development resources to change our products."
What HubSpot is essentially doing is taking open source software, adding a few little tweaks, hosting it on a third party cloud platform (such as Amazon's (NASDAQ:AMZN) AWS or Microsoft Azure) and selling it as an all-in-one marketing solution to small and medium sized businesses. To be fair, there is nothing wrong with this. There are probably several hundreds of such digital marketing companies in the US. But that is exactly the point! HubSpot is just another digital marketing company, not a "cloud" play. It is not even in the same ballpark as other names like Microsoft and Adobe noted by the analyst in his top cloud picks for 2017. It just does not deserve these sky high valuations.
An Insider's take
If you are still not convinced, I strongly recommend you read Dan Lyon's "Disrupted: My Misadventure in the Start-Up Bubble"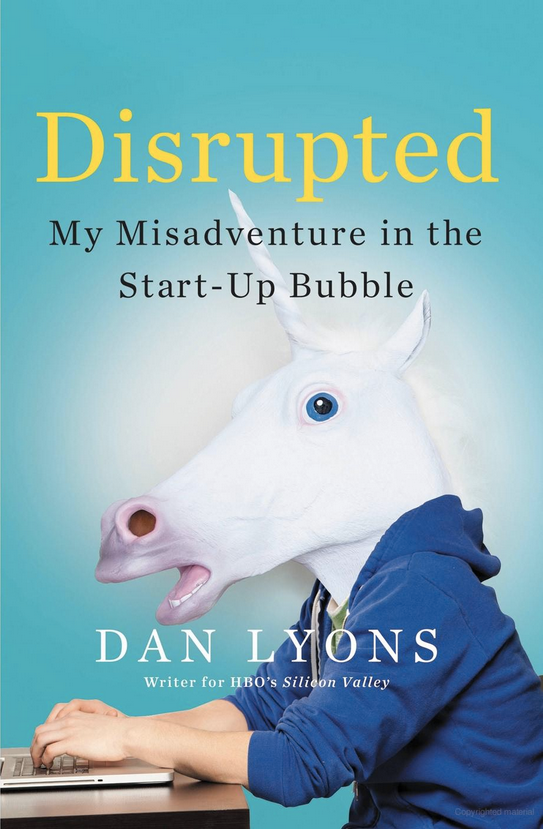 It talks about his experience working at HubSpot along with some general commentary about the state of startups in Silicon Valley. I will not go into the ridiculous details about the company highlighted in the book, but I can tell you, it is a very entertaining read.
Meanwhile, while analysts are talking up the stock, company insiders are selling shares hand over fist. Through 2016, insiders sold a cool $54 million worth of stock without a single insider buy apart from exercising stock options. It looks like they know what the company is truly worth.
Conclusion
As more and more people invest in sector and industry plays, it becomes import to identify what the core competency of each company in a group is. While all names in a group may move in lockstep for short periods, every company's valuation will be driven by its fundamentals in the long run. HubSpot is the perfect example of a company that while may be providing a useful service, does not deserve to be in what a lot of people consider its peer group and certainly does not deserve the astronomical valuation it currently has. I would be short this name.
Disclosure: I am/we are short HUBS.
I wrote this article myself, and it expresses my own opinions. I am not receiving compensation for it (other than from Seeking Alpha). I have no business relationship with any company whose stock is mentioned in this article.
About this article:ExpandAuthor payment: $35 + $0.01/page view. Authors of PRO articles receive a minimum guaranteed payment of $150-500. Become a contributor »Tagged: Investing Ideas, Quick Picks & Lists, Technology, Application Software, CFA charter-holdersProblem with this article? Please tell us. Disagree with this article? Submit your own.