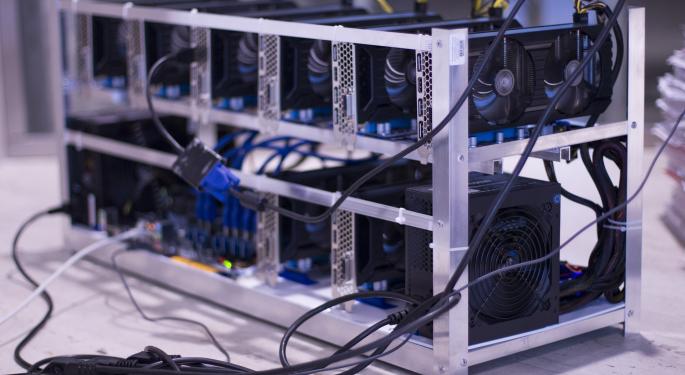 Related Take Advantage Of The Retail Sector's Historical Black Friday Strength With These Stocks, ETFs CLIX Over Bricks: Going Shopping With A Couple Of New Retail ETFs How China's Singles Day Blew Black Friday Out Of The Water (Seeking Alpha)
As issuers of exchange-traded funds wait on the Securities and Exchange Commission to approve a bitcoin-based fund, some sponsors are looking to launch blockchain funds. A recent SEC filing indicates Horizons ETFs Management is entering the blockchain ETF competition.
Assuming it comes to market, the Horizons Blockchain ETF will follow the Horizons Blockchain Index. That means the product will be passively managed.
"The Horizons Blockchain Index is a proprietary Index that primarily invests in U.S. and foreign equity securities and seeks to invest in companies that stand to benefit from the growth of blockchain technology," according to a Horizons SEC filing. "The emergence and adoption of blockchain technology, a form of distributed ledger technology, will likely change how business transactions and operations take place, paving the way for unprecedented levels of growth and innovation."
A Growing Field
With the Horizons blockchain filing, at least four ETF issuers have filed plans for a blockchain ETF over the past month. Amplify ETFs, the company that sponsors the popular Amplify Online Retail ETF (NASDAQ: IBUY), revealed plans for an actively managed blockchain ETF about a month ago. That move was followed by Reality Shares also filing for a blockchain.
Earlier this month, Illinois-based First Trust unveiled plans for the First Trust Indxx Blockchain ETF. Assuming that fund comes to market, the First Trust ETF will follow the Indxx Global Blockchain Index, meaning it is also a passively managed product.
Blockchain was originally created as a digital ledger of sorts for transactions in bitcoin, but now serves as the transaction record for a broad swath of digital currencies.
More On The Horizons Fund
The Horizons Blockchain Index "attempts to identify companies within the global equity markets that stand to directly participate in the growth associated with the adoption and integration of blockchain technology. Currently, the Index universe includes over 20 industries and focuses on technology end-users along with suppliers and providers likely to benefit from the growth of blockchain technology. This approach is intended to capture the entire scope of growth and emerging innovations within the universe," according to the SEC filing.
In the filing, Horizons revealed some requirements for the index, including member firms having a minimum market capitalization of at least $250 million and average daily trading volume, in dollar terms, of at least $1 million.
The filing did not include a ticker or expense ratio, indicating a launch is not imminent.
Related Links:
A Leveraged Idea For The Next Fed Meeting
CURE The Boring December Trade