Investment Thesis:
I believe Silicon Motion (SIMO) is a great stock for investors that look for a growth opportunity at an attractive price. The NAND industry is expected to expand at a fast pace in 2018.
Micron Technology (MU) for example is forecasting NAND industry supply bit growth of 50% for the calendar year 2018.

The industry-wide NAND bit growth should be a great relief for Silicon Motion. Its business was restricted by the weak NAND bit growth in 2017, which was a result of multiple NAND producers switching their production from planar to 3D NAND at the same time.
The conversion to 3D will not only increase the overall bit output of the industry it should also come with a great reduction in production costs per bit. This is very important because the lower costs will increase flash demand and expand the current NAND flash markets. One of those markets is the client SSD where the adoption rate from SSDs over HDDs in laptops and desktop PCs is increasing. All of these SSDs will need controller solutions and SIMO works very close with the SSD producers like Micron. In its Q3 release, SIMO announced that its controller technology will be in the new Crucial BX300.
"Began shipping our SATA3 SSD controller to Micron for the Crucial BX300 SSD"
As you might have noticed by now, Silicon Motion is heavily depended on the NAND industry.
For Q4 2017 and the calendar year 2018, the company expects a rebound in its business with the finalization of the 3D NAND transition:
"We expect our business to gradually rebound in the fourth quarter, and rebound further next year due to increasing availability of 64L 3D NAND and more competitive NAND pricing,"
Risks:
Apart from the risks that almost every company faces (worldwide economic instability, loss of key employees, insufficient product innovation…), I want to focus on some more individual risks that SIMO faces.
The most recent problem was a shortage of NAND flash memory.
Wallace Kou (NYSE:CEO) on the Q2 2017 Earnings Call:
"Hindered supply constraints have been affecting our module maker customers, hyperscale customers, and even NAND flash partners."
"As a result, despite our strong pipeline of SD design wins with customers and growing portfolio of unique solutions, our ability to grow sales has been limited. Our second quarter sales, therefore, came in slightly below our expectation and second half sales will also be impacted. We believe this is a temporary issue caused by NAND industry supply transitioning to new 3D technology."
There are signs that the worst of these supply constraints is behind us and that the overall NAND supply is increasing. In the Q3 2017 results, Wallace Kou said:
"This quarter, NAND flash industry supply increased materially, which enabled us to significantly increase procurement of NAND for both our differentiated Ferri and Shannon SSD solutions,"
A political risk factor is the fact that SIMO is based in Taiwan. In its 10-K it states:
"We face substantial political risks associated with doing business in Taiwan because of the tense political relationship between Taiwan and the People's Republic of China."
The tense situation between North Korea and South Korea is another political risk. Samsung (OTC:SSNLF) and SK Hynix (OTC:HXSCF) are both based in South Korea and would suffer if a hot war would break out and therefore would also affect Silicon Motion's business significantly.
Another risk factor is the relatively small number of customers. As a result, the loss of any significant customer could materially affect the financial condition and results of operations. This was an issue in Q3 2017. The eMMC controller sales declined approximately 20% sequentially because SK Hynix rebalanced its limited supply of NAND away from smartphones towards other applications.
Valuation:
I consider Silicon Motion fairly valued around $55 based on the present financial performance. I initiated my position in late September and added to my position at the end of October. One reason why I don't sell my shares, even though I consider them fairly valued, is that I expect Silicon Motion to continue to grow its business significantly in the future.
Another reason is that I consider SIMO shareholder friendly for multiple reasons.
One reason is that the management team seemed accurate in their guidance over the past, which is not an easy task in the ever-changing semiconductor industry. They update their shareholders on regular basis and release preliminary quarter results.
They currently pay a dividend of $0.30 per quarter. The dividend was increased by 50% in October, and at $55 per share, the forward yield is 2.2%. That is not too shabby in the current interest rate environment.
Increasing the payout by such a substantial extent can also be seen as a sign of confidence from the management in the future profitability of the company. I believe that if sales and earnings keep growing as they did in the past, we will see another dividend raise.
Besides the dividend, SIMO also has an active share buyback program with a volume of $200 million. However, it will only buy shares if the price per share drops to a certain point.
The reason the company can afford these return programs is its free cash flow growth over the last years: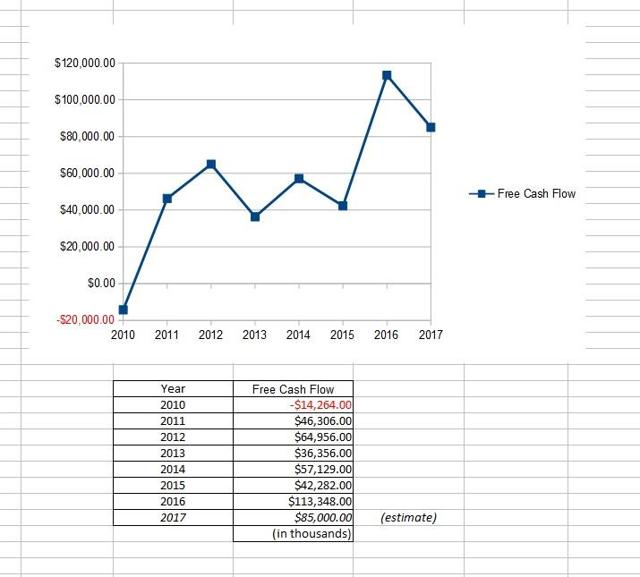 Since Silicon Motion is a fabless company, it has relatively low capital expenditures.
The balance sheet is very healthy, and without making adjustments, I compute an equity value of $14.55 per ADR: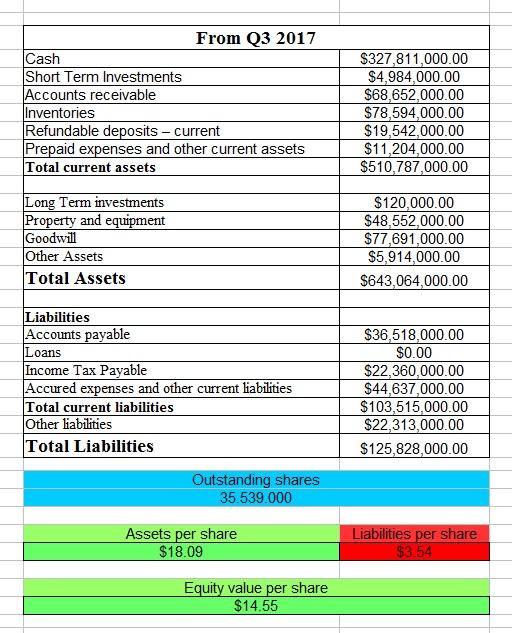 I'm not a fan of the $77 million goodwill, however, the overall cash position is very healthy. The company will be able to finance its R&D needs and keep returning cash to shareholders.
Not everything about the stock is perfect, and I want to add this chart to show the increase in outstanding shares over the last seven years: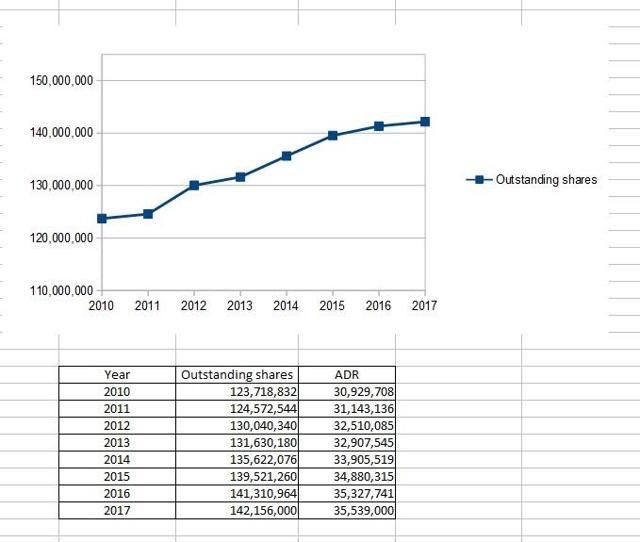 The overall share count increased by 14.9% from 2010 to 2017. To put this in perspective, revenue grew from $132 million in 2010 to $522 million in 2017.
That is a CAGR of 21%! The financial performance of the company makes up for the slightly increasing share count. At the same time, the balance sheet was fueled with cash to pay down debt significantly over the past seven years.
The current P/E ratio is 21.8 at $54 on GAAP basis.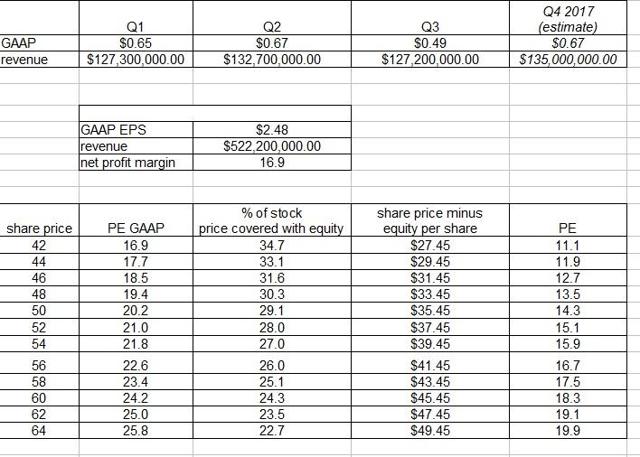 That is lower than the 21% CAGR in revenue we have seen in the past.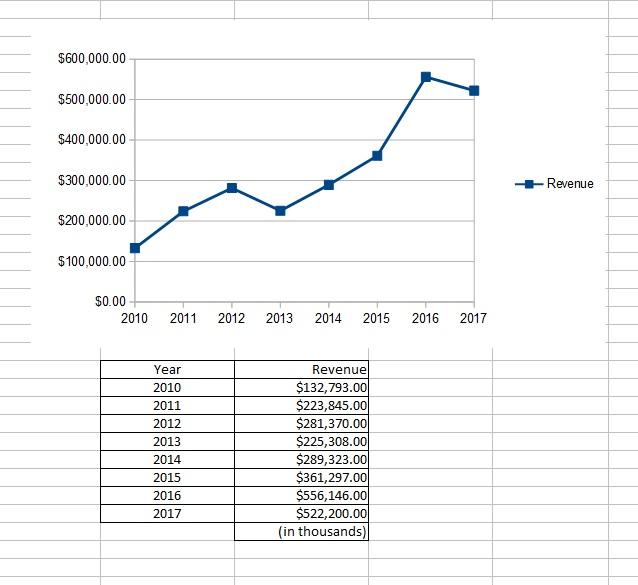 I expect the growth to be higher than the past 21% average over the next three years, due to all the capacity expansions going on in the NAND industry.
Intel (INTC) is investing in its Dalian Fab, Micron has been expanding its Singapore operations, Toshiba (OTCPK:TOSBF) and Western Digital (WDC) are jointly investing in Fab 6, and Toshiba additionally plans a new Fab 7. Samsung and SK Hynix also invest in new memory fabs with a focus on NAND. All this bodes very well for SIMO because it will release the tightness in the NAND market.
Technical aspect:
From a technical aspect, SIMO is in the resistance zone right now, so I won't be surprised by a consolidation within the next few weeks. However, I expect the financial performance to improve in 2018 which should lead to new all-time highs in the $60 or even $70 range: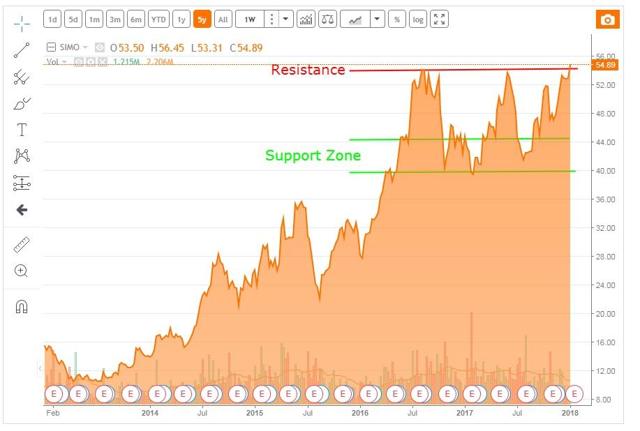 I will add to my position if the stock drops back down to the support zone levels around $45.
The company will release its Q4 results on February 6 and host a conference call the following day. I believe that this event could be the next big catalyst for the stock if the forward guidance is good and the overall market not in a sell-off situation.
Oh did I forget to mention the insider buy program worth $2.5 million? There are many reasons for insiders to sell shares like stock-based compensation, but there is only one reason why insiders would want to purchase shares with their own hard earned money.
Conclusion:
SIMO is one of my picks for 2018 that I am most excited about. With a very healthy balance sheet, sufficient free cash flow, and the opportunity to grow its sales by over 21%, I expect an above average return from my investment. The potential risks need to be watched carefully.
Disclosure: I am/we are long SIMO, MU.
I wrote this article myself, and it expresses my own opinions. I am not receiving compensation for it (other than from Seeking Alpha). I have no business relationship with any company whose stock is mentioned in this article.
Editor's Note: This article discusses one or more securities that do not trade on a major U.S. exchange. Please be aware of the risks associated with these stocks.
About this article:ExpandAuthor payment: Seeking Alpha pays for exclusive articles. Payment calculations are based on a combination of coverage area, popularity and quality.Tagged: Investing Ideas, Long Ideas, Technology, Diversified Electronics, TaiwanWant to share your opinion on this article? Add a comment.Disagree with this article? Submit your own.To report a factual error in this article, click here