The Walt Disney (DIS) reported earnings that beat analysts' expectations on the bottom as well as the top line. The company successfully launched great blockbuster movies such as Black Panther and Infinity War, yet the investors remained unimpressed and the shares declined during the trading session following the earnings release.
Investors remained worried about the structural decline in their Media Networks business. However, I think investors' concerns also present a buying opportunity. There are numerous catalysts that may increase investors' enthusiasm, particularly their launch of new direct-to-consumer platform ESPN+ as well as a new platform with an expected launch next year. In addition, if the Fox (NASDAQ:FOX) (NASDAQ:FOXA) deal comes through, it will give Disney even more tremendous power to deliver great content and user experience. And so, I am strongly bullish on The Walt Disney shares despite the lack of investor enthusiasm over the last three years.
Trading range
Shares of Disney has been trading in a narrow range since January 2015. Most of the time they were bouncing between $93 and $111.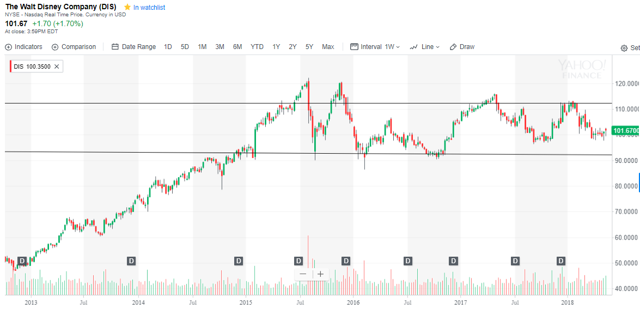 Source: Yahoo Finance – Business Finance, Stock Market, Quotes, News
The reason why the shares were trading in a range was the rather mediocre performance over the last three years. Revenue declined last year, which was the first decline in the last economic cycle, and operating margin declined as well. The EPS benefited a little bit due to a lower tax rate and a lower number of shares due to stock buybacks. The result was a flat EPS growth.

Source: www.stockrow.com
The decline in revenue and operating earnings was driven by a decline in all segments except Parks and Resorts which accounts for a third of revenue. The Parks and Resorts segment has been strong over the years and it is expected to be strong in upcoming years as well. I would also expect a strong performance of Studio & Entertainment in the current year due to successful blockbuster releases such as Black Panther and Infinity War.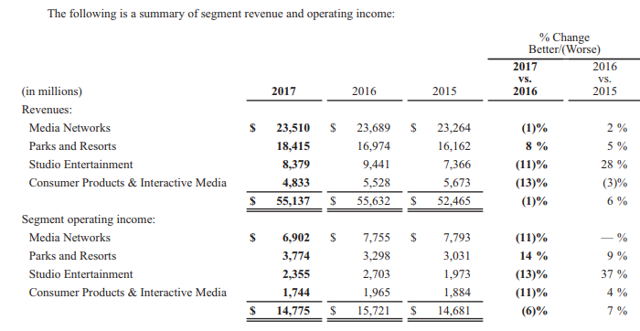 Source: The Walt Disney's 10-K 2017
The decline in Studio Entertainment's operating income and revenue in 2017 was attributable to higher blockbuster releases in 2016 than 2017; however, the decline in Media Networks could be attributable to a structural shift in the media content distribution to direct-to-consumer ad-free channel rather than through advertising based cable networks. And so, I would distinguish operating income from Media Networks that represents roughly 50% of operating income and the rest of the segments which continue to perform strongly. The operating income from Media Networks has declined considerably since 2015. And, the poor performance has continued during the first half of 2018 where operating income in Media Networks declined by 9% despite the 2% increase in revenue.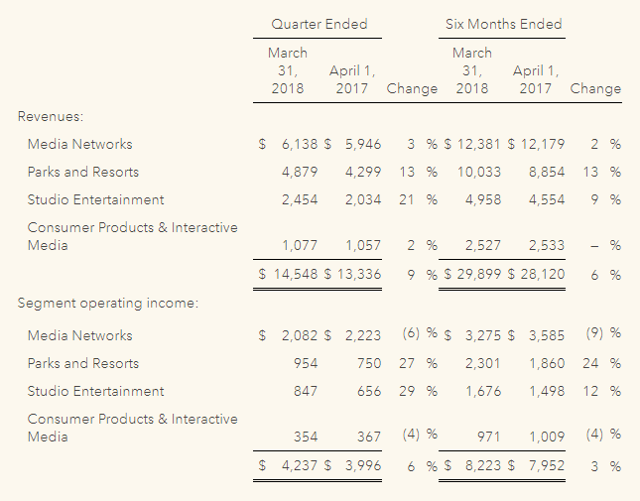 Source: The Walt Disney 2Q 2018 Earnings Release
The main reason why the revenue and operating income from Media Networks keep declining is due to a decline in viewership and decrease in subscribers.
And this is the key why the shares were trading in a narrow range lately despite the successful releases of blockbusters. And there are numerous catalysts that can change the trajectory of decline in the Media and Networks business and create strength from the current weakness. Those are the new direct-to-consumer releases, with the first already launched last quarter and a new one that is expected to be launched next year.
New platforms
Disney already launched ESPN Plus for $4.99 during the recent quarter and the launch was a success based on management's first impression. ESPN Plus is a new app on a variety of platforms and will be key to gaining and retaining sports fans on their ESPN channel.

Source: 1Q 2018 Earnings Transcript
In my opinion, the opportunity is imminent and a new direct-to-consumer experience may become a new Netflix (NFLX) in the sports category. Certainly, Netflix is missing sports content on their platform and would wish to have a one. ESPN Plus may be just a beginning of the new consumer experience for sports fans.
In addition to their ESPN Plus launch, Disney is preparing to launch another direct-to-consumer platform next year which will be focused on delivering customers with a new content from the latest Disney, Pixar, Marvel and Star Wars feature films. The company will also deliver certain future films exclusively for that service.

Source: The Walt Disney's 2Q 2018 Earnings Call Transcript
In my opinion, Disney's content already includes titles that will attract their fans and enthusiasts, and the content is going to increasingly attract a wider audience around the world perhaps the same way as Netflix has done.
In addition to the company's current content on their balance sheet and expected new launches, Disney would like to acquire content from Twenty-First Century Fox. If the deal comes through, the company will gain access to X-Men, Avatar, The Simpsons, FX Networks, National Geographic, among others. In addition to that, the company would gain a controlling stake in Hulu. The deal makes perfect strategic sense for The Walt Disney and it will be a complement to their existing content for the new platform.
The new direct-to-consumer channel of Disney will be in direct competition with Netflix and others. However, the key to success of the new platform will be the content. That is why Netflix is spending a billion of dollars for new content creation. And their launches of Narcos, House of Cards and others created a buzz where Netflix gained tremendous momentum. However, I think Disney's current content and content gained from the Fox acquisition could arguably attract consumers even more. Hence, I think Disney's strategic move to launch new direct-to-consumer platforms provides a tremendous opportunity. And so, the current trading range could be a good opportunity to accumulate shares and prepare for a next bullish wave in shares.
Besides the tremendous opportunity, the shares are trading quite cheaply. The analysts expect the company to earn $6.90 per share this year and $7.47 per share next year.

Source: www.finance.yahoo.com
This is an increase of 20% from the EPS earned in 2017. However, most of the growth comes from a lower tax rate which is expected to be 24.5% this year compared to 32.0% in 2017. Also, part of the EPS growth is attributable to financial engineering given the company spent $9 billion last year on share buybacks and bought back 89.5 million shares.
Yet, the company trades at a multiple of 14.5x to this year's expected earnings and at 13.4x to next year's expected earnings. That seems quite cheap given the unique combination of tremendous growth opportunity for the Media Networks business and their existing strong operating performance in their Parks and Resort as well as Studio Entertainment businesses.
Takeaway
Disney's Media Networks business has been challenged in recent years and so the shares delivered a mediocre performance during the last three years. This was mostly due to declining viewership and decrease in subscribers. However, the company made an important strategic shift to launch two new direct-to-consumer platforms which may help to offset the decline. In my point of view, these platforms provide a tremendous growth opportunity. And so, the current price provides a great value.
Disclosure: I am/we are long DIS.
I wrote this article myself, and it expresses my own opinions. I am not receiving compensation for it (other than from Seeking Alpha). I have no business relationship with any company whose stock is mentioned in this article.