Teradata (TDC) is a Dayton, Ohio-based technology company that is a global leader in analytic data solutions and services. The company helps customers better manage their data and analytics, in addition to assisting in extracting value out of big data (watch this video to learn more about Teradata's business). This sounds like a company that should be doing well in today's environment, right? Teradata's stock has indeed performed well lately (up ~40% over the last year) but TDC shares have significantly underperformed the broader market over the last three years.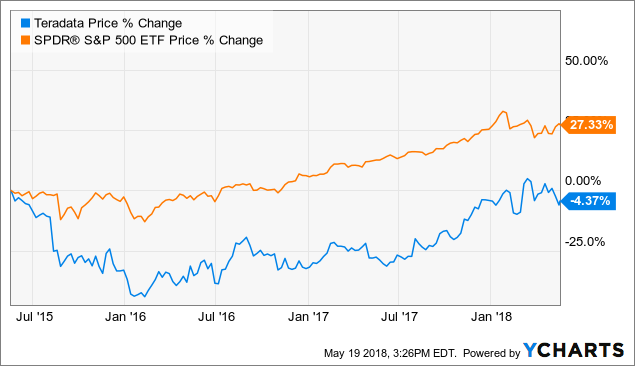 TDC data by YCharts
The underperformance was caused by several factors, but I believe that the largest factor was related to management's failure to see the need to pivot and transition Teradata into a subscription-based company several years ago. Better late than never.
The impressive stock performance over the last year has been nice, of course, if you have been a shareholder, but I believe that Teradata is still a long-term buy today because the shift in business model will create a tremendous amount of shareholder value in the years ahead.

A Promising Backdrop
It is hard to deny the fact that data is (and has been) driving the global economy, and the momentum does not appear to be slowing down anytime soon. To put this into context, Gartner estimates that connected devices in the Internet of Things ("IoT") industry will grow to over 20.4B units by 2020, up from 6.3B in 2016.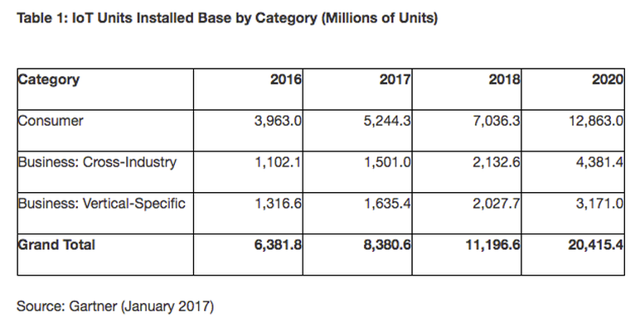 Source: zdnet.com
With more connected devices comes more data and the need to analyze it. Therefore, the need to manage and interpret/analyze big data will continue to be a critical function for almost every company, so the services of data-driven companies like Teradata are needed now more than ever.
The digital megatrend is creating a significant market opportunity for Teradata and, if management is successful in achieving its long-term strategic objectives, TDC shareholders will be big winners in the years ahead.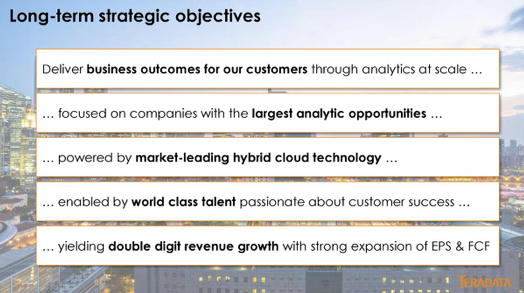 Source: Teradata's Q4 2017 Earnings Presentation
In my opinion, Teradata is in a great position to capitalize on the transition to more of a data-driven global economy, but the company's long-term success will definitely come down to management being able to navigate Teradata through the ever-changing landscape, which means that there are risks to the story.
The Q1 2018 Results, Headwinds Exist But The Long-term Story Remains Intact
On May 3, 2018, Teradata reported better-than-expected earnings ($0.19 vs. $0.16) and revenue ($506M vs. $497M) but management's full-year guidance spooked the market (shares finished the trading day down ~6%). For comparison purposes, the company reported adjusted EPS of $0.28 on revenue of $491M in the same period of the prior year.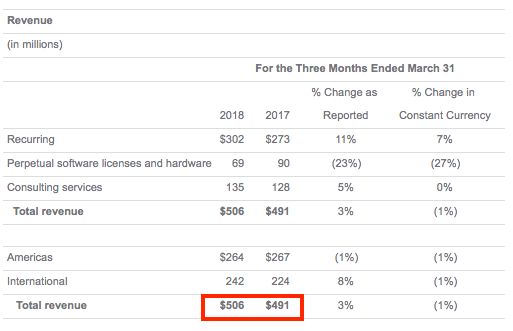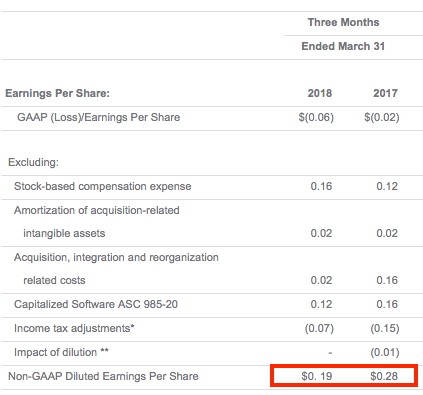 Source: Q1 2018 Earnings Presentation
As shown in the table, the company's software licenses and hardware revenue was down big again but the business that matters (i.e., recurring revenue) was up 11% YoY. These operating results show that management continues to be successful in shifting Teradata's business model to the more predictable, recurring revenue instead of being focused on perpetual licenses. This transition, however, does come at a cost as the company's operating results were again 'negatively' impacted by a higher mix of subscription business.
And it is this higher mix of subscription business that caused management to lower its full-year 2018 guidance:
Total revenue will be in the range of $2.15-2.18B (down from $2.15-2.20B) Adjusted EPS will be in the range of $1.40-1.46 (down from $1.50-1.60)
The shift to a subscription-based model is causing headwinds as it continues to negatively impact Teradata's operating results, but in my opinion, it is the right decision to make. The recurring revenue model will allow management to better manage its business and, in my opinion, the more predictable revenue will eventually win over the market.
Risk Factors
A full list of risk factors can be found at the company's 2017 10-K. The biggest risk with investing in Teradata, in my opinion, is related to the company not differentiating itself from other competitors. There are plenty of data-driven companies competing for the IT consulting dollars, so Teradata needs to continue to show its worth, especially in today's environment.
Bottom Line
Simply put, Teradata's risk-reward profile is very attractive if you are willing (and able) to hold onto shares for the next three-to-five years. I believe that management made the right decision when it shifted the focus to more of a subscription-based model, so at some point, the current headwinds will turn into long-term tailwinds. As such, long-term minded shareholders would be wise to at least add Teradata to their watch list because there is a lot to like about this small data-driven company in today's environment.
Disclaimer: This article is not a recommendation to buy or sell any stock mentioned. These are only my personal opinions. Every investor must do his/her own due diligence before making any investment decision.
If you found this article to be informative and would like to hear more about this company, or any other company that I analyze, please consider hitting the "Follow" button above.
Disclosure: I am/we are long TDC.
I wrote this article myself, and it expresses my own opinions. I am not receiving compensation for it (other than from Seeking Alpha). I have no business relationship with any company whose stock is mentioned in this article.