First Quarter 2018 Overview
Tapestry (TPR), a retailer of luxury accessories, which includes Coach, Kate Spade and Stuart Weitzman, reported its first quarter earnings recently for fiscal year ending September 30, 2017 of $0.42 per share versus $0.45 per share a year ago. Meanwhile Net Sales of $1.29 billion were reported versus $1.04 billion a year ago. Additionally, charges for integrating the Kate Spade acquisition were $191 million in the quarter, directly, and negatively, impacting the company's operating profit.
By brand, Coach reported a decline of 3% in same-store sales, with global comp store sales declining 2%. Kate Spade saw global comp store sales decline 9%, and Stuart Weitzman saw an increase of comparable store sales increase 10%. Victor Luis, CEO of Tapestry, is pleased with Tapestry's performance, especially the integration of Kate Spade.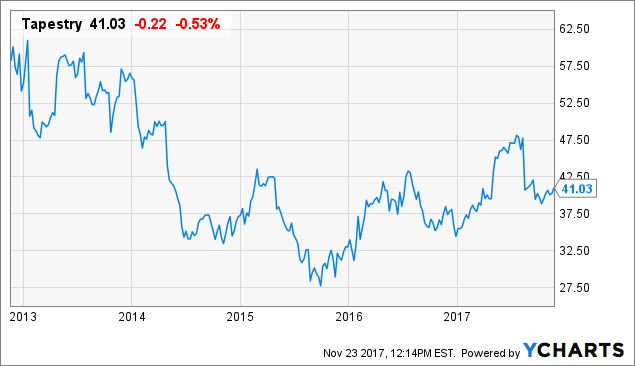 TPR data by YCharts
Positively, Tapestry is making some headway into improving their margins by increasing the number of their company-owned stores while reducing the number of their lower margin wholesale business, namely department stores. Additionally, they have pulled back on their flash sales. They also expect efficiencies from their distribution and supply chain across their product lines. All these efforts improve Tapestry's outlook for the near and long term.
Dividend And Acquisition Outlook
Currently Tapestry is paying a dividend of $1.35 per share with a yield of 3.21% (closing price of $42.07 as of 11/21/17), which is above their peers. One wonders as Tapestry becomes more growth-oriented through acquisitions, if the company's dividend will be reduced or remain at all. The company's plan to acquire other Luxury Brands also remains an uncertainty. Adding like brands to its portfolio does not necessarily diversify Tapestry from weakness in the same industry. Yes, it will be a conglomerate of luxury goods, but if the luxury market is weak, then all the companies will be weak.
The Millennial Market
Then there is Tapestry's focus on Millennials, who according to the Bureau of Labor Statistics have surpassed Baby Boomers as the nations largest living generation. Millennials, defined as those ages 18-36, now number 75.4 million, surpassing the 74.9 million Baby Boomers (ages 51-69). As such, Millennials have become the key marketing demographic. Tapestry, being no exception, purchased Kate Spade with the intention of attracting this younger generation and has also brought in Selena Gomez as their celebrity spokesmodel for the Coach brand.
The thinking goes that as Millennials enter their peak earning years, they will remain loyal to the brand and their increased spending power will translate into growing long-term revenue for Tapestry. However, Millennials spend most of their money on eating out, and the least amount of money on apparel than other generations. So, even though it is the largest generation, it may or may not lead to more sales of luxury items.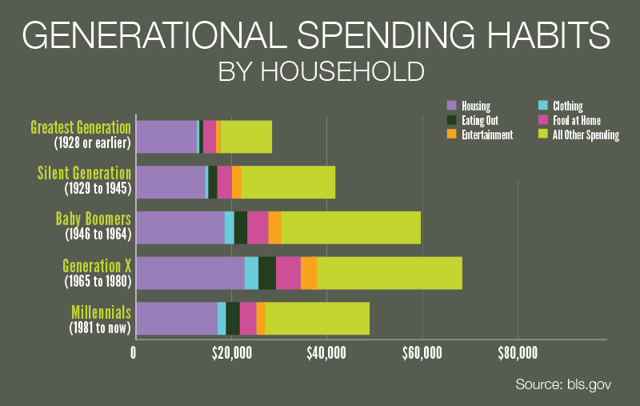 Earnings Outlook And Valuation
For Fiscal 2018, ending in June, the company is guiding that revenues will increase 30% to $5.8-$5.9 billion, with Kate Spade contributing $1.2 billion in revenues. The company is also expecting earnings per share to increase by 10-12% to $2.35-$2.40 per share.

TPR PE Ratio (Forward) data by YCharts
Currently, the company is trading at a multiple of 17.1 to 17.5 times fiscal 2018 expected earnings, which is toward the low end of the 5-year average for the multiple; however, it is not the same company it was five years ago, and there is work that needs to be done. While the company is positioning itself for improved profitability for the coming year, the stock seems fairly valued based on the industry outlook. The handbag industry remains competitive and growth in the North American market for handbags is flat.
Additionally, global sales have retracted. Given the competitive environment and slowing global sales, the outlook for the industry is neutral. Moreover, because institutional ownership of the stock is high, at over 90%, and Tapestry is well-known, the stock is unlikely to benefit from increased notoriety. While Tapestry is an interesting holding based on their acquisition activity, the stock is fairly valued at current levels. Investors should wait for a pullback before investing. The stock looks more compelling at a multiple of 15 times estimated fiscal 2018 earnings, or $36 per share.
Disclosure: I/we have no positions in any stocks mentioned, and no plans to initiate any positions within the next 72 hours.
I wrote this article myself, and it expresses my own opinions. I am not receiving compensation for it (other than from Seeking Alpha). I have no business relationship with any company whose stock is mentioned in this article.
About this article:ExpandAuthor payment: $35 + $0.01/page view. Authors of PRO articles receive a minimum guaranteed payment of $150-500.Tagged: Investing Ideas, Long Ideas, Consumer Goods, Textile – Apparel Footwear & AccessoriesWant to share your opinion on this article? Add a comment.Disagree with this article? Submit your own.To report a factual error in this article, click here