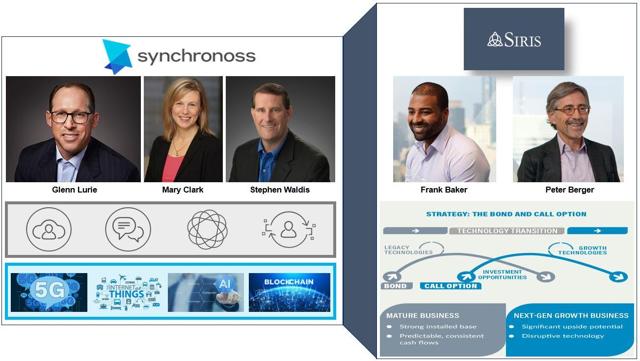 Source: Company website, Siris Capital website, Own illustration
Note:
I have previously covered Synchronoss Technologies (NASDAQ:SNCR), so investors should view this article as an update to my last investment article on the Company.
Most Important Company Updates
Dear readers, some positive and also some negative events have happened since my November 2017 update on Synchronoss Technologies. Although my point of view changed from optimistic to realistic with my last article, I am still long with SNCR just because I recognize the positive progress which has started with the new CEO Glenn Lurie. In the following, I have outlined most of press releases since December 2017, discuss a few more risks, and provide a valuation target based on a certain revenue multiple with enormous research and calculation efforts. I hope it will help you for your own due diligence regarding an investment decision on Synchronoss. I am happy to discuss my findings and results in the comment section, or, give you the opportunity to have a fair discussion with other commenters.
SNCR Announces Closing Of Convertible Note Sale
On February 15th, 2018, the Company announced that it has closed the previously announced sale of $185 million in a newly created series of preferred stocks to Siris Capital. This is really great news for its shareholders as it shows Siris's increased confidence in a turnaround from of Synchronoss' financial uncertainty. We still remember the shocking news when Siris rejected an all-cash buyout for $18 per share after it reviewed the Company's books. Most likely, they received an investment due diligence report full of red flags, leading to that decision in September 2017. Since then however, the Company has made some important changes that could improve financial stability, employee satisfaction, growth opportunities, and management credibility.
SNCR CEO Glenn Lurie stated that day:
"We are excited to close on the investment from Siris and view this as another positive step forward for Synchronoss. The additional capital from this transaction further strengthens the Companys balance sheet and financial flexibility as we execute against our product and growth strategies. Synchronoss is delivering those next-generation cloud, messaging and digital products that companies in the technology-media-telecom (TMT) sector rely on in order to differentiate and successfully compete in the world of burgeoning data usage growth in IoT and overall customer experience. We remain optimistic about the future given our world class customer base, long-term customer relationships, and strong financial profile.
Already discussed in my previous article, deal terms contain that Silver Private Holdings I, LLC (Silver), an affiliate of Siris, will receive 185,000 shares of Series A convertible preferred stock of the Company in exchange for $97.7 million in cash and the transfer to SNCR of 5,994,667 shares of common stock, representing all the shares of common stock held by Silver. In other words, the 5,994,667 shares from Siris are being retired by SNCR. If Siris converted all of is preferred shares to common stock at a conversion price of approximately $18.00 per share as per deal agreement, SNCR's stock would be diluted by 10,277,786 shares. Until the conversion however, Siris will receive an annual dividend rate of 14.5%. Some of you may ask why Siris gave up its common shares and instead wanted to have higher security preferred shares? Brief: This has become a favorite private equity investment form over the direct equity for approximately a decade as it allows flexibility and bridges the gap in the mismatch in valuation expectations between Siris and SNCR.
Please see in the following schedule a scenario calculation based on common practice in the private equity landscape. In most cases, private equity firms are typically investing in a firm for a period of 2-5 years before they are cashing out, aligning with Siris' historical investments. It allows Siris to lock in the dividend income and potentially profit from a rise in the common stock while being more protected from a downturn.
When the deal closed, we observed an immediate stock price jump of 21%, from its closing price at $7.48 on the previous day to its closing price at $9.05. Because of the deal, the retirement of Siris common shares stake took place and SNCRs outstanding shares declined by 13% from 47.5 million to 41.5 million.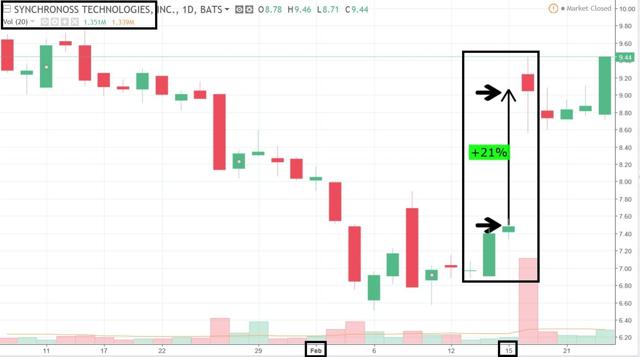 Source: TradingView
Given the fact that the Company received $97.7 million in cash for the deal, and that the management also stated they had approximately $249 million in cash, cash equivalents, restricted cash and marketable securities as of December 31, 2017, we can assume the Company to have a pro-forma cash balance of approximately $342 million, including the $5 million fee.
Synchronoss Receives Positive Nasdaq Panel Decision
One week prior the deal closing with Siris, the Company received a positive decision from the Nasdaq Hearings Panel, which granted the Company an extension to regain compliance with Nasdaqs listing requirements by May 10, 2018. As a friendly reminder, SNCR has neither yet disclosed its quarterly earnings for 2017 nor its restated financial statements for FY14, FY15 and FY16. That is unacceptable for a listed Company, and we now understand that the Company experienced serious accounting issues, not assuming accounting fraud, paired with its Intralinks business integration disaster. Assuming however that the Company shared its progress in the audit review and its efforts to organize the Company, the positive Nasdaq Panel decision isn't too surprising.
It is noteworthy that management announced to hold its first conference call (business update call) in mid-to-late March, 2018, likely providing its shareholders with a qualitative update on the business and progress against the Companys growth initiatives since more than a year full of management silence. But it is worth noting that the scheduling occurred before the new CEO Glenn Lurie became to power.
As the new CEO of SNCR, Glenn was a guest at Bloomberg Markets Radio to discuss providing scalable and secure mobile software solutions for communications, content, and collaboration in end of December 2017. During the seven minute long interview, he brought up some interesting issues the Company has to change to grow revenue in the future again (Note: Important hint regarding the upcoming financials). For example, one point was that Synchronoss cannot just be focused on the wireless carriers anymore. Another observation he made in his first days at Synchronoss was that they only had strong focus on the U.S. market, but not globally. Obviously, he wants to change all of this to drive revenue growth again. He is likely seeking to expand SNRC's business by acquiring other companies outside of the U.S., and for this he needs to have a larger Corporate M&A team. Therefore, we should not be surprised that the company was recently hiring an M&A Manager who will support the entire M&A lifecycle at the firm. He was asked a further question regarding the delisting concern; Glenn didn't confirm it but he suggested that there shouldn't be additional problems with Nasdaq in the future. I would recommend listening to this podcast which is still available.
Company is hiring industry veterans and changes key positions in the firm
Important changes have been made on key positions in the executive management and the also in the accounting department as a reaction to accounting issues from the past:
AT&Ts former Mobility Chief Glenn Lurie, was appointed to be SNCR's new CEO. This is the man who has almost 30 years of experience in the telecommunications and wireless industries and who successfully negotiated with Apple to secure an exclusive deal for the iPhone for AT&T and left AT&T with exceptional company growth. With his broad skills, expertise and visions in terms of the internet of things, he seems to be the ideal man for bringing SNCR back on track again (learning from the mistakes from the past) and even to the next level (making growth oriented decisions in conjunction with Siris professionals). In doing so, Lurie for example, must have identified a lack marketing efforts to the mainstream and social media when he first started his job as a CEO in December 2017. Being aware of the importance of good communication and innovative marketing efforts for revenue growth, he brought in industry veteran Mary Clark as Chief Marketing Officer (CMO) and Executive VP to fill the gap. With the hiring of Mary Clark, Glenn stated:
"Ive had the pleasure of knowing Mary for more than seven years, and have seen firsthand the impact, respect and influence she has built in the industry. I can personally attest to not only her talent, but also her warm and engaging character. Mary will be an exceptional addition, and a phenomenal fit within our existing executive team. She is a world-class leader and we are thrilled to welcome her and know she will be a strategic driver of our future success."
Mary Clark, the Company's new CMO, offers more than 25 years of mobile industry experience and has been hired to lead product division while driving Companys marketing efforts. Like Glenn, Mary is a world class leader in the mobile and wireless area and has served as a Board member for the Competitive Carriers Association, and the CTIA Wireless Foundation, and currently serves on the CMO Advisory Council. Prior joining SNCR executive team, she served as Chief Corporate Relations Officer and Chief of Staff at Syniverse. Previously, she acted as Chief Marketing Officer and Senior Vice President of Roaming. One of the greatest honor in her successful career was the nomination to the National Diversity Council Top 50 Most Powerful Women in Technology list in 2016 and 2017. She commented her debut as follows:
"Synchronoss is uniquely positioned to capitalize on a wealth of new opportunity in the Telecom, Media and Technology industries, said Mary Clark, Chief Marketing Officer, Synchronoss. Its market-leading offers in cloud, messaging and digital transformation have the power to disrupt and revolutionize how carriers and technology companies engage, monetize, and retain their customers. Synchronoss has a long and proud history in achieving real differentiation through high quality customer experience. I am proud to work with Glenn and his executive team to keep Synchronoss at the forefront as the partner technology companies need to drive growth in this dynamic ecosystem."
Siris Co-Founder and Managing Partner Frank Baker and Peter Berger, were appointed to join SNCR's board in reaction to the closing of its $185 preferred shares investment to the Company. This is a very common procedure for private equity firms when they identified companies like Synchronoss Technologies that have the potential to enhance their performance. The PE firm provides patient capital as well as operating support to strong management teams. Here is the statement of Frank Baker at the time they announced the deal closure:
We believe that Synchronoss represents an attractive opportunity to build meaningful shareholder value. I look forward to joining the Companys board of directors to collaborate with the management team and partner together to help the Company realize its significant potential. The on-going digital transformation in the TMT sector requires partners with experience in delivering seamless, self-service solutions at scale to their many end-users and enterprise customers. Synchronoss has a long-term track record of delivering solutions which engage and delight users throughout the constantly changing customer journey."
Stephen Waldis, the Company founder of SNCR, switched again to the Chairman role when Glenn Lurie was appointed as CEO of SNCR. Despite all the controversy he had in the position as a CEO for SNCR, he is still playing an important role as the founder of this firm and with his over 20 years of experience in both high-technology and telecommunication companies. We should not forget that the was the one who has grown this Company from a start-up into one of the most successful technology IPOs of 2007. Without him, the Company would be not where it stands today. The Company newly hired 7 employees those are most likely addressing the accounting issues and business development activities (e.g. M&A) of the firm in the future. Since November 2017, I have been frequently tracking the job board activity of the firm and confessed that high responsible accounting positions such as "Director or Revenue Recognition" and certain M&A roles are not more listed. In fact, the Company recently announced that an aggregate of 168,500 time-based restricted stock awards have been granted to the seven new employees. I assume that these are the employees who are now in charge for the accounting department and corporate development (M&A) activities in the firm.
Updated Ownership Structure
According to Fintel, SNCR currently has 226 institutional investors. These institutions hold a total of 32,320,212 shares, or rather, 77.8% of SNCR's shares are owned by institutional investors as of February 28, 2018. Please note that I did not consider Siris preferred stocks. Despite that the Company hasn't yet provided its shareholders with the missing financials, some of SNCRS's largest institutional investors like Blackrock or Vanguard Group have increased their positions since my last update from November 2017. Overall, the institutional investor ownership percentage decreased from 83.6% to 77.8%, mainly due to the retirement of Siris shares that were transferred to SNCR in connection with the preferred transaction. Consequently, the number of shares available to trade have been reduced from 47.5 million to 41.5 million. The deal has decreased the float of the stock.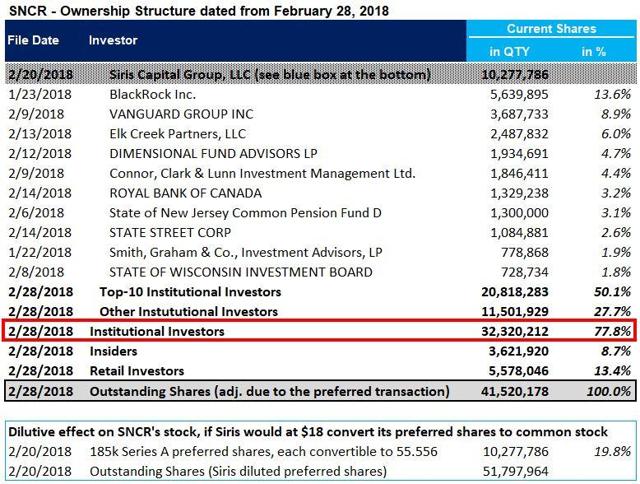 Source: Fintel, SEC Filing, Own calculation
However, if Siris converts all of its 185,000 preferred shares into common stock, they would own 10,277,786 shares, representing 19.8% of SNCR's 51,797,964 outstanding shares adjusted. That conversion of preferred shares into common stock has a dilutive impact on the overall ownership percentage structure. According to the PIPE Purchase Agreement from September 30, 2017, SNCR's diluted number of outstanding shares (not considered are employee stock options, warrants, restricted stocks) is calculated based on 47,514,845 outstanding shares they had before the Siris deal went through, plus the 10,277,786 new Siris shares, minus the 5,994,667 shares that were given back from Siris to SNCR in connection with the preferred transaction and are now held by the Company as treasury shares.
Because the Series A preferred shares percentage is greater than 10%, Siris has significant voting power and is even entitled to nominate and elect two members of the Board of Directors of Synchronoss. Its therefore not surprising that both Frank Baker and Peter Berger, who are Co-Founder and Managing Partner of Siris, were recently appointed to join SNCRs board of directors among other governance rights.
Please note that in connection with the appointment of the 2 new directors, Synchronoss' Board Of Directors has increased in size to 10.
Frank Baker and Peter Berger (see in the picture at the top of this article) have an excellent track record, especially when it comes to restructuring efforts of telecommunication companies. They will now work closely with the Company's management to make sure that they are making the right strategic calls to alter the direction of the firm. It is noteworthy that they will also be member of the compensation committee of the board of directors and an observer on the audit committee of the Board Of Directors. With the closing of the deal, Frank Baker recently commented on the investment in SNCR as follows:
We believe that Synchronoss represents an attractive opportunity to build meaningful shareholder value. I look forward to joining the Companys board of directors to collaborate with the management team and partner together to help the Company realize its significant potential. The on-going digital transformation in the TMT sector requires partners with experience in delivering seamless, self-service solutions at scale to their many end-users and enterprise customers. Synchronoss has a long-term track record of delivering solutions which engage and delight users throughout the constantly changing customer journey.
According to Siris website, its investment approach is based on so-called bond and call strategy. "Bond" stands for investment opportunities that have both a strong legacy business and "Call" for potential robust growth assets. Applying this investment approach to Synchronoss business model and based on Frank Baker's statement, it means that they are confident that SNCR's management and especially its new executives, CEO Glenn Lurie and CMO Mary Clark, will use everything they learned in their previous leadership positions to make the legacy cloud, messaging and the digital transformation business, ready for the "Internet of Things" and putting the Company on a rapid growth wave with enormous revenue potential.
Other Important Company Updates
In the following, I highlighted the most recent press releases. All of them are giving us a picture where the (revenue) journey goes with SNCR in the future: Importance of cloud, advanced messaging, IoT, 5G, AI and net neutrality. But more important is for me to show you as a shareholder or potential investor that Synchronoss seem to have a strong leadership again and is taking action.
MWC in Barcelona February 26March 1, 2018
Mobile World Congress is the worlds largest gathering for the mobile industry, organized by the GSMA and held in the Mobile World Capital, Barcelona. SNCR will present its latest technology, tools and offerings. Both Glenn Lurie and Mary Clark will be speaking at the MWC.
Sprint Selects SNCR to Lead its Digital Transformation
In a press release from February 25, 2018, the Company announced that it has been selected by Sprint to lead the transformation of its online environment for business customers. SNCRs Digital platform will help Sprint simplify its online order management process, generate more revenue, and reduce its costs. Stage one of the new deployment will be focused on Sprints wireless business customers, but will extend to include wireline, IoT, and Sprint value added solution business operations in the future. Kim Green-Kerr, SVP, Sprint Business Solutions commented:
Our Sprint Now transformation program is a multi-dimensional strategy, designed to offer the best possible user experience, while making us more agile, innovative, and profitable. Our relationship with Synchronoss will help us dramatically simplify our online environment for our business customers, giving them control of their order management and customer care requirements. This will combine to accelerate new service availability, drive better online adoption, and reduce customer care costs.
Glenn Lurie said:
The vast majority of global service providers are on a digital transformation journey. Sprint is on the offensive looking to gain every ounce of value from its online operations to become faster, more profitable while delivering a better overall customer experience. Our Digital service portfolio helps global operators strip cost and complexity from their legacy order management, customer care and channels. It will enable all global service providers to remain highly competitive despite an increasingly challenging business environment.
SNCR joins AT&T Smart Cities Strategic Alliance
In a press release from February 22, 2018, the Company announced that it has joined the AT&T Smart Cities Strategic Alliance to help transform cities around the world. Its digital and IoT product portfolio and expertise will be leveraged by some of the mobile industrys biggest names to create productive IoT use cases and clear, tangible business outcomes for global smart cities. Mike Zeto, General Manager, AT&T Smart Cities commented:
Were delighted that Synchronoss will be joining our Smart Cities Alliance. As a prominent early pioneer of IoT within AT&T prior to joining Synchronoss, were pleased that Glenn, and his colleagues, recognize the value in being part of our industry collaboration and driving the development of smart cities.
Glenn Lurie said:
Momentum for commercial IoT deployments continues to build, creating exciting applications and use cases for smart cities. Our technologies and platforms are set to play a major role in managing the interaction of devices, digital nodes, and data in complex IoT environments. We help companies use IoT technology to add to their bottom line, optimize consumption, streamline operations, and open up lucrative new revenue streams. Were therefore excited to be joining an important industry Alliance for the creation and promotion of next-generation smart cities and IoT services.
CES in Las Vegas from January 9 -12, 2018
At the Consumer Electronics Show (CES), one of the most important business exhibitions of consumer technologies in the US, the Company demonstrated several new products, including an email messaging platform. For example, the Company's new offering included a Synchronoss Messaging Marketplace, a platform for managing multichannel messaging. SNCR CEO Glenn Lurie who was also presenting at CES in Las Vegas stated that:
The entire ecosystem in the TMT market has shifted and grown substantially over the past several years as the positive impact of digital transformation intensifies. The players in this market are serving consumers that demand easy-to-use, value-based digital and cloud based solutions. We are delivering those next-gen TMT products that carriers, media, and technology organizations rely on in order to differentiate and successfully compete. Whether working with artificial intelligence, cloud, or other digital mediums, Synchronoss products provide what our customers need: an inside look at consumer activity, enabling them to use data to improve their customers overall experience, while improving their return on investment.
Pending Risks / Red Flags
Despite the recent efforts, we must concede that this is still a Company with financial reporting issues. As long as this issue has not been resolved, it will be always a point of concern for potential investors. Current shareholders have been suffering for too long from mismanagement and incapability of dealing with large projects, leading to a disastrous shareholder value destruction of more than 80% within 1.5 years. In many articles, these 2016 and 2017 events have been extensively discussed, with headlines like "David's 6 Biggest Stock Pick Losers, No. 1: Synchronoss Technologies" or "What the h*** is going on at Synchronoss?" or "You Probably Wouldnt Buy a Car From These Guys" as just to name a few.
Based on a 81 page strong consolidated class action complaint from November 2017, former SNCR CEO Stephen Waldis, who is now Chairman, and former CFO Karen Rosenberger, who is not longer with the firm, are accused of implemented a fraudulent scheme to conceal the Companys deteriorating financial condition by, for example:
Prematurely recognizing contractual revenues Inflating revenues through a deal with Sequential that, unbeknownst to investors, added a $9.2 million licensing fee to Synchronosss bottom line that the Company booked as revenue in Q4 2016, thus allowing it to meet earnings targets Therefore issuing falsely inflated earnings guidance
This alone should highlight how complicated the situation at the firm still is. Institutional portfolio managers are likely restricted from investing in SNCR given the outstanding financial reporting concerns.
When investors are finally provided with the restated financial statements for FY14, FY15 and FY16, as well as the missing quarterly earnings reports for 2017, it will be important to review the revenues and examine working capital related items. Remember that in my very first article I pointed out the company's weakness in generating cash from its operating business, despite having reported an improvement in the operating cash flow.
It is also important to mention that the preferred share offering at a 14.5% rate is a high cost to the company, and reflects the implied riskiness of being involved as an investor.
I observed a report that stated, "Investors in SNCR need to pay close attention to the stock based on moves in the options market lately." That is because the March 16, 2018, the $5.00 had some of the highest implied volatility of all equity options, just a week and a half ago. Having become very curious about it, I quickly checked the Company's option chain on Yahoo Finance for March 2018 (seen below).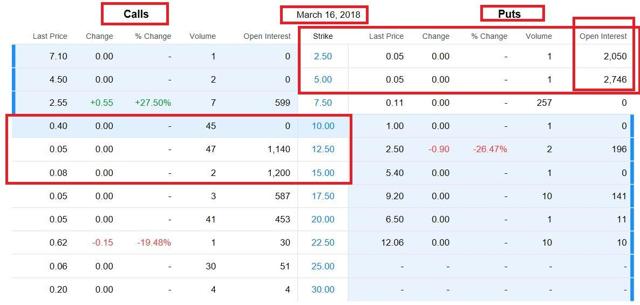 Source: Yahoo Finance! from February 28, 2018
Indeed, I see that there is 4,796 open interest for put-options with a strike price at $5.00 and below, offset by 2,240 open interest for call-options with its highest concentration of strike prices at $12.50 and $15.00, respectively. It's likely some investors are anticipating that the business update will be poor, or, possibly expecting the business call to be canceled in the last minute like it was in 2017.
Finally, there is also the pending dilution threat due to the deal closure between Siris and Synchronoss and also due to employee stock options programs for Glenn Lurie, Mary Clark and the seven other newly hired employees, plus Siris two new board members. As illustrated in the chart at the very beginning of this article, the retirement of Siris 6 million shares of the Company resulted in a significant share price increase. But the same can happen the other way around, if, for example, Siris takes advantage of its option to convert a part or all of its preferred stock to common shares. Company employees stock based compensation could even result in further dilution, depending on the share price development. In a different share price scenario, I roughly estimated 1.5 million more shares outstanding based on stock options exercised by the parties mentioned above.
Valuation
Despite being unclear with the most recent numbers, I performed a company valuation via revenue multiple based on a peer average, similar but most recent transactions, and the most recent cloud industry multiples. I concluded on an EV/Revenue multiple of 4.0x and estimated Company revenues at $340 million for FY17. The numbers has been calculated as follows: FY16 Revenue was recorded at $477 million. If we eliminate the Activation business that was divested in end of 2016 ($113m in 2016) and assume that sales in 2017 did not grow (the hint came from Glenn Lurie itself: Bloomberg interview from December 2017) and subtracting $5m regarding revenue recognition adjustments as a result of the audit review, I would anticipate Company's revenue for 2017 to be approximately at $340 million.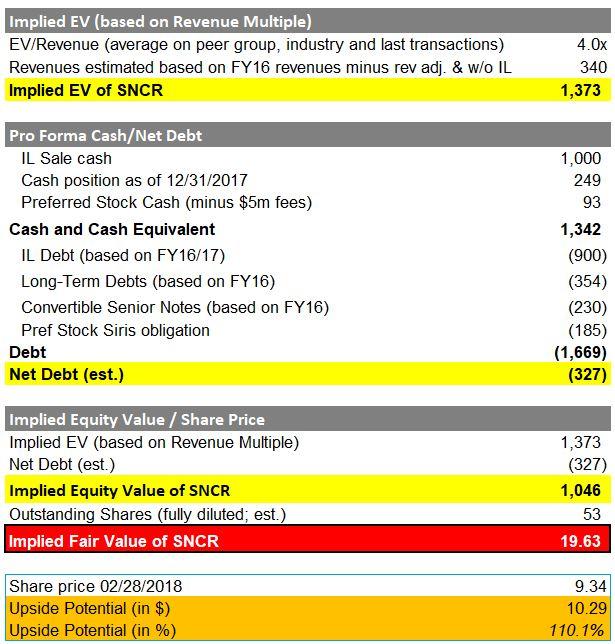 Source: Company press releases, SEC Filings, NASDAQ, Own calculations
With an implied EV of $1,373 million, I would subtract the net debt (pro-forma) in the amount of $327 million from the EV, to receive an implied equity value of $1,046 million.
The outstanding shares (fully diluted) were estimated based on the current number of outstanding shares (41.5 million), plus Siris preferred shares conversion to common stock with 10.3 million = 51.8 million and also an estimated 1.5 million shares based on stock options exercised = 53.3 million.
As a result, I calculated an implied fair value of $19.63 per share, providing a 110% upside potential based on the closing price at $9.34 from February 28, 2018.
*Please keep in mind that these calculation may need substantial revisions once the Company provides the most recent financials!
Bottom Line
I believe that Synchronoss has made some really important progress, despite the outstanding financial reporting issues and pending class action lawsuits (mainly concerning the "old" management).
This Company could have a bright future if the new leadership is able to steer it in right direction in the wireless industry (e.g. 5G, IoT, AI, Blockchain?; all of them with enormous revenue potential) and solves the mistakes from the past (e.g. accounting issues, mismanagement, communication, frustrated employees). After my detailed research and analysis, I believe Glenn Lurie is right man for this clean up job and that he is making some important strategy changes that could result in rapid growth company going forward in the cloud, messaging and digital products for wireless and telecom companies. He is bringing in the right people (e.g. Mary Clark) and businesses and now also has the additional support of Siris, who have two board seats. They are helping the Company in its restructuring efforts to perform a successful turnaround in the near term. If growth is not achieved however, Siris may try to acquire a larger percentage of the Company, or eventual perform a buyout.
Because of the upcoming business update in March 2018 and in anticipation of the revised financials and the quarterly earning reports, we will definitely have some upcoming catalysts in the next 3 months, in addition to Glenn's "appetizers" in between (see recent AT&T and Sprint updates).
With the business update, the missing financials and the ongoing restructuring efforts, I anticipate the potential for positive rating updates by Wall Street Analysts. In conjunction with my fair value of close to $20 per share, this opportunity could provide an upside of 100%-110% from last closing price on February 28, 2018.
Author's note: If you liked my article, then don't miss the next one I will publish by clicking the orange "Follow" button at the top of this page or my profile. Thank you to all my readers and followers!
Disclosure: I am/we are long SNCR.
I wrote this article myself, and it expresses my own opinions. I am not receiving compensation for it (other than from Seeking Alpha). I have no business relationship with any company whose stock is mentioned in this article.
About this article:ExpandAuthor payment: Seeking Alpha pays for exclusive articles. Payment calculations are based on a combination of coverage area, popularity and quality.Tagged: Investing Ideas, Long Ideas, Technology, Application SoftwareWant to share your opinion on this article? Add a comment.Disagree with this article? Submit your own.To report a factual error in this article, click here