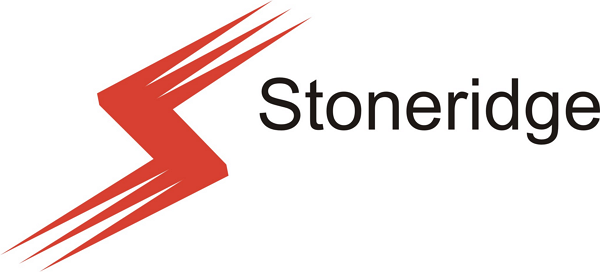 Company Logo
Investment Thesis
Stoneridge, Inc. (SRI) is a potential double in three years from the current price of $23.82 on 12/26/17 based on management's estimates of 20% CAGR out to 2020. However, the stock price has been historically volatile, oscillating between 30 to 50 percent intra-year, suggesting a bumpy ride for any long-term investors. Upside in SRI hinges on two major catalysts: the increasing digitalization of automobiles and the long-term global shift towards electric vehicles.
Stoneridge's products are used in all types of automobiles, regardless if they are internal combustion engine (ICE) vehicles or an electric vehicle (EV). Headquartered in Novi, Michigan, Stoneridge designs and manufactures electronic modules, components, and systems for all types of automobiles: commercial, motorcycle, off-highway, automotive, and agricultural vehicles. As of 12/31/16, Stoneridge operated ten manufacturing facilities worldwide, along with six warehouses and ten sales offices.
Although Stoneridge has three reportable segments, the Electronics business segment is the company's bright spot and thus the focus of this article. The 3Q17 10-Q shows that Electronics' net sales increased 40% compared to the prior year's comp quarter while Control Devices and PST only increased net sales by 4% and 14%, respectively. And for the first three quarters of fiscal 2017, Electronics' net sales increased 30%, outpacing Control Devices' 12% gain and PST's 17% gain.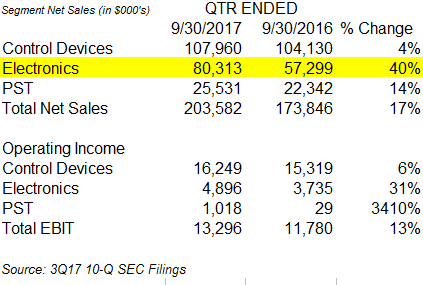 Author-compiled table sourcing data from 3Q17 SEC Filings.
The macro reason for this significant sales growth in Stoneridge's Electronics segment is simple: Automobiles are becoming more digitalized, and Stoneridge's Electronics segment is naturally benefiting from the trend. Zooming in, electronics growth was driven by Stoneridge's subsidiary Orlaco and the launch of new driver information system programs.
In addition, the manufacturing of electric cars is projected to rise exponentially out to 2030, as clearly shown in the graph below (from the International Energy Agency's Global EV Outlook 2017), which plots four different EV scenarios, ranging from ~60 million to 200 million electric cars by 2030. Notably, in IEA's B2D scenario, electric cars are projected to reach 25 million in 2020 and exceed 200 million by 2030. Considering that future cars will contain an increasing amount of electric components compared to older and even current models, it's easy to see how Stoneridge stands to benefit from this trend.

Source: Global EV Outlook 2017
Competition: Understanding The Competitive Landscape
While Stoneridge competes with a variety of other companies (in Electronics, Stoneridge competes primarily with Actia Group, Bosch (OTC:BSWQY), Continental AG (OTCPK:CTTAF), Delphi Automotive PLC, Dongfeng Electronics Technology Co., Ltd., Hella KGaA Hueck & Co., Magneti Marelli S.p.A. and Yazaki Corporation), this is not a winner-takes-all industry. In fact, smaller companies such as Stoneridge can win out contracts over bigger companies based on technological innovation, price, quality, performance, service, and delivery. Once a supplier (such as Stoneridge) has been selected to provide parts for a new model, OEM customers usually continue to purchase those parts from the selected supplier for the life of the program.
Stoneridge's clientele is diversified. In fiscal 2016, Stoneridge sold 17% of its products to Ford (NYSE:F), 7% to General Motors (NYSE:GM), 6% to Scania Group (SCV.B) (who sells Swedish commercial vehicles), 6% to Daimler (OTCPK:DDAIF) (best known for Mercedes brand), 6% to Volvo (OTCPK:VOLVY), and 58% to other companies.
So rather than a winner-takes-all landscape, it's more about who's pushing innovation, who has the best prices and the ability to deliver, and that can change from model to model, generation to generation. In that regard, Stoneridge, founded in 1965, with ten manufacturing facilities worldwide, has been providing high-quality vehicle components for over 40 years. With tailwinds in electric vehicles and the digitalization of automobiles, Stoneridge is an obvious beneficiary of these trends, and buying the stock should prove to be a relatively safe wager in the EV investment theme, granted that investors do not overpay for the stock.
Valuation: A walk-through of my thought process and work in valuing SRI
Stoneridge's shares are currently on the market for $665M (market cap), at $23.82 on 12/26/17. The stock is currently breaking into highs unseen since 1998, highlighted below.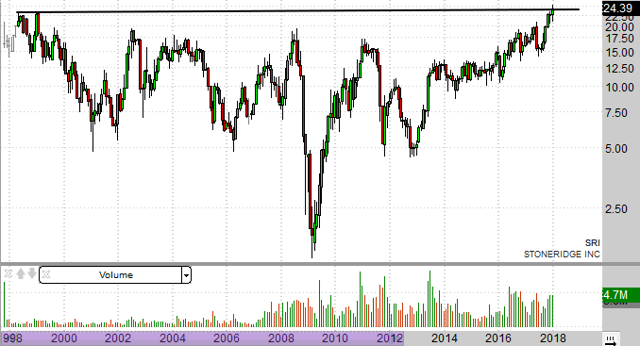 Monthly Candlestick Chart: Notice the high degree of volatility in share prices. (Chart by Scottrade)
Quick Reference: Profitability Metrics
In fiscal 2016 (which ended December 31), Stoneridge logged net sales of $696M, $44M EBIT, and $77.5M net income.
In the most recently reported quarter (3Q17, quarter ended 9/30/17), Stoneridge logged net sales of $203.6M, $13.3M EBIT, and $8M net income.
Quick Reference: MRQ Balance Sheet
The MRQ balance sheet showed $164.4M working capital, long-term debt of $5.1M, a revolving credit facility with a $126M balance, retained earnings of $73.4M, and a book value of $224.5M.
There were 28.17M common shares outstanding as of 10/27/17.
Valuing SRI's 2020 Form
Stoneridge anticipates growing at 2-3X the underlying markets by catering to "certain vehicle megatrends":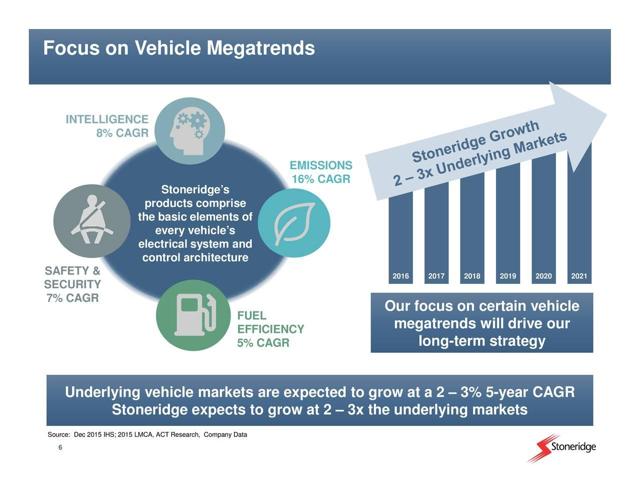 Source: Stoneridge 3Q17 earnings call slides
Looking forward, Stoneridge is focused on expanding manufacturing and development in China (they have a manufacturing facility in Suzhou, a city in East China, 62 miles northwest of Shanghai), and is anticipating a sales CAGR (compound annual growth rate) of over 20% out to 2020 based on its backlogs and IHS and LMC data.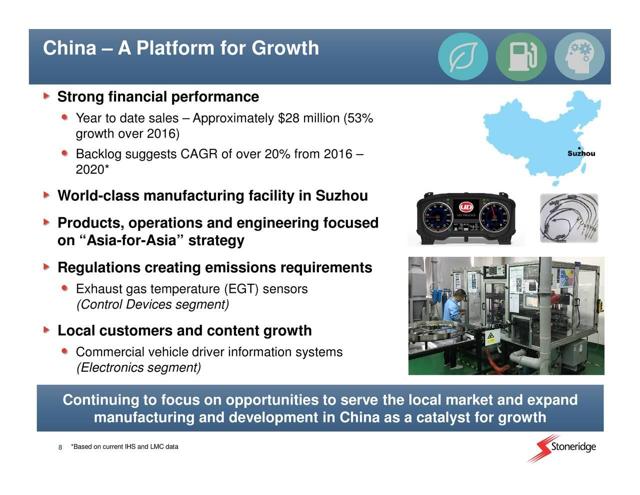 Source: 3Q17 Earnings Slides
Putting Stoneridge's projections into a spreadsheet, 20% CAGR implies $1.4B revenues by 2020.

Author-compiled table
With company's updated guidance for fiscal 2017 between $810 to $825 million, it seems they are setting up a slightly shorter hurdle to jump over than the projected $835M. Judging by previous quarters' earning beats, it seems to be the company's habit of slightly under-guiding in order to over-deliver on their results, or at the very least, create a buffer on expectations: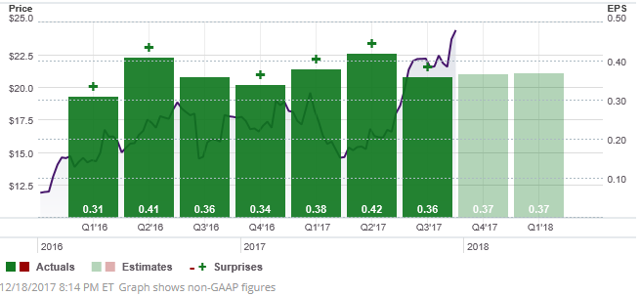 I have no issue with that tactic. (Chart Source: Scottrade)
Stoneridge's operating and net margins fluctuate, so I referenced a chart plotting multi-year data to help me pick a mid-point variable I could use to come up with a conservative valuation for SRI's 2020 sales estimates: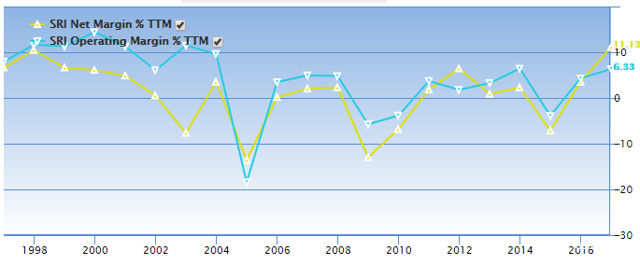 Chart Source: GuruFocus
Referencing the above chart, Stoneridge's fiscal 2016 operating margins were 6.33%. Conservatively, average net margins during "good times" are 2% (I will not use the 11.13% figure in order to create a margin of safety in my valuation). So, extrapolating these figures to 2020's revenue estimates of $1.4B, we reach a 2020 EBIT estimate of $91.35M and net income of $28.9M.
So is the stock undervalued right now relative to its 2020 form? Here's what I came up with:

Author-compiled table
With SRI currently on the market for $665M (market cap), at $23.82 on 12/26/17, the stock appears to be undervalued based on conservative EBIT measures (which implies a market cap of $1.37B when using a 15X multiple on $91.35M EBIT) by nearly a factor of two.
Share counts should probably remain relatively steady over the next three years to 2020 judging by the chart:

Source: GuruFocus
But again for the sake of conservativeness (and to build a margin of safety), let's assume shares outstanding increased to 30M by 2020. This would imply the following PPS valuations:

If the net income outputs look low, remember it's because we used a 2% margin. (Author-compiled table)
Closing Remarks; Alternative Investment Ideas To Consider
The way I'm valuing it, SRI is a potential double in three years if everything goes smoothly for underlying Stoneridge. Clearly, it's not a bad investment idea; it certainly beats out some ideas in my portfolio in terms of the speed of sales growth, such as my recent Dave & Buster's (PLAY) idea (a link to that investment idea can be found here.)
The only reason investors might be gun-shy in purchasing shares of SRI is the volatility. Even throughout the year, the stock can fluctuate as much as 30 to 50 percent intra-year. So if you are going to take a long-term position (after conducting your own due diligence of course), it's worth trying to buy SRI as low as you can rather than buying a breakout.
Stoneridge is a pure play on automobile manufacturing all across the board, as its products cater principally to the automotive industry with little diversification elsewhere. If you are looking for a more diversified company, I recommend taking a look at Kemet (KEM), which is also poised to benefit from EV and digitalization, but more diversified in the industries to which it serves. KEM declined 40% last month (I wrote an article about it, linked here), and might be a better fit for investors who would rather buy a dip than a breakout, as is the case with SRI.
Disclosure: I am/we are long SRI.
I wrote this article myself, and it expresses my own opinions. I am not receiving compensation for it (other than from Seeking Alpha). I have no business relationship with any company whose stock is mentioned in this article.
About this article:ExpandAuthor payment: $35 + $0.01/page view. Authors of PRO articles receive a minimum guaranteed payment of $150-500.Tagged: Investing Ideas, Long Ideas, Consumer Goods, Auto PartsWant to share your opinion on this article? Add a comment.Disagree with this article? Submit your own.To report a factual error in this article, click here