Gold Fields (NYSE: GFI) will, like all gold stocks, profit from rising gold prices. But Gold Fields will also perform well when gold prices remain stable or decline thanks to:
a strong balance sheet, the expected growth in production and the foreseen decline in its production costs. The Belgian Dentist and gold stocks
The archetypal Belgian dentist is known to be a "tax-efficient" investor. For years, a lot of gold stock IDRs (International Depositary Receipts) were quoted on the Belgian stock exchange. The fact that those IDRs were not registered, but bearer shares enabled the Belgian dentists to avoid paying dividend taxes. By the way, one of those IDRs was Gold Fields.
Time for value?
I'm not telling something new when I say that the US stock market is not cheap. The numbers in Exhibit 1 speak for themselves.
Exhibit 1: Worldwide valuations

This leaves US equity-investors two options:
Invest in foreign stocks and/or Invest in US value stocks.
According to Franklin Templeton, there's a strong historical relationship between value and non-US equities. Over the past two decades, non-US stocks have tended to outperform US stocks when value starts to work. Gold Fields is both a foreign stock and a value stock.
Commodities: at the start of a bull market
The most interesting investments are those that are at the same time undervalued and trending up. Do commodities fit into this category?
Let's first take a look at valuation. As we can see in exhibit 2, commodities are at a multi-year low compared to equities. The last time commodities were this cheap, was at the height of the dotcom-bubble.
Exhibit 2: Commodity cheapness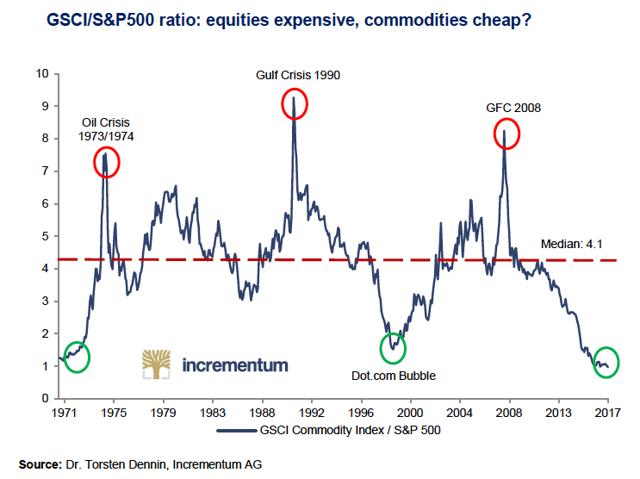 In the years after 2000, the Goldman Sachs Commodity Index quintupled.
When we look at the price chart of PowerShares DB Commodity Index Tracking ETF (NYSEARCA:DBC), we can clearly see that after the lows at the end of 2016, commodities are slowly but firmly trending higher.
Exhibit 3: Commodity uptrend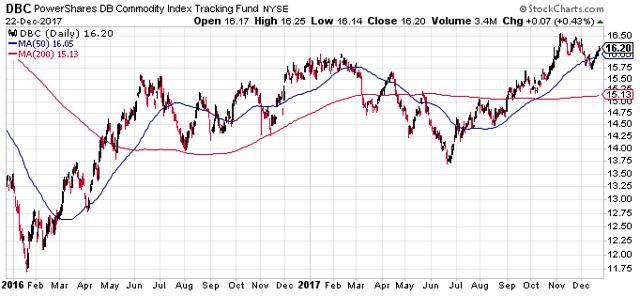 The investment clock
Is it a coincidence that commodities started trending up at the end of 2016, the moment the Fed raised the rates a first time?
Exhibit 4: US Fed Funds Rate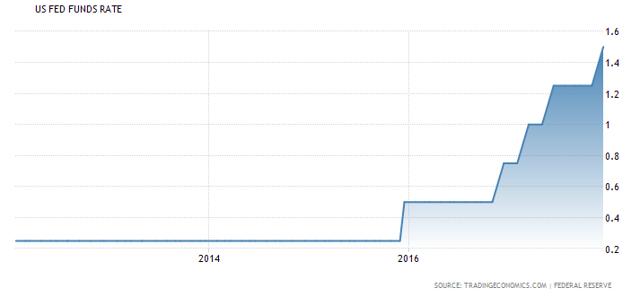 According to the investment clock-theory, commodities are the best asset class in the overheat-phase. In this phase of the economic cycle, inflation picks up and central banks start raising rates.
Exhibit 5: The Investment Clock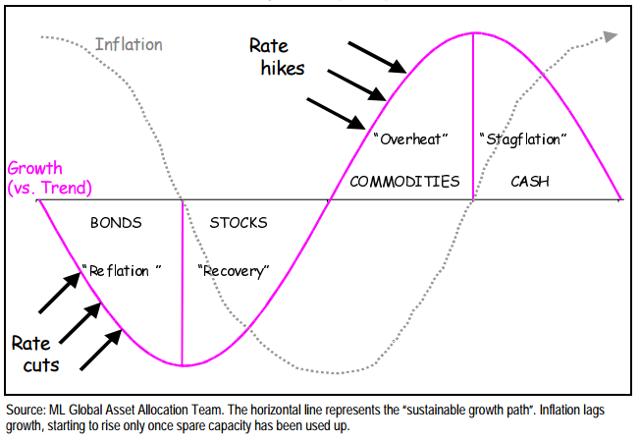 Gold: the only way is up?
One commodity that is on the rise, is gold.
Exhibit 6: Gold Price Chart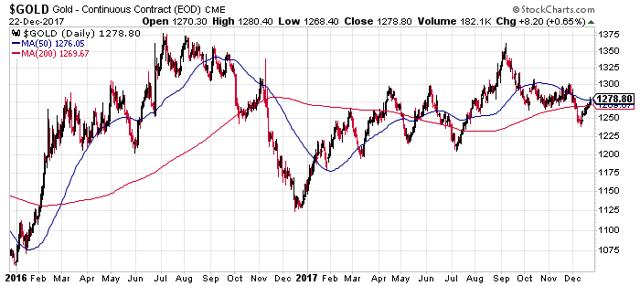 Exhibit 7: EUR/USD price chart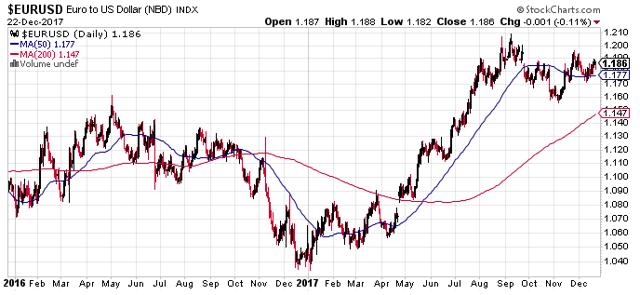 One of the main drivers of gold prices is a weakening dollar. In exhibit 7, we can see that the election of Donald Trump caused a brief dollar rally in the final months of 2016. At the same time, gold nosedived. In 2017, the picture changed and the dollar weakened, while gold strengthened – a trend we expect to continue.
Another main driver is increasing inflation (and hence lower real interest rates).
Exhibit 8: Consumer Price Index

As shown in exhibit 8, inflation is clearly picking up.
Gold Fields is growing, and growing more efficient
Although the omens look good for the gold price, Gold Fields is a good investment idea, even if gold prices remain at the current levels. The first reason why this is the case is because Gold Fields has a strong balance sheet.
Exhibit 9: Gold Fields' balance sheet strength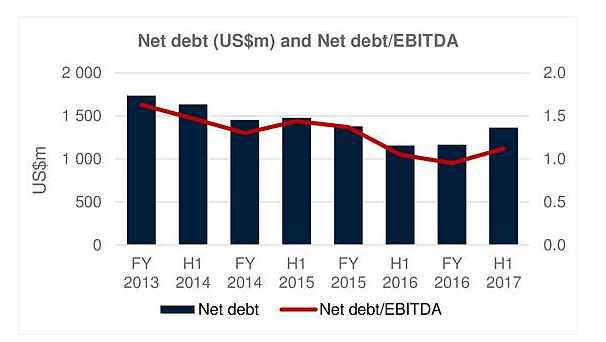 The Piotroski-score for Gold Fields stands at 6. The Piotroski-score is a financial score between 0-9 which reflects nine criteria used to determine the strength of a firm's financial position. This score helps to identify the best value stocks. Scores 7-9 are the best and 0-3 are the worst.
A second reason is that Gold Fields is investing in further growth and expects production to grow from 2.14Moz in 2017 to 2.39Moz in 2022, a CAGR of almost 3%.
Exhibit 10: Gold Fields expected production and AIC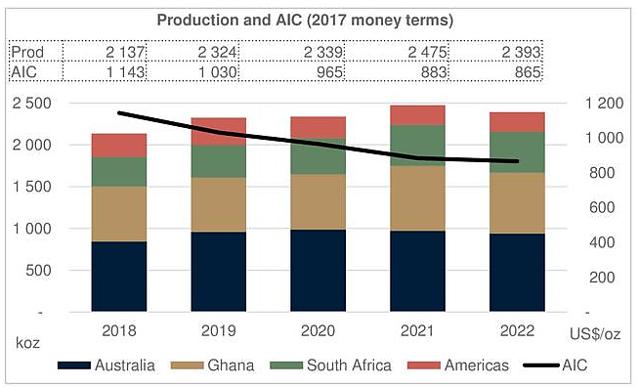 And last but certainly not least, Gold Fields is getting more efficient. By 2022, Gold Fields expects their all-in costs (AIC) to decrease from $1,143/oz to $865/oz! This reduction in production costs implies that Gold Fields will remain profitable even if gold prices would decrease in the years ahead.
Another factor adding to Gold Fields' robustness is the fact that it is geographically well diversified, with activities in South Africa, Ghana, Australia, and Peru.
Valuation and price target
Based on our expected EPS of $0.32, Gold Fields trades currently at a forward PE of only 12.7.
Based on figures provided by FundamentalSpeculation, we can clearly see that Gold Fields is cheaply valued compared to the Gold Industry.
Exhibit 11: Gold Fields Valuation vs. Peers

We expect Gold Fields to generate free cash flows of $127 million and $367 million for 2018 and 2019.
Exhibit 12: Free cash flow projections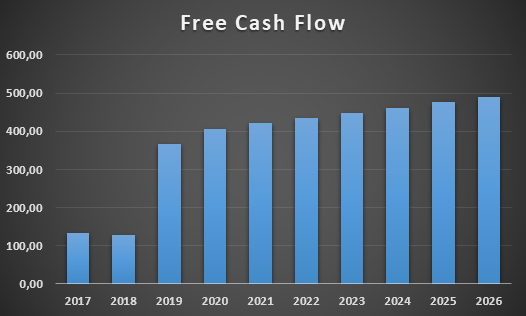 Based on our above free cash flow projections and a WACC of 6.50%, we arrive at a price target of $5.90, which gives an upside potential of 45% and implies a forward PE of 18.6.
Bonus card: Cyril Ramaphosa
We are already longer positive on the South-African stock market and the recent replacement of President Jacob Zuma as head of the ANC by Cyril Ramaphosa gave an extra boost to South-African stocks.
Exhibit 13: Price chart iShares MSCI South Africa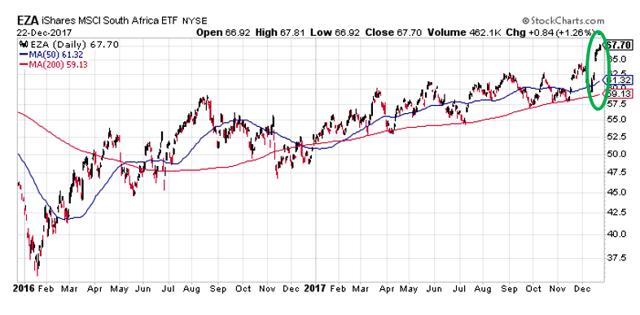 Cyril Ramaphosa is now in a strong position to become president after the elections in 2019. After his victory, he vowed to fight rampant corruption and revitalize the South African economy, a message hailed by foreign investors. This is obviously good news for Gold Fields because the South-African gold mine South Deep is very important to Gold Fields' long-term outlook.
Price momentum
On the graph of Gold Fields, we can see that the momentum is turning positive.
Exhibit 14: Price chart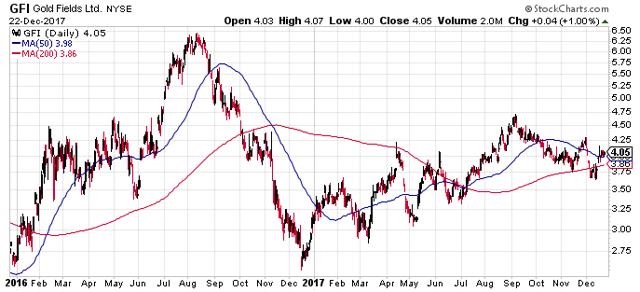 Conclusion
The combination of:
Strong fundamentals, The expected decrease in production costs, A cheap valuation and Price momentum turning positive
should reward investors: buy Gold Fields!
Please click the "Follow" tab at the top of this article, if you like these articles and want to stay informed of any updates.
This article provides opinions and information but does not contain recommendations or personal investment advice to any specific person for any particular purpose. The information provided is for educational purposes only and does not constitute a recommendation of the suitability of any investment strategy for a particular investor.
Disclosure: I/we have no positions in any stocks mentioned, and no plans to initiate any positions within the next 72 hours.
I wrote this article myself, and it expresses my own opinions. I am not receiving compensation for it (other than from Seeking Alpha). I have no business relationship with any company whose stock is mentioned in this article.
About this article:ExpandAuthor payment: $35 + $0.01/page view. Authors of PRO articles receive a minimum guaranteed payment of $150-500.Tagged: Investing Ideas, Long Ideas, Basic Materials, Gold, South AfricaWant to share your opinion on this article? Add a comment.Disagree with this article? Submit your own.To report a factual error in this article, click here