All is going well for Skechers (SKX) stock. Most recently, Cowen called out SKX stock as a "top idea for 2018." That call comes on the heels of multiple investment firms reporting strong traffic trends for SKX on Black Friday. Those strong Black Friday traffic reports come on the heels of a blowout earnings report in which profit growth finally caught up to robust revenue growth.
All together, SKX stock is up 48% so far in 2017, including a 50%-plus rally since the company's last earnings report just two months ago. The recent rally makes SKX the best-performing athletic retail stock of 2017 by a wide margin. While some might feel this over-performance is a flash in the pan, we believe Skechers is actually turning into a secular winner in this space. SKX is the fastest-growing player in this space, but the valuation on SKX stock remains the lowest in the space. As such, we feel SKX stock still has room to run. We believe our current $40 price target will prove to be exceptionally conservative.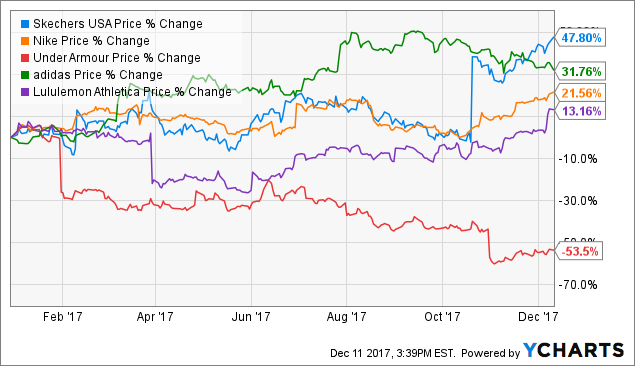 SKX data by YCharts
Our bull thesis comes from two parts:
SKX stock is hugely undervalued relative to its peers. SKX is reporting robust growth numbers that are here to stay.
Put those two parts together, and you get the thesis that SKX stock is dramatically undervalued considering its robust growth potential.
First, let's understand just how undervalued SKX stock is. On both a trailing and forward basis, SKX stock is significantly less richly valued than its peers. The average trailing earnings multiple between Under Armour (UAA), Nike (NKE), and Lululemon Athletica (LULU) is 35x, more than 50% larger than SKX's trailing earnings multiple of 22.5x. The closest comp is NKE, and even NKE's trailing earnings multiple is 17% larger.
The same story is true with the forward earnings multiple. The average forward earnings multiple between UAA, NKE, and LULU is 42x, almost double SKX's forward earnings multiple. The closest comp, NKE, has a forward earnings multiple nearly 25% larger than SKX's forward multiple.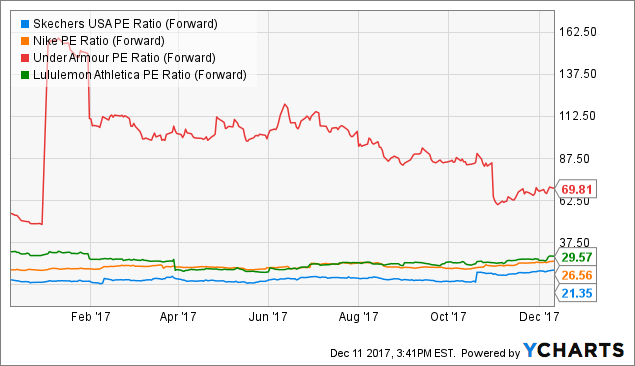 SKX PE Ratio (Forward) data by YCharts

SKX PE Ratio (TTM) data by YCharts
Second, let's understand that this relatively low valuation has nothing to do with growth. Indeed, SKX reported the biggest revenue and earnings growth rates last quarter among peers. The company has set quarterly sales records in each of the first three quarters in 2017 after setting an annual sales record in 2016. Sales rose 16.2% last quarter and are expected to grow in the mid-teens range next quarter. Those marks are the best in class.
One reason for SKX's depressed valuation was a lack of profit growth (big investments were killing profits), but that problem seems to have been fixed. With investments peeling back and margins in rebound mode, profit growth has finally caught up to revenue growth. SKX is now posting the most robust earnings growth in the group, too.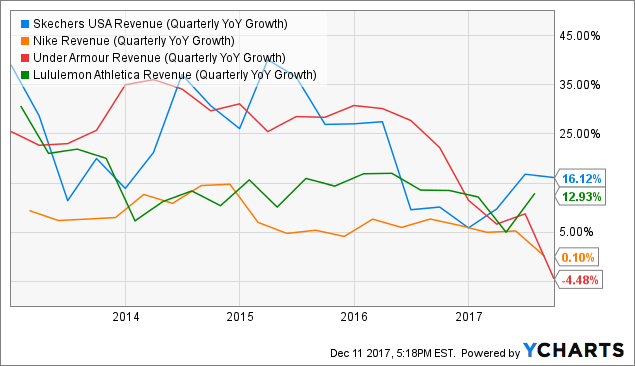 SKX Revenue (Quarterly YoY Growth) data by YCharts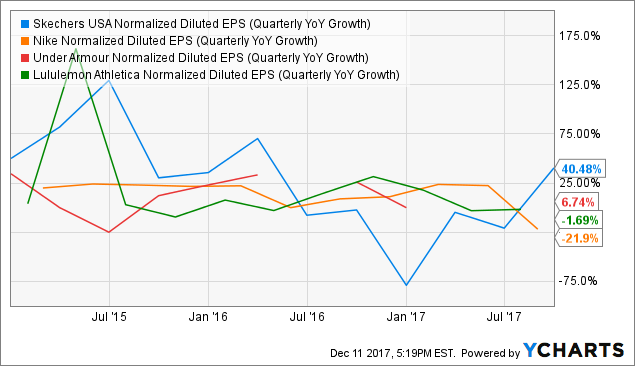 SKX Normalized Diluted EPS (Quarterly YoY Growth) data by YCharts
This earnings growth isn't expected to ease up anytime soon. The only company in this space expected to grow earnings at a faster clip than SKX over the next several years is UAA, and that has more to do with UAA's depressed earnings base than anything else.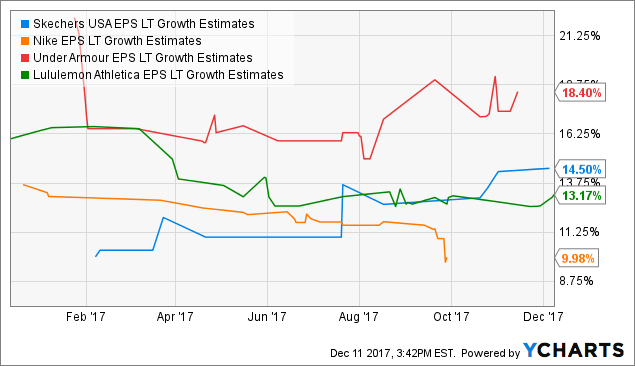 SKX EPS LT Growth Estimates data by YCharts
There also is more to this growth narrative than just analysts calling for big growth. Those calls for big growth are supported by what seems to be persistently positive demand growth. While growth rates for search interest related to Adidas (OTCQX:ADDYY), Nike, and Under Armour have fallen lately, search interested related to Skechers has been growing in the mid-to-high teens rate (data from Google Trends). This is a wide divergence, and underscores the fact that Skechers is actually turning into a secular winner in this space.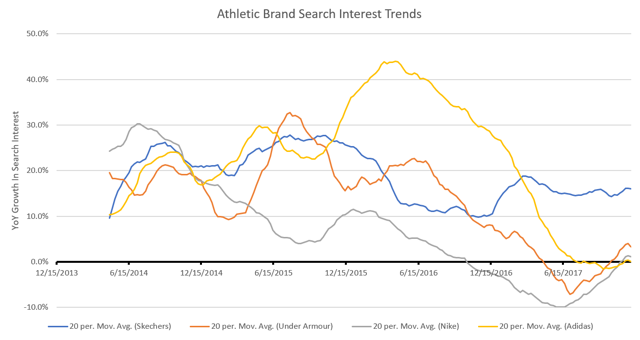 Big picture: Skechers is the fastest-growing company in the athletic retail space with a long runway for growth. But SKX stock remains significantly undervalued relative to peers. So long as growth remains big and the valuation diverges dramatically from peer valuation, SKX stock will trend higher. We initially had a $40 price target on SKX stock (based on a 20x multiple on conservative FY18 EPS estimates of $2), but believe that price target will prove to be exceptionally conservative.
Disclosure: I am/we are long SKX, NKE.
I wrote this article myself, and it expresses my own opinions. I am not receiving compensation for it (other than from Seeking Alpha). I have no business relationship with any company whose stock is mentioned in this article.
About this article:ExpandAuthor payment: $35 + $0.01/page view. Authors of PRO articles receive a minimum guaranteed payment of $150-500.Tagged: Investing Ideas, Long Ideas, Consumer Goods, Textile – Apparel Footwear & AccessoriesWant to share your opinion on this article? Add a comment.Disagree with this article? Submit your own.To report a factual error in this article, click here