tags:
After the onset of the Covid-19 pandemic last year, ride-share facilitator Uber (NYSE:UBER) took a major financial hit. UBER stock got slammed – yet, folks who held on for the bumpy ride were rewarded eventually.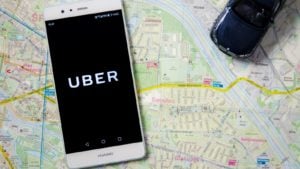 Source: Proxima Studio / Shutterstock.com
Here's where it gets interesting, though. By Aug. 20, 2021, the share price was back to where it was right before the pandemic.
That's because UBER stock has been in a state of decline since April 2021. A recent quarterly earnings release didn't help the bulls at all, it seems.
So, is the company really in such bad shape? Is the share-price decline justified? If not, then I'd suggest that there's a prime buying opportunity here for bold contrarian investors.
A Closer Look at UBER Stock
It's kind of spooky, the way UBER stock ran up to $60 not just once, but three different times recently. This happened in February, March and April of 2021.
Market technicians would call that a resistance level. Thus, if you choose to buy the stock now and it runs up to $60, that's not a bad place to consider taking profits.
As of Aug. 20, UBER stock settled a nickel short of $40. That's very close to the pre-pandemic share price of mid-February 2020.
So, you've basically been given a chance to rewind the clock and buy the shares at a pretty good price. Will you seize the opportunity?
Don't make a decision yet, as we still have lots of data to sift through. For example, Uber's trailing 12-month earnings per share is -57 cents.
You must admit, that's very close to break-even. If the fiscal data we're about to reveal happens to be positive, then hopefully this ride-hailing giant will be able to swing to profitability in the near future.
Blockbuster Bookings, and More
Judging from the company's second-quarter 2021 results, it does appear that Uber is in the driver's seat, fiscally speaking.
What impressed me the most was Uber's quarterly gross bookings, which grew 114% year-over-year to $21.9 billion.
Delivery-segment gross bookings rose 85%, while mobility-segment gross bookings increased by a whopping 184%.
This evidently resulted in excellent revenue figures. Specifically, Uber reported revenue growth of 35% quarter-over-quarter, and 105% year-over-year.
The company also appears to be in a decent capital position as Uber held $5 billion in unrestricted cash, cash equivalents and short-term investments at the end of 2021's second quarter.
So, here's the less-than-perfect part. For the second quarter of 2021, Uber reported adjusted EBITDA of -$509 million (i.e., a loss of $509 million).
That's down $150 million quarter-over-quarter, but it's also up $328 million year-over-year.
It Won't Be Long Now
Uber's skeptics can't really argue with the company's revenue growth. We're talking about literally doubling the revenues year-over-year.
Still, the negative adjusted EBITDA is a sticking point. It's fodder for the bears, and something that the bulls will want to see Uber address as soon as possible.
But then, if we're to believe Uber CFO Nelson Chai, then it shouldn't be too long before this issue is solved.
"We successfully made large investments in Q2 to improve marketplace balance, and we are now well positioned to reach Adjusted EBITDA profitability by Q4," Chai confidently declared.
You might be wondering: what "large investments" is Chai referring to?
Uber CEO Dara Khosrowshahi explained, "In Q2 we invested in recovery by investing in drivers and we made strong progress, with monthly active drivers and couriers in the US increasing by nearly 420,000 from February to July."
Fair enough – those investments seem to be yielding results. And with that, Chai is plotting a clear path as Uber wends its way toward fourth-quarter adjusted EBITDA profitability.
"As we make progress towards that important milestone, we expect our Adjusted EBITDA loss in Q3 to improve to less than $100 million in addition to record Gross Bookings between $22 and $24 billion," Chai clarified.
The Bottom Line
Uber's executives appear quite confident that the company's financials are rock-solid and improving quickly.
And indeed, the quarterly fiscal data seems to support a confident outlook.
Yet, UBER stock is back to where it was in mid-February of 2020.
Therefore, there could be a terrific opportunity here for investors who see a disconnect between the stagnant share-price action and company's indisputable financial progress.
On the date of publication, David Moadel did not have (either directly or indirectly) any positions in the securities mentioned in this article. The opinions expressed in this article are those of the writer, subject to the InvestorPlace.com Publishing Guidelines.