Share Price Of Starbucks Lagging Behind Revenue Growth
Despite the perennial concern over the possibility of Starbucks (SBUX) reaching the "peak store", the company continued to prove skeptics wrong with steady revenue growth. In fact, Starbucks recently proclaimed that it is opening a new store every 15 hours in China alone. Even in Shanghai where it has over 600 stores – the largest number of stores in any city where Starbucks has a presence, the company continues to open new ones to fulfill the seemingly insatiable appetite of the residents for its coffee.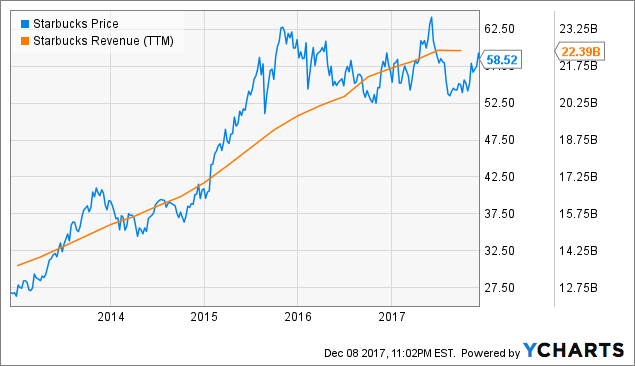 SBUX data by YCharts
Revenue Growth To Be Supported By The Opening Of The Largest Starbucks Outlet
On Wednesday, Starbucks opened its largest outlet in the world located in Shanghai, China. The outlet also holds claim to being only the second Starbucks Reserve Roastery worldwide, the venue for the "all-new coffee experience" where the company serves the "epitome of coffee and retail innovation". It is located at Nanjing Road West, a hotly visited shopping street with a number of key museums and government buildings nearby. A well-established mixed development, Raffles City Shanghai, is also round the corner, bringing with it thousands of office workers and shoppers as potential customers for the roastery. Despite the huge captive audience, the coffee titan did not rest on its laurels; it astutely pre-marketed the event months earlier on social media.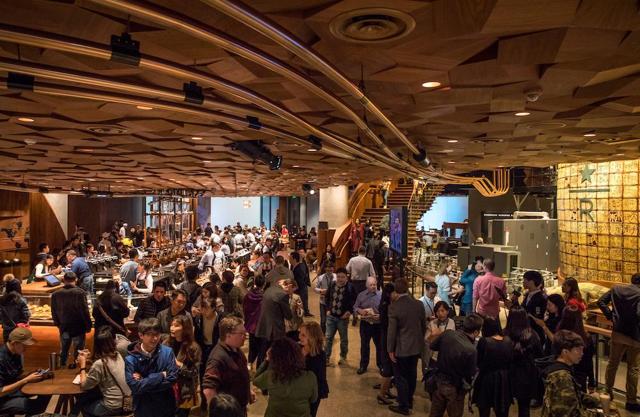 (Source: Starbucks)
Starbucks FCF Remains Comfortable Amid Rapid New-Store Openings
With Starbucks' aggressive new-store openings, investors might be wondering if capital expenditures have been ballooning. They will be comforted by the fact that while capex has indeed been rising in the past few years, the pace of increase is lagging the improvement in cash flow from operations, resulting in a comfortable free cash flow of $4.17 billion. The strong FCF will enable Starbucks to execute its strategy of forging deeper connections with its customers via the physical stores. Opening more stores will certainly help in the achieving this aim. I will elaborate more on this in the subsequent sections.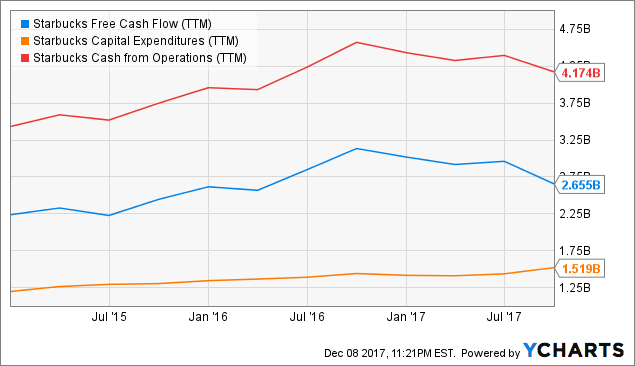 SBUX Free Cash Flow (NYSE:TTM) data by YCharts
Fruitful Tie-Up Between Alibaba And Starbucks
Besides being the largest outlet, the Shanghai Reserve Roastery is also the most technologically advanced one. Thanks to the collaboration with Alibaba (BABA), the outlet has been integrated with its scene-recognition technology enabling customers to point their mobile devices around the Roastery for an immersive augmented reality ("AR") experience designed by Starbucks. The customers can do so via a custom-designed Roastery digital web-app platform or on Alibabas Taobao app. Cognizant of the prevailing desire to share one's activity, Starbucks has created a game-like process which customers need to complete before they receive a customized Roastery filter for sharing on social media.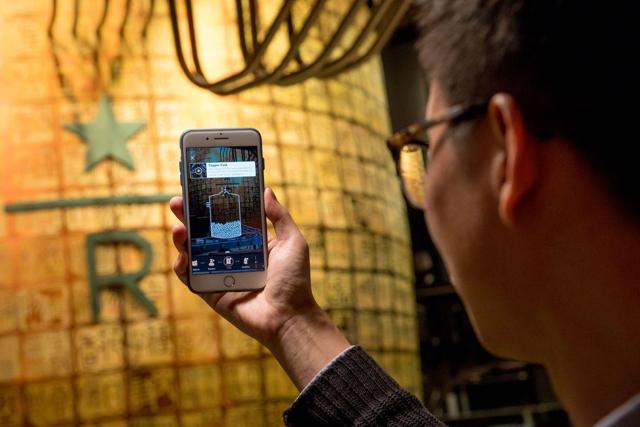 (Source: Starbucks)
Jack and I have spoken about a lot of different things. The friendship and the shared values we have and their reach, our brand — there are things that we could do together.
– Founder and Executive Chairman Howard Schultz
With Alibaba in the picture, the e-commerce giant's expertise in online retailing should naturally be fully utilized. Unbeknownst to some, Starbucks has a wide range of brew-at-home beans and pods, bottled coffee, and bottled caffeinated fruit juices for sale. The company also sells brewing equipment like stainless steel coffee presses, french presses, and coffee scoops. In addition, there are other merchandises like Starbucks-branded tumblers, glass, and mugs. Starbucks customers will now be able to buy some of these offerings on Alibabas online B2C marketplace, Tmall.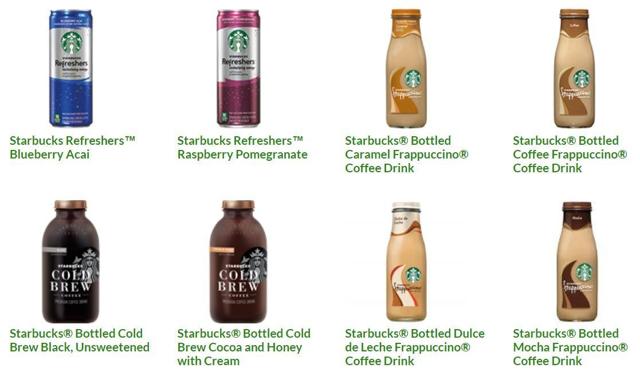 (Source: Starbucks – just a small selection of the full range of bottled drinks)
Motivation Behind The Partnership With Alibaba
What is clearly positive from this tie-up is Starbucks' willingness to rely on partnerships in its drive to leverage technology to elevate customers' experience. The company aims to create a multi-sensory, interactive coffee and retail destination in its bid to retain customers and increase the sales of its premium products. This will be made possible through the use of AR and the open-concept of its Reserve Roastery.
As for making its products available on Alibaba's Tmall, the move might seem contrary to what founder and executive chairman Howard Schultz indicated during the Q2 earnings call in April regarding the closure of its online store. Schultz had hoped that the online store closure will encourage customers to walk into Starbucks physical stores where the company can better manage the customer experience to forge deeper connections and loyalty.
Your product and services, for the most part, cannot be available online and cannot be available on Amazon. – Founder and Executive Chairman Howard Schultz
However, Alibaba is not the typical online retailer. It is strengthening its offline presence aggressively and aims to convert 10,000 mom-and-pop shops to a Tmall-branded network of outlets. It even has its own physical shopping mall and has recently acquired a major stake in China's leading hypermarket player in the brick-and-mortar space, Sun Art Retail Group (OTCPK:SURRY) (OTCPK:SURRF). Therefore, Starbucks has found in Alibaba an ideal partner in the blurring of the offline-to-online retailing phenomenon.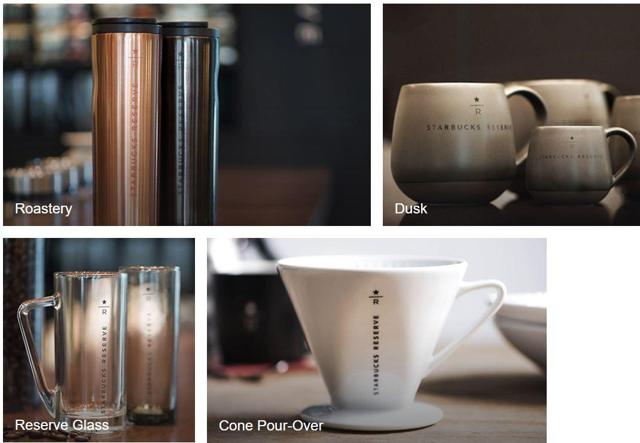 (Source: Starbucks – just a small selection of the full range of merchandises)
Conclusion
In July when Starbucks made its largest acquisition till date, some readers wondered if Starbucks made the right decision doubling down in China. Since my article on the topic, the share price of Starbucks has appreciated around 10 percent. There were also the common concerns regarding the low percentage of coffee drinkers in China and the relatively lower income level of the Chinese. Such worries were proven unfounded by the huge crowd that greeted the largest Starbucks store which even required the involvement of the local police to manage order. Such strong reception is not simply attributable to a first-day opening hype. Starbucks is a clear leader in the cafe space in China, according to Euromonitor (see pie-chart below). Same-store sales in the country grew 8 percent in the last reported quarter. This is way faster than the global same-store sales at 2 percent and is also higher than China's 3Q GDP growth at 6.8 percent.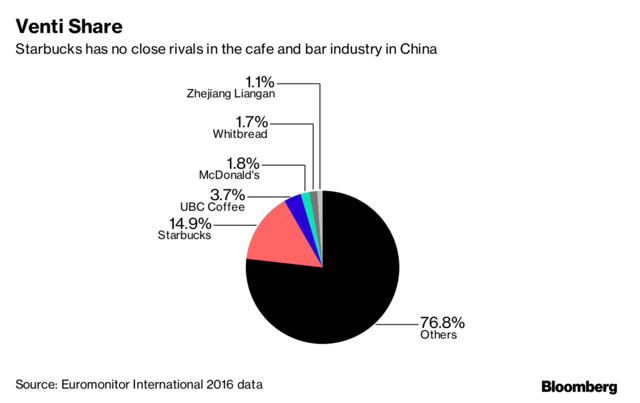 The partnership combines the top coffee player with the leader in e-commerce in China. In fact, it is not the first time the two companies have collaborated. In August, Starbucks announced the acceptance of Alipay in its 242 outlets in Malaysia. Alipay is the payment app of Ant Financial, an affiliate of Alibaba. The Roastery alliance brings the two companies closer together and builds on their respective strengths. There remains the possibility of further win-win arrangements between the two companies which I have discussed earlier.
Revenue growth has been rising but the pace seems to be slowing. Starbucks' share price is nearing its consensus price target and its P/S value has also reached stagnation. The P/S value is calculated by multiplying the trailing-twelve-months sales per share figure with the 3-year historical average of the annual median price/sales ratios. Still, Starbucks is considered to be undervalued considering that it is trading in a range since 2016. It is also trading under its P/S value while in 2015, its share price was way above the then P/S value.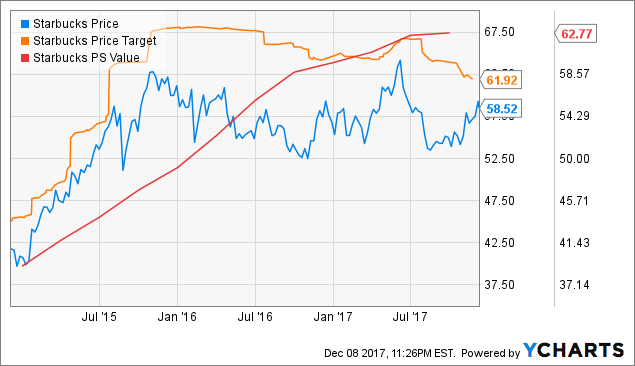 SBUX data by YCharts
Increasing the revenue through the opening of new stores to improve the accessibility of customers and the collaboration with online players to expand sales of merchandise is necessary to keep investors happy. With the company having taken control of the China operations, I am confident that Starbucks is capable of sustaining its revenue growth rate of the previous years such that analysts will be confident of raising their price targets in the coming quarters.
What is your take? Share your thoughts with the Seeking Alpha community!
Author's Note: Thank you for reading. If you would like a refreshing take on stocks that you own or are interested in, try looking here. If you wish to be informed as soon as they are published, please click on the "Follow" button below the title.
If you like this article, please let me know by leaving a comment. Otherwise, kindly provide constructive feedback to help me craft better articles to aid in your analysis.
Disclosure: I am/we are long BABA, SBUX.
I wrote this article myself, and it expresses my own opinions. I am not receiving compensation for it (other than from Seeking Alpha). I have no business relationship with any company whose stock is mentioned in this article.
About this article:ExpandAuthor payment: $35 + $0.01/page view. Authors of PRO articles receive a minimum guaranteed payment of $150-500.Tagged: Investing Ideas, Long Ideas, Services, Specialty EateriesWant to share your opinion on this article? Add a comment.Disagree with this article? Submit your own.To report a factual error in this article, click here