Spirit Airlines' (SAVE) growth continues to outpace competing airlines and with a 7% PE ratio discount compared to the industry average, the company has room to grow from a revenue and stock appreciation standpoint. This was evident again when the company, along with the other major airlines, recently reported November 2017 traffic results. While most major airlines experienced respectable growth due to busy Thanksgiving holiday travel, its very important to see Spirit continuing to post consistent growth with previous months. Spirit surpassed November 2016 growth of 15.5% and 16.4% for revenue passenger miles (RPMs) and available seat miles (ASMs) year over year.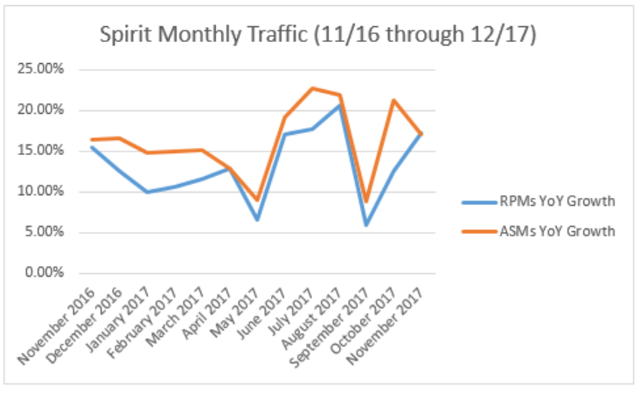 Holiday traffic is more important as travelers value reliability when it comes to the holidays and this is an area Spirit has struggled in the past. I will discuss this is more detail, but November 2017 traffic data come in as follows: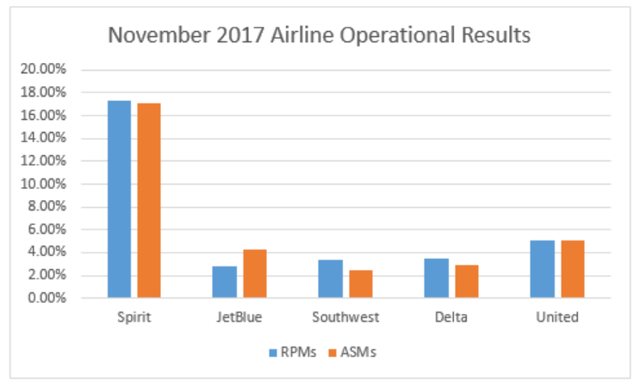 Revenue passenger miles (RPMs) measures the traffic for an airline and is calculated by multiplying the number of revenue-paying passengers for the month by the total distance of flights for the month. Spirit Airlines RPMs increased 17.3% year over year to over 2.08 billion. Spirit wasnt the only airline to see increased traffic during November. In comparison to other airlines, United (NYSE:UAL) by far led the way with a 5.1% increase. Behind Uniteds stellar month was Delta Air Lines (NYSE:DAL) at 3.5% increase, Southwest (NYSE:LUV) with increases of 3.4%, and JetBlue (NASDAQ:JBLU) right behind with an increase of 3%.
Average seat miles (ASMs) measures the airlines' flight carrying capacity and is calculated by multiplying the number of seats available for passengers during the month by the total distance of flights for the month. Spirit Airlines' ASMs increased 17.1% year over year to over 2.55 billion. This was a much greater increase compared to other airlines with Uniteds 5.1% increase being the next largest jump at over 3 times less. JetBlue and Delta followed behind with increases of 4.3% and 2.9%, respectively. Lastly, Southwest fell well behind competitors with an increase of only 2.5%.
Based on these results for the month of November 2017, Spirit Airlines continues to show impressive growth in comparison to the other airlines. It shows that their unique and market disrupting business model is still effective with RPMs and ADMs metrics both in the high teens and well above competitors. The 17.3% gain in RPMs was more than 3 times the next largest growth posted in the industry by United. With RPMs and ASMs of only 2.08 billion and 2.55 billion, both of which are significantly below the other major airlines, there is a lot of growth to be achieved by the low-cost airline.
While Spirit has seen extraordinary growth throughout much of the year, its encouraging to see such strong traffic in November. AAA was projecting a 3.3% year-over-year increase of Americans traveling 50 or more miles over Thanksgiving to a total of nearly 51 million individuals. These projections ranked as the busiest Thanksgiving travel since 2005. Within that, there are certain economic trends that skew that travel toward airlines. Airlines received the largest growth of Thanksgiving travelers with a 5% increase largely due to the highest Thanksgiving gas prices since 2014. Given Spirits issue with reliability, I was encouraged to see them get such a large percentage of this volume growth. Generally, I would expect travelers to be willing to pay a higher ticket for a higher probability of reaching their destination, but Spirit has put a large effort into fixing this negative image. In early December, the company announced a second straight month of record-breaking on-time success rate with 90.4% of all network flights arriving on-time in the month of November. This has culminated into a 4% system-wide on-time performance improvement through the first 11 months of 2017.
Improving this metric and ultimately the companys public image is a key initiative for Spirit and it becomes all the more important around the holidays. Spirit must keep this going in December and the Christmas holiday when AAA expects a record-breaking 107 million Americans to travel for the holiday. 6.4 million of them will travel by air, which is a 4.1% increase from the prior year. Im encouraged that Spirit will see a large portion of this increase largely due to their ability to increase their on-time success rate and their success in taking advantage of Thanksgiving holiday travel. A strong December will get the company off to a positive start for 2018 where I expect this positive momentum to continue.
While there are certain factors that could impact this trend, a lot of uncertainties are more likely to impact international travel versus domestic travel where Spirit Airlines concentrates. Additionally, the ongoing open contract negotiations with their pilots must be closely monitored. The pilots are represented by the Air Line Pilots Association and the two parties have been in an over 2-year bitter contract negotiation. Data shows that Spirit pays their pilots about half of what the other large airlines are paying their pilots due to their low-cost business model. As was seen earlier in the year, the pilots have the ability to impact flights and cause pain to shareholders–this situation should be closely monitored, but given the federal court order win in May, Im hopeful that the worst is behind Spirit.
In order to take full advantage of this increase in passengers, Spirit must continue to offer cheaper fares while managing customer service issues and the associated bad publicity. With their unique business model, Spirit Airlines is able to offer fares, on average, 40% cheaper than other airlines, according to the Department of Transportation (DOT) in a recent study. Even after adding additional items, such as seat assignments, bags, and refreshments, the total fare is 35% lower according to the same DOT study. Because of the company's unique business model, the company tends to not spend on investments such as large dollar advertising campaigns, multiple-class cabins, and other technologies such as satellites and wireless internet equipment. Concentrating on operational efficiency allows the company to offer the lowest possible fares while still achieving higher profit margins than any other U.S. airline.
From a financial statement perspective, the company last reported third-quarter 2017 results. The company translated increased traffic into more revenue at a growth rate of 10.6% to $687 million. Despite the revenue growth, costs continued to climb at a slightly higher rate of 20% to $583 million. The increase in costs was attributed to flight volume, passenger re-accommodation expense, and higher fuel rates. The higher re-accommodation expenses were largely due to hurricane season. Again, this is something all airlines are dealing with and it isnt changing customer sentiment. From a valuation standpoint, Spirit Airlines stock looks cheap at a PE ratio of 14.3 compared to an industry average of 15.3 meaning the stock has nearly 7% to grow until it reaches the industry average.
With any rapid growth plan, there are some risks investing in Spirit Airlines; however, I believe the potential reward outweighs the risk. The above-industry average November 2017 and Q3 results compared to the other major airlines shows that their unique business model is continuing to be successful with airline customers even during the busy and time-sensitive holiday travel season. Given this success and low valuation, I believe the company is in a great position to take advantage of the expected increase in airline passengers as a result of the improving US economy and lower fuel prices. I fully expect the rapid growth story to continue through the remainder of 2017 and into 2018.
Disclosure: I/we have no positions in any stocks mentioned, but may initiate a long position in SAVE over the next 72 hours.
I wrote this article myself, and it expresses my own opinions. I am not receiving compensation for it (other than from Seeking Alpha). I have no business relationship with any company whose stock is mentioned in this article.
About this article:ExpandAuthor payment: $35 + $0.01/page view. Authors of PRO articles receive a minimum guaranteed payment of $150-500.Tagged: Investing Ideas, Long Ideas, Services, Air Services, OtherWant to share your opinion on this article? Add a comment.Disagree with this article? Submit your own.To report a factual error in this article, click here