This was an idea that Jim Cramer ventilated, although providing little rationale. He also offered a few other acquisition targets for Microsoft (MSFT), among which are Twilio (TWLO) and ServiceNow (NOW).
But what about Workday (WDAY)? The company offers a HCM (human capital management) SaaS platform that has been growing nothing short of explosively: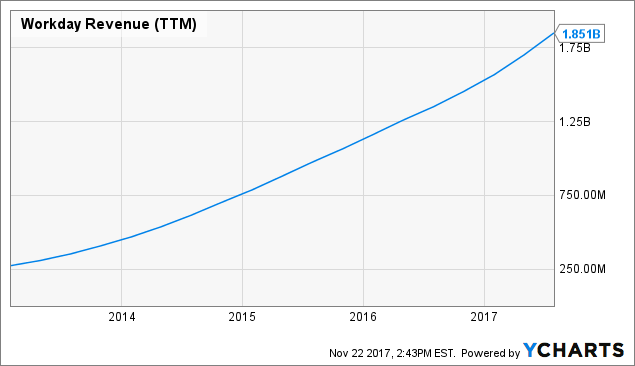 So one thing Microsoft would buy is growth, although with the not unimportant proviso that $2B is hardly moving the needle for a company of Microsoft's size, approaching $100B in sales.
Another argument would be that it offers benefits in excess of the takeover premium, and here things get fairly interesting. We see two entry points for discussion here:
Microsoft is concentrating on winning enterprise customers for its cloud business. Microsoft has already acquired LinkedIn, the recruitment platform.
To start with the latter, at first sight, recruitment looks like a very useful extension of human capital management, but one has to be a little careful here.
The Workday HCM platform really is an extension of the company which uses it, it's a company tool. LinkedIn is a platform that plays on both sides of the job market, companies might not be willing to promote these functions to their employees.
Equally, many employees who are likely to already be on LinkedIn might not want to alarm their bosses that they are looking for jobs elsewhere, and the danger is that their search activities become accessible should LinkedIn become a part of the Workday platform.
Perhaps there are technological ways around that which aren't immediately obvious to us, but we see a potential for problems here.
Azure
Could Workday help Microsoft's cloud business Azure? Well, there is something in this as Azure is still far behind Amazon's (AMZN) cloud business; from Bloomberg (our emphasis):
Amazon Web Services Inc., likes to brag that his outfit has several times as much business as the next 14 providers combined… Every year, it introduces dozens of features and products to retain its edge… Amazons next-largest cloud competitor, Microsoft Corp., is less than one-fifth Amazons size in terms of sales of infrastructure services, which store and run data and applications in the cloud, according to research firm Gartner Inc.
While Azure is still far behind in terms of sales, it is catching up in terms of features:
Microsoft has transformed its sales force into a roving R&D lab and management consultancy. Startups get introductions to potential investors and prospective partners and customers. Big companies get access to a sales team that helps market the cloud apps they build on Azure to their own customers so they can make a buck on the software they use in-house.
But Amazon's AWS is very much a moving target as it keeps innovating and adding features at a rapid pace; from Techcrunch:
AWS isnt just dominating because it was first (although thats part of it), its also continuing to innovate at an astonishing rate, adding around 1000 new features every single year up from 722 just last year, according to a chart posted by CEO Andy Jassy during his re:Invent keynote.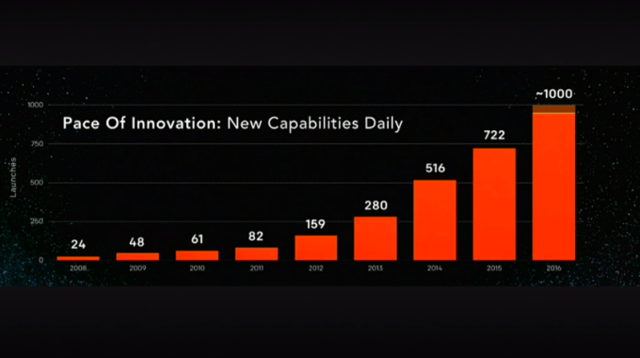 Perhaps the following (in bold) captures the essence of Microsoft's cloud strategy better than anything; from Bloomberg:
Bill Braun, Chevrons chief information officer, says Microsoft impressed him by showing off machine learning software that will allow his company to analyze volumes of data from oil production equipment to detect tiny changes in temperature or vibration, early signs of faulty equipment, or other problems. They understand the enterprise, he says.
Here is where Workday's SaaS HCM platform can help. Basically, it helps companies to "understand themselves" better by allowing them to manage their resources better. But there is another reason why a Workday acquisition could help Microsoft's Azure:
An existing relationship was why candymaker Mars Inc. chose Microsoft instead of AWS last year. Our philosophy is to drive deeper relationships with partners we already have, says Paul LEstrange, Marss chief technology officer. We didnt have that same sort of relationship with AWS.
The main way Microsoft has a leg up on Amazon is that it already has relations with most businesses in the US, and many around the world. And relationships matter. Indeed, here is Techcrunch again:
Ray Wang, principal analyst at Constellation Research, isnt ready to cede the enterprise to AWS just yet. He says that Microsoft and Oracle have a leg up in the enterprise, simply because they are comfortable and familiar, and they have a strong presence already. Moving from on-prem to the cloud with familiar tools is less daunting than moving everything to AWS, in his view.
Buying Workday would add another series of relationships, expanding its contact surface and deepening many existing relationships.
When we discussed Workday in an article here on Seeking Alpha, we also noted that the company is moving beyond HCM into other areas, like finance, analytics and planning.
Before you know it, it becomes a veritable Swiss army knife of business solutions in the cloud, and that would be Microsoft's cloud. We also noted the following from Workday's Q2CC:
Workday HCM was our first booster rocket that launched the company. International expansion was the second. Financial management was the third stage and the combination of planning and Workday Prism Analytics was the fourth and most recent step in our journey. Opening up the Workday cloud platform and entering the PaaS market will be number five.
PaaS or platform as a service simply allows customers, partners, independent software vendors and developers to build extensions and applications for the software housed in the cloud. Which is what Microsoft already does with Azure. That is, an acquisition of Workday allows Microsoft to extend its cloud and give it additional functionality.
Workday doesn't come cheap
While Workday would just add $2B of revenue, Microsoft would have to pay at least 12x that and then some to actually acquire it as its market cap is $23.45B. At least that multiple has trended down from the stratosphere a few years ago: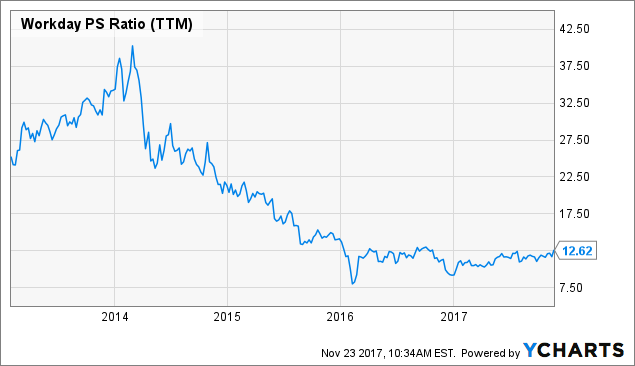 The company is so expensive that a few analyst houses are distinctly neutral on the shares with price targets below the current market price, and UBS even slapped a sell rating and a $95 target on the shares earlier this month.
Microsoft had $6.88B in cash and another $131.58B in short-term investments on its balance sheet at the end of Q1 FY2018; it would not have a problem acquiring Workday.
Conclusion
Normally, we're very hesitant on M&A, simply because the success rate of these is below 50%. However, given the top priority Microsoft has given to develop its cloud platform Azure, we think there are good reasons for acquiring Workday, as this offers new business relationships, deepens existing ones and adds functionality that can be extended and developed further. Workday doesn't come cheap though, quite the contrary.
Disclosure: I/we have no positions in any stocks mentioned, and no plans to initiate any positions within the next 72 hours.
I wrote this article myself, and it expresses my own opinions. I am not receiving compensation for it (other than from Seeking Alpha). I have no business relationship with any company whose stock is mentioned in this article.
About this article:ExpandAuthor payment: $35 + $0.01/page view. Authors of PRO articles receive a minimum guaranteed payment of $150-500.Tagged: Investing Ideas, Long Ideas, Technology, Application SoftwareWant to share your opinion on this article? Add a comment.Disagree with this article? Submit your own.To report a factual error in this article, click here