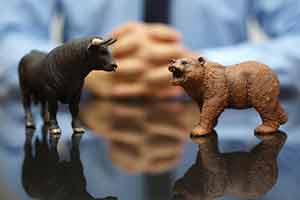 moneymorning.com/wp-content/blogs.dir/1/files/2016/02/Bull-and-bear-75×50.jpg 75w" sizes="(max-width: 300px) 100vw, 300px" title="stock market prediction" />
The current bull market is in its ninth year, but Money Morning Liquidity Specialist Lee Adler's newest stock market prediction shows that we are now in its final stages. In fact, he sees the S&P 500 hitting its final high sometime in the first quarter of 2018.
As December unfolds, we've seen a breakout in stocks, and Adler's technical analysis bumped up his long-term price target on the S&P 500 to 2,800. That's based on his work with market cycles and published in his Wall Street Examiner Pro Trader Market Updates each week. Simply put, by rising above 2,630, the market's character changed for the better, suggesting one more leg higher.
However, December looks like the last chance to ride the current bull market higher before conditions change and a bear market becomes likely…
Stock Market Prediction: Expect a Market Top in Q1
Pundits considered the U.S. Federal Reserve's quantitative easing (QE) program as the punch bowl keeping the recovery party going and goosing the economy and the stock market for several years.
However, as Adler has been warning, things will change in 2018…
This Book Could Make You a Millionaire:The secrets in this book have produced 42 chances to double, triple, and even quadruple your money this year alone.Claim your free copy…
And it already has, now that the Fed's bond purchases are over. Plus, we've already seen the first of several planned hikes in short-term interest rates.
So far, it has not made much of a dent.
However, the forces of monetary policy and liquidity will be hostile to the markets in 2018. The Fed's program, which it calls "normalization," is designed to reduce the size of its balance sheet.
That program literally takes money out of the banking system. It means the Fed's primary dealers will have less cash available to buy stocks and bonds.
At the same time, the supply of stocks and bonds will constantly increase. Governments around the world will continue to issue bonds to finance their deficit spending. And corporations are unlikely to buy much more of their own stock back at current sky-high valuations. They may even try to sell shares to take advantage of those valuations.
Basically, there will be less money – i.e., less demand – to buy stocks and bonds, but an ever-increasing supply. As they teach in economics class, that in turn pressures the prices of these financial assets.
It can only get worse later in 2018, as the Fed steps up its plans. In fact, Fed Chief Janet Yellen specifically said that the program to reduce the size of the Fed's balance sheet is on autopilot.
The key to stock market gains is liquidity. When it's gone, so is the bull market.
While Adler does believe a bear market could be looming, this is not the time to panic. In fact, some changes to your portfolio can perfectly position you to profit from a pullback in 2018…
How to Protect Your Money, and Profit, in 2018
Join the conversation. Click here to jump to comments…