(Tuesday Market Open) The three major benchmarks were heading to the upside in the early going today as Wall Street seems like it might want to shake off the doldrums of the last two weeks.
Yesterday, volume was low—as is typical during a shortened holiday week with an early closing on Friday—but the Dow Jones Industrials ($DJI), the S&P 500 (SPX), the Nasdaq Composite (COMP) and the Russell 2000 (RUT) all found higher ground on which to settle. It was the third straight day of gains for the RUT.
The RUT comeback, coupled with the declines seen in the Volatility Index (VIX) ahead of Thanksgiving might typically signal a strong market. But there's still plenty of day ahead and low volume could lead to high volatility, so watch trading patterns.
If COMP stays on the track it's treading in the early going it might post another record peak at the close. As of Monday's close, the three major benchmarks were pacing annual gains of 15% to 26%.
Earnings are still in the spotlight this week. Shares of Campbell Soup Company (NYSE: CPB) tumbled nearly 8% in pre-market trading after missing expectations, citing higher costs for carrots and other produce. Lowe's Companies, Inc. (NYSE: LOW) shares moved higher after beating Wall Street's forecasts, helped somewhat by post-hurricane sales, the home-improvement retailer said. Farm-equipment maker Deere & Company (NYSE: DE) is scheduled to report earnings after the bell today and might be an interesting story to watch.
Yesterday's session ended higher, possibly helped by economic data. The Conference Board's Leading Economic Index (LEI) surged 1.2% in October, soundly outpacing the 0.1% gain it posted after hurricane-battered September. The LEI is considered a leading indicator of business peaks and valleys. All 10 components of the indicator rose yesterday, which could be an indication that the economy is in growth mode.
This morning, more economic news is on the docket from the Chicago Federal Reserve Bank's national activity index and the October numbers for existing-home sales.
Shares of AT&T Inc. (NYSE: T) were moderately lower while shares of Time Warner Inc (NYSE: TWX) headed to the upside in early trading today. Late yesterday, the Department of Justice (DoJ) surprised market observers by filing an antitrust lawsuit to block T's $85.4 billion takeover of TWX. In the complaint, DoJ said the merger would harm competition, stifle innovation and drive up prices.
DoJ said it believes that a combination of T's AT&T and DirectTV division—one of the largest providers of Internet and subscription TV in the U.S.—with TWX's Turner Broadcasting unit, which includes CNN, TBS, TNT, Cartoon Network, HBO and Cinemax, "would have the incentive and ability to charge more for Time Warner's popular networks and take other actions to discourage future competitors from entering the marketplace altogether," according to the government's press release.
As a condition for approving the merger, the government has been pressuring for a sale of Turner Broadcasting, according to published reports last week. At a press conference later yesterday, T Chief Executive Randall Stephenson said the suit "defies logic and is unprecedented," noting that the two companies "do not even compete with each other." He reiterated his earlier stance that he has no intention of selling CNN. The merger is considered a vertical one, in which two companies produce different products or services within the same industry, or in this case content and distribution.
Elsewhere yesterday, the SPX telecom sector was the strongest, climbing 1%. Shares of Verizon Communications Inc. (NYSE: VZ), for example, climbed higher by 1.8% after a Wells Fargo & Co (NYSE: WFC) analyst upped VZ stock to "outperform" from "market perform," noting the impending rollout of its next-generation 5G network.
Health care stocks were mostly depressed. Shares of Cardinal Health Inc (NYSE: CAH) fell 4.4%, for instance, after a Morgan Stanley (NYSE: MS) analyst cut the stock to "underweight" from "equal weight"
Crude oil prices stumbled Monday ahead of next week's oil ministers meeting and were moving slightly higher early today. Though the Organization of Petroleum Exporting Countries is largely expected to extend its caps on production, analysts told MarketWatch they expected oil trading to be mostly muted ahead of the Nov. 30 meeting. West Texas Intermediate crude closed off by $0.46 to finish at $56.09 a barrel.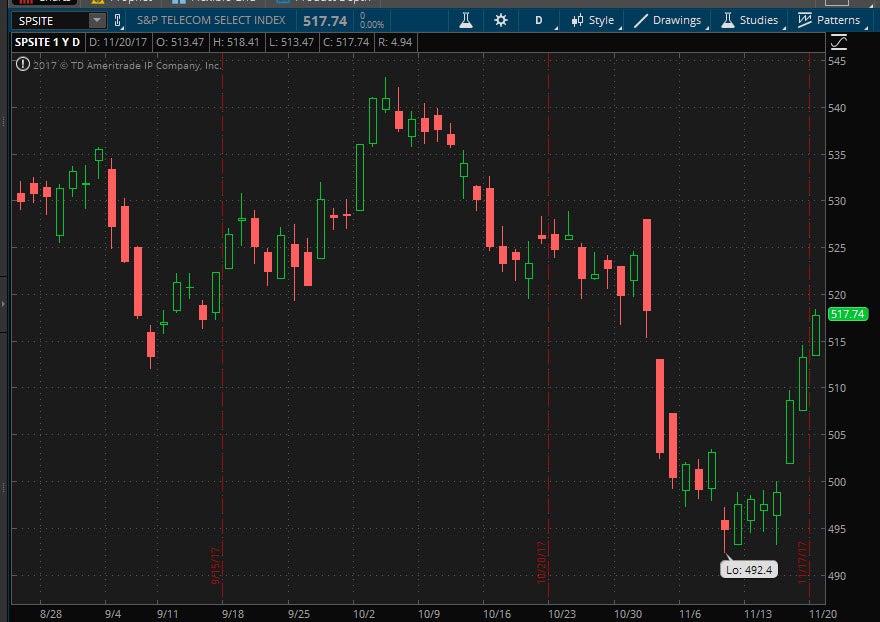 FIGURE 1: TELECOM INDEX CLIMBS. The S&P Telecom Index (SPSITE) finished the sector higher as it tries to rebound from the 52-week low it hit earlier this month. Data source: CME Chart source: The thinkorswim® platform from TD Ameritrade. For illustrative purposes only. Past performance does not guarantee future results.
Good Bye Janet: Federal Reserve Chair Janet Yellen turned in her letter of resignation to the White House yesterday, despite having six more years on her term as a member of the board of governors. Yellen, who was the first woman to lead the Fed since its inception in 1913, has been the chair since 2014, replacing Ben Bernanke.
Her four-year term as chair expires Feb. 3, when her successor Jerome Powell will take the reins. She also heads the Federal Open Market Committee, the Fed's principal monetary policy-making body. Yellen was first appointed to the Fed board by President Clinton in August 1994 and served until February 1997, when she was named the chair of the President's Council of Economic Advisers. Her 14-year term as a Fed board member began in 2010.
Lessons Learned from GE Dividend Cut: Never trust a dividend from a company that is paying out nearly 120% of its earnings to support its 5%-plus yield, according to Sam Stovall, CFRA chief investment strategist. That was the position that General Electric Company (NYSE: GE) was in last week when it had to cut its dividend in half amid a widespread restructuring.
"Investors can use the payout ratio to see if the company is living beyond its means by paying out in dividends more than it is earning," Stovall said. A payout ratio is determined by dividing the annual dividend by the company's annual net income. If the payout is over 100%, then the company is returning more money to shareholders than it is making. If it does that over a long period of time, it is not likely that the company will be able to support that payout, he said.
Happy New Year: We have not yet ended 2017 and already economists are talking about 2018. Goldman Sachs Group Inc (NYSE: GS) Research economists Jan Hatzius and Jari Stehn said yesterday that the global economy is outperforming most predictions for the first time since 2010 and they see that "amplifying" next year.
Their forecast for global gross domestic product is at 4%, "a forecast notably above consensus expectations and supported by still-easy financial conditions and fiscal policy," Goldman Sachs said. It's still far too early to tell how close that projection might be.
Information from TDA is not intended to be investment advice or construed as a recommendation or endorsement of any particular investment or investment strategy, and is for illustrative purposes only. Be sure to understand all risks involved with each strategy, including commission costs, before attempting to place any trade.