Seadrill (SDRL) stock has been calm lately. The reason for this is simple: Brent oil (BNO) has been unable to break through current resistance beyond $65, and momentum traders did not receive enough catalysts to try and drive the company's shares higher. Now, the time for such a move is most likely running out as the first really important date in Seadrill bankruptcy is near. This date is Dec. 11, 2017, the expiration of the so-called go-shop period.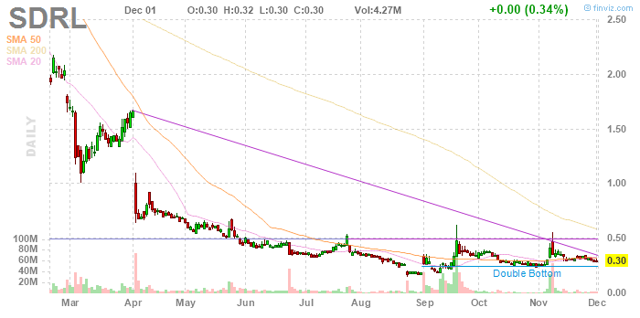 This date is important because Seadrill still has time to receive a competing offer, which, in theory, could contain better terms for shareholders. Because of this, speculative traders can "convince" themselves that there could be some upside in the company's shares on expectations of a bigger recovery for common shareholders.
Fundamentally, such a recovery is virtually impossible as the current offer of a 2% stake (subject to bondholder vote) is already generous and represents the best-case scenario for the common equity. However, the market often needs to see the news before it can act — even if the development is totally predictable.
In my opinion, the expiration of a go-shop period could trigger a sell-off in Seadrill shares, as the potential of a better offer is certainly included in the current valuation. I've previously argued that a 2% stake in the post-reorganization Seadrill equity is worth 5 cents per common share, and I've not seen any facts that have changed my view on this topic. Therefore, I expect that Seadrill shares will start drifting toward their fundamentally justified value right after the go-shop period expires.
Meanwhile, the Seadrill bankruptcy proceedings are slowly going forward. The court has authorized the retention of FTI Consulting as financial advisor for the official committee of unsecured creditors (docket 784), which was to be expected. Seadrill has also filed its monthly operating report (docket 777) for the period of Sept. 12 through Oct. 31. Here's what cash movements look like:

Nothing significant happened in that period, which is hardly a surprise as the company was busy in court after the bankruptcy announcement. During this period, Seadrill recorded $274 million of revenue and $59 million of net income. Someone unfamiliar with Seadrill could say that the results are positive, but in fact they are minuscule compared to the overall debt load. Seadrill will remain a very interesting company after the restructuring is complete, but a successful outcome after restructuring is not guaranteed as Seadrill will continue to be burdened by the full amount of bank debt.
Completing restructuring as fast as possible is in the business' best interest, as competition will continue to scoop available contracts while Seadrill is busy filing documents with the court. However, the unsecured creditors' battle for better recovery could make the restructuring process longer than the company originally expected.
The end of the go-shop period will mark the end of a very important period of Seadrill restructuring — the period of unreasonable hopes that has kept Seadrill shares way above their fundamentally justified value and even brought two short-term rallies. From a practical point of view, I expect that Seadrill shares will trade in a tight range before the end of the go-shop period and will drift lower after Dec. 11. Those willing to hold Seadrill shares for the long term will be better off waiting until the end of restructuring when new, post-restructuring shares of Seadrill will be available for purchase.
If you like my work, don't forget to click on the big orange "Follow" button at the top of the screen.
Disclosure: I/we have no positions in any stocks mentioned, and no plans to initiate any positions within the next 72 hours.
I wrote this article myself, and it expresses my own opinions. I am not receiving compensation for it (other than from Seeking Alpha). I have no business relationship with any company whose stock is mentioned in this article.
Additional disclosure: I may trade any of the above-mentioned stocks.
Editor's Note: This article covers one or more stocks trading at less than $1 per share and/or with less than a $100 million market cap. Please be aware of the risks associated with these stocks.
About this article:ExpandAuthor payment: $35 + $0.01/page view. Authors of PRO articles receive a minimum guaranteed payment of $150-500.Tagged: Investing Ideas, Quick Picks & Lists, Basic Materials, Oil & Gas Drilling & ExplorationWant to share your opinion on this article? Add a comment.Disagree with this article? Submit your own.To report a factual error in this article, click here