Seadrill (SDRL) has recently shared a presentation on the business plan update, as well as filed a disclosure statement (docket 826) related to the first amended joint Chapter 11 plan of reorganization. In this article, I will concentrate on whats new in the business plan.
Lets start with the major highlight on the new business plan from Seadrill itself: The updated Business Plan over the period 2017 2022 see revenues lower by $1,407 million, EBITDA lower by $499 million and cash flow lower by $604 million compared to the presentation published on 12 September 2017.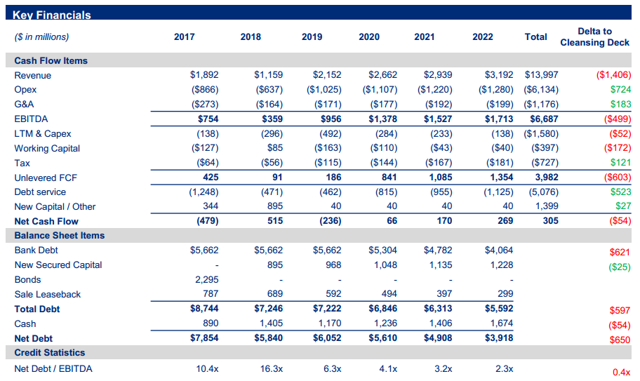 As seen on the picture above, revenue drops very significantly in 2018 but recovers to levels higher than in 2017 in 2019. Why is it so? Key points according to Seadrill:
Dayrate and utilization forecasts are lower across the forecasted period. Full recovery of the drilling market postponed to 2021. Following the drop in oil price in late May this year, additional drilling programs were postponed over the summer, leading to a somewhat less bullish demand picture in the near term.
On the bright side:
Oil market rebalancing is ongoing with price now stable within the range predicted by Fearnley (Seadrill is basing its assumptions on reports by Fearnley – author). Depletion of current fields is still a growing trend and will not be reversed without significant investment by the oil companies. US shale has become less of a threat as the long term production volumes achievable even under optimistic assumption are nowhere near what would be required to replace offshore production. Offshore drilling costs have been reduced substantially.
Now that weve seen the summary of Seadrills position its time for my comments.
Ever since Seadrill published its restructuring plan, it was obvious that it was based on rosy assumptions regarding the dayrate recovery and utilization. The original plan created the false hope with some investors that the companys situation was not as dire as the market assumed it to be. The new iteration of the plan takes into account the hard reality of the market for its 2018 figures. At the same time, it still looks too optimistic regarding 2019 2020 numbers. Lets take a look at them: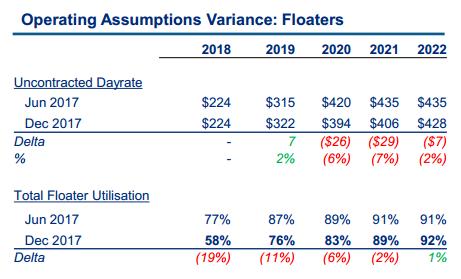 In the companys view, the projected dayrate for floaters increases from $224,000 in 2018 to $322,000 in 2019. This 44% increase in dayrate is projected alongside an increase in utilization from 58% to 76%. Id like to note that it is widely believed that a utilization of 85% is necessary for offshore drillers to have real pricing power. One can debate on how to count utilization (which cold stacked units should be included in the total fleet number and which should not), but a 76% utilization figure looks too low anyway to predict a massive increase in pricing power. Id also note that the previous utilization assumption was 87%, so the company is actually revising its dayrate numbers higher (from $315,000 to $322,000) which predicting lower utilization (76% vs 87%). This makes little sense to me.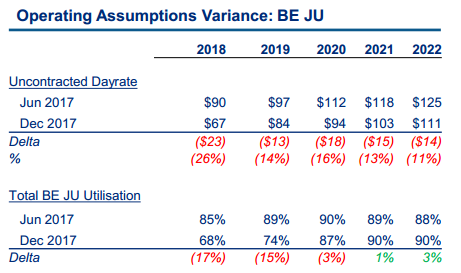 The non-harsh environment jack-up market received the biggest cut in the forecast. It took just half a year to cut 2018 dayrate projections by 26%. Nevertheless, the company still envisions a strong increase in dayrate in 2019. In my opinion, the emergence of a new competitor in the jack-up market, Borr Drilling, will certainly make life harder in the short-term for the whole segment.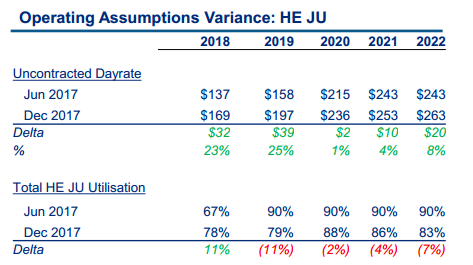 The only bright spot is the harsh-environment segment. Harsh-environment is getting tighter and currently looks good on both the jack-up and the floater segment. Here, Id agree with Seadrill.
To sum it up, the assumptions in the new plan still look rather aggressive. Id like to highlight how different are assumptions for 2018 and 2019. With 2018 just a few days ahead, any analyst is bound to rely on actual data and current trends to come up with dayrate predictions. When making predictions for 2019, theres more space for dreaming. This effect raises the predicted revenue from $1.16 billion in 2018 to $2.15 billion in 2019. I dont see this happening in reality.
Even with the abovementioned flaws, the updated plan is a stark reminder for common shareholders about the state of the industry and the company's financial situation. The 1.9% post-dilution stake in new Seadrill equity that shareholders will get in the case of a positive bondholder vote is de-facto a gift from restructuring plan authors to speed up the restructuring process. I continue to view Seadrill shares as overvalued at current levels.
If you like my work, don't forget to click on the big orange "Follow" button at the top of the screen.
Disclosure: I/we have no positions in any stocks mentioned, and no plans to initiate any positions within the next 72 hours.
I wrote this article myself, and it expresses my own opinions. I am not receiving compensation for it (other than from Seeking Alpha). I have no business relationship with any company whose stock is mentioned in this article.
Editor's Note: This article covers one or more stocks trading at less than $1 per share and/or with less than a $100 million market cap. Please be aware of the risks associated with these stocks.
About this article:ExpandAuthor payment: $35 + $0.01/page view. Authors of PRO articles receive a minimum guaranteed payment of $150-500.Tagged: Investing Ideas, Quick Picks & Lists, Basic Materials, Oil & Gas Drilling & ExplorationWant to share your opinion on this article? Add a comment.Disagree with this article? Submit your own.To report a factual error in this article, click here