Schlumberger (SLB) continues to struggle amid higher oil prices. Although oil prices are reaching multi-year highs, moderating production investment is clouding the company's outlook for the future. With no apparent end in sight, it makes sense to add some short exposure by utilizing a put spread.
Price Action
Below is a chart of SLB over the last three decades. Although many oil-related stocks are trending higher in the current environment, SLB is selling off. This is largely due to weaker guidance in its most recent earnings call.
The company's share price failed to breakout higher above $110 in 2008 and again in 2014, now settling around $60, with selling pressure still strong. SLB may in fact be forming a long-term reversal pattern lower, after largely consolidating over the past decade. Should the company's fundamental outlook deteriorate further, even as oil prices rally higher, its share price could fall back to 2009 lows in the mid- to high-$30s based on the stock's current volatility profile.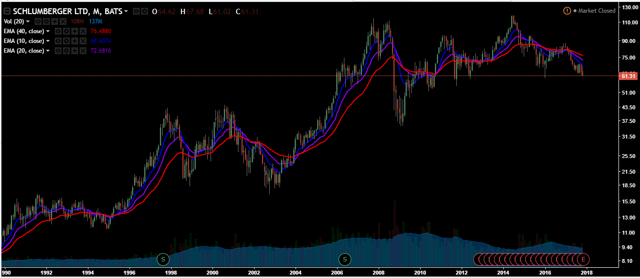 Fundamental Narrative
Management remains bullish on oil prices, but is not as enthusiastic about the company's production outlook, leading to declining investor sentiment.
The current business environment has seen a reduction in global oil inventories, demonstrating that the oil market is now in balance, creating the foundation for a further increase in the price of oil, as well as growth in global E&P investments, according to management.
The issue is, however, that the timing and pace of the pending industry recovery is still not clear, even with an improving global economy. In North America, where the E&P companies have added significant CapEx over the past year, production growth fell short of expectations, largely due to supply chain inflation, operational inefficiencies, and the need to step out from the Tier 1 acreage, according to the call. This led to a moderating investment appetite, with the previous pursuit to grow production now being replaced with a focus on generating solid financial returns and operating within cash flow.
This is bullish for the price of oil long-term as producers are not automatically pumping out as much oil as possible simply because prices are rising. For SLB however, this will weigh on its operations and revenue growth.
Moreover, the moderation is also seen in the flattening trend of the U.S. land rig count during the third quarter, while also being reflected in its customers 2018 activity outlook. Management went on to state this as well about customer activity:
The more tempered activity outlook for U.S. land combined with the short cycle nature of the business has an immediate impact on the outlook for production growth, which for 2017 and 2018 has been revised down by 100,000 and 500,000 barrels per day respectively. This clearly has a material impacts on the global supply and demand balance.
Additionally, OPEC production cuts are also leading to slowing activity globally. OPEC members have so far exceeded their stated production cuts as a whole. At the same time comments from several of the key OPEC Gulf countries and from Russia suggest that an extension of the existing production cuts beyond the current agreement is a possibility, weighing on SLB going forward.
This is leading to ongoing activity and investment levels in the international markets, outside OPEC Gulf and Russia, achieving very limited growth since reaching the bottom of the cycle in the first quarter of this year. Management believes that it is still too early to state what the specific impact on the 2018 E&P spend will be, as its customers are now in their planning process. But there could be headwinds going forward considering current behavior from both U.S. and OPEC oil producers.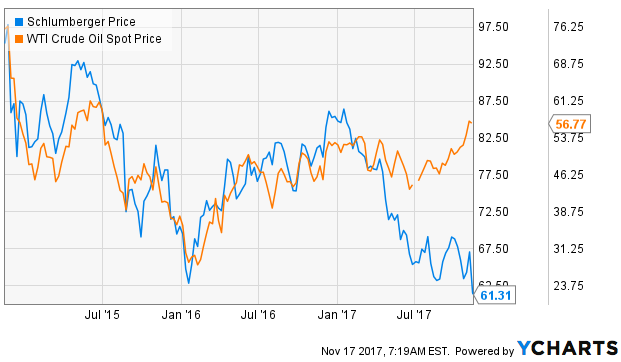 The Trade
An interesting way to play SLB to the short side is by buying the June 2018 60/55 put spread for $1.80, with the max payout being $3.20, representing a 177% return on investment. With the volatility in energy prices, a put spread both limits the potential loss should SLB move higher, while also magnifying returns using the leverage inherent in options.
Remember, however, that it is possible to lose the full value of the premium paid when buying options, signaling that you should weight the position appropriately in your portfolio.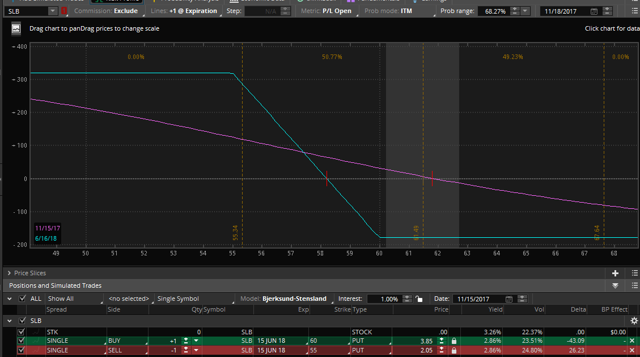 Conclusion
SLB looks like a current sell, or short at current levels due to a number of operational headwinds. Its share price is under heavy selling pressure, even as the price of oil reaches new multi-year highs. This is largely due to slowing production activity worldwide as its customers focus on a strong financial position, as opposed to milking every last dollar out of rising energy prices. Finally, an interesting way to play the current trend lower in SLB's share price is by buying a put spread to reduce loss potential, while also leveraging returns.
Disclosure: I am/we are short SLB.
I wrote this article myself, and it expresses my own opinions. I am not receiving compensation for it (other than from Seeking Alpha). I have no business relationship with any company whose stock is mentioned in this article.
About this article:ExpandAuthor payment: $35 + $0.01/page view. Authors of PRO articles receive a minimum guaranteed payment of $150-500.Tagged: Investing Ideas, Short Ideas, Basic Materials, Oil & Gas Equipment & ServicesWant to share your opinion on this article? Add a comment.Disagree with this article? Submit your own.To report a factual error in this article, click here