Saudi Arabia's crown prince may have unsettled investors with his dramatic anti-corruption sweep, but young people in the kingdom are cheering him on.
Mohammed bin Salman, who became first in line to throne just five months ago, is in charge of the corruption investigation that ensnared dozens of fellow royals, officials and high-profile businessmen earlier this month, as well as a radical strategy to overhaul the Saudi economy.
Young Saudis like what the 32-year-old is doing. About 70% of the population of 28 million is under 30, and nearly 13% of them are without a job.
"Anyone in this country, now in this time, can be a great entrepreneur or an owner of a great company," said Hassan Alansary, 23, who is studying public relations at Riyadh's Imam University.
"The last action of prince Mohammed bin Salman… [tells us] that corruption is not going to be a problem anymore: 'Go work, go find a job, go develop your skills. I'll be with you through all the challenges.'"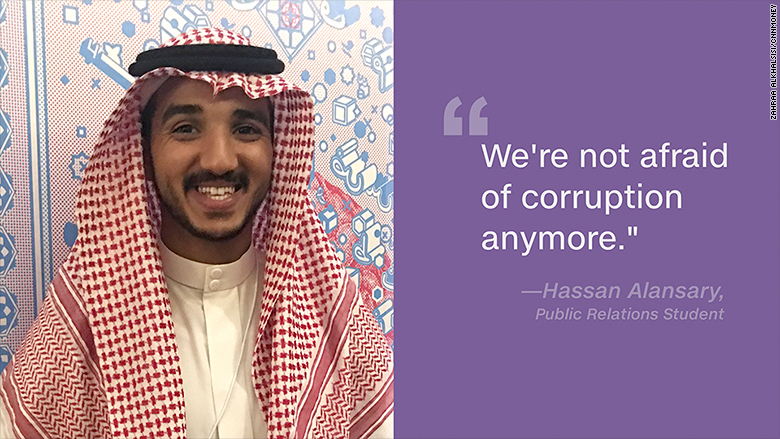 The anti-corruption drive took foreign investors by surprise, coming just days after the kingdom hosted a huge conference — dubbed "Davos in the Desert" — attended by many global fund managers.
There has been an "uptick" in money transfers out of Saudi Arabia following the arrests, and ratings agency S&P warned Sunday of a "new level of uncertainty."
But the crackdown could also improve prospects for the economy in the medium-term, the agency added, and "empower Saudi citizens."
"I think of it as making the economy more efficient, streamlining economic activity and making sure everything is systemized," said Abdulaziz Albassam, a Harvard Business School graduate who runs Oasis Capital, a fund that invests in early stage startups in the U.S.
"We are going into a new era, change is happening… it's going in the right direction."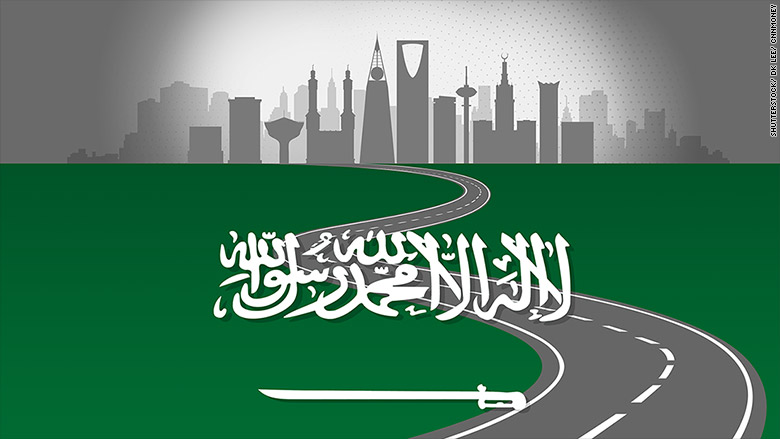 The 28-year-old executive moved back to Saudi Arabia in May, excited at the opportunities he believes will come from the crown prince's Vision 2030, a blueprint for breaking the kingdom's addiction to oil by diversifying its economy.
"I had a chance of staying in the U.S. and after a while that place got comfortable to me," he told CNNMoney in Riyadh. "But with all the reforms, the exciting momentum happening here, I thought why stay there when I can come back and be a force of further change through my entrepreneurial efforts."
Albassam is working on launching an online banking platform, together with a business partner.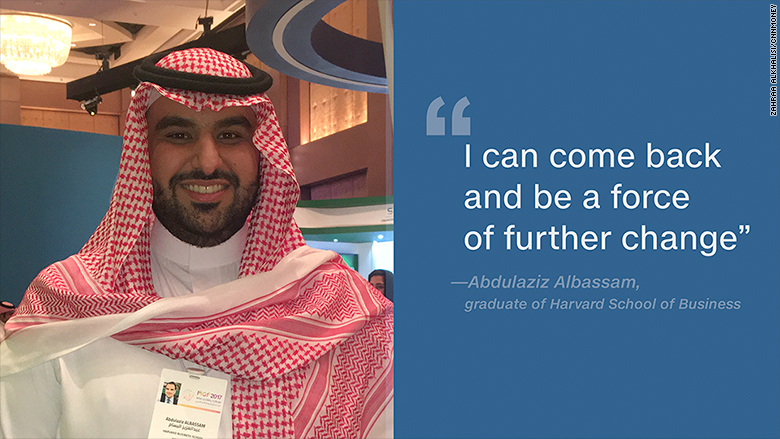 That enthusiasm was shared by attendees at a youth forum in Riyadh last week, sponsored by the crown prince.
In addition to tackling corrupt practices that have cost the kingdom at least $100 billion, Mohammed bin Salman's reforms have included cutting subsidies, introducing new taxes and lifting a ban on women driving next year.
"Everybody here has to be ready for change," said Amani Almasaad, a 32-year-old business analyst at Saudi Telecom. "After enabling ladies this year… everyone has to decide how to use this to enable them."
Many are being encouraged by Saudi Arabia's new emphasis on technology and innovation. Last week, the government said it would make it easier for foreign entrepreneurs to get licenses to launch startups in the kingdom. That's part of an effort to boost the contribution of the private sector to 65% of GDP from 40% at present.
Lujain AlUbaid, co-founder of a non-profit incubator and accelerator called Tasamy, says she's received more than 2,000 applications for new startups in 2017, more than the combined total for the last three years.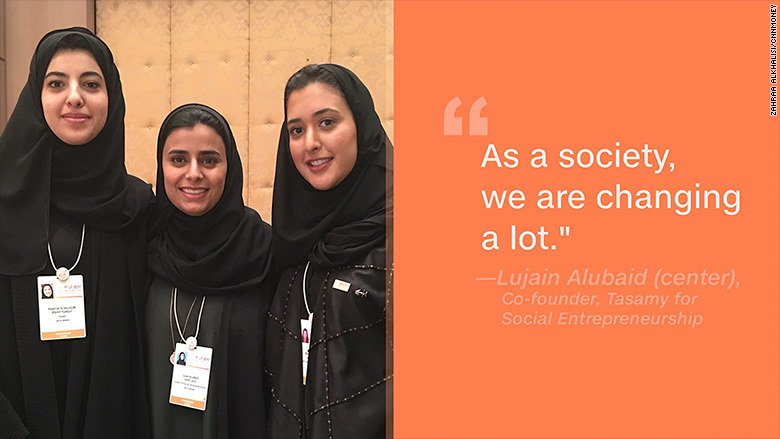 "As a society, we are changing a lot," AlUbaid told CNNMoney. "But what has changed the most over the last two years, is that the language of the leadership has changed… knowing there is a lot of transparency and support."
Foreign companies are also seizing opportunities to grow.
GE (GE), which has been in Saudi Arabia for decades and employs more than 4,000 people there, has already trained more than 500 young men and women on a new program to expose students to innovation, invention and advanced manufacturing.
"What is exciting now is this energy that you are seeing… There is more momentum now and there's more focus. We can do even a lot more," said Rania Rostom, regional chief innovation officer at GE.