The intelligent investor shouldnt ignore Mr. Market entirely. Instead, you should do business with him- but only to the extent that it serves your interests. – Benjamin Graham
Trading Analytics
Welcome to this edition of Integrated BioSci Rounds Report for May 22, 2018. As usual, well elucidate notable trading analytics for the day, recent insider transactions, and interesting market developments. Without further ado, lets take an overall assessment of the bioscience space. As follows, the iShares of NASDAQ Biotechnology Index (NASDAQ:IBB) traded up $0.34 at $106.72 (for +0.32% profits). Moreover, the SPDR S&P Biotech (NYSE:XBI) exchanged hands $0.35 higher at $92.21 (for +0.38% gains). Its likely that investors were trading with positive sentiment for the day. Regardless of the daily inclination, there are substantial prospects in the bioscience sector: one that delivers hope for patients while rewarding supporters with substantial wealth in the long haul.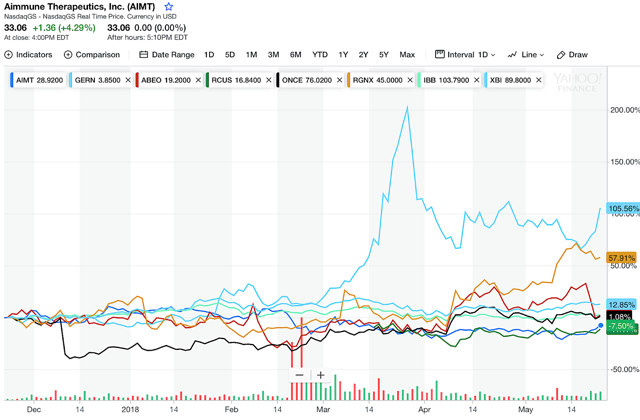 Figure 1: Notable BioSci movers. (Source: Yahoo Finance)
Moving to specific equities, Aimmune Therapeutics (NASDAQ:AIMT) won the highlight spot of the day. Following the uptrend for the week, the stock exchanged hands $1.39 higher at $33.06 for over +4.2%. Based in Brisbane CA, Aimmune Therapeutics is focusing on the innovation and commercialization of medicines to fill the strong unmet needs in the food allergy market. AR-101 is an investigational oral biologic drug designed to protect patients from severe allergic reactions to peanuts. It is believed that gradually increasing the doses of AR-101 would eventually make patients less sensitive to peanuts over a period of six months. Already passed its phase 3 (PALISADE) trial with flying colors, its only a matter of time until the said medicine gains an FDA approval.

Figure 2: Therapeutic pipeline. (Source: Aimmune)
On May 15, the company announced that it will present data on peanut allergy at the European Academy of Allergy and Clinical Immunology (EAACI) Congress 2018 (taking place on May 2630 in Munich). The late-breaking oral and poster presentations will report additional data from Aimmunes pivotal PALISADE Phase 3 clinical trial. And, its not far from the truth that this upcoming catalyst should give Aimmune shares more momentum.
Insider Transactions
In monitoring insider transactions, one should analyze the data with the grain of salt. That being said, we wish to share with you insight from the Former Fidelity-Magellan Manager (Peter Lynch): Insiders might sell their shares for any number of reasons, but they buy them for only one, they think the price will rise. As featured in table 1, the interesting transactions came from Editas Medicine(NASDAQ:EDIT). On May 18, Director (James Mullen) purchased 10K shares for $380K to increase his stakes to 10K. The Director (Jessica Hopfield) also bought 6.7K shares for $249.7K to increase her ownership to 6.7K.


Table 1: Notable insider transactions (Source: Openinsider)
Based in the innovation hub (Cambridge MA), Editas is tinkering the underlying science of the genes to brew an enriched therapeutic pipeline (as shown in figure 3). And, their medicines can potentially treat many life-threatening diseases. Interestingly, the company employs the gene-editing system coined CRISPR, which is highly prudent. Its a protein-RNA complex composed of either the protein Cas9 – the case for Crispr Therapeutics (NASDAQ:CRSP) – or Cpf1, each of which binds to a guide RNA molecule designed to recognize a particular DNA sequence for editing. CRISPR/Cas9 had been utilized by bacteria for millions of years and thus fine-tuned by evolution itself. Whether the stock will continue to log gargantuan profits for shareholders remains. The fact that the insider purchases aggressively warrant investors to take a second look at this interesting grower.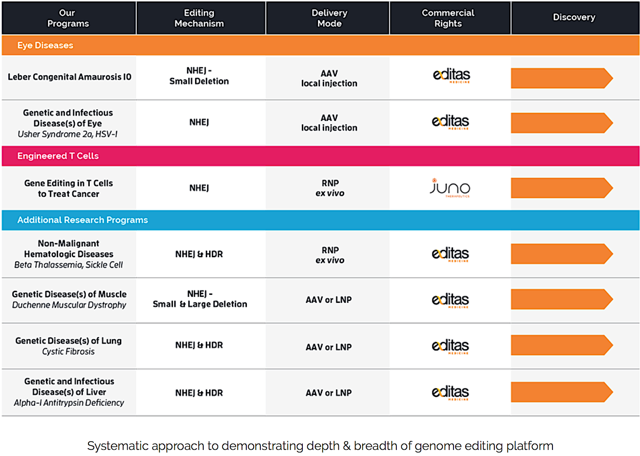 Figure 3: Medicine pipeline (Source: Editas)
Bioscience Catalysts
On May 21, 2018, the FDA approved avatrombopag (Doptelet) tablet of AkaRx for the treatment of low platelet count (thrombocytopenia) in adults suffering from chronic liver diseases (and are scheduled to undergo a medical or dental procedure). Approved under the priority review pathway (that reduced the review time from 9 months to 6 months), Doptelet signifies an unprecedented acceptance for this usage. Commenting on the development, the FDA Director of the Office of Hematology and Oncology Products (Dr. Richard Pazdur) noted,
Patients with chronic liver disease who have low platelet counts and require a procedure are at increased risk of bleeding. Doptelet was demonstrated to safely increase the platelet count. This drug may decrease or eliminate the need for platelet transfusions, which are associated with risk of infection and other adverse reactions.
Consequently, this catalyst further highlighted the lower FDA regulatory hurdles in approving drugs as well as their expanded indications. Ultimately, the tireless due diligence of the FDA experts translates into more lifesaving therapeutics for patients and increasing wealth for shareholders.
Final Remarks
In all, the bioscience market moved higher today, as the renewed sense of optimism resurfaced. Many companies under over coverage continued to rally. Despite modest gains, Aimmune Therapeutics made our featured coverage due to its increasing trading momentum going into the upcoming catalyst (EAACI on May 26 to 30). If you are into trading, Aimmune can help you gain some short-term profits. That aside, Editas Medicine experienced the aggressive insider purchases, thereby warranting a consideration by investors. Last but not least, the ongoing due diligence by the FDA to deliver hopes to countless patients while unlocking value for many equities that we featured via IBI.
Authors Notes: Were honored that you took the time to read our market intelligence. Founded by Dr. Hung Tran, MD, MS, CNPR, (in collaborations with Analyst Vu, and other PhDs), Integrated BioSci Investing (IBI) is delivering stellar returns. To name a few, Nektar, Spectrum, Atara, and Kite procured over 339%, 154%, 255%, and 83% profits, respectively. Our secret sauce is extreme due diligence with expert data analysis. The service features a once-weekly exclusive Alpha-Intelligence article, daily analysis/consulting, and model portfolios. Of note, there is an IBI version of this article that is a higher-level intelligence with extensive details, in which we published in advanced and exclusively for our subscribers. And, we invite you to subscribe to our marketplace now to lock in the current price and save money for the future.
Disclosure: I/we have no positions in any stocks mentioned, and no plans to initiate any positions within the next 72 hours.
I wrote this article myself, and it expresses my own opinions. I am not receiving compensation for it (other than from Seeking Alpha). I have no business relationship with any company whose stock is mentioned in this article.
Additional disclosure: Our research articles are best used as starting points in your own due diligence. We are not registered investment advisors and our articles are not construed as professional investment advice. Many new research are requests from private investors of our services (Integrated BioSci Investing and Dr. Tran BioSci), who either paid or donated us to support our efforts (in assisting investors and bioscience innovators to deliver hopes to patients). That aside, I like to inform readers of Seeking Alpha's recent policy change, in which the company implemented the paywall (not only to our articles but to all articles that are published over 10-day). This is in place, as the company is, after all, a business. And, the revenues from ads are not adequate to support the high-quality research that the company is providing. If you are a REAL TIME FOLLOWER, you will be notified immediately of our new research for you to continue to benefit from our due diligence. You can also gain access to all of my old articles and much more by taking the 2-week FREE trial of my marketplace, Integrated BioSci Investing.