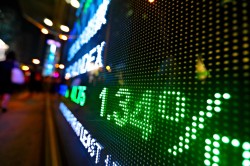 TheStreet upgraded shares of Rand Capital (NASDAQ:RAND) from a d+ rating to a c rating in a research note released on Wednesday morning.
RAND traded up $0.02 during trading on Wednesday, reaching $2.99. The company had a trading volume of 252 shares, compared to its average volume of 122,866. The company has a debt-to-equity ratio of 0.26, a quick ratio of 315.33 and a current ratio of 315.33. Rand Capital has a 12 month low of $2.05 and a 12 month high of $3.60. The firm has a market cap of $18.88 million, a P/E ratio of 100.00 and a beta of 0.05.
Get Rand Capital alerts:
About Rand Capital
Rand Capital Corporation is a business development company specializing in venture capital and private equity investments. The firm prefers to make investments through equity or debt instruments in early venture, expansion stage, and in small to medium-sized privately held companies. It generally lends to more mature companies.
Recommended Story: What is the Current Ratio?