The first announced devices to use Qualcomm's (NASDAQ:QCOM) forthcoming Snapdragon 835 processor are smartglasses from Osterhout Design Group (ODG). The Snap 835 endows the glasses with high end smartphone capability and, most importantly, the glasses don't make you look like a cyborg.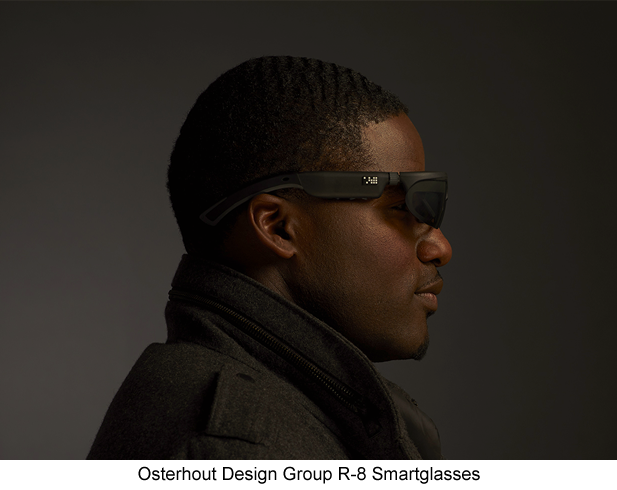 Source: Osterhout Design Group
Mobility Wins
One of the big takeaways for investors at the end of 2016 was that Virtual Reality (VR) headsets such as Oculus Rift by Facebook (NASDAQ:FB) didn't do that well. It's difficult to come by hard numbers, since the makers of these headsets won't release sales figures. It's clear that the best performing VR headset was the Samsung (OTC:SSNLF) Gear VR, which uses a Samsung smartphone as the key display/computing element.
According to Business Insider, the victory for Gear VR was very lopsided:

Click to enlarge
There will undoubtedly be debates about the reason for this outcome, but let me suggest that there is more going on here than just the high price of the tethered headsets such as Oculus and HTC Vive. VR, as interesting as it is, didn't prove to be as compelling an experience for consumers as the PC industry hoped.
The key proponents of PC-based VR were Intel (NASDAQ:INTC), AMD (NYSE:AMD) and Nvidia (NASDAQ:NVDA), along with PC makers, who clearly hoped to use VR as a means of stimulating sales of large desktop PCs and associated components. It was assumed that the PC VR experience would be so attractive that consumers would even be willing to carry desktop PCs around in backpacks in order to be "untethered".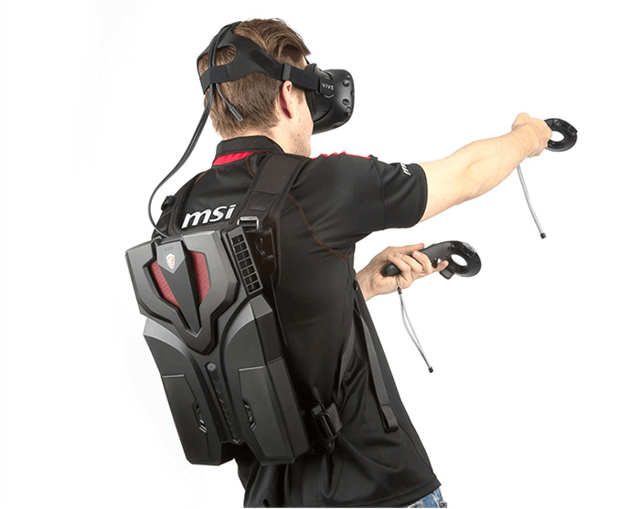 Click to enlarge
Source: Ars Technica
But VR is still very immature, and a key aspect of that immaturity has to do with effective screen resolution. Both Oculus and Vive use a single OLED panel with 2160 x 1200 pixel resolution. But the display is divided between each eye, so each eye sees a 1080 x 1200 pixel image. This image is expanded over a very large 110-degree field of view, so that the pixelation is readily apparent. Since these images overlap stereoscopically, the image presented to the user is less than full HD.
While very immersive, the effect is not of being transported into a reality, virtual or otherwise, so much as being transported into a video game of relatively poor resolution. Not everyone enjoys that experience, or at least enjoys it over an extended period of time.
So as VR became attractive for novelty and casual use, the Gear VR and similar Google (NASDAQ:GOOG) Daydream View better addressed the market. The fact that such devices were untethered was a secondary effect, yet now some in the industry seem to have decided that being untethered will fix the demand problems encountered by the tethered systems.
This year at CES, Intel showed a completely self-contained headset, replete with Intel processors and battery pack. This headset, dubbed Project Alloy enables some clever "mixed reality" functions. Whether Intel's self-contained VR headsets are truly the answer remains to be seen.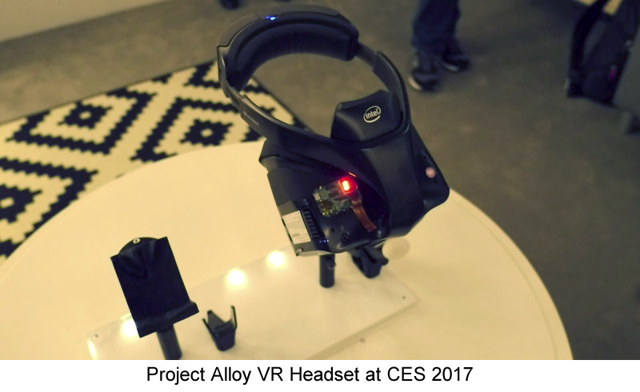 Click to enlarge
Source: Gizmodo
I suspect that VR and Augmented Reality (AR) solutions based on smartphone technology will continue to dominate the market as they did in 2016. The reasons for this will continue to be that these headsets are lighter, simpler, untethered, and less expensive than the tethered alternative. They are also likely to equal or exceed the display resolution of tethered headsets, simply because the tethered headsets will use the best available smartphone screens, whatever those might be.
Qualcomm Positions for VR and AR
Writing about Qualcomm back in March of 2016, I challenged the conventional wisdom that said that PC based VR would be more successful than mobile device solutions such as the Gear VR. I wrote:
With the mainstream VR systems all based on tethering to a fairly powerful Windows PC, is there room for self-contained systems based on a smartphone processor? Yes, there is. VR systems such as the Samsung Gear VR, which uses a smartphone, may well take over the VR market, because of their cost advantage.
At the time, the occasion for the article was Qualcomm's announcement of an SDK to facilitate the use of the Snapdragon 820 in VR. As smartphone processors become increasingly powerful and as smartphone screen resolutions improve, smartphone based VR will continue to dominate the VR market.
But the advances in mobile processor technology appear to have opened an even more promising market. This is the market for augmented reality glasses. Let's just call them smartglasses.
So far, smartglasses have been a niche. The most ambitious smartglasses have been Microsoft's (NASDAQ:MSFT) HoloLens. HoloLens attempts to overlay the world with simulated objects. Through a combination of motion tracking and 3D environment mapping, those simulated objects can be made to appear as solid "holograms" physically anchored to the real environment.
But HoloLens is not something that most people would wear on a regular basis, and the processing requirements appear to make it necessary for HoloLens to be very ungainly, although it is at least self-contained.
A more modest, but important, role for smartglasses is to simply display information from a smartphone class device. This was the concept behind Google Glass. And we all know where that went.
The market failure of Google Glass is often attributed to its obtrusive character, but it was more than that. Glass just wasn't very useful. It had a very wimpy processor, and a tiny display screen viewable by just one eye.
Since Glass, the technology has improved tremendously. Qualcomm's Snapdragon 835 processor will be fabricated on Samsung's 10 nm node, offering the most powerful and energy efficient mobile processor to date. The 835 can be packaged in relatively unobtrusive smartglasses while providing the full power of a flagship smartphone.
Just as important, display technology has also improved. It's now possible for the overlaid image viewable in the glasses to encompass a large field of view and provide full HD 1080p resolution to each eye, which is better than the tethered VR systems.
Such devices have been developed and are being marketed by Osterhout Design Group. At CES, ODG announced that its next generation smartglasses will use the 835 processor. While the R-8 smartglasses only feature 720p resolution for each eye, this is more or less equivalent to the current VR headsets. The R-9 features 1080p resolution for each eye with a wide 50-degree viewing angle.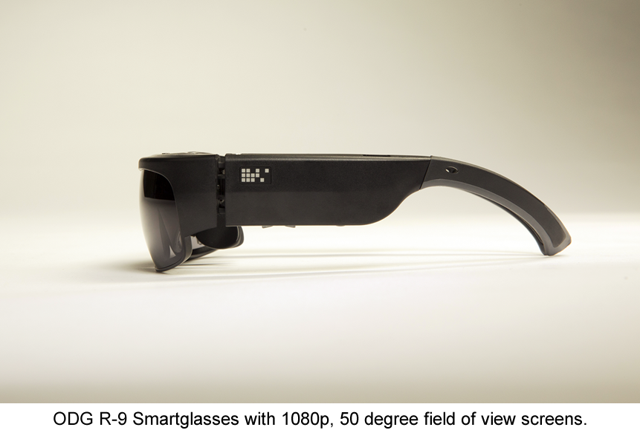 Click to enlarge
Subjectively, this is like looking at a 1-meter wide 1080p television at a viewing distance of about a meter. Those who have experienced it describe it as like looking at a wide screen TV.
Depending on what is displayed, the smartglasses can provide an augmented reality overlay that provides information about the environment, or can serve as a full mobile device display that blocks the view of the external environment. The glasses can also be used to watch stereo 3D video at full HD resolution.
The field of view is more limited than virtual reality goggles, so the effect isn't quite as "immersive," but by blocking external light, the ODG smartglasses can be used in VR mode. Also, ODG has equipped the glasses with an external camera that allows them to be used in the HoloLens mode, although this application is still in its infancy. ODG's smartglasses offer a larger field of view than Hololens.
ODG's smartglasses offer the best display and image quality of any smartglasses or virtual reality headset, and offer self-contained on-board processing through Qualcomm's 835. The fact that ODG has developed smartglasses that are fairly discreet gives them a much better chance in the market place.
The ODG smartglasses represent a new class of wearable device. They have the power of a smartphone combined with a subjectively large display, making them in some ways superior to a smartwatch.
The ODG smartglasses still don't quite look like regular sunglasses, and they're very expensive, thus limiting their initial market. The lower resolution R-8 smartglasses will list for $1000, while the R-9 will sell for $1800.
These prices will undoubtedly come down as the technology matures and manufacturing volumes increase. Within some period of years, smartglasses such as these will become a viable alternative to the smartphone. Smartglasses solve a fundamental problem for all mobile devices, which is how to create a large screen (subjectively) in a small, mobile device. This is something that the smartwatch and smartphone can't do.
Investor Takeaway
At the DIY Investing Summit* this year, I highlighted Qualcomm as one of the stocks I own that I'm very excited about. One of the reasons I gave was the arrival of the Snapdragon 835. The 835 will undoubtedly capture most of the high end Android mobile device market, as well as be used by Microsoft in future Windows 10 mobile devices.
Beyond the traditional mobile device market, we're seeing the 835 enable new device classes that are still in their infancy, such as the ODG smartglasses. The spread of Qualcomm's technology into adjacent markets will be a key driver of growth for Qualcomm going forward. I remain long Qualcomm and recommend it as a buy.
*The DIY Investing Summit is a joint project of Seeking Alpha and SA Contributor Brian Bain. The Summit brings together 25 of the top SA contributors, including myself, for in-depth interviews with tips for successful investing in 2017. Normally, the Summit requires a fee, but you can get free access by clicking on the link here.
This is a limited time offer, so please don't wait too long to listen to your favorite SA contributors on the Summit. Thanks for reading, and good luck in the new year!
Disclosure: I am/we are long QCOM,NVDA.
I wrote this article myself, and it expresses my own opinions. I am not receiving compensation for it (other than from Seeking Alpha). I have no business relationship with any company whose stock is mentioned in this article.
Editor's Note: This article discusses one or more securities that do not trade on a major U.S. exchange. Please be aware of the risks associated with these stocks.