On Dec. 20, 2017, the shares of Portola Pharmaceuticals (NASDAQ:PTLA), a bioscience specializing in the innovation and commercialization of drugs to treat blood disorders and cancers increased $4.13 to $55.12 (8.09% profits for traders) as of 2:01 pm EST. Previously, in part I and II research on the said firm, we went into details about the anticancer molecule cerdulatinib, and the Juggernaut Capital shareholders activism, respectively. In part III, we talked about the prospects of AndexXa (the FDA designated breakthrough therapy). Much substantial values to be unlocked in Bevyxxa was discussed in part IV. Today, more good news came in, as the FDA approved the Prior Approval Supplement (PAS) for Bevyxxa ahead of schedule.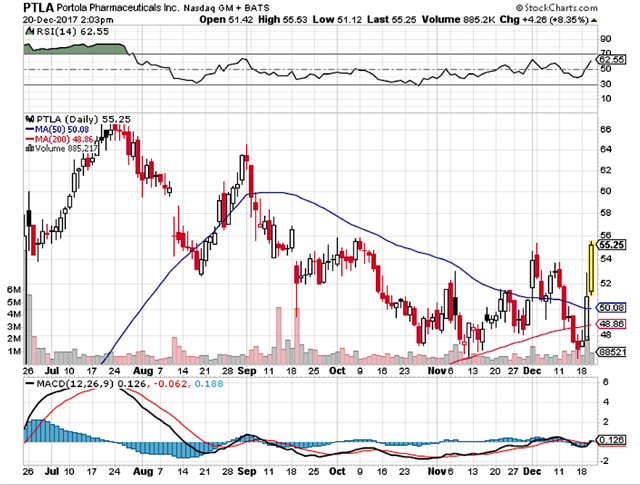 Figure 1: ABC stock chart. (Source: Stockcharts).
At Integrated BioSci Investing, we have much success in finding robust performers. For instance, Nektar Therapeutics (NASDAQ:NKTR) appreciated over 210% for subscribers. In this report, we'll elucidate the PAS approval and to assess its prospects as a potential big winner for you.
Fundamentals Analysis
Based in South San Francisco, Portola is specializing in the innovation and commercialization of therapeutics to manage blood disorders and cancers. Of the three products – betrixaban (Bevyxxa), andexanet alfa (AndexXa), and cerdulatinib – in the drug portfolio, Bevyxxa was FDA approved as the long-term prophylaxis for blood clots or venous thromboembolism (VTE) in adult patients on June 23, 2017. AndexXa, as a potential antidote for life-threatening bleeds (associated with Factor Xa inhibitors), is awaiting regulatory decisions (FDA by Feb. 2 and CHMP in Q1 next year).

Figure 2: Therapeutic pipeline. (Source: Portola).
As mentioned, Bevyxxa received the FDAs nod earlier in the year (as a monotherapy in the hospital and post-discharge to prevent blood clots in at risks adults for up to 35-42 days. These patients are hospitalized due to an acute medical illness (and are at risks due to VTE-related risks factors as well as moderate to severely restricted mobility).
With the early PAS approval, Portola can now initiate the commercialization of Bevyxxa as soon as beginning in Jan. 2018. Further launch-update will be provided during the next investor presentation (anticipated on Jan. 09). According to CEO Bill Lis,
We are pleased to be able to make Bevyxxa available to acute medically ill patients at high risk of venous thromboembolism beginning in January 2018. VTEs result in approximately 100,000 deaths annually in the U.S. in acute medically ill patients and they are preventable. As the first and only anticoagulant approved as a single-drug regimen administered in the hospital and (following) discharge for a treatment duration of 35-42 days, Bevyxxa has the potential to impact public health in the US and beyond, if approved in other countries. We thank the FDA for its guidance throughout the review process and look forward to continuing our collaborative efforts with the agency for the benefit of patients.
In all, the main risk for Bevyxxa at this point is that the molecule might not generate significant sales to justify the invested capital for its innovation and launch. Despite its $3.57B market capitalization, Portola is still relatively small in size (and does not arguably have the robust resources like large pharmaceutical firms to execute an aggressive launch). Hence, there can be a potentially slow rollout. Nevertheless, our analysis revealed that launch will pick up pace due to the stellar profiles of the said molecule to deliver a potential blockbuster. And, the aforesaid early PAS approval should assuage at least some investor concerns regarding the managements competence. Last but not least, there is an in-depth Integrated BioSci research (published in advanced to subscribers), which featured other powerful catalysts brewing in this company.
Author Note: We're honored that you took the time out of your busy day to read our market intelligence. Founded by Dr. Hung Tran, MD, MS, CNPR, (in collaborations with Dr. Tran BioSci analyst, Ngoc Vu, and other PhDs), Integrated BioSci Investing marketplace research is delivering stellar returns since inceptions. To name a few, Nektar Therapeutics procured more than 190% profits while Spectrum Pharmaceuticals (SPPI) delivered over 180% gains. Our secret sauce is extreme due diligence coupled with expert data analysis. The service features a once-weekly exclusive in-depth Integrated BioSci article (in the form of research, reports, or interviews), daily individual stocks consulting, and model portfolios.
Notably, we'll increase prices soon. Subscribe to our Marketplace research now to lock in the legacy price and save money in the future.To receive real-time alerts on our articles as well as blogs, be sure to check out our profile page and click on the orange Follow button. Besides the exclusives, this article is the truncated version of the research we published in advance to IBI subscribers. Further, you can read up on Dr. Trans background by following this link.
Disclosure: I/we have no positions in any stocks mentioned, and no plans to initiate any positions within the next 72 hours.
I wrote this article myself, and it expresses my own opinions. I am not receiving compensation for it (other than from Seeking Alpha). I have no business relationship with any company whose stock is mentioned in this article.
About this article:ExpandAuthor payment: $35 + $0.01/page view. Authors of PRO articles receive a minimum guaranteed payment of $150-500.Tagged: Investing Ideas, Quick Picks & Lists, Healthcare, Drug Related ProductsWant to share your opinion on this article? Add a comment.Disagree with this article? Submit your own.To report a factual error in this article, click here