Investing legend Bill Miller currently has 50 percent of his hedge fund, Miller Value Partners, invested in Bitcoin.
That is not a typo. I said fifty percent.
Miller currently has half of his investor's money riding on a cryptocurrency. He told us so in a recent interview…1
If you aren't familiar with Bill Miller here is what you should know. He is the only fund manager in history to have outperformed the S&P 500 for at least fifteen years in a row.
He is not a flash in the pan.
Miller achieved that feat, then known as "the streak" from 1991 through 2006, while running money for Legg Mason. It was an incredible accomplishment.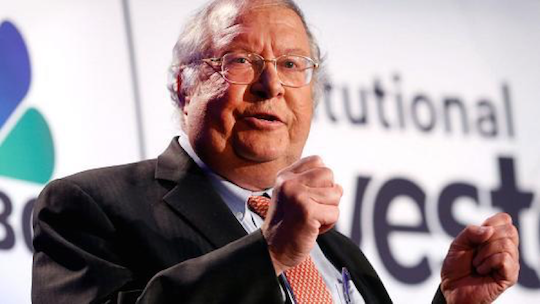 Image Source: CNBC
Miller's streak made him a bit of an investing legend. His view on Bitcoin however is very different than any other investing or business legend that I can find.
Here is what a few of my favorite investors have been saying:
Warren Buffett called Bitcoin a "mirage" and advised people to stay away from it.The brilliant Seth Klarman said that owning Bitcoin was like "trading sardines".Jim Rogers believes Bitcoin is a massive bubble which will blow minds when it eventually pops
I could go on.
Druckenmiller, Dalio, Marks, all of the great investors of our time would advise you to steer clear of Bitcoin.
And then there is Bill Miller.
Not As Crazy As It Seems A Modest Position Just Worked Out Really Well!
As a professional money manager, is it crazy to have half of the money that belongs to your clients invested in Bitcoin?
The answer is a resounding yes!
At this point, especially after speaking publicly about it, Bill Miller has linked his reputation and his financial future to Bitcoin. Not to mention the cash of the people who are paying him to invest on their behalf.
That is a big risk for someone managing over $2 billion.
The thing is though, Miller's bet on Bitcoin didn't start out so crazy. In fact, it was pretty sensible. Miller revealed in the interview I linked earlier that he put roughly five percent of his fund into Bitcoin back in 2014 and 2015.
His average Bitcoin cost on those investments was $350. You know what happened next
Things snowballed from there. What was once a five percent position in his fund increased as the price of Bitcoin skyrocketed.
Miller didn't invest half of his investor's cash into Bitcoin. He started out with a reasonable position and things worked out very well.
So why did he do it?
According to Miller, it isn't because Bitcoin is going to replace a major currency like the dollar, the pound or the yen. It is because there are hundreds of other currencies around the world that Bitcoin is a legitimate threat to replace.
We forget how good we actually have it the Western world. People in countries like Venezuela, Nigeria, Zimbabwe or Argentina are desperate for a liquid store of value that their governments can't destroy.
Miller made his decision to put five percent of his fund into Bitcoin believing that one of two things was likely to happen:
One — Miller felt there was a good chance Bitcoin may end up having no value.
Two — there was also a chance that it would become so big that he had to own it.
So far he looks pretty smart, or perhaps lucky. A good result isn't necessarily indicative of a good decision.
If You Need The Money Bitcoin Isn't The Place For It
Today, Bill Miller faces an interesting dilemma. He has fifty percent of his fund in Bitcoin yet his view of Bitcoin is as follows…
"My view on bitcoin is that it is a technological experiment that may or may not prove to have any long lasting value."
Yikes! He still thinks Bitcoin could end up being a zero.
When asked how risky Bitcoin is today he also said that "he wouldn't have any more money in Bitcoin than I can afford to lose".
Kind of a weird answer from a guy with fifty percent of his investor's cash in Bitcoin isn't it?
It is however the correct advice on Bitcoin in my opinion.
Owning Bitcoin today certainly doesn't represent investing. It is much more like making a bet in Vegas that involves betting on the number that has already come up twenty times in a row.
Yes, you might when big. But your odds are very, very poor.
Here's to looking through the windshield,
Jody Chudley
Credit Analyst, The Daily Edge
FacebookEmail
1BITCOIN: CURRENCY OF THE FUTURE OR INVESTMENT MANIA? BILL MILLER'S TRANSFORMATIVE INNOVATION CASE, WealthTrack