Clairvest Group (OTC:CVTGF) (TSE: "CVG") was founded in 1987, based out of Toronto. It is a private equity management firm that is managing about $1.7 Billion (all dollars in Canadian unless otherwise mentioned). It is one of the four major publicly listed diversified private equity firms operating out of Canada; the others being Alaris Royalty (OTC:ALARF), Onex Corporation (OTCPK:ONEXF) and Diversified Royalty (OTC:BEVFF) (non-diversified includes companies like Morguard Corporation (OTC:MRCBF) and Brookfield Asset Management (NYSE:BAM)).
This company has been on an absolute tear recently, and I wanted to dig into why. The returns so far this year: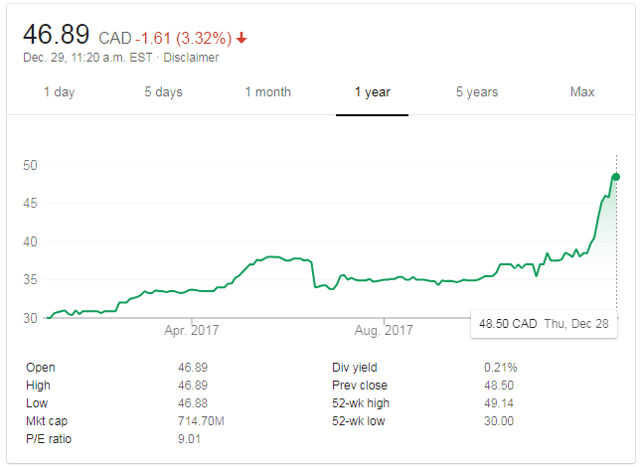 Source: What's left of Google Finance: That's good for a 56% return this year, and about 26.9% annually for the last five years.
Ace2Three and India's Gambling Laws Update
I first wrote about this company here for PRO subscribers, and I did an update after that large drop in June here.
During the lull, I updated the company on one of its investments had suffered from a legislative move in India that could have undermined its business model. That case is still ongoing, but it was allowed to continue operating outside of the province in question while the legal challenge was underway. I have not found any information regarding a ruling yet, but the company appears to be operating relatively normally, helping put investors' minds at ease for what is about 11% of the company's NAV at the time.
Clairvest Update
CVG's main business is split between operating investment funds which it is partially invested in (to align its interests with investors), investments the parent company itself owns, and its own management fees for running those equity partnerships. The company has used the book value as its benchmark for valuing it as an enterprise and evaluating its management team's success.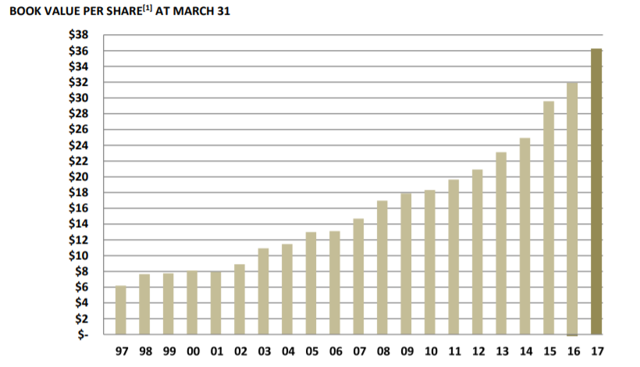 Its book value now stands, post the outstanding deal at the time of announcement, at $37.89 Canadian. Historically this company has traded more or less in line with that book value as it slowly but diligently grew its equity partnerships and exited at premiums to its disclosed book values. For example, its most recent exit from the "Clairvest Equity Partners IV" fund was from Centaur Holdings, LLC, which has been acquired (on November 16, 2017) by Caesars Entertainment Corporation (NASDAQ:CZR). This will increase its BV by $3/share bringing the company to the BV mentioned.
Another deal announced August 1 had the same partnership exit from "CRS Contractors Rental Supply" where it generated an IRR of 31% and increased BV by $0.17 more than it was carrying the investment for.
As mentioned it tends to trade more or less in line with its book value (until recently) as the company itself highlighted in its annual report: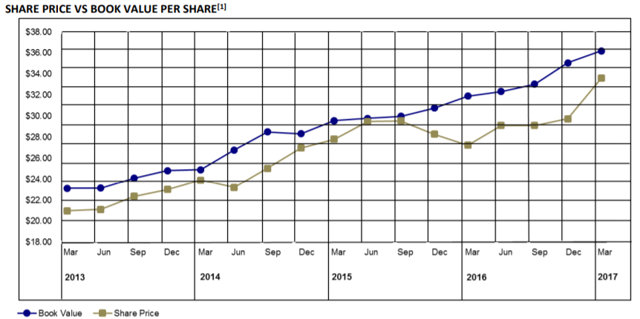 This has obviously changed for some reason, as the future expected book value from disclosed deals made sits at $37.89 CAD and its price is around $46.89 CAD. Now either investors have all decided to begin evaluating their holdings at their proper book value (which are all likely worth substantially above their current disclosed book value if history is any indication) or something big happened.
Turns out, something big happened: It won a massive contract that puts some of its capital to good use and represents a significant growth opportunity going forward.
Great Canadian Gaming Corporation Partnership in Toronto Casino Complex
Clairvest Group previously initiated an investment in a partnership that involved Great Canadian Gaming Corporation (OTCPK:GCGMF) and Brookfield Business Partners LP to operate two casinos in Southern Ontario. With this announcement, we not only get the upside of a 45% ownership of "Ontario Gaming West GLA Limited Partnership," which includes four major operations, but also 2,500 slot machines, 60 table games, racing track and $450 million in gross gaming revenue. Clairvest has a history in the gambling industry and Great Canadian Gaming Corporation is a proven operator with a terrific track record.
It also appears that the parent company itself, Clairvest, is the one that is in the partnership (not a partnership as it typically structures them). This gives it more upside for the next 20 years of operations which came with the Ontario government granted licence. This also gives Clairvest another new avenue for investing funds to generate returns, something many feared would be difficult in this low interest rate environment. This deal helps assuage those fears.
Analysis of Clairvest Equity Partners and Investments
The company now has over $100 million in cash available (along with over $600m in investable capital), along with sizeable temporary investments of $15m.
Partnership Investment Changes
The company booked a loss on its investment in Ace2Three, which, if the decision in India is reversed, could be reversed and add an additional $15.8m in cost plus its added value going forward.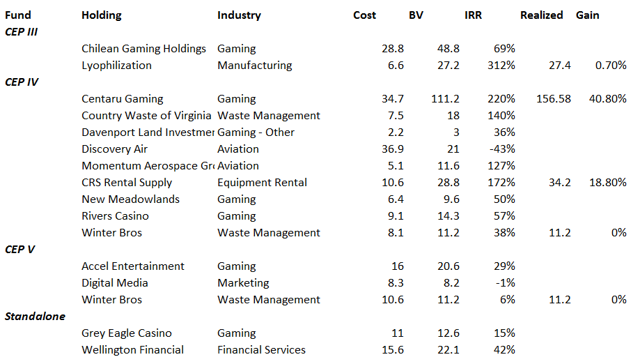 It also has new additions; the Winter Bros' realization was partial and replaced with a new investment in the parent company. It also added Just Energy which is an alternative energy supplier (solar tracking equipment) and the West GTA Bundle of Casinos which has not released full details.
As we can see, the company is heavily invested in gaming with about 58% of its carried book value as of its annual report. Next was waste management at 10.6%, then aviation. It has exited its manufacturing and equipment rental businesses since that update.
Approximately 21% of its BV is cash (not included in previous percentages).
As we can see, it tends to realize higher than the carried book value, adding additional value to investors beyond the more obvious book value to share price comparisons. As such, I am inclined to believe the book values; perhaps it may even be appropriate to consider them as conservative estimates.
Valuation
The book value gains from the GTA bundle are difficult to predict. Perhaps other investors have found information I have not, but at this moment, there does not appear to be any indication of the book value change from the new contract. Since it is a contract with ongoing revenues and income (and that it is a standalone investment), I am unsure how it will value it, aside from perhaps using a discounted cash flow model with the growth projections included. Whatever its cost of entering the partnership, I imagine it will see some hefty returns on the back of Great Canadian Gaming's operational prowess.
I will use a book value of $40.00 CAD, which is likely quite conservative but represents the highest book value I have seen in reference to Clairvest. This can be assumed to include GTA and not include possible book value undervaluation, or the hit that its Indian Gaming operations took.
There are three main ways to value a private equity firm like this. The first is price/economic net income (industry average 13.0). The second is by distributable earnings (industry average 34.1x). The third, and likely preferred method by the company's management team, is by P/BV (industry average is 1.6x).
Currently Clairvest is undervalued in all three areas as aside from price/cash flow (which, due to how it show its earnings, shows as a very high 3319.4x, though its five-year average is 29.5x, which is also a discount). The current P/E is 9.3, and P/BV is 1.3. The company has an earnings yield of 10.7%. Here I aggregate this information for readers compared to other competitors that I would look at as the industry competitors.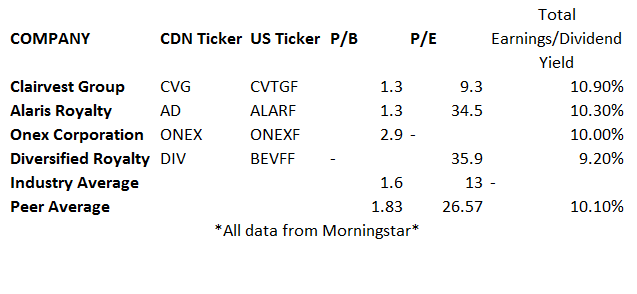 As we can see, there is some interesting information here. Those companies that are based on a dividend flow-through model (Alaris and Diversified) are trading at fairly high multiples of their earnings, whereas a company that would keep those funds and reinvest them (Onex) trades at a higher multiple of book value. What would represent a good value largely depends on what type of evaluation you want to do for this company and what you believe the management team will do in the future.
You can see below my assumptions; keep in mind that the income for 2016 of $4.61/share gives it a P/E of 8.68 versus what is indicated by Morningstar's information due to weaker earnings in the recent quarter (I believe).

Depending on your valuation method, Clairvest with its ample cash, valuable holdings, extensive experience in gaming and valuable portfolio, is quite undervalued compared to its Canadian private equity peers. Its smaller size does help explain the lower valuation compared to its largest (but most comparable) peer Onex Corporation. Due to the recent success, the company's exit of some different business lines and continued prospects, I would recommend investors keep their eye on Clairvest Group.
Conclusion
Clairvest Group has always been an excellent company. I like the business model, its focus and the management team's belief that it should always remain aligned with shareholders. This company is a valuable one that has not attracted the attention it deserves due to its size and focus on the "sin" industry of gaming. So long as running casinos remains a viable business, Clairvest should be able to drive returns for its partners and investors for decades to come.
As President Donald Trump can attest, running casinos is not necessarily impervious to poor management decisions, but Clairvest has proven itself to have a good eye for investments in the space and has partnered with one of the best operators in Canada. With the new opportunities for investment, its continued growth and the increasing investor awareness in the company, we should see some solid returns going forward.
Thanks for reading and happy investing.
I am running an active portfolio with updates to readers, if you are interested in hearing about when I add Clairvest to my portfolio please consider following. I tend to update with "blog posts" when I actually add or sell a company, if you decide to become a real-time follower you will get notified when that happens. I promise not to inundate you with blog post updates.
Standard Disclosure: I am not currently a financial adviser, nor can I be aware of your unique financial situation. This is for reader interest only. Please consider consulting a qualified financial adviser before making any major investment decision.
Disclosure: I/we have no positions in any stocks mentioned, but may initiate a long position in CVTGF over the next 72 hours.
I wrote this article myself, and it expresses my own opinions. I am not receiving compensation for it (other than from Seeking Alpha). I have no business relationship with any company whose stock is mentioned in this article.
Additional disclosure: I have owned Clairvest Group previously and will likley own it again. I am waiting on new purchases until the New Year.
If/when I purchase Clairvest I always use the TSE ticker CVG as it is more liquid for this relatively illiquid company.
Editor's Note: This article covers one or more stocks trading at less than $1 per share and/or with less than a $100 million market cap. Please be aware of the risks associated with these stocks.
About this article:ExpandAuthor payment: $35 + $0.01/page view. Authors of PRO articles receive a minimum guaranteed payment of $150-500.Tagged: Investing Ideas, Long Ideas, Financial, Money Center Banks, CanadaWant to share your opinion on this article? Add a comment.Disagree with this article? Submit your own.To report a factual error in this article, click here