Yield-chasing is everywhere nowadays, and that includes within the midstream space. Retail investors have seemed a little bit flummoxed on why PBF Logistics (NYSE:PBFX) has experienced such negative results, particularly as corporate sponsor PBF Energy (NYSE:PBF) has performed moderately well. Since the IPO of its midstream assets back in 2014, PBF Energy has been volatile, but is now flat on its performance over that time frame, in spite of having significant ownership of PBF Logistics. That firm, meanwhile, has lost 28% of value in its common stock, despite increasing its distribution from $0.16/quarter to $0.48/share as of the last declaration. What gives?
Monitoring PBF Energy Health, Overall Production Volumes
Before I get into exactly why PBF Logistics has had such a rough go of it, it is worth exploring PBF Energy's business model, since substantially all of PBF Logistics' revenue is sourced from its corporate sponsor. PBF Energy relies heavily on being able to purchase and process heavy, sour crude oil feedstock – most of PBF Logistics' assets revolve around supplying that product, or transporting products refined from that base. While it may not seem intuitive, the sour crude the company sources from mid-continent plays (such as North Dakota sour) and from Canada are generally priced based on West Texas Intermediate ("WTI"), which is a light/sweet crude. The Toledo facility is the exception as it processes less heavy grades of crude, but both PBF Energy and PBF Logistics generate only a small portion of their revenue from the Toledo refinery, which was acquired from Sunoco in 2010. As a result, PBF Energy benefits quite heavily when the spread between North Sea Brent crude oil (which is what is most international refiners price on) and WTI, as well as the regional discount (how far below WTI can the company acquire feedstock from producers). From a competition standpoint, the wider the differential between Brent and WTI, the more cost-advantaged U.S. refiners are when it comes to global competition, particularly refiners like PBF Energy that source nearly all of their oil feedstock domestically.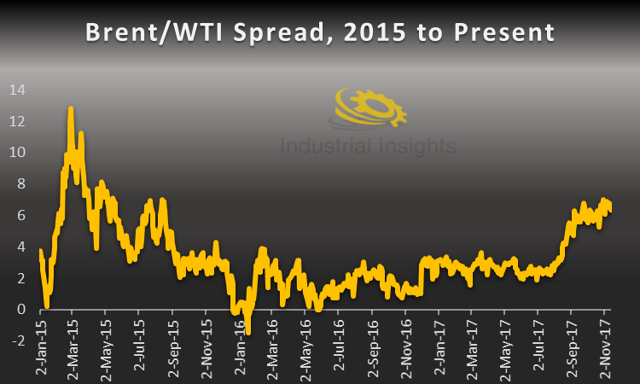 Recently, the spread between the two has expanded, with Brent rising to a roughly $6.50/barrel premium to crude oil. Historically, this isn't always the case. Before fracking became what it is today, WTI generally traded at a premium versus a discount. As it is lighter and sweeter, it is cheaper to refine into gasoline and other refined petroleum products. WTI's availability changed market dynamics, and recent growth in the spread is due to OPEC's production cut deal, alongside a few non-OPEC countries like Russia. Today, there are simply less Brent-derived barrels out there; supply and demand at work. The potential of U.S. oil exports hamstrings this ratio a bit, as at current levels, it is currently economic for oil to be exported off our shores and transported to Europe for processing at facilities that can handle it. The infrastructure is still being built out to support crude export, but in a short time, there will be little likelihood of expansion of the Brent/WTI differential beyond the current pricing. In my opinion, this is "peak value" time for domestic refiners of WTI-based feedstock. Even the most bullish of sell-side analysts forecast current spreads as – at best – a new reality. Most expect contraction; PBF Energy expects it settle in the $4.00/share range in the long run. If you look at current Brent/WTI futures through the Intercontinental Exchange ("ICE"), you'll find that futures traders are pricing in a fairly healthy decline in the spread throughout 2018.
Refiners aren't asleep at the wheel. Overall, refinery utilization according to the EPA was 92.8% in August, higher than the average of 90.5% over the past ten years. Last month's utilization figure of 95.0% was the highest since 2004. Such small incremental changes might not seem like much, but when you realize that U.S. refiners are processing more than 18mm barrels per day, small increases like these results in a lot more product. PBF Energy CEO Thomas Nimbley had this to say about the company's 3Q 2017 utilization:
We had five operating refineries, we achieved record throughput levels, and we were able to capitalize on strong market conditions. While one quarter is not victory, we feel that this quarter is reflective of the true potential of our assets.
Investors should keep in mind that the Northeastern assets for PBF Energy (Delaware City, Paulsboro) have historically had the worst gross refining margins, simply due to the products used, their cost, and the lower complexity rating. This will become very important later on. The Toledo facility has the highest margin, but is capacity-constrained (which is why there was no throughput volume increases this year; its already running near nameplate capacity). The case is similar with the Torrance Valley facility. Outside of a little incremental capacity, PBF Logistics is seeing the highest utilization of its assets that it is going to get; particularly during its most recently-reported quarter (Q3 2017). This is a high water mark for the firm, and as a result, is a high water mark for PBF Logistics.
The Upcoming Cliff; Rail and Trucking Falling Out Of Favor
Unfortunately, PBF Logistics does not break down the utilization rates of its various assets anymore. They stopped doing this in the middle of last year, which I find a little disingenuous, because once you dig into the numbers, it becomes apparent why. While PBF Logistics no longer discloses throughput, in the short time that they did, it was clear that throughput through the Delaware City Rail and West Rack assets were collapsing after the agreements were set. From 2014 to 2015, oil processed through the Delaware City Rail collapsed from 74,400bpd to 33,300bpd, before increasing incrementally in 2016 (then disclosures stop):


At the end of Q2 2016, the last time they made throughput disclosure, the Rail Terminal was at a 36,400bpd run-rate, with West Rack at 10,400bpd. This is the single biggest reason why investors should avoid this firm; these two assets. As a reminder, MVCs on these assets are 85,000bpd for the Delaware City Rail agreement (expires beginning of 2022) and 40,000bpd for West Rack (also early 2022). PBF Energy is receiving $2.00/barrel at Delaware City Rail up to the MVC, as well as $2.20/barrel at West Rack. These two assets are responsible for at least $94mm in revenue for PBF Logistics, more once you consider the company also receives payments for ancillary services it provides. That is nearly one third of the top line.
These contracts have renewal options, but they are at PBF Energy's option. There is absolutely no reason for them to agree to extend these assets at current terms. While PBF Energy is a key shareholder, at the end of the day, the general partner is going to protect its own interests first. Come 2022, investors are going to face a harsh cut in both distributable cash flow ("DCF") and EBITDA once these contracts are renegotiated. Asset level margins are not known, but consolidated EBITDA for PBF Logistics is in the 65-70% EBITDA margin range. Assuming the MVC agreements get cut in half (at best) with similar dollar/barrel terms, this is (at least) a $32mm EBITDA headwind on the horizon, which would eliminate 17% of Q3 2017 run-rate annual EBITDA. That still builds in some improvement from likely current levels, as management alluded to "improving" rail fundamentals lately (without quantifying).
Further stressing the firm is the current strong operating environment outside of Delaware City at PBF Energy. Dollars paid per barrel on volumes above MVCs are substantially lower than below the commitment within the agreements, but this is also likely close to free money given the low variable costs. Investors should expect some weakness there as well in the medium-term. As an example, total throughput through all of the Pipeline assets (Delaware City, Torrance Valley) averaged 137,000bpd in Q3; MVCs for those assets (in totality) are 110,000bpd. Split there is roughly 50/50, with a lot of the gains in throughput in recent years coming from increased crude product being processed in the Northeast (Hint: away from truck and rail). Back in 2015 and early 2016, flow through the Delaware City Pipeline assets was around the MVC threshold. Given the tight refining margins already present at Delaware City, the likelihood is that processed volumes are going to get cut there first in the event of a decline in spreads, with volumes bumping up against that MVC threshold at the Pipeline assets. As mentioned, payrates on volumes above the MVC are incremental, so this isn't a large deal (roughly $3mm annual EBITDA impact), but it is another bump on top of an already stressed model. In a nutshell, you're a PBF Logistics shareholder, I would be watching Delaware City/Paulsboro refinery health like a hawk over the next several years.
Diversification and Balance Sheet Health, Takeaway
Management's plan here is to get out from under any pesky financial covenants (see the move after Q3 close, where the company offered $175mm in additional 6.875% notes due 2023, which is in addition to the $350mm in outstanding UPB on the same terms. The pricing of these notes is very telling; 6.875% is a high rate of interest in today's environment for most midstream firms once you consider PBF Logistics does not carry a lot of leverage, and that is likely due to the maturity date falling after the aforementioned terminaling contract expirations. Creditors see this issue just as much as I do.
Diversification is likely also the name of the game. The firm recently completed two organic growth projects, a 625,000 crude oil storage tank at Chalmette, as well as a 24 inch natural gas pipeline to connect the Paulsboro refinery to natural gas sourced from Utica and Marcellus shale. Total annualized EBITDA contribution is expected to be $12mm, and represents a good return on the company's $82mm in total project investment. Dropdowns could be a source as well; such as a potential drop of the remaining 50% in the Torrance Valley Pipeline from PBF Energy; another $175mm to get full ownership of that asset would go a long way towards further diversification, as well as contributing another $20mm in EBITDA. Current leverage of 3.2x net debt/EBITDA does allow a little wiggle room.
In a nutshell, there are very real and valid reasons that this midstream firm trades at 10% yield. PBF Energy's Northeastern refinery assets will be under stress if differentials weaken and crack spreads narrow(as expected), and that is certainly not going to help PBF Logistics' terminal assets exposure problem there. The longer this goes on, expect management to be very careful in increasing the dividend further; while Q3 2017 coverage looked gorgeous at 1.4x, they are going to need to leave a little bit of meat on the table in case those assets do not turn around, and negotiations force steep cuts in the contracts. Expect a lot of focus on management in the coming years on further diversification, whether organic or via dropdown – ideally away from Delaware City if at all possible.
For broad investment coverage, but with a focus on small/mid cap names that don't get much press, consider following me to get real-time updates whenever I release research.
Disclosure: I/we have no positions in any stocks mentioned, and no plans to initiate any positions within the next 72 hours.
I wrote this article myself, and it expresses my own opinions. I am not receiving compensation for it (other than from Seeking Alpha). I have no business relationship with any company whose stock is mentioned in this article.
About this article:ExpandAuthor payment: $35 + $0.01/page view. Authors of PRO articles receive a minimum guaranteed payment of $150-500.Tagged: Investing Ideas, Short Ideas, Basic Materials, Editors' Picks, PROWant to share your opinion on this article? Add a comment.Disagree with this article? Submit your own.To report a factual error in this article, click here