The Canadian energy companies may be out of favor, but that has not stopped several of them from posting decent operating results. Investors can invest in Canadian companies far more cheaply than Permian operators. Yet, the results in Canada appear every bit as competitive. Obsidian Energy (OBE) just reported about C$.38 per share cash flow. That is very roughly one-fourth of the current selling price. Cash flow increased despite the WCS price weakness and all the headlines about the challenges facing Canadian producers.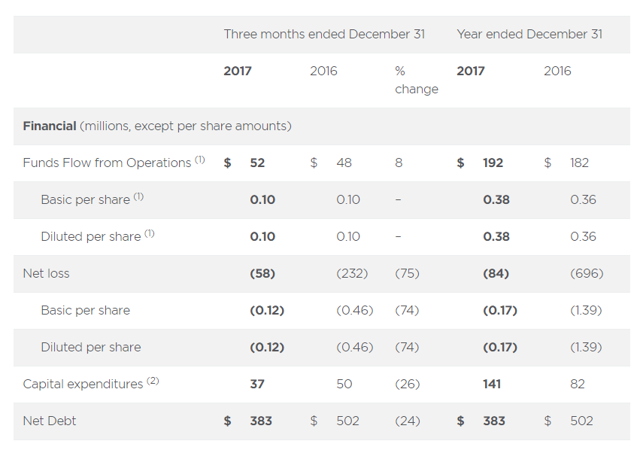 Source: Obsidian Energy Fourth Quarter 2018 Earnings Press Release
Activist investors have agitated for management to get the share price moving. Management has responded by beating its own guidance for year-end production. Interestingly, funds flow from operations increased despite some property sales. This was really the first year for management to consolidate the remaining properties and rationalize operations. Prior years emphasized property sales and debt reduction as well as removing the "going concern" clause in the financial statements.
Clearly, things have improved tremendously. Cash flow is about half of net debt, and management plans to drop that ratio to the point where funds flow from operations is slightly less than net debt.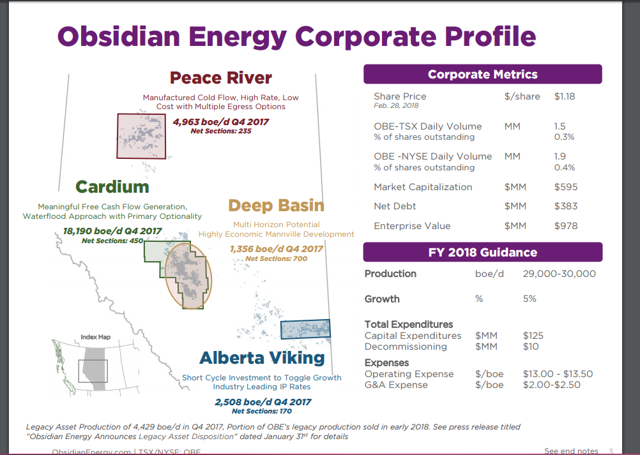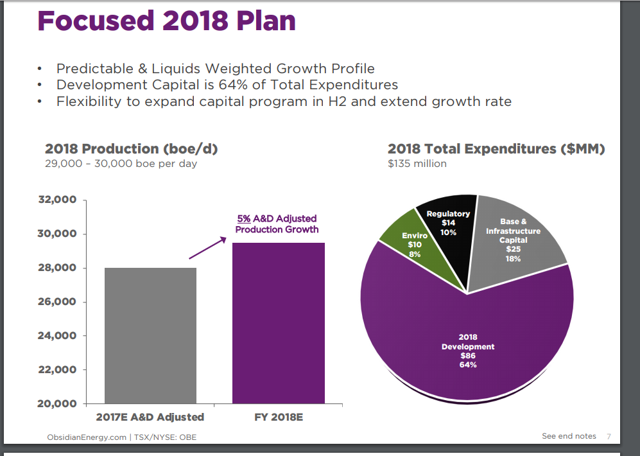 Source: Obsidian Energy March 2018 Corporate Presentation
Management has a lot of acreage that was acquired for dirt cheap prices years ago (even decades ago in some cases). Despite the massive property sales, this management still has a lot of acreage to explore. Like the Permian, several of these leases have multiple intervals. In most cases, only one has been explored.
The activist crowd is not happy with the current guidance because management already exceeded the growth guidance for 2018. Furthermore, Mr. Market probably wants more than 5% growth. Some of the remaining production is legacy production that will eventually be sold. Management is forecasting growth of the 28K core production. The activist shareholder group is headed by the son of the late Rick George, the former chairman of the company. The activist shareholder group wants to see faster growth and maybe a company sale. The "core" growth is not sufficient in the opinion of the activist shareholders.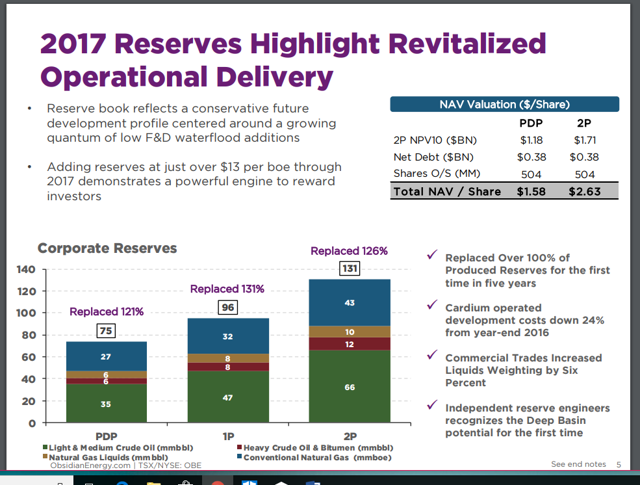 Source: Obsidian Energy March 2018 Corporate Presentation
Management has added the proceeds of these remaining property sales to the cash balance. Then, management accelerated the 2018 capital budget into 2017. That should begin to appease the activist group. However, management does need a far more robust plan to realize the value of the remaining assets. There is a belief that the stock is worth at least C$2 per share. The reserves shown above clearly back that assertion. Therefore, if management wants to stay independent, then it needs a viable plan to raise the share price considerably from current levels.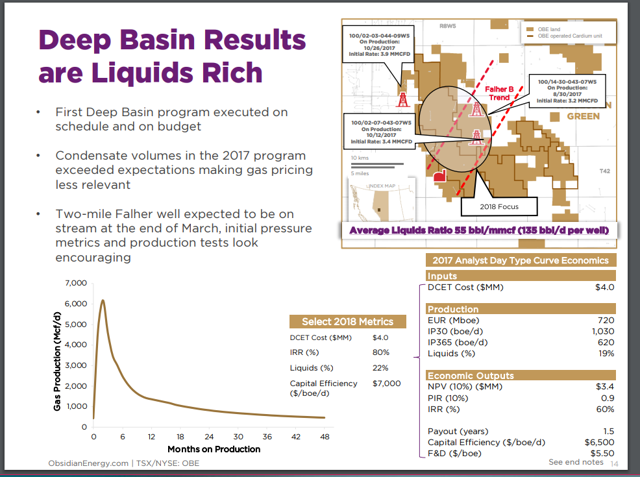 Source: Obsidian Energy March 2018 Corporate Presentation
The argument of the market appears to revolve around several projects like this one that proposes a high rate of return. That would imply that most of the cash spent returns within a year. Therefore, an increase in debt would be met with a sizable increase in cash flow. Therefore, the debt to cash flow ratio would not deteriorate much if at all.
Management appears to be more conservative for the time being. Since the company just came through a near-death experience that it was lucky to survive, such conservatism is understandable. However, Mr. Market is forward-focused, and cash flow should increase with the rising WTI pricing. There have been some issues in Canada with getting product to market that resulted in a decline of WCS pricing. However, this management supposedly has most of those issues handled. If that is the case, then there could be extra cash flow to spend for more growth without more debt.
The proposed 1:3 reverse split is counter-intuitive. But Obsidian is now a whole lot smaller than its predecessor Penn West. Hundreds of millions of shares is a lot of shares to have outstanding for a company of this size. I was honestly surprised it did not propose a 1:10 reverse split to obtain a higher price and more institutional interest.
But this reverse split does not change the fact that this company has great asset values at the current price. It will enable the company to maintain NYSE listing. The stock is therefore unlikely to decline significantly from the current price. The relatively high cash flow for the current stock price helps to confirm at least some of the asset values of this company.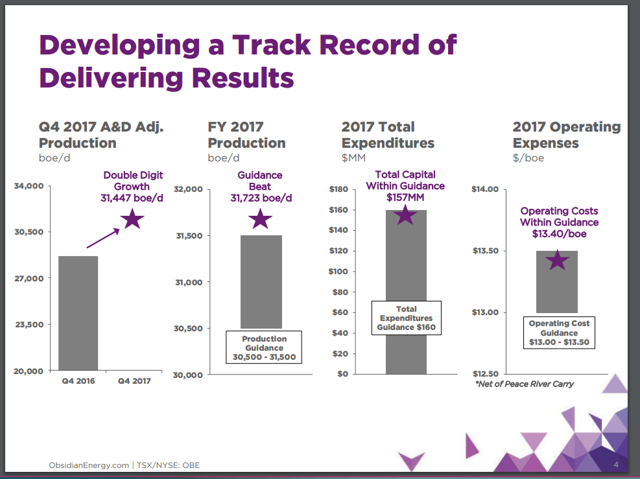 Source: Obsidian Energy March 2018 Corporate Presentation
Management also outperformed its benchmarks for pricing. So many Canadian shares have been dumped whether or not the producers actually have the problems associated with the latest headlines. Obsidian, for example, has done its best to avoid AECO. Nearly half of its gas is sold to the Ventura market.
The same goes with the heavy oil and light oil. Management keeps looking for ways to minimize exposure to Canadian pipeline constraints and other problems. The result was that the oil selling prices also outperformed market expectations. Right now, Mr. Market could care less. All Canadian companies have been dumped into the same boat.
The key concept is that Mr. Market has tossed all the Canadian producers out because of all the alleged problems. Even companies like this one that reported a cash flow increase from the third to the fourth quarter of more than 20%. Value concepts are clearly out of favor at the current time. Growth at any price appears to be the motto.
Some may remember "The Roaring Nineties" by Adam Smith as an example of the excesses 20 years ago. Things are now beginning to look eerily familiar again. It seems like there was another "Dot.com" bust not too long ago. These cycles come and go. The temptation is to ride the wave. The problem is that many will ride the wave right into a brick wall and lose a fair amount of money in the process. The wins in the beginning turn out to be very addictive.
Obsidian Energy will need a little time to get back to business as usual. Long-term debt is about 2 times cash flow. Bank lines are now normal and adequate. The preliminary results appear to be solid. Faster growth will appear down the road as management solidifies a plan based upon preliminary delineation. But the remaining assets could provide an unexpectedly large appreciation potential vehicle. By the time Mr. Market realizes this, it will probably be too late.
The stock rallied back to close near where it began the day. That is a good sign that the bears are about through. It may be awhile before the bulls return to Canadian energy. But this is a pretty good stock to hold when that does happen. The stock should at least double over a five-year period and probably will do a whole lot better.
The activist shareholders and market commentators have felt that the assets of the company are worth at least $2 per share. Any development of those assets could increase that value quickly. The stock is clearly undervalued and activist shareholders will most likely provide a valuation correction catalyst. Management is currently reporting some great returns on the new drilling. Those returns when obtained consistently in the future will increase the value considerably. This company could be worth far more as an independent company in the future. There is a lot of unexplored acreage and intervals. Long term, this stock could be worth far more than the $2 the activist shareholders are quoting.
Disclaimer: I am not an investment advisor, and this article is not meant to be a recommendation of the purchase or sale of stock. Investors are advised to review all company documents and press releases to see if the company fits their own investment qualifications.
Disclosure: I am/we are long OBE.
I wrote this article myself, and it expresses my own opinions. I am not receiving compensation for it (other than from Seeking Alpha). I have no business relationship with any company whose stock is mentioned in this article.
Editor's Note: This article covers one or more stocks trading at less than $1 per share and/or with less than a $100 million market cap. Please be aware of the risks associated with these stocks.