In my two previous articles, we took a deep dive into American Outdoor Brands Company's latest earnings results. While I was right in that the numbers would be abysmal for firearms sales, the company's results were helped by the growing "outdoor" revenue. Of course, none of that growth was organic and was primarily growth from recent acquisitions.
This begs the question, "Are firearms sales anywhere close to bottoming?"
I have discussed my personal opinion in the previous few articles, and we had some interesting comments from AOBC's management which we discussed in "American Outdoor Brands Q2 FY2018 Deep Dive – The 'Sober Up' Quarter."
Today, let's focus on the recent NICS data.
"Long" investors would have some cause for optimism after we have seen numerous reports, all of which were sourced back to either a USA Today article or Bloomberg, which reported the best Black Friday NICS data ever. This was also quoted here on Seeking Alpha in a SA News release, "Holiday cheer for gun stocks."
So… let's dive in!
November NICS Data
A number of days ago, the FBI released its latest NICS data for November.
The headline number and the one that most media reporters and unaware investors focus on showed 2,382,788 background checks for the month.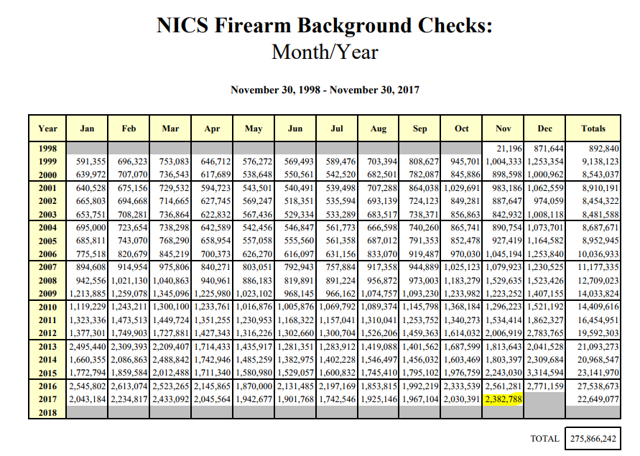 Source: FBI NICS
This is down 178,493 background checks, or 6.9% from a year ago.
Of course, we know that the headline number has in recent years GROSSLY misrepresented the likely purchase related checks as the headline number includes both new and ongoing permit checks along with administrative background checks.
For this reason, we look at the "adjusted" data that is derived from the more detailed report where we look at only the handgun, long gun, other and multiple checks.
The adjusted number for November is 1,379,136. This is down 205,740 checks or 12.98% from last year's 1,584,876.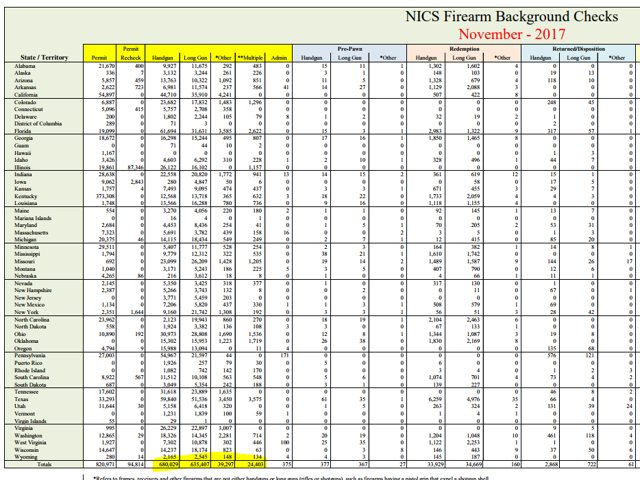 Source: FBI NICS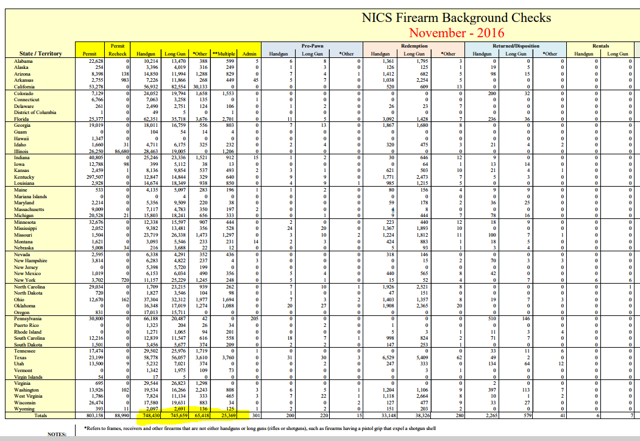 Source: FBI NICS
Simply put, even with the "Best Black Friday Ever," November 2017 has been no different than the rest of the year with more than a double-digit adjusted NICS drop year over year.
One interesting point of note here is that the biggest drop in numbers has been for the "*Other" category. This would include "AOW" or any other weapons or more precisely the fear trade as represented by sales of stripped AR-15 lower receivers.
Keep in mind, and this is nothing new to people familiar with firearms, if you want insurance in case "AR-15" rifles are going to be banned in the future, rather than investing $1,000 per rifle, or $450 per rifle today, you can buy the restricted part, which is the lower receiver for a mere $50 to $100 each and have the ability to complete it at any time in the future.
The reason for this is simple; the lower receiver is what you have to pick up through a registered firearms dealer. The rest of the parts you can buy online at any time and have them shipped to your house.
During previous "AR-15 scares", enterprising gun owners and the otherwise paranoid would simply buy 5 to 10 or more AR-15 lower receivers. Yes, I was one of those. =)
This November, those sales have nearly halved.
More Than Bad Data
On the surface, 12.9% less transactions versus last year is not that bad, right?
Of course not… but as we all know, that is not the entire story.
Above is a chart showing the quarterly revenue change for both Sturm, Ruger (RGR) and American Outdoor Brands (AOBC). Through the latest reported data, revenues have declined by more than 30% while those NICS checks are down about half of that. Keep in mind, the latest revenue data for the quarter for AOBC is not yet reflected in the above YCharts chart.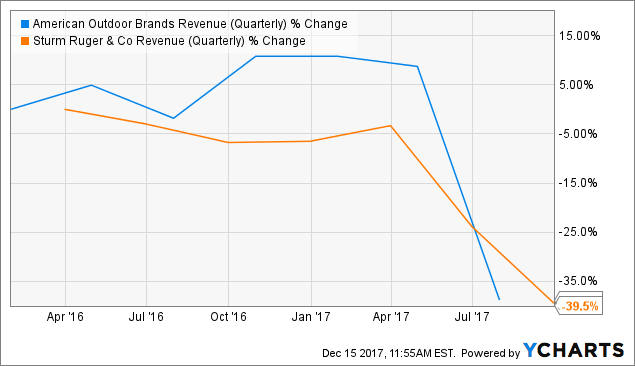 AOBC Revenue (Quarterly) data by YCharts
Even though sales are still occurring, they are at far lower prices, and more importantly, at far lower margins which have a direct impact on net income and profits.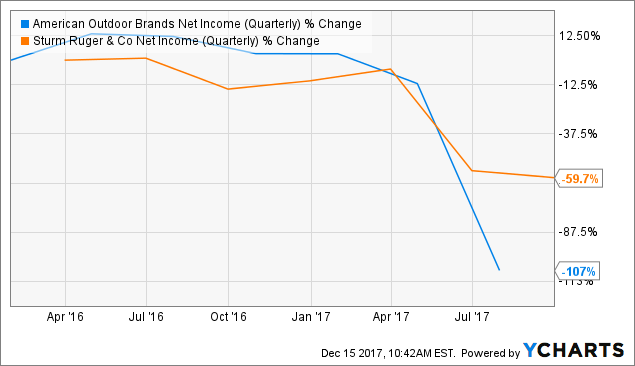 AOBC Net Income (Quarterly) data by YCharts
Bottom Line
Even though NICS data is worse year over year, it is still possible to make the case that based on that data, we are still looking at a top 5 year in terms of transactions.
Unfortunately, as we know, it is not just about the quantity of sales but also quality of sales. In particular, we are talking about the profitability of those sales.
While Ruger has been hurt, it has so far fared far better than its other publicly traded peers as it has not gone down the rabbit hole of massive rebates and discounts. Its balance sheet is also far cleaner with no long-term debt and a strong commitment to returning capital to shareholders in the form of dividends.
AOBC and Vista Outdoor (VSTO), however, have in my opinion committed two sins. First, they both run leveraged businesses where they use debt for both expansions and acquisitions. While this is beneficial in a growing market, it is like borrowing money to gamble and then losing it all. Secondly, they have gone down the rabbit hole of significant discounts and rebates. AOBC in particular has defended its "sales at any cost" strategy in order to defend its market share.
Bottom line, the continued declining NICS data is bad news on the surface and worse news when we take a deeper dive into the data.
Even though sales were supposed to rebound by now, and the inventories which were built up prior to the elections were supposed to be sold through, the companies are sitting on record inventories, and sales are still down double digits.
More concerning is that companies are only now starting to admit the recent experience is more than just "seasonal adjustments" and that this environment will be here for the foreseeable future.
Unfortunately, I believe this will lead to more poor data, lowered guidance, and perhaps a return to net losses for at least 1 publicly traded firearms investment.
If you have not done so already, please take a look at my previous NICS data articles and earnings articles.
October NICS Data – Gun Sales Failed The Test Ruger's Weak Results Foreshadow American Outdoor Brands' Losses? American Outdoor Brands Q2 FY2018 Deep Dive – The 'Sober Up' Quarter Vista Outdoor: Yeah, It Was Bad!
Disclosure: I/we have no positions in any stocks mentioned, and no plans to initiate any positions within the next 72 hours.
I wrote this article myself, and it expresses my own opinions. I am not receiving compensation for it (other than from Seeking Alpha). I have no business relationship with any company whose stock is mentioned in this article.
About this article:ExpandAuthor payment: $35 + $0.01/page view. Authors of PRO articles receive a minimum guaranteed payment of $150-500.Tagged: Investing Ideas, Quick Picks & ListsWant to share your opinion on this article? Add a comment.Disagree with this article? Submit your own.To report a factual error in this article, click here