Novavax (NASDAQ:NVAX) stock could trade in the $100 billion market capitalization range like BioNTech (NASDAQ:BNTX) or Moderna (NASDAQ:MRNA). Except, unlike those companies, Novavax has not yet delivered.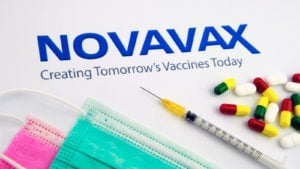 Source: Ascannio/Shutterstock.com
It might be among the most-watched firms that did not yet bring a Covid-19 vaccine to market.
Chances are low that it will slump like Altimmune (NASDAQ:ALT) after it discontinued its nasal Covid-19 vaccine.
By comparison, Inovio Pharmaceuticals (NASDAQ:INO) is on the mend after Brazil approved its vaccine candidate.
If Novavax can get its act together soon, it could take the kind of ride that makes people wish they had gotten in sooner. Let's take a closer look.
Approval to Lift NVAX Stock
A European Union official told Reuters that the bloc expects Novavax will submit key data soon. It needs to complete the submission of the data to the European Medicines Agency before it can get Europe's approval.
According to the EU official, this might happen by the end of September. Once it does, Novavax may fulfill its deal to supply up to 200 million doses.
The official spoke under the condition of anonymity. Novavax did not offer any hints on its timeline nor did it explain the reasons for delays in supplying the data.
The longer it takes to ship a product, the more market share it loses to other vaccine suppliers. The EU official said a decision on the vaccine approval was still possible this year, "as long as there are no more delays."
Big Loss in Q2
In the second quarter, Novavax's revenue grew by 738.5% to $298.02 million. It lost $4.75 a share on a GAAP basis.
The big loss is immaterial because markets are valuing the company based on its vaccine sales. The company claimed it is on track to achieve 100 million monthly doses by the end of the third quarter. By the end of Q4, it will supply 150 million doses.
"Our clinical successes over the second quarter reaffirm our confidence in NVX-CoV2373's differentiated efficacy profile," said Novavax President and Chief Executive Officer Stanley C. Erck.
His confidence suggests that the company will not post any disappointments in its clinical study results.
"We continue to see the circulation of new variants and inequitable access to vaccine globally," he added.
Even though Novavax is the latest in bringing a vaccine to the market, the recurring demand will sustain shipment volumes. Not only will countries need the vaccine for booster shots but variants of concern could require vaccinations twice a year.
Opportunity
Moderna and BioNTech demonstrated strong initial protection against the variant but it is not 100%.
Countries will want another vaccine offering lower hospitalization rates from the delta variant. Novavax has the World Health Organization's support.
On Aug. 5, it filed a EUA to regulatory agencies in Indonesia and the Philippines. Novavax said it would file for WHO emergency use next.
Novavax's manufacturing capabilities are ready to fulfill vaccine orders once it receives regulatory approval.
It also has Japan as one of its customers ready to take delivery. In February, Novavax and Takeda (NYSE:TAK) finalized a licensing agreement. Takeda will develop, manufacture, and commercialize Novavax's NVX-CoV2373 vaccine candidate.
Valuation
Moderna and BioNtech's multi-bagger returns in the last year suggest that NVAX stock has more room to run higher.
Markets will pay a rich valuation for NVAX sstock. In May, Novavax's FDA approval delay sent the stock to $120. Within weeks, bullish investors quickly scooped up shares.
On Wall Street, four analysts offer a one-year price target on Novavax. The average price target is around $277, according to tipranks. The target range is between $235 and $305.
Investors are better off accumulating NVAX stock than on speculating on Inovio or Altimmune.
Novavax ended the second quarter with $807 million in cash. Its cash position grew to $1.1 billion due to payments from advanced purchase agreements.
The strong balance sheet will fund Novavax's operational costs. Conversely, the smaller biotech firms face constant cash flow challenges. They need to raise cash, often from selling shares, to fund research activities.
Few investors stayed the course holding BNTX and MRNA. Those who missed out on the gain may consider NVAX stock from here.
The market is not yet saturated with Covid vaccine suppliers, and so far the market is confident that Novavax will become the next major vaccine supplier globally.
On the date of publication, Chris Lau did not have (either directly or indirectly) any positions in the securities mentioned in this article. The opinions expressed in this article are those of the writer, subject to the InvestorPlace.com Publishing Guidelines.
Chris Lau is a contributing author for InvestorPlace.com and numerous other financial sites. Chris has over 20 years of investing experience in the stock market and runs the Do-It-Yourself Value Investing Marketplace on Seeking Alpha. He shares his stock picks so readers get original insight that helps improve investment returns.