We have been long Novartis (NVS) for over a year now and its first quarter earnings report did nothing to change our long-term view. Wall Street didn't take too kindly to the sequential decline in sales of cosentyx, which made shares drop to below $75 a share in the aftermath. However, shares have now printed a weekly swing low, which may mean the bottom is in.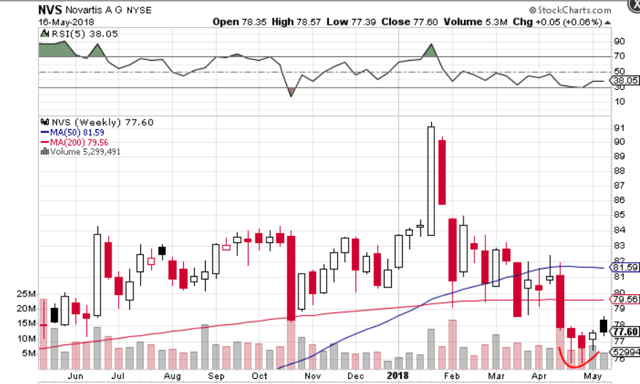 Question marks surrounding future growth (especially around Cosentyx) has presented this stock with an attractive valuation. The company's present book and sales multiples of 2.5 and 3.6 are now below Novartis' 5-year averages of 2.8 and 3.8 respectively. These numbers also look attractive when compared to the industry average of 4.4 and 3.8. Novartis also has the benefit of consistent higher highs in the biotech sector.
The bull market in biotech will act as a nice tailwind especially for companies, which are priced lower than the average valuations in this sector. Novartis' higher than average dividend yield of 3.8% will also attract value investors for obvious reasons. Here are other points to back up our long-term case.
The elephant in the room is Cosentyx. Although we saw year-over-year growth in Q1, Wall Street got jitters when it saw the sequential decline. This wasn't how the playbook was supposed to be rolled out especially given the high expectations that have been earmarked for this drug. Management came out and said that both rebating and destocking were the reasons for the poor Q1 print. What I would say here is that one unexpected quarter does not make or break a product or a company for that matter.
Management is still talking up the drug's potential stating that it should still deliver its full year guidance. We will know soon enough whether the unexpected drop is down to the destocking reason or competition gaining share. I'm going with the former. Cosentyx actually grew sales by $170 million compared to the first quarter of last year. The combination of a $224 million gain in Q4 last year (compared to Q4 of 2016) and a drop in inventory among pharmacies seem to be the issue here. I see this situation getting leveled out fairly soon.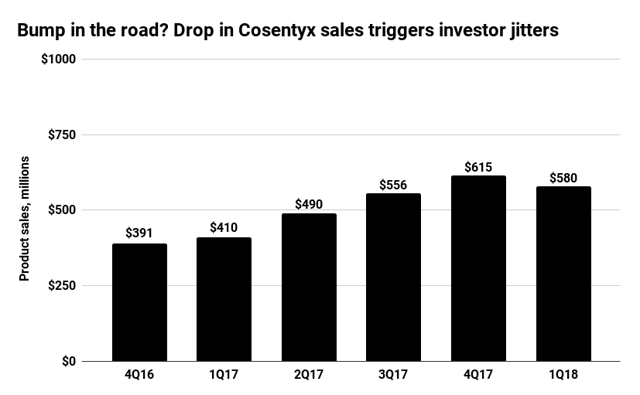 Source : biopharmadive.com
Novartis' other blockbuster "Entresto" had a great Q1 and finally seems to be living up to its billing. Because this heart drug got off to such a slow start with respect to what was expected of it, I feel that Wall Street lowered its expectations a good while back. This may play into the hands of the bulls if Entresto can keep growing at its present clip. In the first quarter, sales increased by well over 100% to reach $200 million. Management still maintains this drug can get to $4 billion in annual sales, which doesn't seem unrealistic considering the growth we're seeing in specialists starting to prescribe this drug.
What investors need to remember is that the investment behind Entresto has been aggressively front loaded. If we continue to see strong growth rates, expect those highly profitable sales to meaningfully impact the bottom line and operational income in due course. This boost will give the company the next wave of capital to go out there and develop the next wave of drugs. In saying this, Novartis has up to 9 drugs, which have been trialing extremely well. The bigger the pipeline is, the more potential for blockbusters in due course. Again, this may take Wall Street by surprise when the time comes.
The company's strong balance sheet coupled with its high dividend yield, high interest coverage ratio and strong earnings outlook again will attract value investors if its valuation drops to lower levels. The company's dividend yield is approaching its 5-year high. The company's free cash flow pay-out ratio came in under 60% last year, which again illustrated the capability of this company to generate free cash flow.
So what we need to see is some stabilization of Cosentyx in Q2, which should settle investors' nerves. Although already being long, the stock's recent weekly swing provides an attractive entry point for investors wanting to get long this name. Long Novartis.
Disclosure: I am/we are long NVS.
I wrote this article myself, and it expresses my own opinions. I am not receiving compensation for it (other than from Seeking Alpha). I have no business relationship with any company whose stock is mentioned in this article.